Black Label Society - Unblackened
(Eagle Rock – 2013)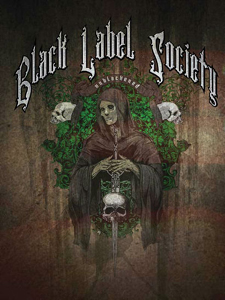 The latest line-up of BLS caught live at the Nokia Theatre, Los Angeles, California earlier this year that even features keyboard extraordinaire, Derek Sherinian in the musical gang.
The cool thing about this show is that is more acoustic styled than previous giving him a chance to play the ballad material more which personally is what I much prefer from him than the wailing 'n' urrping guitar squeals all the time.
It opens up with the 'Pride and Glory' number that's pure redneck delta style that is 'Losing Your Mind' (nice of them to add the original promo as an extra too with the cool old banjo player) and goes on to include crackin' renditions of songs like 'House Of Doom'; a slightly changed 'In This River'; 'Machine Gun Man'; 'Spoke In The Wheel' and many more that sound miles heavier than this and concluding with 'Still Born'.
If I have an moan about this to bring up, it is the fact Zakk's singing isn't very clear at times and is awfully mumbly way too much which spoils it for me. That aside, the sound overall is big, atmospheric and cavernous with some outstanding musical performances from all involved in the band – especially Zakk on Piano who at times matches Mr. Sherinian and even orchestral in parts of the show and then there's that incredible acoustic guitar playing as well.
Mr. Wylde plays a good selection of axes throughout the show and it's killer to see Nick Catonese back in the fold too on rhythm guitar who is like Zakk's Mick Taylor or Keith Richards up there. Black Label Society is completed with second to none members, powerhouse Chad Szeliga on drums, vocalist supreme Greg Locascio and bass monster, John Deservio.
There's some cool extras as well such as all the questions asked him when he went to see the inmates at HM Stocken in the UK where after a few music questions the subject matter gets onto brawling and Afghanistan – lol – as well as a great interview about putting the band on the road, set lists.. etc etc in a professional setting for the DVD itself. Supreme gallery too that features a variety of shots from the rehearsals and during the concert as well.
Decent and the fans will love it.
8/10
By Glenn Milligan