Bernie Torme – Stratocaster Gypsy
(Angel Air – 2005)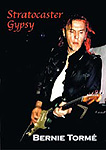 An interesting DVD that shows the history of one the many guitar heroes. It features a selection of videos of varying picture and sound quality – some probably from Bernies own personal VHS collection – some great, some not so great to be honest. Not the best singer in the world but the axe wanging makes up for it.
So that's what else Phil Lewis did apart from being a member of Girl and mainstay of LA Guns – he was the frontman for 'The Bernie Torme; as shown in the live in concert versions of 'Star'; 'Frontline'; 'Turn out the lights'; 'Hardcore'; 'My baby loves a vampire'; 'Mystery Train'; 'Arabia' etc etc. Not the most interesting of songs but you could see which direction Lewis was heading in.
That's the thing with Bernie Torme tho – he has become overshadowed by people he has worked with, the biggest names of course being 'Ian Gillan' and Ozzy Osbourne'. Talk of those 2, there's a long interview on this DVD as well that's a real eye opener which takes you right back to the grass roots – find out what turned Bernie onto Rock 'n' Roll; what it was like working alongside the said icons; how he became involved in punk rock and what he's up to now and then some …
6/10
By Glenn Milligan