Bonfire – One Acoustic Night (Live at the Private Music Club)
(E.M.S. – 2005)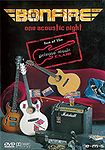 A late 80's German Melodic Rock band who got overshadowed over here by the likes of Def Leppard, Bon Jovi and even Firehouse in their beginning 1st album heyday. They have at times that Def Leppard sound to them and frontman Claus Lessman's voice is reminiscent of Noddy Holder crossed with Kevin Dubrow of Quiot Riot but with a German accent of course.
They are excellent players and the audience here in Studio Dortmund love 'em dearly – some of 'em looking looking like they are in similar bands themselves actually – judging by the hair and costume attire.
Highlights of this 99 minute acoustic set include the bouncy opening number 'What about love'; the cheesey 'Hot To Rock' with full crowd participation; the funky 'S.D.I'; the love ballad 'I need you'; the rockin' Bon Jovi like 'Hard on Me' that also reminds me of Joan Jet's 'I hate myself for loving you'; the slight-country-like 'Ready for Reaction' and the catchy 'Sweet Obsession'.
A second bonus DVD is also included – the best part of which is the Live in Greece section, like the self-shot footage from the plane on the way in. Be sure to check out their albums like 'Point Blank' and 'Fireworks'.
7/10
By Glenn Milligan