DIO – Live In London – Hammersmith Apollo 1993
(Eagle Vision – 2014)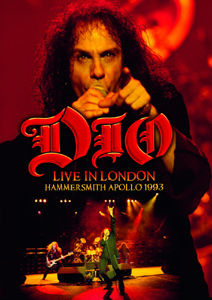 A cracking concert that captures Ronnie James Dion from the capital of the UK during the 'Strange Highways Tour' to sum it up really well.
It's a band line-up that features future Dokken member, Bassist, Jeff Pilson, mainstay drummer, Vinny Appice who needs no introduction with Guitarist, Tracey G and Keyboardist, Scott Warren who you never see on stage but you hear his sounds all the same.
The sound is really good in this legendary venue and you can tell how friggin' loud it must have been in there. It's real intimate with no photopit and Ronnie shakes hands with many fans in the front row while he is singing those great songs old and new which include gems like the opening 'Stand Up And Shout'; 'Children Of The Sea'; 'Man On The Silver Mountain' & 'The Last In Line' with newer material at the time such as 'Pain'; 'Jesus, Mary & The Holy Ghost' and 'Evilution' from 'Strange Highways'.
Everyone is bang on form and it beats me how Ronnie never blows his voice out since he is at full-pelt all the time with the rest of the band providing the perfect platform for his magnificent vocals. Okay there are a couple of uneeded solos on here such as drum and guitar solos but they give the rest of the band a break but get so damn tedious after a while. I always think that it's obvious you are a good player or you wouldn't be in the band in the first place right?
The bonus material is a must to see as well since many fans don't have access to what goes on backstage. This destroys all the myths of groupies, drugs and any other things people presume goes on back there showing in reality that it is where the band gets ready or chills out after the show with each member and hangs with family or close friends – though a hair dryer does get destroyed in the name of Rock N' Roll – all for the camera no doubt.
A DIO DVD well worth buying.
10/10
By Glenn Milligan