Meatloaf - Guilty Pleasure Tour
(Concert One/The Store For Music - 2012)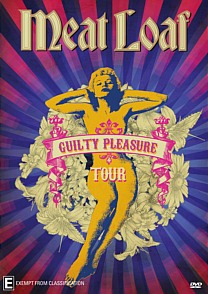 Well from the outset, this should have ben one hell of an exceptional gig for what seems to be a sold out show in Sydney, Australia, 2011.
What spoils it though is that he has way too many backing vocalists doing a lot of the melody which tells me Meatloaf's really struggling these days to perform the songs and it's really off-putting when he has a big lump of orange gum in his mouth as well. He doesn't move much either but still maintains that sneer to the crowd and gurning when singing. He don't sound good and comes across more like an old pub singer who goes off-key and out of time
The band are brilliant and so is the stage but the main man sadly can't nail 'Bat Out Of Hell' or the Rocky Horror Picture Show classic 'Hot Patootie' that come early in the set - in fact the latter mopens it. 'You took the words right out of my mouth' is positively awful and completely embarrasing and his fist shakes like he is an alcoholic that desperately needs a drink to top up - harsh to say but it's true. The female vocalist who duets on the southern rock of 'Stand In The Storm' with a rap dude on the videoscreen halfway into the song and sounds bang on to say the least.
'I Would Do Anything For Love (But I Won't Do that)' is total abortion and in this case I hope he is referring to singing. Beats me how he can judge any vocalists on 'The Voice' when his record company releases dire performances from a once great icon who many including myself admire a lot in the past. His voice is totally shot and I think he only did the show because it was being filmed for the DVD. Personally, I think they should have waited for him to be back on form before recording this for commercial release as this is most definately an off night indeed.
He should have thrown the towel in a long time ago if this show is anything to go but credit to him for working up the crowd to bring up 'Paradise By The Dashboard Light' but then goes downhill when he starts singing again. Nice to see them firing a few t-shirts into the crowd to make up for it but the damage has already been done.
It's not good to say the least and this is definately far from pleasure.
5/10
By Glenn Milligan