Metal Evolution - The Series
(Eagle Vision - 2012)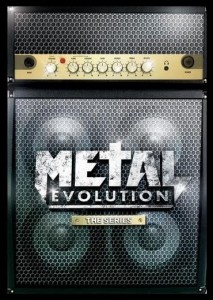 This DVD set is probably the most comprehensive documentary series that I have ever seen that has been put together by Metal enthusiast, Canadian Sam Dunn and his small crew.
He goes to the extent of asking questions of where Heavy Metal came from and why and why there were so many different sub-genres such as Glam Metal, Thrash Metal, Grunge and Shock Rock and gets the history of many of them too and why they sound the way they do from a variety of interview sources such as Alice Cooper, Slash, Bruce Dickinson, Ace Frehley, Peter Criss, Kerry King, Bobby Blotzer,Lars Ulrich, Rob Halford and many, many more that takes him all over the world into a variety of locations that range from the local interviewees pub to concert dressing room areas.
It must have cost him an absolute fortune to finalise this mission as you see him jetset from the USA to Europe and back and even down to South America all in the space of say one episode. He gets to hang with bands during soundchecks, backstage and at the side of the stage too as well as with the fans in the audience too so see all sides of the coin as well as in-depth interviews with many record company execs, producers, DJ's, philosphers and music journalists.
There are so many highlights but the main one for me is when he gets a ride with Yngwie Malmsteen in one of his Ferraris in Miami, Florida as well as hanging with Glenn Hughes outside in LA. Or what about seeing King Diamond with no make-up on; the archive interview with the late Ronnie James Dio in his dragon filled house or chatting to Geoff Tate about Queensryche before the band went a bit disjointed to say the least. The scenery is awesome as well and not to mention all the music and exclusve footage that's interspersed throughout the 8 hour+ series.
This is an essential buy for any Heavy Metal fan the world over.
10/10
By Glenn Milligan