Move Me Brightly – A Documentary Concert Film Celebrating Jerry Garcia's 70th Birthday
(TRI Studios/Eagle Vision – 2013)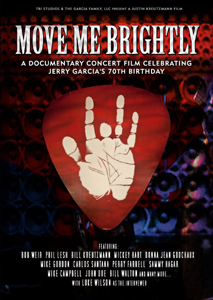 A delightful insiders look at the musical style of the late Jerry Garcia of The Grateful Dead who passed away around 15 years ago.
This year he would have celebrated his 70th birthday, so his friends and other close musical comrades and those he has influenced have done it for him at a special celebratory concert held at Bob Weir's own studio in San Rafael, California that includes members of The Grateful Dead like Mr. Weir of course, Mickey Hart and many others.

In a show and combined documentary you see some outstanding songs being performed from Jerry's treasure chest of ditties that instantly put joy into the bodies and minds of the specially invited Deadheads. It's packed with firm favourites perfectly planted into the set that include 'Shakedown Street', 'He's Gone' 'Terrapin Station', 'U.S. Blues' and 'New Speedway Boogie' which like many of the numbers go on for a mighty long time and appear to be never-ending – the typical Grateful jam I guess.
There are some really special moments on here and funny ones too with highlights such as Sammy Hagar joking to the interviewer, Luke Wilson about the fact about having the right to be there and showing him it's right across the road, not letting on he is the Chickenfoot Frontman – lol. Then there's the fact that his brother says that Jerry was not a worker (in the '9 to 5' sense of the word) or telling us how he lost his finger too. Or what about his daughters saying what he was like as a dad, as a person and how he thought of people he know, let alone how generous he could be at times to fellow musicians who touched him in life.
Nice to see exclusive Interviews with Mike Campbell (of The Tom Petty Band), Carlos Santana, Perry Farrell and many others who talk about his musical style and what sort of impact he made on them on and vice-versa. Jerry was a total one-off who looked at the world a different way and as quoted was the salmon who swam downstream. My only qualm of the show is that my fave song ain't included ' A Touch Of Grey' but I will get by as it's an enjoyable DVD and extremely enlightening that covers the heart-warming legend of The Greatful Dead that isn't fully recognised in the media – especially over here in the UK.
Well worth buying and taking in as there's a lot to take in that can't be covered well by just talking about who says what as the DVD has such a royal trippy aroma about it in various ways.
10/10
By Glenn Milligan