Rainbow – Black Masquerade
(Eagle Vision – 2013)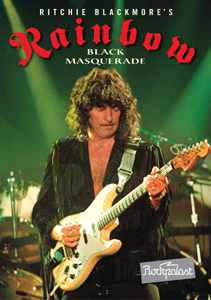 Another show I remember recording off the German WDR channel when it was first broadcast in 1995 and still got that VHS too. Now the show has been placed onto DVD by those kind folks at Eagle Vision.
This was the last incarnation of the band who released the one album called 'Strangers In Us All' with future Malmsteen frontman, Doogie White on lead vocals. The gig from Philipshalle, Dusseldorf, Germany, October 9th, 1995 begins with two intro's of 'Land of Hope And Glory' followed by some Dorothy Wizard of Oz Dialogue and the famous song itself before the band take it over and go into 'Spotlight Kid'
So as you can expect, the whole band is in mighty fine form as Ritchie only allows the best to grace the boards with him – who is the solo member of the original band left. It's not the biggest stage in the wall and more of City Hall like proportions but the venue is absolutely vast by comparison. The sound is rather tinny to my liking but it's a real passionate show not to mention the only one filmed of that line-up.
Doogie injects plenty of humour into the proceedings by telling the crowd that it is being filmed tonight and to waved to your mum now as well as telling them that those who didn't buy the 'Strangers In Us All' will get a severe good hiding – lol. So many highlights on here and plenty of solos too with even a classical to Eastern to Grandoise tradiotional piece with programmed drum parts from keyboardist, Paul Morris who really gets into it and gets the whole hall going too!
Not to mention the sub-bassy and tom-tom bonzana from drummer, Chuck Burgi plus bassist, Greg Smith really throbbing in on that groove majestically. Of course the man in black is always an iconic legendary force to witness with his presence here being no exception that sees him concentrate on his guitar-work and band leading in that amazing tassled black jacket he is wearing that creates quite an impact with no words good enough to describe the dark, hard-hitting, classical rock and almost medieval qualities of his playing and overall stance.
Tons of cracking numbers are to be found here with standouts being 'Man On the Silver Mountain'; 'Long Live Rock 'N' Roll' from the Dio era; newer stuff of the time like 'Black Masquerade' and the dark number about a lady called 'Ariel' (no mention of the washing powder – ahem!) where Doogie hits an impossible note indeed with even Candice Night, Ritchies future wife and Blackmore's Night frontess getting in on the action on the backing vocals in the quiet moment of the song.
You can't fault a momentous rendition of Deep Purple's 'Perfect Strangers'; a tongue in the bottle version of 'Greensleeves'; the speeded up and tremendously precise 'Hall Of The Mountain' king or my fave Puple track that is 'Burn'. A long overlooked, underestimated line-up in concert that deserves more credibility than it was given back in the day - now is the time for that change.
10/10
By Glenn Milligan