Rainbow - Live In Munich 1977
(Eagle Vision - 2013)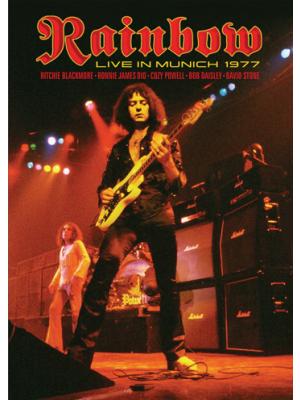 The classic old Rockpalast analogue video from way back so we'll let them off for the crunchy sound quality although it has been remastered a bit. It was shot at the Munich Olympiahalle, Germany on 20th October 1977. As I said in the CD review, I remember recording this back in the early 90's on the German channel, WDR that aired this show through the night and even the support performance from Kingfish.
It's a joy to see this released on DVD since it's such a worthy performance from all involved, especially now since Cozy & Ronnie are sadly no longer with us. There are some excellent close up shots of Mr. Blackmore playing Strat from a variety of angles that are something to be truly marvelled at as is the dramitic Rainbow that towers over the stage especially just before Ronnie introduces 'Catch The Rainbow' after asking John to light it up. It's also cool watching the 'reel to reel' tape recorder in the background too when it comes into shot that Ritchie was using for echo techniques.
Every member of this band are utterly phenomenal especially Ronnie James Dio as that voice of his was truly remarkable - a total one-off and pretty unmatchable since he genuinely feels every single word he sings and precisionally projects it accordingly hitting every single note & bang on tme without a problem and no doubt blowing everyone away there that night with his performance. Then there's the out of this world drumo solo from Cozy Powell to consider to the '1812 Overture' and the cool organ playing of David Stone too.
Songwise it is oustanding which starts with the fast classic 'Kill The King' and closes with the epic 'Do You Close Your Eyes' which is also a pretty fast number. In between you'll be treated to gems like the Deep Puple's 'Mistreated' that was done in the Coverdale days; the hit single 'Long Live Rock 'N' Roll' and 'Man On The Silver Mountain' that certainly get a thumbs up in my book as well as an early airing of what became 'Difficult To Cure' which was released many years later on the album of the same name.
You know when it is the end of the show too as Ritchie literally smashes the sh*t out of a black Fender Stratocaster on the stage in a most elaborate way that he'd never get away with these days due to major health and safety issues. You later find out that Mr. Blackmore made the gig by literally minutes after being bang up in an Austrian jail on an assault charge from a gig in that said country due to with a nasty altercation in the crowd upsetting him and it turning into good old school fisticuffs.
The extras are brilliant and includ very revealing interviews from Bon Daisley & Colin Hart that have been done recently, a song by song commentary about each song in the concert with tons of trivia as well as the awesome little film going by the name of ' Rainbow Over Texas '76' that has dome great concert to it and archive interview with band members too. Oh and how can I forget to tell you that there are even three original promos that even include the hardly ever seen one for 'Gates Of Babylon'.
Literally one of the best ever Rockpalast shows you will ever see.

10/10
By Glenn Milligan