Ringo Starr & The Roundheads - Live
(Image Entertainment - 2012)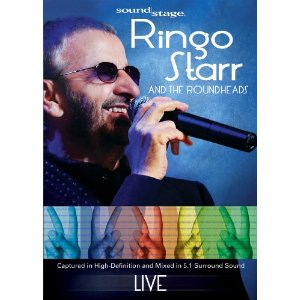 A gig that's just short of an hour that took place on the Genesee Theatre in Waukegan, Illinois that was presented for TV in the USA by Soundstage.
Sound and visuals are absolutely stunning and the concert itself is presented in widescreen format on the DVD. The Roundheads are cream of the crop musicians especially lead guitarist 'Steve Dudas - now these guys do Ringo proud and each and every song incredible justice, especially in the harmonies of many of the songs such as 'Octopus's Garden' & 'Photograph'. Something that will blow many people away is the inclusion of Ringo's 1st ever song that appeared originally on the 'White Album' as it's known and goes by the name of 'Don't Pass Me By' and starts up with Mr. Starkey tinkling the ebony and the ivorys - I bet many didn't even know he could play the piano!
Ringo and all the band are having a joyous time throughout the gig and there is plenty of laughing and smiling throughout the gig with the man himself going back to his original position on the drums for songs like 'I Wanna Be Your Man' while singing at the same time or even has a little mini-kit set up at the front of the stage for him so he can play a more recent 'Choose Love' album number called 'Give Me Back The Beat'.
What's My Name he asks them a few times of which the fans shout 'Ringo' with the man himself saying he likes that part of the show. I gotta say he looks incredible and you'd never think he was the best of 70 as at times he jumps around like a 20 year old. The concert closes with the Beatle fave 'With A Little Help From My Friends' with impeccable harmonies - people of this standard don't need no memorex or auto-tune and even Ringo sounds well throughout.
Brilliant and enjoyable performance that showcases different parts of the legends career.
10/10
By Glenn Milligan