Mr Wolf & Ridley Scott Associates Presents 'Springsteen & I'
(Eagle Vision – 2013)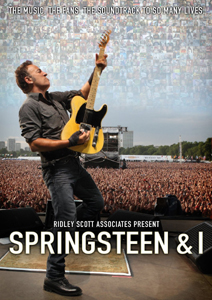 A documentary that features vox pops of fans from all over the world who tell you what the Boss means to them that is intercut with concert footage too.
Some of his fans come across extreme and obsessive as there is one woman who will listen to nothing but in her car and makes her kids listen to all the albums too; a girl getting up on stage with him for 'Dancing In The Dark'; Philly Elvis singing a couple of classics by the King or the UK factory worker of 20 years who had been given front row tickets by one of Bruce's staff.Then there's the guy who got dumped by his girlfriend who he was gonna take to one of his shows so told Bruce via a sign and got invited up for a hug on stage and the guy who got to busk with Bruce as well.
There are extras as well such as pro-footage from the Hard Rock Calling 2012 concert with excellent renditions of 'Because The Night'; 'We Are Alive' and the closing with Paul McCartney on 'I Saw Her Standing There and 'Twist & Shout'.
I like the fact that fans have created their own short films such as the one with the guys dream where he talks about being jn a high speed chase with the cops on his tale and Bruce is by his side in it saying they never catch him – pretty surreal. It's also really cool when many of the people who made their own video clips get to meet the main man at his VIP Room after a show in Italy.
I was actually surprised how much I enjoyed the DVD to be honest. One for Bruce fans everywhere and definitely lovers of documentaries everywhere.
10/10
By Glenn Milligan