Twisted Sister - A Twisted Xmas: Live In Las Vegas
(Eagle Vision - 2011)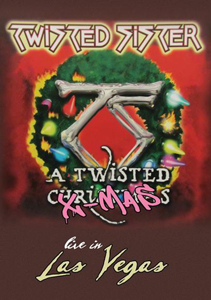 This is as far out cheesey as it gets, dudes dressed as dwarves stuffing tinsel in pipes that make up the stage as well as bringing on 4 of the members 1 by 1 by way of a makeshift doors and Dee himself coming in on a slay.
Chicks on stage dressed in classy santa helper suits with all the guitars being christmas looking too. Set-list wise it's very much like the New Jersey one thry released in 2007 but has a bonus CD added as well. Highlights include crowd pleasers like 'Shoot 'Em Down'; 'You Can't Stop Rock 'N' Roll' and 'The Price' with the likes of 'Have Yourself A Merry Christmas'; 'Come All Ye Faithful' in a 'We're Not Gonna Take It' kinda rhythm thanks to A.J. Pero and 'Deck The Halls' in True Twisted Sister Syle.
As well as this you get some killer chatting from Jay Jay French where he tells us about being jewish and even has their candle painted onto the back of his guitar as a tribute to his late parents. Then there's the ever extensive banter from Mr. Snyder who tells us he ain't a jew and don't beat up the audience like he did in the heyday or his salute to the US Troops before going into 'I'll Be Home For Christmas' that features Lorena Peril on stage with them duetting with Dee.
Love the section when Satan Claus comes on stage with no pants/trousers because he shat himself - they are drying in Dee's dressing room he tells us - hahahaha! He gives each member a present and even brings a particular rocker on stage too for Dee Snider before the 'Sister blast into 'I Wanna Rock' or what about when all the band are at the front of the stage doing '12 Days Of Christmas' that comes complete with a statue of Ozzy.
You'd be pleased if you found this in your stocking as opposed to a lump of coal.
10/10
By Glenn Milligan