The Australian Pink Floyd Show – Eclipsed By The Moon
(TAPFS Europe Ltd – 2013)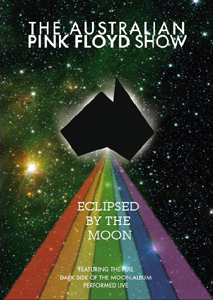 Yes it's that famous Pink Floyd Tribute from down under who have a ton of members making up the incredible note for note sound of all songs played in concert.
It's split into two separate DVD's and filmed at the Trier & Oberhausen Arenas in Germany on 12th & 13th April, 2013. DVD 1 is dedicated to recreating 'Dark Side Of The Moon' with 3 male front men & 3 female singers that really come over during 'The Great Gig In The Sky'. You can't really pick a highlight of the show as it's such an immensely incredible album though I am partial to 'Breath'; 'Brain Damage' & the already mentioned number earlier.
You even get a cool little Interview snippet with fans and a couple of band members not to mention various camera angles and viewpoints of various members and angles song by song through the gig as extras. There's some killer lighting and backdrops of film for the fans to enjoy as much as the magnificent music.
The second DVD is just as good with the most amazing light show – some of which was actually bought from Pink Floyd themselves so no wonder it's so believable and top of the tree in laser quality too. You can't beat the giant sun/moon at the back of the stage in the centre, the giant Pink Kangaroo or classics like 'Echoes'; 'Wish You Were Here' Or 'Comfortably Numb' especially.
As good as the real thing.
10/10
By Glenn Milligan