Deep Purple - Perfect Strangers Live
(Eagle Vision - 2013)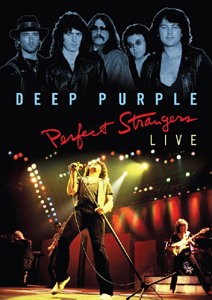 One from the archives that many wouldn't even know existed from this tour – I thought the Rockpalast one from 1985 was the only filmed gig from this era in existence but was pleasantly proved wrong.
We know that set list well as it never changed hardy throughout this tour – yes it's the one of the live album 'Nobody's Perfect' released during that time period but this gig was shot in Sydney, Australia on 12th December 1984 according to information on www.purple.de
There are solos featured too with cool bits including Jon Lord playing 'We Wish You A Merry Christmas' and 'Jaws' in his plus Ian Paice joining him on a well known classical piece not to mention a cracking bit of 'Difficult To Cure' in its own right from Mr. Blackmore too and another wild moment on his own as well which becomes pure musical craziness and sound destruction . Roger Glover doesn't bother with one though but he has enough to do anyway holds all those songs together exquisitely since he is the musical director of the band.
Best moments of the show though have got to be the newer numbers at the time like 'Perfect Strangers' or my fave of theirs that is 'Knocking At Your Back Door' plus of course classics like 'Highway Star' that opens up the gig and of course the teasing aspects of 'Smoke On The Water' to rev up the crowd – lol. Or what about Ian Paice's wacky sun-hat that Gillan describes as rural looking.
It's an absolutely superb slipper stomping show that sees them all smiling onstage and even comes with a Tour Documentary as an extras piece that features more concert footage from various shows shot by television news companies as well as some tasty little interviews too including one from 'The Old Grey Whistle Test' where Andy Kershaw rubs Ian Gillan up the wrong way asking a question that assumes that they've only got back together for the money only – which wasn't the case at all.
It comes as a separate DVD or as a 3 disk set with the gig on 2 CD's and a DVD.
10/10
By Glenn Milligan