Joe Cocker – Live At Montreux 1987
(Eagle Vision – 2013)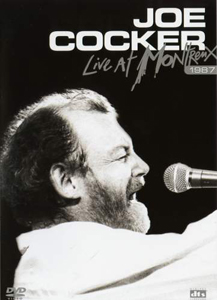 As it states in the title, the Sheffield born warbling, throatal, shout-squawker caught live at Funky Claude's well known festival back in '87.
It's very much a typical greatest hits sort of set that you'd expect of Joe and even more so at this sort of show that attracts a wide array of folks with songs by Bob Dylan (Seven Days/Watching The River Flow/Dear Landlord), The Beatles (With A Little Help From My Friends), Dave Mason (Feeling Alright) and many more.
Highlights include the always excellent 'You can Leave Your Hat On'; 'Up Where We Belong' and 'You're So Beautiful' and the fact that he talks about the place having dogsh*t thrown on it – lol – us Yorkshire folk tell it how it is kid! It's also really cool when the other peeps join him on stage such as the black dude on harmonica during 'Watching The River Flow'.
The sound is amazing and there's plenty of colour up there on the clothes too – well it is the 80's so not a bit of blandness in sight. Turns out Joe was asleep until 5 minutes before the show so no wonder he appears a bit tired and forgets the words to one or two songs but simply adds to the realness of the show – only 43 as well here – he don't age that guy does he? – he's looked the same for donkeys!
Enjoyable show that is also accompanied with a CD of the entire gig too.
9/10
By Glenn Milligan