Ringo Starr And His All Starr Band 2012 - Ringo At The Ryman
(Universal - 2013)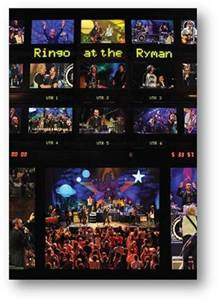 Now you know you can never go wrong when it comes to one of these rocking Ringo outings cas he always has a stellar cast to his band line-up with this one being no exception.
A 2 hour show that was captured live at the Ryman Theatre, Nashville, TN last year on his 72nd Birthday - and still don't look a day over 55 if that. The All Star band features Gregg Bissonette (Drums), Richard Page (Bass), Mark Rivera (Percussion/Sax); Gregg Rolie of Santana/Journey (Piano/Keyboards), Todd Rundgren (Guitar), Steve Lukather of Toto (Guitar) as well as a guest appearence from Joe Walsh doing his 'Rocky Mountain Way' plus of course the man himself, Richard Starkey.
Highlights of the show include the usual staples from Ringo such as 'It Don't Come Easy'; 'Boys'; 'I'm The Greatest' that John Lennon wrote for him and his 1st ever penned effort 'Don't Pass Me By' that was on The Beatles famous White Album as it's known and numbers from his current album '2012' like 'Anthem' and 'Wings'. The musical side is faultless as you'd expect, not to mention the luscious harmonies from many of the members and songs from every one of them bar Gregg Bissonette.
The best All Starr member songs for me are 'Bang The Drum All Day' from Todd Rundgren; 'Rosanna' from Steve Lukather that features some exceptional high ended vocals from Mark Rivera; 'Black Magic Woman' from Gregg Rolie with some esquisite guitar work from Steve Lukather and that Mr. Mister classic 'Kyrie Eleison' from Richard Page that I haven't heard in years. You'll have buy this DVD to find out what else you are missing out on - this is a simple teasing taster in what's in store for you here.
Stockingly, Starringly, Supreme Sounds and Vision!
10/10
By Glenn Milligan
Net:
Ringo Starr: www.ringostarr.com
Steve Lukather: www.stevelukather.com
Todd Rundgren: www.tr-i.com
Gregg Rolie: www.greggrolie.com
Mark Rivera: www.markrivera.com
Richard Page: www.richardpagemusic.com
Gregg Bissonette: www.greggbissonette.com