An Interview with Acey Slade in January 2010 by Glenn Milligan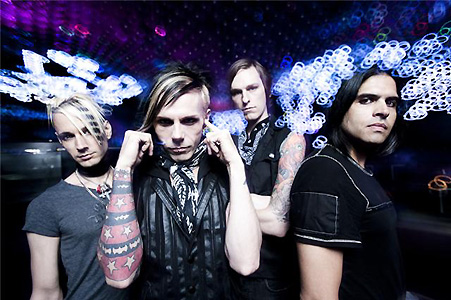 What is now happening with TrashLight Vision? Will they return sometime soon or is it 'The Dark Party' from this point on?
For me, it's The Dark Party from now on. What I enjoy the most about The Dark Party is the versatility and flexablity I have with it. Trashlight was a great band, that's for sure. Never say never, but right now my focus is The Dark Party.
What is it about the electronica that made you want to base an album on it in this style? It works incredibly well by the way.
Thank you. Well for this album it was two things. First, I wanted to do an album that explored a lot of other music I listen to, that people may not expect from me and also to write it in a way I never had before, in writing vocals first, then guitars second.
Secondly, I am so sick of all the 'retro-metal' bands that seem to be the media darlings these days. It's disheartening that people subscribe to it. So, I wanted to offer an alternative to people in the metal/hard rock community. I guess that was three things..sorry..ha,ha!!
How did you go about assembling the band and how long did it take to become a complete unit?
Two Phone calls! I had wanted to work with Andee (Guitar) since the first time I saw him play. Percy (Bass & Keyboards) I had met at some Trashlight Vision gigs and Chris (Drums) was a friend of Joe Lets who filled in on drums for TLV and given me Chris' number. I called Andee and he was up for it as soon as he heard it. Then I called Chris, and he happened to be right in front of Percy, so he passed the message and it was done! But we really became more of a 'band' on the Combichrist tour. Being on tour shows people's true colors. My guys are truly amazing. I am blessed.
What made you decide to have an Introuction to the band on the opening of the album?
Well if you listen to what it's about, it comes back to the 'Mass Consumer' mentality. People will buy anything if it's presented right without paying attention to what they really are buying into. It's almost MEANT to be background noise, to see who's paying attention.
Who or what influenced the song 'Sugarcum'?
OH...true love and other fairy tales.

Who is the incredible female backing vocalist on 'She Brings The Moon' and how did you discover her?
Melitia! She has a band called 'Swear on Your Life'. I've known her forever from the NYC rock n' rollers. Yeah, she killed it! It was humbling to say the least, having her in the studio.
Who is the 'Baby' on 'Baby The Stars Shine Brightly' and what was it that caused her to be immortalised in the song? Does she now have a star name after her as a result?
It's not for anyone in paticular. There's a movie called 'Kamakazi Girls' and I knicked it from that, not the clothing line from Japan with the same name. Anyway, it's a song to give hope and compassion for anyone who may need it.
What made you decide to choose to record The Cult's 'She Sells Sanctuary' and if they have heard it, what was their response to it?
Funny you should ask. I saw Ian (Astbury - Cult Vocalist) recently and had the track all cued up on my iPhone to play for him. But I chickened out, ha, ha! I've just always loved that song. Also, that was a bit of the era of music that inspired this album. There's a bit of an 80's alternative in this. Love and Rockets. The Cure.
Where did the title 'Plastic Lego Queen' come from and what or who influenced it? I take it, that it wasn't a visit to Legoland!
Wow, you know all the right songs to ask about. The title did come from a plastic queen from Legoland, but the song is about just having a blast with your fiends. There is a club in London called Decadance. It's about one night in particular that was pretty out of hand.
What have been your favourite points in recording and writing the songs for the album?
Ummm? Finally finishing it! I was chipping away at it for about two years. Now that it's done I already have an album or two of songs ready.

Are there more songs that have been written and recorded by The Dark Party that will be on the next album - if so, what?
Yeah, there are some B-side unreleased stuff. I made sure to have some extra stuff. I have always been into bands that have had some lost/mystery tracks. The Manics do that very well.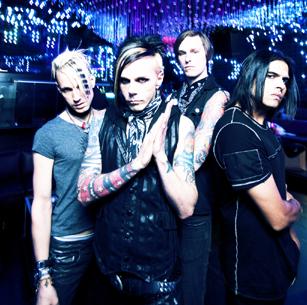 What did it mean to you for two of the character's on 'Rock Band 2' to be modelled on you?
Well, it meant that being immortal does not make you rich! Ha, ha!
What are your favourite songs on the album and why?
'She Brings Down the Moon' is f*ckin' awesome! Just because.. it's f*ckin' awesome! 'Sugarcum' came out great and I didn't think people would like it but it seems to be a fave. 'Sanctuary' because it takes balls to cover a song that classic and do it well. And Ian is a amazing singer. It took balls on my part and it came out very good!
If you could go out and support any particular artists - with The Dark Party or tour with them in general, who would they be and why?
Placebo. I just think it would be a great bill and I would love to watch them every night. Something tells me Brian (Molko) doesn't get his heart ripped out as much as he lets on!
What are your thoughts on the current state of the music business?
Looking at the bigger picture, the economy is what needs fixing first. How can I bitch about album sales when there are people who can't BUY my album because they have mouths to feed? Does it mean I'm going to give it away for free? No, but it does mean that people will get WAY more for their money from me than anyone else.
What was it about 'TrashPit Records' that made you decide to sign with them?
They still believe in 'The Album'~!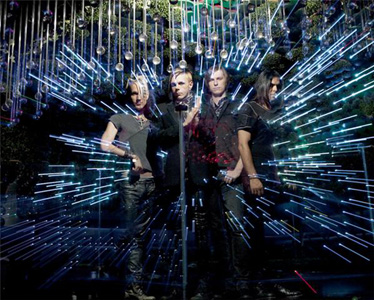 What were the most complicated songs to put together for the album and why?
'Plastic Lego Queen' - I loved the title, but hated the lyrics. I changed them a million times. It's important for me to be honest, but at the same time, there are things in my life that I'm just over and don't want to have to relive every time I sing the song. It started out being about one of the worst things in my life, it ended up being about one of the best nights of my life! And true to that, from the worst things can come the best.
Where did the idea of the album cover come from and who designed it and where?
Oh, for once I had nothing to do with the art. I'm pretty hands on most times, but Daz, at TrashPit / Binger Creative and from the band DIP, did it all. And Clay Patrick McBride did the wonderful pictures.
What are you most looking forward to when takng the new band out on the road and for what reasons?
Well, it's totally different now that the album will be out. There is always ONE guy at the show who pretends he knows the words to the song and tries to sing along. I hate that. I end up watching him when I play trying to figure out, 'What the hell is he mouthing', ha, ha!
What have been your favourite venues and tours in general over the last few years and why?
CB's was always a great time. Miss that place. Nokia in NYC is great. Played there with the Roadrunner United show on my birthday. The TLV tour with Plan A was good. The House of Blues venues always have decent cajun food. But playing Japan is always my fave.
What would you like to talk about that I haven't mentioned?
I think we have covered it all my friend. We have steered clear of my most scaring childhood memories involving...oh no..nevermind...
What are you most proud of so far in your career so far?
It's not just one thing, it's been the whole ride man.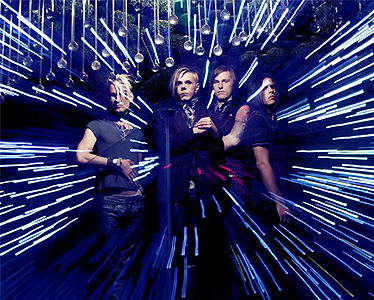 The Album 'The Dark Party' is available now on TrashPit Records

www.myspace.com/aceyslademusic
www.thedarkparty.co.uk
A Big Thank-You to Rob Lane (of Trashpit Records) for co-ordinating the Interview and Cheers to Acey Slade for the killer responses