An Interview with
Alex Grossi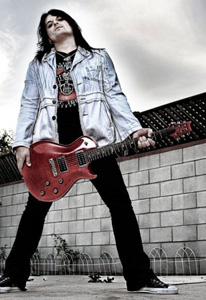 Guitarist of Quiet Riot & Hotel Diablo that took place in Mid March, 2012.
Interviewed By Glenn Milligan.
Glenn: What turned you onto playing guitar?
Alex: The first rock record I ever got was "Appetite For Destruction", so that got me really interested in hard rock music, then a buddy of mine got a drum set for his birthday and his brother already had a bass, so by default I became the guitarist!
Glenn: Who were your influences and what aspects of their playing did you use to mould into your own style?
Alex: I was really into everything that was on MTV at the time, as being 13 years old and from a small town in CT. that is really the only way to hear music, so I was really influenced by KISS, GN'R, Motley Crue etc...
Glenn: What was your 1st guitar and how did you acquire it?
Alex: I used to borrow an old Yamaha Acoustic from the music room at my school, then I saved up and bought a Kramer knock-off at a local music store.
Glenn: How was it growing up in Connecticut and how did it influence you as a musician?
Alex: CT. is known as the insurance capitol of the world, so you can imagine what the music scene is like. If anything, Connecticut influenced me to move away! There has always been some very talented musicians there though, however the ones you actually ever hear about usually had to move away from there to get noticed.
Glenn: How did it differ to Boston with regards to music?
Alex: Its completely night and day. Boston had an actual original music scene as well as Berklee College of Music, so with those two things there was constantly stuff to check out and a ton of opportunities as opposed to CT which was (and still is) pretty much nothing but cover bands. I am not bad-mouthing CT, it just is what it is....That being said, Boston probably has a crappy "Insurance Scene" ; )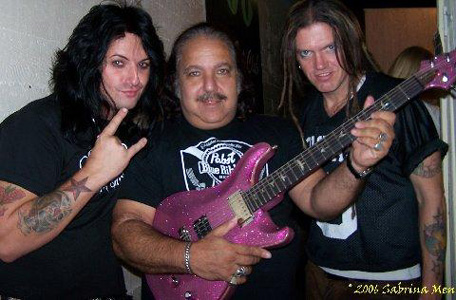 (Alex Grossi, Ron Jeremy & Dizzy Reed @ The Cat Club (R.I.P) Hollywood 2006)
Glenn: How would you say LA/Hollywood has changed over the years since you 1st settled down there?
Alex: I have been here about 10 years now, and from what I have seen in the circles that I am in is that there are less and less venues that you can just go and jam at. The Cat Club and The Coconut Teazer are both gone now and if you ever hung out on the strip during the past 10 years you would know that those were both really cool places to just hang and "jam" - you never knew who was going to show up, and a lot of guys (including myself) did a lot of networking there which led to tours/sessions/gigs etc....
Glenn: You have worked and recorded and appeared with many artists over the years - what would you say were the most memorable moments overall and for what reasons?
Alex: One that immediately stands out is writing w/ Kevin DuBrow for what would sadly be his final album on QUIET RIOT's "Rehab" stands out for sure, I am very thankful to have gotten that opportunity. It is also cool as a GN'R fan to have written and recorded with three different members of the band on various projects - Gilby Clarke on Hotel Diablo, Dizzy Reed for his upcoming solo record and Steven Adler in Adler's Appetite.
Glenn: When you were picked for the 'Bad Boys of Metal' - what would you say the highlights were for you and why?
Alex: It was really cool to get that call, the whole thing was a blast!...The tour itself was kind of a mess (everyone was on the SAME bus, so you can imagine how that was) but it was great experience both personally and professionally.
Glenn: How long did it take you to master over 40 songs for the tour and what were the hardest to perfect and why?
Alex: We did a solid week of rehearsals before the tour left here in LA, but prior to that I spent a solid 2 weeks wood shedding all the material. The Kevin DuBrow set was the hardest because unlike the other acts on the tour Kevin actually cared and took it seriously and wanted it to be musically good every night.
Glenn: What were your thoughts when you became a full time member of Quiet Riot and what songs have you been most proud of being a part of both in the creation of or playing them live and why?
Alex: I was really excited when Kevin and Frankie asked me to join in 2004, I am really proud of the song "Free" ,which I wrote with Kevin in 2005. I think it came out great on the album. It was recorded by the great Tony Franklin on bass (The Firm, Blue Murder) and Neil Citron on guitar who did the whole "Rehab" record along with Kevin and Frankie and was really fun to perform.
(Quiet Riot - Sweden Rock 2007)

Glenn: What made you decide to form the band 'Hotel Diablo'?

Alex: When Rick Stitch (vocals) and I were in Adler's Appetite we started to do a lot of writing, and when that whole thing fell apart we were left with a bunch of material that we really wanted to finish and release, we then got together with Mike Duda (bass) and Mike Dupke (drums) and it all fell into place.

Glenn: Where did the name come from and who decided on it?

Alex: Mike Duda thought up the name a few years back and always had it kicking around, it just seemed like the right to time to bring to life.

Glenn: What was it like assembling the band together - was it an audition kind of thing or did you simply decide upon it as a group of friends while having a beer or two?

Alex: LA is actually a very small town, we all had worked together before in different projects and are all friends so it really was a no-brainer...A couple of phone calls and that was it!

Glenn: What would you say the main differences are for you personally in having your own band in Hotel Diablo as opposed to being the guitarist of Quiet Riot?

Alex: In QUIET RIOT I am performing time-tested material that sold millions and millions of copies, so the main thing making sure I do the material justice and sell it onstage. Hotel Diablo is something that we basically built from the ground up so whatever happens or doesn't happen is really up me and the guys. I like the challenges that both projects present.

Glenn: Why did you decide on 'Psycho California' as the title track of the E.P.?

Alex: As Rick put it in the EP's press release: "Psycho, California" is a collection of stories, true stories, experienced during a time when our lives were filled with mind-altering shots of wretched adrenaline says vocalist Rick Stitch "Strings got bent, knobs were turned and an uncontrolled visceral energy screamed life into what has become Hotel Diablo's, "Psycho, California".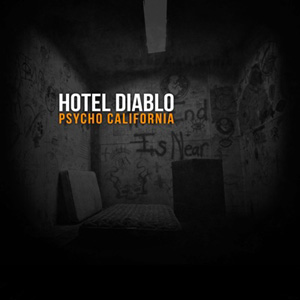 HOTEL DIABLO - "PSYCHO, CALIFORNIA" available on iTunes Now:

http://itunes.apple.com/us/album/psycho-california-ep/id494124736

Glenn: What songs so far are you most proud of that Hotel Diablo have done so far and what influenced them?

Alex: I like them all, but "What You Do to Me" In think came out really great, I think it shows that we can actually write a "song" rather than just riff. As far as influences, a lot of them were written about our personal experiences, mostly here in LA, which can be a pretty crazy place...

Glenn: Were you going for a certain sound and style or did it just naturally evolve?

Alex: It was all very natural for the most part, we really just played stuff and parts that we personally liked. There was no real plan for it, it just sort of happened. I think the material we are recording now is even better and the "Diablo" sound is starting to come into it's own.

Glenn: How was it working with Gilby Clarke and what were the highlights during the recording of the EP?

Alex: Gilby has been nothing short of amazing, he has pretty much become the "5th Beatle" if you will. He has great instincts and ideas and his studio has a very cool vibe. He brings in some very cool old school rock-isms that complement the songs immensely.

Glenn: What is the history of some of the songs - are they all brand new or were some in an embryonic form that needed giving life?

Alex: They were all basically just ideas until we got into the rehearsal room and banged them out. Rick and I demo-d a lot of them but it took Mike and Mike doing their thing along with Gilby's ideas to take them to the place they went too. "Set it Off" and "Trigger" were the first two we did and it went from there...

Glenn: How was your recent gig at the Key Club, Hollywood and what stood out to you from it?

Alex: That show went great, I thought it was pretty ballsy of us to try and headline a room that big being as new of a band as we are, but it went great - we had it filmed for people who couldn't make it to check it out. Here is a clip: http://www.youtube.com/watch?v=TuXtmLWUDfE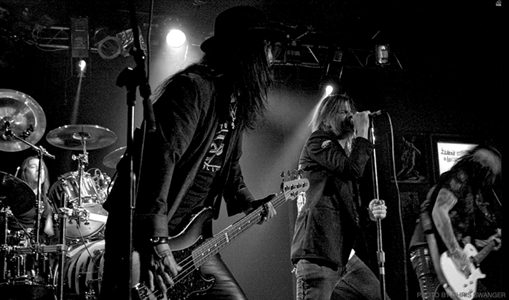 (Hotel Diablo - Live 2012)

Glenn: How would you describe a show by Hotel Diablo?

Alex: That is a tough one, since we have only done a handful of shows... I would say "controlled chaos" right now.

Glenn: I guess the toughest part of the band is the scheduling of the members, since you all have other bands you are part of - what would you say have been the main major hurdles as a result and how did you get around it?

Alex: We are really just concentrating on getting more music written and recorded right now, and since we all have home studios it is really easy to make progress no matter where we are or what we are doing.

Glenn: How is it going in the studio so far in the recording of the full length CD which has been reported on lately?

Alex: It has been going great, we have been working very hard to get it all done and since we actually played a lot of these songs live in the past few months the recording has been very smooth as we have become a well-oiled machine in the past few months.

Glenn: How will you be releasing the album when it's complete - will it be self released or on a independent or major label - what are your reasons behind your choice?

Alex: That is all up in the air right now, there are a couple different options that we are looking at both on our own and with others involved...stay tuned.

Glenn: Any album title ideas yet - if so, where did the title come from?

Alex: Nothing yet...; )

Glenn: Are you planning to do some major touring - if so, where and when?

Alex: It is really hard to say right now, there are some festival dates on the table but the main concern is getting the record done.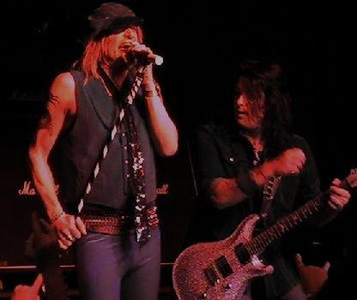 (Live with Quiet Riot - 2007)

Glenn: Where would you say have been the most interesting country to play and also visit (if you were lucky to get a day off and why?

Alex: I really liked playing in Budapest, Hungary - really cool city!

Glenn: What are your favorite road stories in your career so far that you can talk about and what made them particularly special?

Alex: What happens on the road, stays on the road!..But I would have to say any of the time spent on the road with Steven Adler was pretty memorable - he is a walking reality show (and I say that with love, he would agree 100% too)

Glenn: What do you enjoy doing when not involved in music and why?

Alex: I like hanging at home with my wife and my dogs, I also enjoy fishing when I can.

Glenn: What would you say is the perfect guitar for you and why?

Alex: My favorite guitar is a Paul Reed Smith Custom 24, I have been playing them since I was in High School and been endorsing them for 13 years now. Great company and great guitars!

Glenn: How would you describe the guitar style of Alex Grossi?

Alex: Rock.

Glenn: I have a buddy down in Cape Coral called Michael Grossi, who also happens to be coming to the show on 21st April - he was asking if you and him were related? - lol

Alex: Not that I know of.....LOL

Glenn: What are you looking forward to regarding the 'Legends Of Rock' shows down in Florida on 20th & 21st April that Quiet Riot are on the bill for?

Alex: That is going to be a great weekend of shows, Quiet Riot / Great White / Skid Row / Kip Winger / Where Angels Suffer....lots of great Rock!

Glenn: What are you proud of so far in your career so far and why?

Alex: I am just happy to be able to do this for a living, it really is a dream come true...I know it sounds like a cliche, but it is.

Glenn: What would you like to talk about that I haven't touched on in the Interview?

Alex: Yes, If youhaven't yet - check out Hotel Diablo's "Psycho, California"..We have the whole EP streaming at www.thehoteldiablo.com

Glenn: What would you like to say to fans who are reading the Interview?

Alex: Just thanks for all the support and for all the positive emails and messages, it means a lot!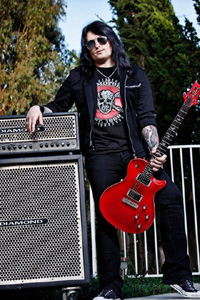 Keep in touch at:
www.alexgrossimusic.com
www.officialquietriot.com
www.thehoteldiablo.com
http://www.facebook.com/#!/pages/Alex-Grossi/155159207860206
http://twitter.com/#!/alexgrossi