An Interview with
Alex 'Skunk' Michael
of Shameless
Interviewed by Glenn Milligan.
Glenn: What turned you on to Hair Metal/Sleaze/Glam?
Alexx: Everything - the look, the sound, the attitude. It's Rock 'n' Roll and it has more power than all those shitty bands casted by TV stations. There is no heart in all those shitty techno, dance bands. It's manipulation 2 the kids of today. They are told by stupid tv channels what to listen to.
Glenn: How did you come up with the name 'Shameless'? How did the band/project come into fruition?
Alexx: I saw a playboy magazine back when I was 15 and there was a picture of a girl and it said "shameless" on top. I thought if I ever have a band this would be the perfect name - and so it was. I'm still amazed that there is no other band called "Shameless".
The original Shameless started as a local band back in 1989. It was me with
a few local friends.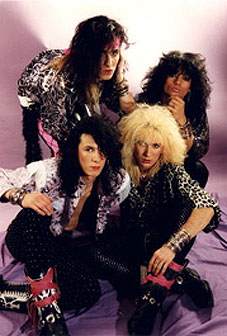 After the singer left in 1991 the band broke up and I tried out a few other bands. I started Shameless again in 1998 when Eric Singer (who is good friend of mine) pushed me real hard 2 get back in music again.
Glenn: What is it about the bass guitar that you like so much and who are your favourite players and why?
Alexx: I just like the sound and the power. A good bass sounds will go thru your whole body. I don't actually have a favourite bass player but I was influenced probably the most by Paul McCartney and Gene Simmons.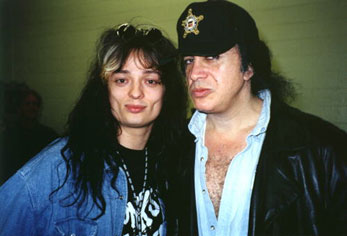 Glenn: Was it always the intention to have an all-star glam project?
Alexx: No, It just happened 2 be like this since Eric knew all the people and it was pretty easy to work with them.
On the new record we only have Steve Summers, Stevie Rachelle, Keri Kelli, B.C., Mike Fasano and myself, cause I wanted 2 concentrate more on the music.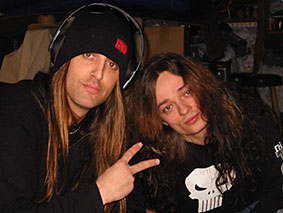 It takes 2 much time away 2 co-ordinate all the people and I think at the end of the day, what matters the most is the music and I think people will be surprised how the new record sounds.
Glenn: What's it like trying to make a living out of music?
Alexx: It´s hard but I love the music just 2 much. U run into a lot of trouble with record companies, promoters, gema. Everybody wants something from u even they have nothing 2 do with it and they try 2 f..k u over big time.
Glenn: Are you involved in other projects - if so what - and which ones are your favourites and why?
Alexx: No, SHAMELESS is the only band I'm involved in. I put so much time and effort in Shameless, there is no time for any other band.
Glenn: What have been some of your favourite concert highlights so far?

Alexx: The last tour was great, even there was a lot of trouble with some of the promoters.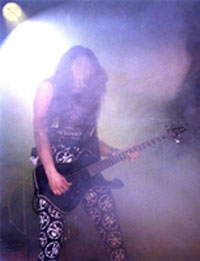 Glenn: How long does it take to put together a 'Shameless' album?
Alexx: Normally it takes about 3 to 4 month 2 write all the material. Recordings are mostly done within 2 weeks and another week 4 the mix. The pre-work on the first cd "Backstreet Anthems" took almost 6 month until everybody was on board.
Glenn: With regard to scheduling and logistics who have been the hardest artists to perform on the album and why?
Alexx: Everybody was real fast available. Since we always try to do our records in the spring, most of them are not touring
Glenn: Who are your favourite artists that you've worked with and why?
Alexx: Keri Kelli -. Keri just knows what to play, what to say, what to do, what to drink and where you get the best sushi in town.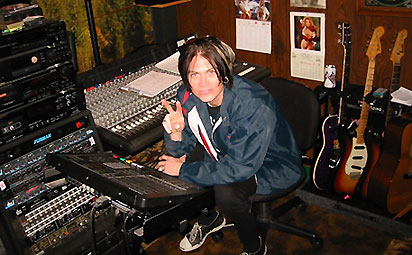 Glenn: How did you meet Gilby Clarke - why was he chosen as a Producer?
Alexx: At first we where supposed 2 record together with Curt Couch who produced the first Union CD. First i got faxes with 1000's of questions from his Manager. Everything seemed pretty weird with that guy from the beginning. He didn´t sound professional.
But 3 days before we left for LA I tried 2 call him. I only got Eddy Money on the phone , who was recording at his studio for the last few months. He told me the studio wouldn't be available in time and wished me good luck with my career and then hung up the phone. That´s nice - but on the other hand he sounded real drunken. After I told Eric Singer about it he said we could record at his friends studio Gilby Clarke.
Believe me - now I know why I never liked Eddy Money
Glenn: Are all the songs exclusively written by the artists involved for 'Shameless'?
Alexx: Well I wrote most of the songs. The others where picked by me if I thought somebody wrote a song that would be cool for SHAMELESS. I think it's not important who writes the song, the only thing that matters is if a song is great.

Glenn: What are your album cover influences !!! ??? Any locations/films etc
in particular?
Alexx: The cover for "Backstreet Anthems" was an idea that I had for many years. The second cover was a one-minute idea.
The original artwork for "Queen 4 A Day" was also supposed to be a comic which shows a girl on a stage and on the next day cleaning the stage. But it looked horrible. So I took one of the photos that where done during our photo-session for the album inside.
Wait until you see the cover for the new CD "Splashed".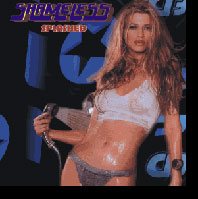 Glenn: What would you say are your favourite 'Shameless' songs so far and why?
Alexx: It's hard 2 choose ´cause those are the songs I picked out of all the demos I wrote thru every year. I really love them all. There is only one track that I wish wouldn't have been recorded. It´s the ballad "Realize" on the first record. I don't like the way it came out. Maybe on some future recording we will re-record it.
Glenn: How do you go about picking the cover versions?
Alexx: The same thing. There are so many amazing songs that i would love 2 cover. I wanna record "Daydream Believer" from the Monkees. That´s an amazing song. I'm not so much into recording songs that are younger than 20 years or are already Rock Songs.
I love to change things here and there and not just play the tune note by note
Glenn: What have been your favourite moments in the studio?
Alexx: When the CD is finished. I hate when things are not done. I can´t stand to stop recording after 10 hours. I could just stay there and go home when I'm done. I don't like 2 take breaks from recording. I only wanna concentrate on the music. Every time Steve finishes a song it's a new favourite moment 'cause he sounds awesome on every track.
Glenn: What are your future touring plans?
Alexx: We hopefully will tour England this October and play some more shows in Europe next spring.
Glenn: Who else would you love to work with and why?
Alexx: Paul Stanley 'cause he's the best !!!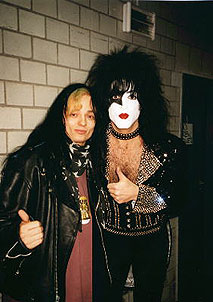 Glenn: What would you say are your favourite all-time albums and why?
Alexx: KISS - Unmasked cause it has great songs, a great cover artwork and i have a lot of memories.
Motley Crue - Shout At The Devil - 'cause it is the perfect combination, the songs, the lyrics, the artwork, the sound everything just matches perfect. I think there are hardly any albums that have such a perfect combination.
Glenn: What are your favourite tour and groupie stories that are worth
telling?
Alexx: When we did the first record in LA, this girl comes over 2 me and says she likes me and started 2 kiss me. She was real good lookin' so I thought "O.K.". After like 5 minutes she told me that she wants to come 2 my hotel but her boyfriend was also here. I said, "So I guess you won't".
She said she will be back in a few minutes. After a couple of minutes she came back and said it would be O.K. for her boyfriend. I thought that was pretty funny.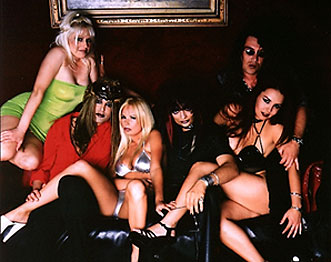 Glenn: Will you be playing the UK at any time?
Alexx: I really hope we will be there in October.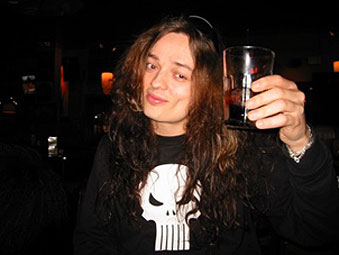 Thanks for an awesome Interview. Let's all hope Shameless manage to play over here in the UK.
Cheers !!!