Royal Hunt' s Andre Andersen
Interviewed by Dave Attrill on 14th April, 2003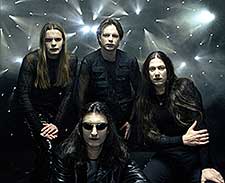 (Andre is pictured far right)
Dave: This year marks your 1st time playing the 'Gods' show - why has a UK appearance been so long in coming?
Andre: I have no idea - every time we were planning European part of the tour with different promoters, UK was excluded. Therefore for many years you were excluded from our "rock map of the world". But you can see now - things come to ones who wait...
Dave: What can we expect to hear in the set?
Andre: Only one or two new songs - nobody knows them yet - and a "greatest hits mix" from all our albums.

Dave: What material do you think the fans will be most looking forward to and why?
Andre: Usually, we have pretty good idea of which song will work for a particular crowd, but being in UK for the first time... We'll play it by ear.

Dave: How are you getting on with the forthcoming album - what's the latest news on it and is a release date set?
Andre: A lot of musical styles/moods on this one. The whole thing is like a "Headline News" - and every issue has its own musical signature. We are in a mixing studio now. The album will be released in Europe on June 16, 2003. In the UK it will be distributed by Cargo Records.

Dave: Why did DC Cooper?
Andre: It became too difficult to work together - nothing really dramatic.

Dave: How did John get to join the band after DC left?
Andre: He was recommended to us by Y.Malmsteen`s manager, and after we`ve listened to some of John`s earlier albums we've invited him to Copenhagen - to work and hang out a couple of days... And here we are - almost 5 years later.

Dave: Are you currently involved in any other projects?
Andre: Not at the moment - don`t have time.
Dave: What bands were you of before Royal Hunt and how do you reflect on them now?
Andre: Every single band or project I was involved in gave me certain experience - be it a studio session, a live gig or just meeting new people. I`m glad I`ve met so many talented people in my earlier days - I still see some of them.

Dave: How did the band become to be and where did the name come from?
Andre: We got together around '90 and the name...We were looking for something colorful - and I saw this painting in one of the museums in Copenhagen: Royal Hunt - horses, lots of people, flags etc. It seemed to fit the bill.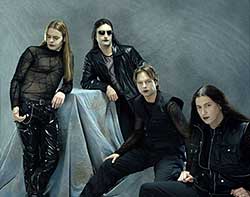 Dave: What influenced the bands musical style and why?
Andre: I'm writing almost all of the bands material and it has a lot to do with me. I was classically trained, than I've discovered rock - D.Purple, Zeppelin, etc. I've started to combining those things and later on, I've heard some albums of Yes, Rush and such. Also the new sounds that are coming on the rock scene now are somewhat incorporated in our later albums and definitely in the new one. You can't stop progress and I'm all for it. All of the above mentioned elements are present in Royal Hunt's unique identity - it gives this large classical perspective with traditional rock backbone plus some progressive twist`n `turns and new & fresh sounds.
But doesn't matter how written and arranged the songs are and how twisted, surprising, complicated or simple they are, it always comes out to be Royal Hunt. That's the key to our success.

Dave: Who are your favorite keyboard/piano players and what made you decide to take up the keyboards?
Andre: I started playing piano at age 5, so I didn`t chose the instrument - my parents did ( I thank them for that). My favorites were Rick Wakeman - classical/progressive and Jon Lord - rock.

Dave: How is it making a living from the Music Business?
Andre: Fun...

Dave: What do you think the future holds for this type of Rock?
Andre: It always been here - and it always will. Bigger, smaller, with or without MTV.

Dave: What do you like most about the Music Biz?
Andre: To be able to work with something you really love - as playing music - and get paid for it.

Dave: What other instruments do you play?
Andre: Acoustic, Electric and Bass Guitars

Dave: What other bands would you love to tour with?
Andre: Saga - great band, great people.

Dave: If the gig at Penningtons goes well - will further UK dates be on the cards?
Andre: I wish. We love to tour and play live - but it's not up to us. It's up to you and the fans in the UK. Please, buy our records and make some noise and you'll see us definitely coming back.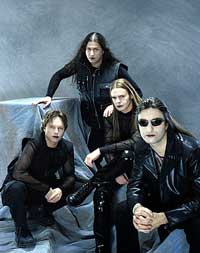 A Big Thank-You to Mark Ashton @ Now and Then Records for setting this up.