An Interview with
Andy Cairns of Therapy?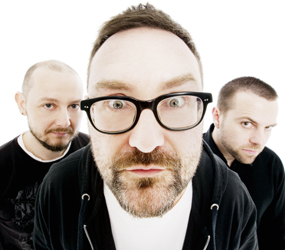 on Wednesday 25th March, 2009
by Tony Watson
Tony: Good afternoon Andy, are you enjoying all the promotional stuff you have to do?
Andy: Yes it's good fun, I enjoy it, it's nice to talk to people and fans, we have been doing a lot in Ireland at the moment and it's going great.
Tony: How do you think the new CD will be received by the fans?
Andy: We are getting good feed back from our fans, they like it, we think that it may be aimed more towards the metal heads as it's more intense and more solid, its something that's different in the sense that it's not following the mainstream of bands that are around today.
Tony: The 10 tracks seem to be different to the Therapy? We know, was it always in the bands mind to do something different?
Andy: Yes, the general public expect us to do Troublegum part 2, but we aren't a band that wants to revel in our past glory, this wouldn't work for us and if this had happened I don't think Therapy? Would be here today. My 14 year old daughter is into all this new poppy punk metal, you know the sort of bands and it's not my sort of stuff, some of these bands are built on what's happening now and they all sound the same, which makes me think they are just on the band wagon for the money. Therapy? aren't like that, we do what we want to do, we have had record labels contact us who want us to write stuff that they want to here. Mastodon is like old school rock and this is the sort of stuff that is starting to come back in and I think this is great.
Tony: When listening to the CD as background music while doing other stuff, I would say there is a Voivod or even Killing Joke influences in there. Has there been any musical influences that helped with the making of this CD?
Andy: We like Voivod and Killing Joke and with Andy Gill doing the production on this Crooked Timber, I feel he has contributed to that particular sound as he has worked with Killing Joke, so Therapy? Have got the distinctive bass sound the catchy guitar riffs and the high pitch toms on the drums. The bands we like do influence what we do, you listen to bands and always pick something out that catches your interest.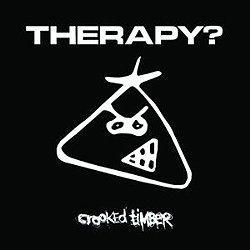 Tony: I was going to ask you about Andy Gill and what it was like to work with him?
Andy – He is very easy going and he never looses his temper
Tony: Do you prefer this kind of producer or do you work better when someone is screaming and shouting at you?
Andy: We do prefer the easygoing types, this works best for Therapy? As we all can get involved and produce material that we all like.
Tony: What made you do a 10 minute instrumental and do you feel this maybe out of character for the band and the CD?
Andy: We were listen to bands like Secret Machines, Queens Of the Stone Age and other Cock rock sort of bands, you know, the sort of stuff you can drive along to, where the music is so hypnotic and you just drive without thinking. It actually started as a jam which just kept repeating, but we loved it so much we decided to pit it on the CD. We are going to play it live, which will be interesting and if people start to go to the bar we know not to play it again.
Tony: In 1994/95 we had 'Troublegum' and 'Infernal Love' that were massive. Why do you think the band slowly disappeared after these amazing releases?
Andy: We don't know, there were a lot of indie kids about and our music was too metal for them so I think they didn't get it. So I hope we will get a little more respect with this one. I feel we weren't playing the game, Shameless was our worse selling CD of all time and it was driving us crazy why it wasn't selling, we were constantly at our promoters as we didn't know what we were doing wrong.
Tony: Would you see Therapy? Going back into the commercial sector again?
Andy: I think we were in the right place at the right time when Troublegum and Infernal Love were released, we toured with some great bands like Metallica and it was a really good time. We would like to be like Motorhead or Iron Maiden and do what they do and what they did. I can remember seeing Iron Maiden in America when Blaze Bailey was on vocals and there were only 200 fans there to watch them. Bruce came back and the fans came back and that's the same with Motorhead, they stuck at it and they always get a good following. We aren't going to make music to order and because of this we have got the respect from our fans.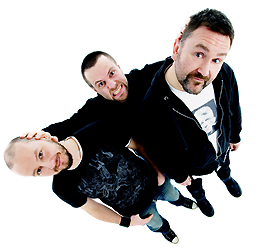 Tony: Well you will be glad to know I have seen the CD in HMV this morning.
Andy: That's good someone is doing there job correctly.
Tony: This is the 13th studio album, what keeps Therapy? Alive and kicking and to keep going?
Andy: Our fan base and we love playing live and the whole thing that goes with it, we have known bands who hate the touring and living in and out of a suit case bit, we don't, we love.
Tony: Which is your favourite track off the new CD?
Andy: 'Exiles' - the bass line is so superb and the whole track just jells together with its soft guitar breaks and it's about growing up in Northern Ireland so it means a lot to us.
Tony: Who has been the best band you have been on tour with and who would you like to take on tour with you?
Andy: In '93 we were with Helmet and Jesus Lizard, it was like an unstoppable juggernaut, we have been treated really well by other bands and we always do the same when we take people out on tour. Clutch were amazing as we didn't know what they were going to do next and the thing that was so remarkable was that they were like one big family. Fugazi again were amazing, as they couldn't do enough for us to make us feel welcomed. As with taking bands out on tour with us, I would like to take Torch from Norway, Murderdolls, ZU or The Ghost Of A Thousand.
Tony: You have been missing from the Festival scene such as Download for a few years. Would you like to do such festivals again?
Andy: Yes we would but we don't seem to get asked which p*ss*s us off, we would like to do them, as the whole atmosphere is so different.
Tony: I had a friend who was in your hospitality tent at Donington 2006 and he was wondering what was in the drink called the Therapy? Cocktail?
Andy: It was our last date of the tour and the day before we were in the Netherlands so we picked up some booze to bring back and what we had we made into a cocktail I believe it was Vodka, Kahlua and Tia Maria.
Tony: Do you miss each other when not on tour?
Andy: Yes we do, many years ago we were all living in each others pockets as we lived so close to each other, so it felt like we had never had a rest from giging, but we all live apart now and we get together every couple of weeks to jam and rehearse, so it's good that we feel that we have had a break from each other.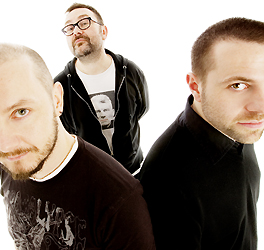 Tony: Apart from Ireland, where do you like playing?
Andy: We always like playing in Leeds, Manchester, Sheffield, Amsterdam, Seattle and New York, but I would say it's easier to tell you where we don't like to play as it seems we are like cursed in certain areas such as Detroit, we hate it there, every time we go either no one turns up or its that packed and when it's packed our kits breaks down and it's the same with Aberdeen, we always have a bad gig.
Tony: Are you going to do a big tour this year and is Sheffield part of it?
Andy: I didn't realise you were calling from Sheffield, as I said we like Sheffield as we get a good response and we do like the Leadmill and the University. We are going to wait until the festival season is finishing so I would say we are planning to tour around September time and hopefully we will be in Sheffield. You will have to meet up with us for a chat.
Tony: That would be nice. We have a new O2 Academy, which is slightly larger than the Leadmill so it could be a new venue for you to try out.
Andy: We will have to put it forward and see what we get.
Tony: It's been a great pleasure to talk to you and I hope the CD and the gigs go well for you and I hope we can meet up in the near future.
Andy: Thank you and I hope to see you soon.
A big Thank You to Andy and Polly & Jen @ Demolition Records for setting it up.