An Interview with
'Andy Sarcone Rooney'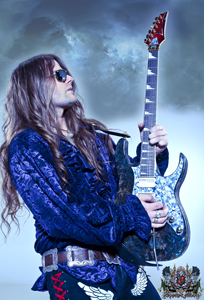 Lead Vocalist & Guitarist of 'Spelled Moon'
that took place late June, 2015.
Interviewed by Glenn Milligan.
Glenn: Who would you say are your musical influences that mapped out the course of the style that you play?
Andy: Well I'll start with the guitar players first. I grew up listening to Yngwie Malmsteen, David Gilmour, Gary Moore, Mark Knopfler and Ritchie Blackmore. They are my main influences as a guitarist. In addition, I listen to a lot of Classical Music (J.S Bach, Beethoven & Paganini) Tango and also lots of instrumental pieces from the likes of Vangelis, Hanz Zimmer and some other composers. Moreover, I really dig ambience music as well.
Glenn: What do you like most about Neoclassical Power Metal and why?
Andy: I like the freedom within the style, there's no compromises, nor artistic boundaries. It includes lots of keyboards, choirs, orchestras, bells and all kinds of instruments can be used and abused in this style. Of course, double bass drums, heavy guitars, wild solos (both guitars and keyboards) and a little dose of screaming doesn't hurt. All together: the mix of heavy rhythms mixed with melodies, tales and legends - that's my kind of stuff.
Glenn: Tell us what you were up to before Spelled Moon came to be with regard to other bands & shows?
Andy: Well, I've been playing my whole life. I started taking singing lessons when I was 10, shifted to piano at 13, then to guitar at 15 and ended up in a classical music conservatory at 16. At the time, I was playing in every band I could and surrounding myself with lots of musicians all the time. That's the only life I knew. Afterwards, the main band I was on was WOLFF PACK, based out Florida.
I did work with lots of bands, but this was my main project where I started writing themes that later would shift direction and become SPELLED MOON. We did shows with Kamelot and Nikko McBrain just to name a couple. I also was lucky enough to meet the guys at Power Station Studios and start working with their main engineer, David Levy, for almost 5 years where I learned everything I know about recording, producing and engineering.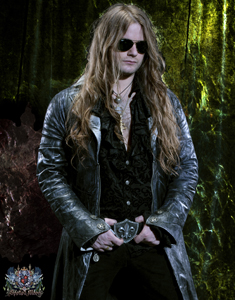 Glenn: Why did you decide to form the band Spelled Moon?
Andy: When I left Wolff Pack, I couldn't bear the thought of not really playing. I wanted freedom to write and create my own 100% original stuff without having to show stuff to be approved by other members. SPELLED MOON, reflects everything I wanted to hear in music. Everything is there. That's the reason why this album has taken so long to get finished. Keep in mind, when I started this project, I didn't know anything about recording studios, so its been a learning experience, for sure. Eventually, I got to invite some of my best friends to be in it and they brought their magic along. I was also able to find other great players that are also a part of this.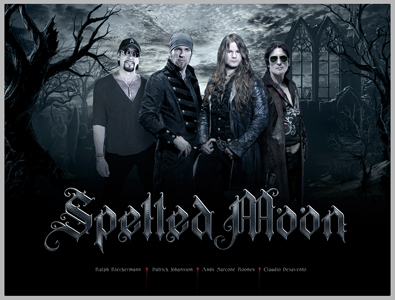 (Ralph Rieckermann, Patrick Johansson, Andy Sarcone Rooney and Claudio Pesavento)
Glenn: Why did you decide to move to LA and what would you say are the advantages and disadvantages (if there are any) and why?
Andy: Well, LA was the obvious choice for a musician like myself to go to. There's musicians everywhere, everyone is related to art somehow and there's all kinds of stuff going on all the time. Moreover, I was able to assemble my own recording studio, which I named BLACK GATES. That's where we do everything for Spelled Moon while working with other projects as well. It's a great place to meet new people all the time and to have the possibility to see every band you can imagine. Every band sooner or later comes to Los Angeles. As for disadvantages, every places has them for sure, like everything else in life, right?
Glenn: What were you looking for initially in qualities of forthcoming band members in order for the unit to work and why?
Andy: It is a process that happens on its own accord, I think. When things start working out, you just know it. It feels right if and when it does. I've played with many awesome musicians who don't bring anything to the music - it's all about themselves. It is really hard to find real musicians who as well dedicate lots of their time and effort to be a part of something bigger than their every day routine. Music is a very complicated way of life, more so than lots of people would think. It's a lot of hard work and long hours. Aside from that, everything you do will be in that album forever, every decision you made at that point stays there; as a result, I've met lots of guys who have regrets about their music. That's why I've taken my time in doing this album, no regrets here.
Glenn: How did you originally meet Claudio Pesavento and was music in the air from first seeing and hearing?
Andy: I met Claudio on one of our tours with Wolff Pack back in '03 at the Rainbow Bar, Hollywood. Ever since then, we've become good friends and wanted to work on a project together at some point. When I started SPELLED MOON, it took me no time to call him in. This was the perfect opportunity to bring his piano playing into S.P.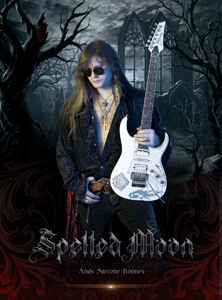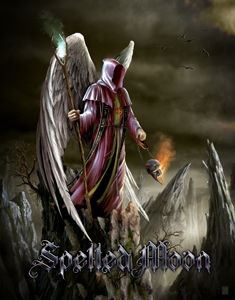 Glenn: What about Drummer, Patrick Johansson?
Andy: I met Patrick at the Hard Rock in '05 in Florida when we were playing with Nicko McBrain. Again, another great friend and musician which whom I really enjoy working with.
Glenn: Tell us about working with Quiet Riot's 'Chuck Wright' for a couple of songs and how did this come to be?
Andy: I met Chuck last year, through the Engineer I was working with. Chuck knows a lot about metal and he has worked with some amazing bands such as: Schenker, Impellitteri and House Of Lords, just to name a few. He is a great guy and musician, with whom, I'm very happy to have worked with for this album and more in the future for sure.
Glenn: Where did the name 'Spelled Moon' originate from and why did you decide to call the band that?
Andy: Someone handed me an old story book or something like that, and I just came across the word SPELLED. Later I found out it came from Old English and it meant that something was under a spell. Since I have a fascination with the moon (hence the name ''WOLFF PACK'), it came together as 'SPELLED MOON'. I thought it would be a great presentation name for all my stories and so forth.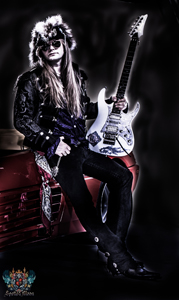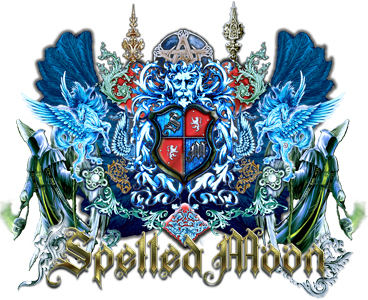 Glenn: How long did it take to get the EP 'Forsaken Spells' recorded and how did you get to know Tony Bongiovi? Are there certain albums in the past that made your mind up of working with him and if so which ones and why?
Andy: We where working on the album and Ralph Rieckermann (another one of my good friends and musicians) asked me if I would be interested in doing a remake of an unreleased song of the band SCORPIONS. He wrote and recorded the aforementioned song back in '93 with them when he was in the band. As you can imagine, I wouldn't have turned that one down, so we left everything aside and got to work on it. I rewrote its lyrics and solos and there you have it. When it was finished, Daniel Trajtemberg, our illustrator, sent me a sketch of the cover for the album which I really liked. Having finished 3 songs we released it. It was a good teaser and it gave me an idea of how the band would sound together. Nowadays, we'll remix everything and change some small things to make it better.
A Friend of mine, and owner of Ghoghos productions in FL, Javier Ghoghos is very good friends with Tony's Studio Main Manager, Rob Roy, he introduced us and the rest is history. Rob is a great engineer and knows a lot about music; that's why it was a no brainer for me to work with them. His studio manager, David Levy, invited me to see how they were working on some other stuff, and as a result, I got to learn a lot from them. Afterwards, we started working on Spelled Moon's music for a long time. I met Tony there, plus he was there for the first drumming sessions which were all done at his studio, Power Station Studios.
Glenn: Tell us about the recording process and the things you had to overcome during?
Andy: I love recording, and I really dig the process. Until that part you have an idea of what you expect but nothing is final until you are there. It's a great surprise to see how everything takes shape.
The main problem is learning to trust yourself to make important decisions that can improve or destroy a project. Once you've overcome that, you are good to go, however, it's no doubt a painful process.
Glenn: Who designed the EP cover and where did the idea come from?
Andy: Daniel Trajtemberg, aka DANKER, is my main guy to go when it's needed to put an image that's inside my brain into paper. Dany and I are always talking with about ideas for the band, but there's something I have to say, and it is that he always surprises me with his stuff. It's always better that what I imagined. I consider Dany another Band Member.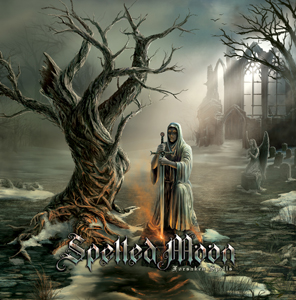 Glenn: Would you say that the cover relates to a certain song, the title of the EP or the name of the band?
Andy: Everything relates to everything in Spelled Moon. All the songs are stories here, and I like to spend lots of time writing them. 'Forsaken Spells' relates to things we say and then forget although at some point - they did hurt or made someone happy. Most of the time we tend to forget but a spell is something that has power and in this case words can go very far.
Glenn: Nice typeset/font by the way. Who came up with that and what inspired it?
Andy: Indeed it is, but again it's all Daniel and his magic…….
Glenn: What inspired each of the three songs on it?
Andy: 'Hidden in the Winds' is about not being able to cope with your past, but in this case, this guy, waits for the ghost of his love to come to him every night.
'Soul Mates' is about not finding what you always wanted. He sees the reflection of his soul mate but he can't have her, just yet…..
'A War of Shadows' goes about THAT friend that you have, and that you know is bad news but it's the only one you have. You know at some point it'll betray you. In this case our protagonist has been in this world forever, so everything he knows, dies eventually, so he talks to the moon, but she's not a good friend to him…….
All the lyrics are online at our Reverbnation page, in case that any of you want to know more.
Glenn: There must be a story behind the plush red sofa and the candelabra being on the back cover. Care to tell us about it? Where was this shot and by who since the lighting is outstanding. How long did the process take?
Andy: Theres all kinds of stuff like that at my house. Swords all over the place, candles etc. The sofa was in my studio at the moment and Dany did that photo shoot in a weekend. He took a lot of pictures.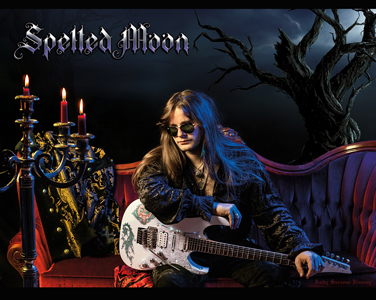 Glenn: You have the EP available but what songs are you currently working on at the moment. What can you tell us about them?
Andy: Yes, the EP is available on iTunes, CD Baby, Amazon , etc…
We are currently working on the rest of the songs, pre-mixing, keyboards, orchestras, choirs, brass percussion , etc. All songs are stories. Each one of them has its own thing going. I write the lyrics first and then I tailor the music to that story.
Glenn: You now have what I would say is the perfect line-up of the band. How is it all going in rehearsal, when can we expect a full album release?
Andy: We are working really hard to get it finished within this year. Rehearsals will start as soon as the album is finished, due to writing and recording process being in the middle. The line-up is solid we all get along great. We all believe in this project and what it represents.
Glenn: From where you are standing, what was it about Joe Petro initially that made him the perfect fit as the permanent bassist in the band?
Andy: Joey is a very experienced bass player and we share a passion about collecting guitars. It is great to record with him because he brings a different bass for every session. We got to experiment with lots of different instruments. It makes the session much fun to work on.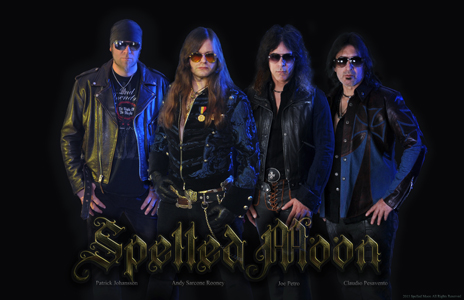 (Patrick Johansson, Andy Sarcone Rooney, Joe Petro & Claudio Pesavento)
Glenn: What would you say are the similarities & differences between the original bassist, Ralph Rieckermann (who played on the E.P.) and Joe Petro when it comes to their playing and overall style and why?
Andy: The only similarity I'd say is that both are 'Hard Rock Players' but bear in mind they come from very different backgrounds. Differences aside, they are both great players and each one brought very special things to my music. That's why I like working with various musicians - there's no one alike and that's great.
Glenn: How would you describe the vocal and guitar styles of Andy Sarcone Rooney?
Andy: That's a good one. I never think of this to be honest. I get lots of comments from people who are comparing me with very different singers and guitarists that I would've never thought of.
Glenn: When can we expect some Spelled Moon live shows and whereabouts?
Andy: Very soon, I hope. We are working on it. We have offers to go to Europe (UK, Switzerland, Germany, Spain, Denmark, etc) and to South America as well. For obvious reasons, we'll start playing in USA. Los Angeles is the first on our list and we do have lots of invites to do stuff here.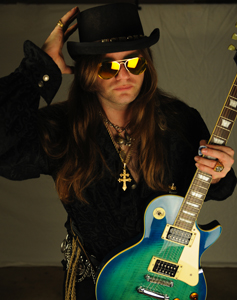 Glenn: If you had the chance, what bands would you like to share a stage with or be a support to on tour and why?
Andy: What can I say???????? We'll leave that open to surprise us or not. On another note, I would've loved to open for with Jimi Hendrix, Gary Moore and Jon Lord.
Glenn: What have been your most eventful road stories so far in your career?
Andy: Hahaha, impossible to share in an interview. Glenn as you know my friend, I do have lots of them. All I can say is that Rock 'N' Roll is a very interesting trip with ups and downs but a good time is warranted.
Glenn: Do you have a particular guitar you like to record and play live with and if so which particular one and why?
Andy: My "Main" guitar is an Ibanez RG570 body with a custom Scalloped neck in Pearl White that I call SCARLET. I own several guitars - all kinds and brands from different years but this one is very special to me. It's responsible for almost all the solos in this album.
As a manner of fact, I customize and scallop all my guitars; rock 'n' roll is a hands on job for me.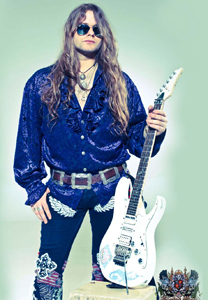 Glenn: What else would you like to discuss that I have not touched upon so far?
Andy: What I'd like to say really is that Rock 'n' Roll is not dead and it will never die. We all keep it alive…..
Glenn: What would we find in your hobbies and interests part of your resume and what got you into those particular things?
Andy: I have a very, I mean a very deep love for fast cars. I just love them. Good stories fascinate me as well and it is all poured into the band's music.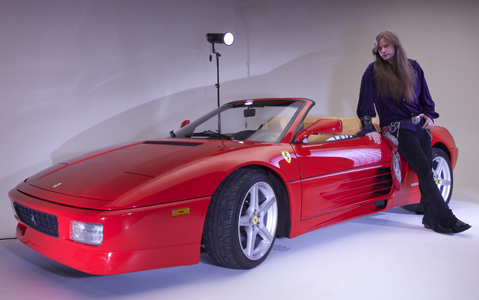 Glenn: What are you proud of so far with regard to 'Spelled Moon' and in your career overall and why?
Andy: I'm glad to say that I'm proud of everything we are doing. The music is always honest. We are working really hard just to make something that will represent us always. I'm not trying to emulate anybody or be commercial or any of those stupid things. What you see is what you get here. For sure, I admire and have been influenced by great bands and I welcome that. For me, it's all about making this dream a reality and that's what I'm working on.
Glenn: What are you hopes for the future of 'Spelled Moon' and as a guitarist overall and why?
Andy: Keep doing it the way we are doing it now. No limitations and no boundaries. It's all about the ride and this is a hell of a one……….
Thanks so Much Glenn. It was a pleasure. Actually I had a great time doing so…… Keep on rocking my friend.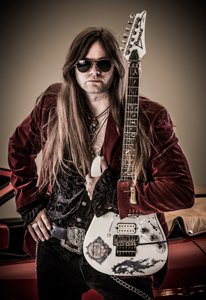 For more information on Andy Sarcone Rooney & the band Spelled Moon check out the following web-links:
http://www.spelledmoon.com
http://www.facebook.com/spelledmoon
http://www.reverbnation.com/spelledmoonofficial
http://www.youtube.com/spelledmoonofficial
All images have been supplied and used by kind permission of Andy Sarcone Rooney