An Interview with
Hellion Singer
'Ann Boleyn'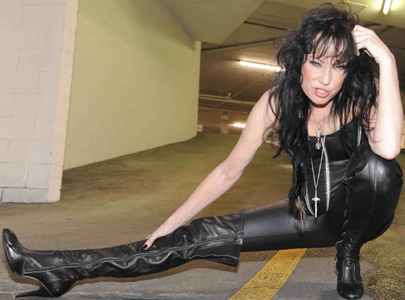 that took place late August, 2013.
Interviewed by Glenn Millgan
Glenn: How was it for you growing up in Seattle and what led you to Metal in those early days?
Ann: I was born in Seattle, but did not grow up there. I grew up in a small town called Centralia, which is north of Portland, Oregon. When I grew up, I listened to bands like Deep Purple, Black Sabbath, Uriah Heep, Alice Cooper, The Allman Brothers and Pink Floyd.
Glenn: What led you to start playing Hammond Organ as opposed to any other instruments?
Ann: In addition to playing Hammond Organ, I also played bass and a little guitar. I fell in love with the way Jon Lord played the Hammond and by the feeling of standing in front of the Leslie speakers when the pedal was to the floor. It is such a powerful, yet warm sound. It was kind of like being in control of a giant cement-mixing truck that makes music.
Glenn: When did you realize you had that voice and what were the thoughts of others when they first heard it?
Ann: The first time I sang in public as a lead singer was July 4, 1982. We didn't have a lead singer so the musicians took turns singing songs by bands like UFO, Scorpions, Rush, and Black Sabbath. I had problems singing and playing keyboards at the same time. I was very, very nervous.
After I finished singing, a group of people asked for my autograph. I'd been in bands for years at that point, and had never been asked for my autograph. It was weird!
Glenn: What are your memories of working alongside the California based band 'Third Stage Alert' (which I actually have an original cassette of) and what were the highlights of that for you?
Ann: Prior to Hellion or Beowulf, I'd been in a band with guitarist Albert Morris. I was also a friend of guitarist Julio Loma and of the drummer, Mark Edwards. We were fans of Deep Purple. When Yngwie Malmsteen first came to America, he hung out with Albert and Julio.

We had planned to do more together until Mark Edwards, the drummer, suffered a serious spinal injury that left him paralyzed.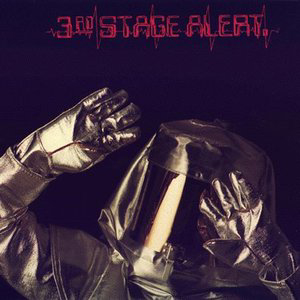 Glenn: What were some of the main highlights for you personally of the heyday of Hellion and why?
Ann: There are two that stick out. The first was when Hellion had the privilege of opening for Whitesnake and Dio. At the time, I'd never performed in front of such a big audience. David Coverdale and Ronnie James Dio were two of my favorite singers. I remember being on stage and seeing Ronnie at one side, giving me a thumbs-up, and of seeing David Coverdale on the other side of the stage, nodding in approval. That meant a lot to me because they were two of my favorite singers.
The other time was when Hellion performed at the first Monsters of Rock in Russia, which was then the USSR. It was in a giant hockey arena. I remember walking out of the warm dressing room into what felt like and icebox. Of course the guitars instantly went out of tune. Once we got the tuning sorted out, I really enjoyed myself. We had some giant flying dinosaurs overhead that breathed smoke and had eyes that shot out laser beams. It was an amazing production. I really enjoyed performing in Russia and look forward to returning.
Glenn: What albums are you most proud of from the Hellion days and what songs in particular and why?
Ann: That's a hard question because I each album I recorded on marked improvement and development as a singer. I remain especially proud of the Hellion "Mini-LP," because it was done with almost no money, yet it managed to make an impact and was tied with The Police's "Every Breath You Take" for "Record of the Year" in both Kerrang and Sounds Magazine.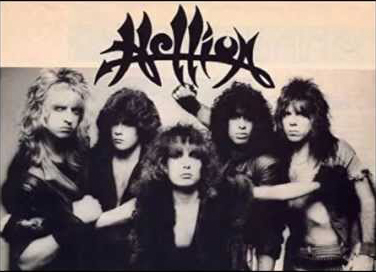 Glenn: What tours and shows stand out to you in your career and for what reasons?
Ann: The 1988 tour of Europe in support of Hellion's "Postcards From The Asylum" tour was great fun. It was just a club tour, but it was a very exciting time in music. It was also the first time Hellion had ever had a tour bus and a professional road crew.
Our soundman was Big Mick, who also ran sound for Metallica. Our crew was also from Metallica. When we went to get the tour bus, the crew was very unhappy because the bus we were given was the same bus that Metallica and their crew had been on when Cliff Burton was killed. That was weird.
In about 1990, Hellion became the first American band to tour in Russia, which was then the Soviet Union. Other American bands that had performed in Russia before Hellion had flown in for their show, and flown home immediately after the show, so the Russians weren't experienced in doing what was needed for a band on the road.
This was at a time when the Russian people had to stand in line for food. The Russian musicians who were on the tour with us had wives who went and stood in line on the days of the shows to get food. We didn't have anyone with us who could stand in line for food, and went several days without proper meals. We finally figured out that the best thing to do was to go to McDonalds and load up on burgers.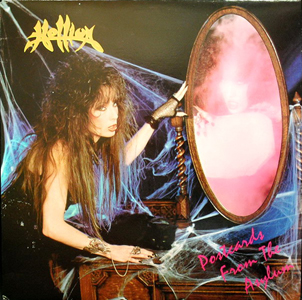 Glenn: What are your favorite tour stories that you can tell?
Ann: There are too many good stories. A story that sticks out occurred at the L.A. Streetscene Festival.
In the 1980's fans of bands like Stryper and Holy Soldier used to protest at Hellion shows. Some became violent with Hellion fans who were smoking pot or drinking beer. When we were playing the L.A. Streetscene Festival some of the troublemakers stole cans of beer from some Hellion fans and then started throwing them at the band. One of those beers went zooming past my head. I picked it up and it was full. I opened it and of course it sprayed beer out. Then, as I took a drink from what was left, the crowd began cheering. About that same time, I saw some Hellion supporters carrying the troublemakers out of the crowd. I'll bet that was the last time any of them tried to do that.
Glenn: What would you say is different to the music biz now from when you first started out with Hellion?
Ann: The internet.
Glenn: What in your opinion stopped Hellion from hitting the big league of Rock & Metal like Iron Maiden or Def Leppard or other bands that went major at the time?
Ann: It was a combination of factors. In the USA the record companies had expectations about how a female singer should sound, look, and what kind of music she should sing. They expected female singers to sing pop music or hard rock like Fleetwood Mac, Heart or Pat Benetar.
Part has to be blamed on the original band. By 1984, Hellion was making an impact on the music scene, even though we didn't have a record deal. Unknown to me at the time, Sean Kelley, our drummer, was making arrangements for a male singer, Richard Parico, to replace me. The timing of that move could not have been worse. By the time the band decided to replace me with Parico, we had been doing some demos with Ronnie James Dio and the band had gained a lot of momentum. When I was thrown out, that momentum was lost. It is my opinion that if the original band would have stuck it out together, there would have been no stopping us.
Glenn: How did your 'New Renaissance Records' come to be and what were the memorable parts and forming it and why?
Ann: New Renaissance Records was formed out of necessity. Hellion was signed to Music For Nations Records (MFN) in England and Europe. MFN also had Metallica, Exodus, Anthrax, Mercyful Fate and loads of other great bands. But in the USA we did not have a record deal.
In the early days of Hellion, we sold cassette demos at our show. When we no longer could make enough cassettes, I had pressed the demo onto vinyl as a Mini-LP. That Mini-LP sold very well and the distributors wanted more metal recordings.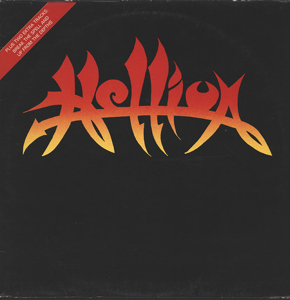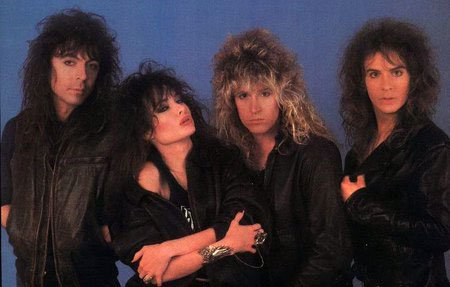 Glenn: Is 'New Renaissance Records' still in operation and are you most pleased with regarding the releases on the label?
Ann: Yes. It is still in operation.
Glenn: What led you to an interest in Old Norse Language and getting a degree in it in 2003 at UCLA?
Ann: By the mid 1990's, the music business was terrible and I was having problems paying my rent. I looked around me and saw other musicians who were in the same situation and they were making ends meet by selling drugs or by being a prostitute. I have no moral issues with either prostitution or marijuana. However, I didn't want to take the risk of going to jail. So, I took out student loans and went to college.
Glenn: I understand you achieved a Law Degree a few years ago as well. What prompted you to decide to do this and what differences have been made to your life so far as a result of having the Degree and in what ways?
Ann: I believed that people would have more respect for me if I had a law degree. Back in the 1980's and 1990's, during the period when I was managing my band, and my record company, people would often refer to me as "stupid." I figured if I obtained a law degree that I would not have to contend with that issue any more.
Glenn: What would Ann Boleyn say to the young Ann Boleyn if you had chance?
Ann: I would advise a young version of me to not be so worried about showing affection to the people I love.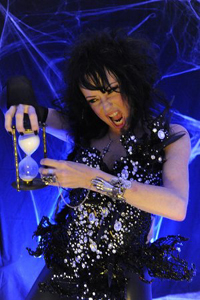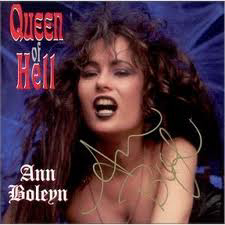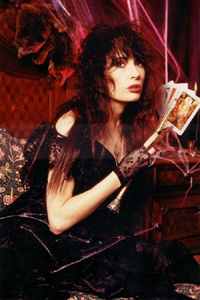 Glenn: What would you say younger kids are missing out on if they haven't heard or seen you yet and why?
Ann: I sing differently that other female singers. You either like it or not.
Glenn: How was NAMM 2013 for you and what stands in your mind of being there and why?
Ann: NAMM was important for me because it marked the first time I had been on stage in many years.
Glenn: I recently watched you perform 'Don't Talk To Strangers' at the NAMM JAM - what were your thoughts of being asked to do this and how was it for you overall?
Ann: I was thankful to Neil Turbin, The Iron Maidens, Dave Reffett, Parker Lundgren, and to everyone involved for the opportunity to sing on stage after so many years. I requested to do other material, but the organizers insisted I do the Dio songs because other performed had already requested to sing other songs.
Long ago I made the decision that I did not want anyone to think that I try to sound like Ronnie. This is why Hellion has never performed any Dio live since 1982. Likewise, I have never recorded any song that Ronnie wrote and recorded.
I, like many people, was very upset when Ronnie became sick and when he passed away. After Ronnie's death, I was asked to go to Japan and perform a series of tribute concerts and also to record both a live and a studio-recorded album of Ronnie's songs from Rainbow, Dio and Black Sabbath. Even though the money offered was very generous, I could not bring myself to do it.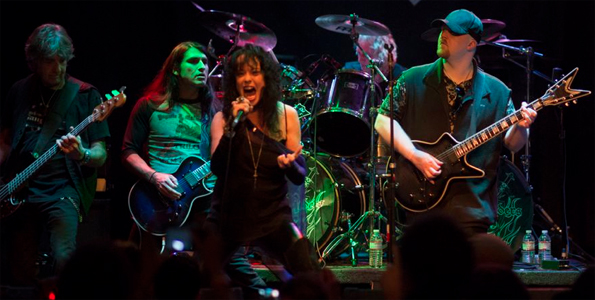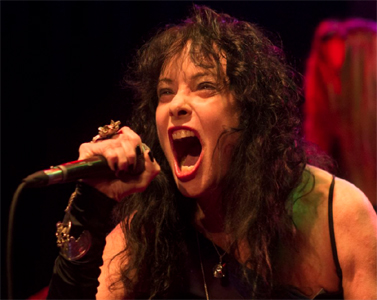 (Photos by Guitarworld.com)
Three years after Ronnie's death, singing "Don't Talk To Strangers" and "Rainbow in the Dark" was still emotionally very difficult. Also, until the night of the jam, I had never performed with the group of musicians who were on stage. And, although I preferred that the songs be sung in their original keys, they keys of all the songs were lowered to accommodate the other singers and musicians. That made singing those songs especially difficult too.
There was a point in the first song when I questioned whether I would be able emotionally to get through the Dio songs. My performance that night was far from my best. However, I am thankful to the people who insisted I sing.
Glenn: What made you decide to get back into the business with a band in your own right (named 'Boleyn') after all those years away from the scene?
Ann: It has been decided that the new band will go by the name Hellion. When we first got together we discussed using another name. However, it was later decided that since people think of Hellion and myself as pretty much the same thing, that it made more sense to use Hellion.
Glenn: Who is in the new band and what credentials do they have that made you decide to choose them?
Ann: I am in the studio now with Simon Wright (AC/DC, Dio, Queensryche, UFO) on drums. Bjorn Englen (Yngwie Malmsteen, Dio Disciples) is on bass. Maxxxwell Carlisle, a newcomer to the business, is on guitar.
Simon Wright is currently a member of Geoff Tate's Queensryche. Both Simon and Bjorn Englen are also members of Dio Disciples. We are doing our best to work our schedule around those two bands' schedules and are hopeful that it will be possible for the studio line-up to tour.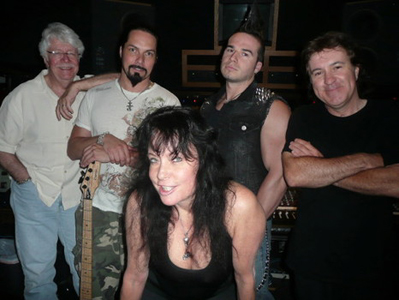 (The new Hellion line-up with Ken Scott -far left)
Glenn: Why did you decide to record at Total Access Studios and how is it all going so far with legendary Producer, Ken Scott?
Ann: I worked on a demo at Total Access Studios with Ken Scott in about 1986 after the first line-up of Hellion split. I really enjoyed working with Ken, and of the general vibe of Total Access Studios. Unlike most of the small Pro Tools studios where most bands are recording, I wanted to have the energy and feeling of being in a traditional studio with a track record of successful albums.
Last year Ken Scott wrote and release a great book entitled, "Abbey Road To Ziggy Stardust." He mentions Hellion in his book and I contacted him to thank him. When Ken Scott records in the Los Angeles area, he prefers to work at Total Access, so made sense that we record there. Simon Wright also had good experiences at Total Access in the past.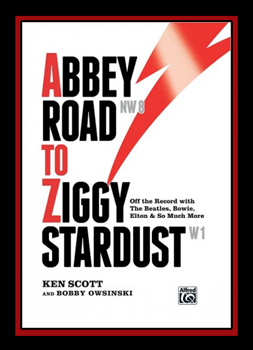 Glenn: When can we expect new music and what songs are ready in waiting for us? Can you tell us about them?
Ann: The songs are traditional metal. We are currently working on five songs and hope to have them completed in early August.
Glenn: What made you decide to work on the anthology project and what cool stuff have you managed to assemble so far and from where?
Ann: Hellion's albums have been out of print for a number of years. There are many young heavy rock and metal fans that are not familiar with Hellion's music and we are hopeful that the "To Hellion And Back" anthology will introduce them to both a new song and to the old material.
Glenn: What artist do you have working alongside of you for the artwork of the Anthology?
Ann: An Italian artist, Gaetano Di Falco, is currently completing the artwork for the anthology.
Glenn: If you could form the ultimate metal band (with you on vocals of course), who would you have in the line-up and why?
Ann: They are the musicians that are in the studio with me now.
Glenn: How would you describe your style of vocals?
Ann: The style of my vocals is dictated by the voice I was born with. The sound of my voice is affected by my physical body and by my emotions. I have large vocal chords and I am a relatively small person. The voice you hear when I sing is what comes naturally.
Glenn: How do you personally keep your voice in trim these days to stop it from blowing out on you?
Ann: My voice gets better the more I use it. I am usually at my best at the end of a tour. The only time I have problems is when I have not been singing for a long time. Then it just takes a while to get my voice working again. I have never had any nodes or other voice problems.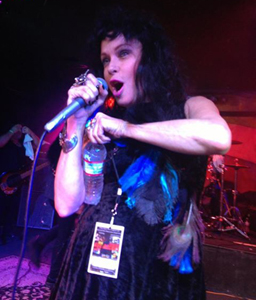 Glenn: What places/venues would you like to play when the new album & anthology are out and why?
Ann: I would like to return to the UK, Europe, Japan, and Russia for starters. I've never performed in South America, Bulgaria, Hungary or India. It's always fun to go to new place.
Glenn: When and where can we expect to see you in the UK in the distant or near future and what would it take for the tour to take place?
Ann: Basically, all it takes is a good agent and willing promoters and we will be there.
Glenn: What female singers of Metal out there today do you think really have something going for them and why?
Ann: I have tremendous respect for Doro, and for the other female heavy rock and metal singers that have been at it for a number of years. There are too many to name them all.
Glenn: What are you most proud of in your career so far and for what reasons?
Ann: I am proud that I have stayed true to my roots and that I never allowed anyone to make me into something I am not.
Glenn: What else would you like to mention that I have not yet asked about?
Ann: I thank the people who have supported me over the years. If it were not for you, I would not be working on new music.
Glenn: What would you like to say to any fans out there who read the interview?
Ann: The metal music scene has always been about connecting with people and sharing good times. There is no substitute for the feeling you get when you are with a group of people who like the same music as you and you are hearing a band play through large speakers. Likewise there is no substitute for the feeling people get when they look each other in the eye and give each other a hug. This does not happen if you are glued to your computer.
I invite you to follow Hellion and myself on twitter at: @BoleynOfficial & @HellionOfficial. We also have active facebook pages.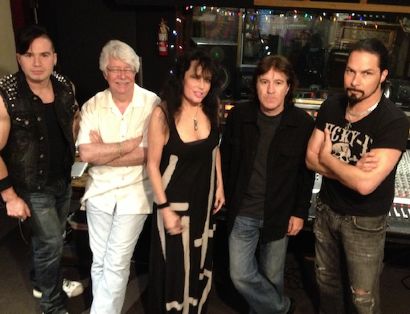 A big thank you Ann for your time and excellent answers