An Interview with
Brian Tichy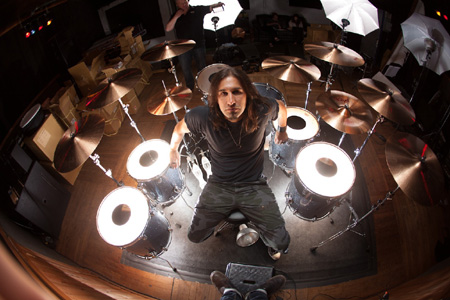 Drummer of Whitesnake & also S.U.N. (Something Unto Nothing)feat. Sass Jordan.
Plus formerly of Zakk Wylde's Pride & Glory, Foreigner, Billy Idol, Slash's Snakepit and Ozzy Osbourne.
Interviewed by Glenn Milligan, early March, 2012
What was it like for your as an aspiring musician growing up in Denville, New Jersey and what was around for you there at the time?
I grew up in Parsippany, but was born in Denville, a few miles away. I was a kid in the 70's and got turned on to most music by the radio, my dad, and friends. My parents got me a drum kit at age 9 and I was off and running playing to KISS, Zep, VH, AC/DC, Nugent, The BEATLES, and Aerosmith on my record player... full blast with headphones on! In the early 80's I started jamming with local musicians and that was that... playing Maiden, Priest, ZEP, VH, Ozzy, etc.... I also got real into guitar and was constantly practicing that as well..
When did 1st realise you wanted to become a drummer?
I knew that my whole life. I thought at the top of "Mount Coolness And All Things That Are Badass", the drums were there! I still think I am right... with a Les Paul right next to a set of drums!
What was your 1st drumset and where did you get it?
I had a little kid practice snare.... then a little kid fake "Dynamite Drumset" from Sears.... then I got a real Leedy kit when I was 9, (in 4th grade). I was already playing to KISS records in 3rd grade on the Dynamite Drumset.....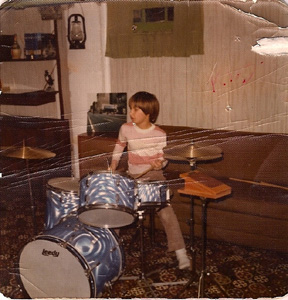 What came 1st - drums or guitar and what's your personal preferance and why - although you are most famous as a drummer?
Drums first. then guitar. I am drummer who loves guitar. But guitar is hard to start up because of the pain in the fingertips until you get your calluses... I love them both but now want to play guitar more because I've played drums professionally. When on guitar, I play songs I write with S.U.N., my new LOUD ROCK band ....and that is extremely satisfying.
Who are your main influences and for what reasons?
John Bonham.... cuz he is the best, most tasteful, most musical , grooviest, best sounding, best recorded drummer ever.... with the best band ever.! I love Alex Van Halen, Michael Derosier, Ian Paice, Bozzio, Simon Phillips, Dennis Chambers, Vinny Appice, Buddy Rich, Elvin Jones, Clyde Stubblefield, Thomas Haake, Vinnie Paul.... on and on ... Neil Peart !!! Peter Criss!! Nicko Mc Brain!!!! Phil Rudd!!
How do you incorporate those drummer influences into your playing?
By playing rock drums!!!! haha.. You try to be tasty and often times your idols' licks and vibes ooze out a bit.... it's cool... I ain't reinventing the drum wheel, just riding on the Groovy Percussion Train!!!
How long have you been playing guitar and what were the 1st songs you learnt?
My dad taught me the Day Tripper riff by the Beatles and a G and E chord when I was like 8. It hurt on an acoustic but i kept at it. Around 7th grade I was learning from friends and stuff...
Do you have a preference for a certain guitar - if so, what is it and why?
Gibson Les Paul!! The most beautiful shape and sound! Hands down! Also love SG's and Dean MLs!!!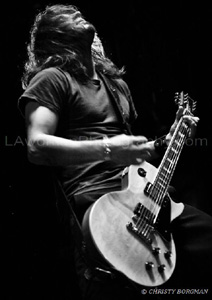 What have been the most enduring songs you have been involved in and for what reasons?
Different things for different reasons.... Sometimes a slow ballad to a click can be a challenge. Sometimes a slow shuffle has to be addressed with tons of care. Nailing all things live and all things in the studio every time you play is really just part of the whole picture. It's fun. It's a challenge, and it is extremely satifying when done well. Once I filled in for Deen Castronovo in Journey .... on his kit... 1999. He got injured right before the show... 17,000 people, Reno Nevada.... I was in Foreigner.... Journey asked me to fill in .... I did ... and it was the craziest thing I've ever done on drums... to a click live...never on Deen's kit before... and never played the songs before. But hell, it was an experience that made me better! And the guys were happy! Warts and all!!!
If you could put a Top 10 together of songs you have played on and enjoyed being involved in most, what would they be so far and why?
1. Horse Called War ... Pride & Glory ... haha... that was our single!! just listen! no click ... rambunctious... all over the map drumming...
2. 2. funky stuff by Stevie Salas.... I love funk and don't get to show that side too much
3. Rip It Out cover I did (Ace Frehley).... Anton Fig rules on the original....
4. Sass Jordan... High Road Easy .... cool groove...
5. Whitesnake... My Evil Ways.... cool drum intro with cool room micing!!
6. S.U.N. ..... Nomad.... our first vid and single.... me on drums and gtr.... drums done at my house... in living room .... no click ... totally live... cool big rooom sound like Physical Graffiti meets Cozy Powell Stargazer.....
7. Stevn Tyler .... "Feels So Good".... his first single outside of Aerosmith... one of my all time heroes!! He watched me through the control rooom window as I tracked it!!Too cool! He was awesome!!! A great experience!!!
8. New Tooth and Nail record... done at my house ... out in the fall... cool tones and cool grooves!
9. The Ultimate Drum Roll.... it's on youtube ...haha... check it out! never done before!!!
10. Punch Drumming .... playing the speed bag as a percussion instrument at the same time as playing drums... I will do this on That Metal Show soon!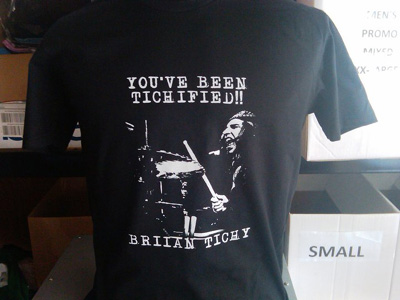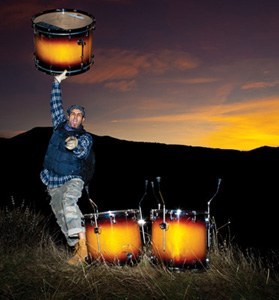 When did you first start writing songs and what songs for other artists are you proud of writing with or far and what influenced them?
Started in high school. I've written with Derek Sherinian, Billy Idol, George Lynch and Jeff Pilson, my old band BALL, my new band S.U.N. with Sass Jordan. I am proud of it all!
How would you describe the sound and style of Brian Tichy with regard to both drums and guitar?
I want the drums to sing as one instrument, ringing within themselves like a freight train flying by with an orchestra playing on top.I want the guitar to play the parts correctly and have cool tone and impact people in a positive manner!
What kind of drum sticks do you prefer to use and why?
I use Regal Tip "TISH STIX" with P.E.F. (Performance Enhancing Finish) on them! They rule for both live and the studio!!!
How did you become the drummer for Whitesnake and what have been the highlights so far working with David and the rest of the gang?
David was aware of me from years ago.... I then jammed with Doug Aldrich in 2010 ... we hit it off.. he and DC agreed to get me in the WS mix!Highlights are playing all the great songs, making DC happy and smiling, and taking big 'ol drums solos that David Coverdale could quite possibly be the biggest fan of! When your boss encourages you to do More stuff in your solos and they are nearly 10 minutes long... you can't complain!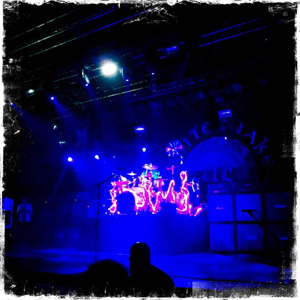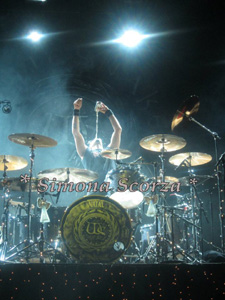 How did you become involved in being endorsed by Dean on using DDrums?
I use Natal Drums.... they are owned by Marshall. They are brand new and when I got involved with them it was because they were making some great drums, top notch hardware and killer pedals !!! I look forward to the clinics I do for them and showing all drummers out there that there is a new drum company that is sparing no expense to building a line of drums that can go round and round the world and weather that storm and still sound great no matter what! I do love Dean guitars... the first time I held a ML, I knew it was the right feel for me...and they sound great...!!
How was DOA 2011 for you and what were the highlights?
When I was with Ddrum, and I played DOA it was a lot of fun. They are all a bunch of great people!
How did you get involved in the Bonzo: The Groove Remains The Same Concerts, what songs did you perform in the concert and how did it go for you?
It was my idea, my creation and my vision from top to bottom.... haha... that's that! It was unlike anything I had been a part of and all the drummers and people involved would agree!It was special.... it was honest and it was real.... as real as it gets... no bs... leave the ego at the door... everyone did! We are all better friends cuz of it! I played the Immigrant Song to get the thing started and kick it into gear! Then I played some tunes on gtr! Bonzo and Zep rules!!!!!!
What were your personal highlights of the Bonzo shows and for what reasons?
It all was.... I can't start to write that.... I'd write a book! There should be a book about it! There will be!!! But i really loved that we had "The Bonzo Burger and Four Sticks " with a Heineken for 10.00!! (see pic)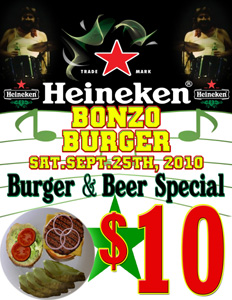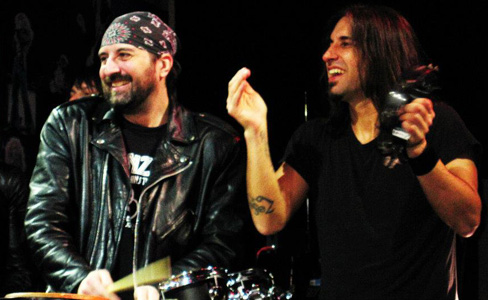 The famous advert and with Travers at the show!!
What parts of your career are you most proud of so far and for what reasons?
Playing with Ozzy on Ozzfest 2000! Being a part of the Whitesnake legacy and playing on a WS record! My band S.U.N. .... Writing with Billy Idol and one of the songs being his first comeback single in 12 years! ("Scream") Playing with Foreigner!!! Playing with Zakk Wylde, Slash, George Lynch, Doug Aldrich, Michael Schenker (on his last record and live), playing on Ace Frehley's last record..... playing with Ed VH in his backyard!!! All the cool things I've heard from my peers and idols! That's worth more than a paycheck!!! That stuff goes a LONG way!!!On and on... it's all a part of the same dream that I've been trying to see through my whole life!
Who would you say is the hardest or should I say most demanding person to work with and why?
Me... without a doubt.... I will go harder and longer on myself than anyone....I know what I can do and I am never really satisfied... I just accept that life has to move on and you do what you do and you always try to be better the next time.... perfection is merely a concept ... not reality ...
Tell us about your band SUN and who plays in it?
I play gtr live.... and on the first record... all gtr. and drums.... Sass Jordan is the Interplanetary Mountain Goddess on vocals... Tommy Stewart is now on drums live! And Marty O'Brien is on bass! Michael Devin played bass on the record!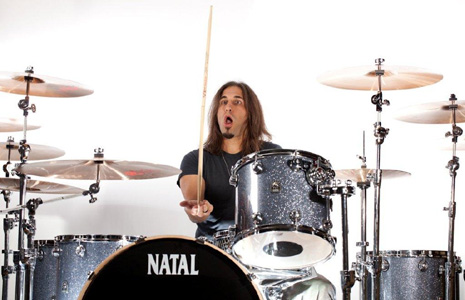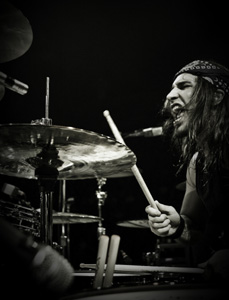 How did you assemble the line-up and when can we expect an album coming out?
I had been talking with Sass about writing... the songs we wrote became their own vibe... and we knew they weren't really written for her solo records.. they were for us.So we rolled with it.... Devin co-wrote and kicked butt on the bass.. Tommy and I reconnected and he dug what he heard. We've known each other a long time.Marty was available and he was into jumping in and jamming!
What songs do you have for the SUN album and how long did it take to write the bulk of them?
Sass and I wrote over the course of a year due to distance logistics and work schedules... but when we get together .. the writing is immediate!
Where did you record the album and what were the highlights of the process?
We wrote it all in my house! Recorded it all here too! Tish Rock Ranch!!!

What label will it be on and why or is it self released?
We will be on a label.... doing that now...
What would you say are the advantages of releasing the SUN album this way?
We need a label to get behind us and create a strong team so we can do what we do best.... ROCK!!!! and they can make sure we are getting heard!!!
Why did you call the band 'SUN' - what was the inspiration behind it?
We wrote an epic song about everything under the sun.... we said let's make it an acronym for something .... one of said "something unto nothing.." and then we said ok...
Let's just make the band that... it sounds large and vast and open and can mean many things....
Will you be touring soon and if so where and when?
We are starting to play now.... a few shows.. then we will work on bigger tours... this year.... all over the place... if there's a stage ... we can play ....!!!
What was it about Intex Cables that made you decide to use them?
They gave me a yacht and a small island to live on .... plus their cables rule!
What are your specific favourite Intex Cables and why?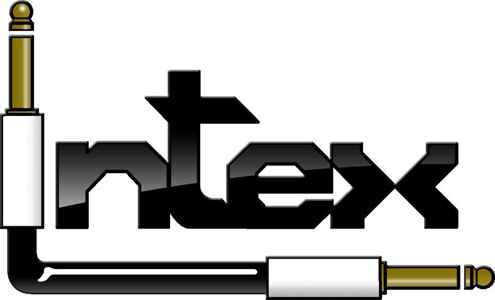 The bright shiny ones that make the guitar loud!!!! haha... They are all great! they are all made to last forever!
If you could work with any particular artist that you haven't had chance to yet who would it be and why?
Paul McCartney... cuz he rules sooooooo hard!!!!!! Led Zep reunion... for obvious reasons.... Heart... cuz they rule!!! Stevie Wonder is insane!!!
AC/DC... totally huge !!!!! Jeff Beck!! Come on!!!! Lots of people !!!! Steven Tyler!!!!!
What do you also enjoy doing when you aren't playing drums and why?
I am with my kids.... I speed bag... I mountain bike... I play rakkitball... cuz I don't like spelling racquetball!!! I jam guitar!!!
What is Speed Bagging?
It is a boxer's training tool! It rules.... it's percussive.. it's awesome controlled chaos!! It looks and sound amazing!!
I've always thought it was great.... it just took a while to finally get around to setting it up!!! Check out Speed Bag Skunk and Alan Kahn!!! They are the top dogs!!!!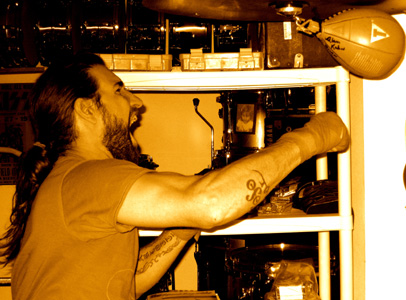 Thanks for a great Interview Brian
Thanks for you interest! Fun questions!!!
Check out:
www.briantichy.com
www.somethinguntonothing.com
Sass-Jordan Official Facebook Page
SUN-Something-Unto-Nothing Facebook Page
.Brian Tichy Facebook Page