An Interview with
'Carlos Martinez'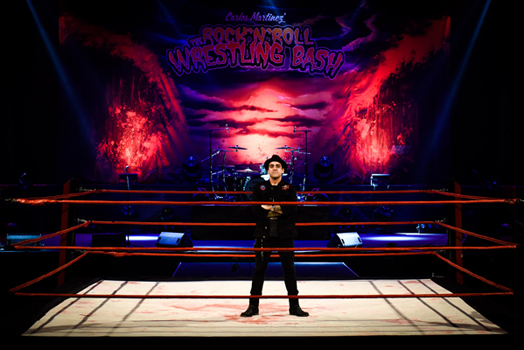 The Man of the 'Rock 'N' Roll Wrestling Bash'
that took place on March 7th, 2016.
Interviewed by Glenn Milligan.
Glenn: When did your interest in Rock & Roll begin?
Carlos: I can't tell you an accurate time or age or something, but I believe I was 5 or 6 when I discovered my Dad's 'Highway To Hell' record and listened to it like a million times every day. I have two older sisters, who were super into Guns 'N' Roses, Aerosmith, Motley Crue, Motörhead etc. . So they took good, good care of my musical education.
Glenn: What turned you onto wrestling?
Carlos: Well, like every small boy I loved wrestling of course. Ultimate Warrior was my biggest hero. The Warrior and Jake The Snake Roberts, Iron Sheik… Great times. I lost the fun watching wrestling in the early 90's then when the real cool characters just vanished. I was supposed to find the love back again over my show 10 years later.
Glenn: Where did the idea come from for Rock 'N' Roll Wrestling – as in combining the two?
Carlos: Well it was actually a promotion idea; A joke! At the age of 22, when I started my first company, Bloody Baron Records. I signed a Surf Rock band. So as I was a poor little pot smoking skateboard dude and I just had like 200 bucks left. It means I needed an idea to promote my first signing so good people would go and buy merchandising, so we can make cash to keep doing the label. I started brainstorming 'Surf Rock, surf.. surfing? Acapulco! Acapulco? Mexico… Mexico... F*ck yeah! Let's do a Lucha Libre show in front of the stage while the band is rippin'!' That's how it started. The people loved it right away man. They loved the show more than the band. Here we are 13 years later still kicking ass!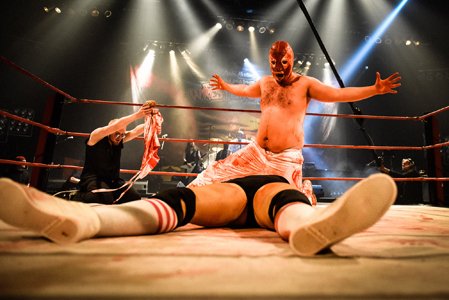 Glenn: How long did it take to get the idea off the ground in the early days and what were the toughest aspects of originally getting the project altogether?
Carlos: Well the idea came up pretty quick and I was actually very fast in finding all I need and putting it together. I knew lots of people from the music industry, who again had connection to some sort of wrestling dudes I just contacted. We built our own ring and it was all DIY Punk Rock style. But still, we had good sponsors right away, and started with a whole tour from the very beginning. Back in the days, the hardest part, and still, this is one of the most exhausting parts of this job, is to manage so many people. We are a tour party of 21 performers, 2 trucks, the ring, the backline… The Rock n Roll Wrestling Bash always has been, still is and unfortunately always will be a logistic challenge. But after 13 years you get a sort of routine in it.
Glenn: What do you look for in both Wrestlers and Bands/Musicians and what in your opinion makes it all gel together best?
Carlos: Well talking about the wrestlers, beside the athletic part, I need guys who are willing to play the roles I wrote. You have to see 'The Rock n Roll Wrestling Bash' as a musical play. They play characters I invented, whose characteristics are set. I need guys who can bring them to life, just as I wrote it. Not everyone is capable of doing that. So I need guys with an understanding of acting and getting into the character. Furthermore, they need to be good sellers. They need to interact with the audience and they have to be self secure. This show is really an overkill of everything and you can't put a shy dude in it. He would drown.
Talking about musicians it's actually the same. First of all I want to work with badass musicians who know to use their instrument better than their cock, and secondary I need guys who know how to act on stage. This is a f*ck*ng over the top show. What we do is called ENTERTAINMENT. We want people to have a great time and we will freak out for them on stage. If there's something I hate, it's for example those types vocalists who stand at one point and control their breath to sing possible 100% straight and on tone n sh*t. Man, it's a show!! We are showmen. And that's what I'm looking for. F*ck*ng beasts that make you say, "God damn it. Where the f*ck am I and why haven't I've been here before!?".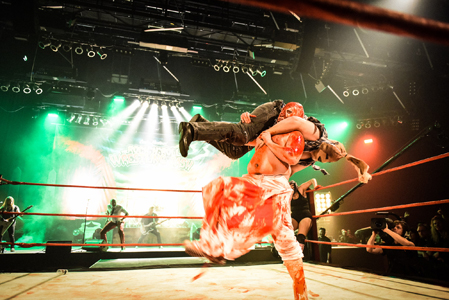 Glenn: Where do you know Gary Holt, Guitarist of Exodus/Slayer from?
Carlos: I met Gary first in 2012. I produced a 90 minute documentary for german music television about EXODUS on south america tour and me and my team travelled with those guys for 3 weeks all over south america. A real fucking great adventure man. We liked each other right away and ever since then stayed in touch and became friends.
Glenn: Why did you decide on Gary for the March 27th at The Regent, Los Angeles?
Carlos: I decide on Gary because I always wanted to do something with him. Always ever since I met him. Unfortunately the rest of EXODUS is on european tour (the first one in 4 years I can not join). They would be on the show as well if they would be here. So as I saw Gary is playing Las Vegas with SLAYER the before the Bash, and it's close, and actually on his way home that made absolute sense. So one came together pretty good. Here we are. Can't wait man.
Glenn: How was it convincing him to be part of the show?
Carlos: Convincing Gary to join The Rock 'N' Roll Wrestling Bash wasn't that hard. He knows how long I'm working on this. He knows that's my baby. He knows my show kicks f*ck*ng ass. We've been talking about my show so much man, and as we are friends he said "Of course!" like right away. I knew it anyways. The Exodus family is a good family you need to know. All good people.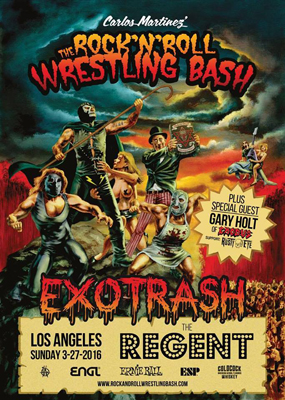 Glenn: How long was it before it became a reality in LA and how did you feel when you knew it received a green light to take place?
Carlos: Well I started in 2003, so 13 years now. To see my baby happening in the U.S. always has been my biggest dream. U.S. and Japan, those were the two I always had in mind. What can I say, when our booker sent me the news I freaked out of course. It is just great you know.
Glenn: Which parts of the show do you get the most enjoyment from and why?
Carlos: Hard to say. This whole thing is … you can't talk of 'parts' though, because it is one thing. There are no breaks in between matches and music. The music is composed on the fight choreography. That's what makes us so special, and the musical parts with lyrics are just hedonism to the max. So I enjoy each and every second. From the Intro over the fights, the girls, El Brujo, the jokes, the storylines, funny characters. This is the fastest 2 hours you'll have in your life.
Glenn: What have been the main highlights in shows you have put on so far and why?
Carlos: Man, we did so many shows in the last 13 years it's hard to remember every highlight. But to shoot out 2 or 3 of the first highlights which come up my mind it was for sure our show in Cologne in 2015 which was a TV taping show for our own tv show in Germany. Then surely the one we did with Tom Angelripper of SODOM, and …. wow, I don't know… maybe working with Joe E. Legend who used to be in the WWE, TNA and still is NWA World Tag Team Champion. To get to work with people like this of course shows you you've done everything right so far.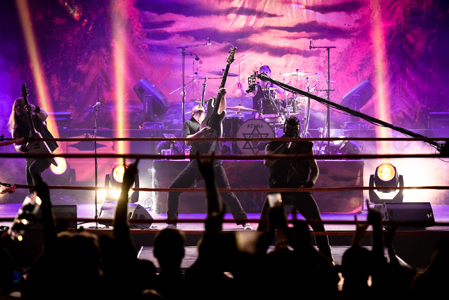 Glenn: How do the audiences differ in various areas and why do you think this is the case at times?
Carlos: Every country and every area has it's own mentality. People in the Rhinelands, let's say Cologne are easier to delight than people in Northern Germany, where everybody is more reserved. That doesn't mean that we do not get them by the balls at least. This happens everywhere. It's a mentality thing. Simple.
Glenn: What makes a good audience in your opinion?
Carlos: To me a good audience is open minded, willing to experience something new and comes to our show without expectations. Like saying. "Surprise me". A good audience respects the artists and their willing to rock your ass off. And then, I like an audience that knows how to party and steps right in and celebrates with us. That's what I like. I'm like that.
Glenn: Do you have a favourite wrestler and if so who and why are they so special to you?
Carlos: As I said I used to worship The Ultimate Warrior. But today it is for sure Mistico, or more people know him under his latest name Sin Caras. When I saw this guy the first time live in Mexico… Man.. I was just blown away… I couldn't believe what I saw. This dude went flying through the whole damn ring and he was so fast and cool.. Damn! I was a fan in the first moment!
Glenn: What do you love about Los Angeles and Hollywood and why?
Carlos: Los Angeles to me is the epitome of Rock n Roll and entertainment. Here is everything I love. Especially Hollywood. It's my favourite city ever - it means a lot to me. That's why I like to stay here after my European tours for a quarter year. I enjoy everything about this city. The weather is great. It's a multicultural mix. People are nice to each other. It's simply awesome and I really, really love this city. Furthermore this is the right place for my show, as L.A. is this U.S. Mexican clash city and so is The Rock 'n' Roll Wrestling Bash. Rock 'n' Roll and Lucha Libre. I do love both. That makes L.A. and me just a perfect match!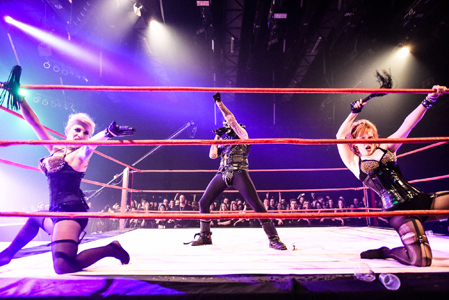 Glenn: What would you like to say to the fans and future fans of your events?
Carlos: Well, if you want to experience a new version of entertainment. A hybrid show of rock n roll, wrestling, striptease and comedy you should not miss this. If you like to let yourself fall into a world of fantasy and fun then come on over. Do not forget to hang your brain in your closet before you come as it is not able to handle this.
Glenn: What is next for you and in 2016 overall?
Carlos: Well there are lost of shows coming up. It's back to Germany for a bunch of gigs and I'm working on the German 'The Rock n Roll Wrestling Bash' TV show. We are working on a bunch of new products such as a Kids cartoon and kids merchandising. Furthermore, I'll open the 'The Rock n Roll Wrestling Kids' Summer camp. A wrestling camp for kids of families who maybe can't afford to take the whole family on vacation. So it will be a affordable alternative to have fun summer vacation, learn to wrestle, develop your gimmick and learn to eat and cook well. I love doing stuff for kids, always did. After that it's back to the U.S. on tour and then Europe and back and forth and rock n roll and wrestle all day long.
Glenn: What are you most proud of with regard to 'Rock 'N' Roll Wrestling'?
Carlos: That I made it my profession. That I can make a living of that. That I effect so many people in a positive way and that we finally made it over to the states. There's a lot to be proud of. My team for example. Beautiful people with big hearts and great minds. When people come to me after a show and thank me for this great night, that makes me proud. I walked through a lot of sh*t for this show. To succeed gives me a lot.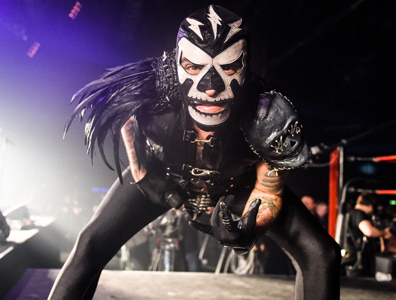 A big thank you to Carlos Martinez for an incredible Interview!
For More Information check out:
Website:
www.rockandrollwrestlingbash.com
Facebook/Show:
https://www.facebook.com/TheRocknRollWrestlingBash

Facebook/ El Brujo's Gorechestra:
https://www.facebook.com/elbrujosgorechestra/

Comic:
http://www.paninicomics.de/the-rocknroll-wrestling-bash-i7631.html
Showtrailer:
https://www.youtube.com/watch?v=PBOe-uv67As