An Interview with Guitarist
'Charly Urso'
that took place in late February 2012.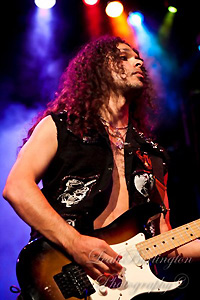 Interview by Glenn Milligan.
All Photographs By Leah Burlington Photography
Composer, Singer and Guitarist, Charly started to play guitar at the age of 12. Inspired by Richie Sambora, Adrian Smith, Brian May, Kai Hansen and the amazing sounds of the '80s. After several sessions as a singer and guitarist for different projects, in 2001 Charly won a famous Italian contest with the band Gaia and got a scholarship to study composition of pop music at the famous institute "CET" directed by Italian author, Mogol.
Since then, Charly has taken part of several projects like "Rael Superstar" a Musical written by former Jesus Christ Superstar actor and singer Glenn Carter and "Billion Miles To See You" by Italian pop/rock band Heartek.
He's now writing the Musical "Life Is Extraterrestrial"
Charly is a guitarist for the American Iron Maiden Tribute band Aces High.
He now lives in Las Vegas, Nevada.
What enticed you to play guitar and why?
I decided to play guitar when I was 12 after watching the "Bad Medicine" video by Bon Jovi. I was simply astonished by that sound and by Richie Sambora's stage presence. I said to myself "that's what I want to do in life!".
How is your family regarding musical talent if so, what rubbed off onto you as a guitarist?
No one in my family plays an instrument. But music was always playing in the house. So I grew up listening to a lot of melodies from the radio and from TV. I used to collect 45' and 33' vinyl records and many cassettes of various artists. My parents have always supported my passion for music.
What was your area like for music and how has it influenced you?
I grew up in Italy in a town called Turin. As I said, I was mainly influenced by what I was listening on the radio or on TV. When I was in school I started studying the flute and music theory. Then when I first saw a guitar I decided to become a guitarist along with seeing Richie Sambora on TV. During my teenage years I discovered a "secret" world of musicians. The rock scene of my town helped to open up my view upon Music and allowed me to meet very interesting people. Also traveling helped a lot. When I was 17 I moved to Costa Rica and I studied guitar with a great teacher, Carlos Loria. When I was 24 I won a contest in Italy on a scholarship in Composition of pop music at the famous CET institute directed by the legendary Italian author, Mogol.
What was your 1st guitar and how did you acquire it?
My first one was an acoustic guitar. A cheap model, I don't remember the brand! My mother bought for me as a present.
What major league players have caught your attention and why?
Richie Sambora. Brian May. Adrian Smith. Vangelis. Kai Hansen. Kee Marcello. Tuomas Holopainen.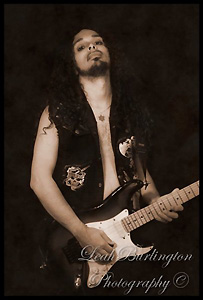 Why? Because they made me dream with their melodies, their touch and their passion.
What songs/musical pieces are you most proud of so far and what influenced them?
I consider my song "Life is Extraterrestrial" a nice piece. The arrangements are quite accurate. It's pompous, epic and with strong lyrics. It took me several years to complete that track. I created this piece thinking "How about if I combine Ritchie Blackmore's hard rock with Nightwish's orchestrations and some vocals inspired to London's Musical?".
Also "The Flying Man" is an incredible tune. Written thinking of Ozzy, I ended up working with the amazing Dean Collinson (a famous London's musical singer) who contributed give to the song a classy touch with his great voice!
What enticed you to come to the USA and why?
Somehow it happened. When you dream, dream big and things happens! Life is an adventure, a funny one!
How would you describe the guitar style of Charly Urso?
Intense, simple, passionate, classical oriented.
What would set you aside and make you stand out from many other artists trying to make it at the moment - that X Factor, so to speak?
I have an interesting sense of melody. Somehow people are touched by my songs and my playing.
What have been your favourite concerts you have played so far and for what reasons?
I opened once for Paul DiAnno with my band Aces High. The venue was packed and the crowd was just crazy. There was some magic in the air. But personally I once played in Japan, just by myself. And I was deeply touched by the people cheering me up and enjoying my music. What a wonderful moment!
What songs do you like playing most in a show and why?
So far one of my biggest live track was "Ouverture of the Sky". But now I can't wait to finish and set up my opera "Life is Extraterrestrial" and play it live. I also play with an Iron Maiden tribute called Aces High! It's just fantastic! Lot of fun and amazing shows! My favourite live tunes are "The wickerman", "Moonchild", "Powerslave"...and so forth! The list is long.
What would you say is the hardest piece of music you have composed and played and why?
The song "Life is Extraterrestrial". It took me 5 years to finish it. I wanted a masterpiece. Very symphonic, epic, of big impact. So I took my time...and scoured every note in detail. I'm glad also that a great singer such as Ivan Giannini sung it.
Do you compose mainly on acoustic or electric - reasons for either?
It depends. Normally the acoustic guitar because it is close at hand.
What is your preference - Live or Studio work and why?
I really love the creating process of composing and recording a song. Give form to an idea and putting it into music is such a magical moment. From a selfish perspective it is priceless. But of course the live act is unique, because it allows you to share emotions and feelings with other people. It's a "religious" experience!
What's currently in the making for you at the moment?
Right now I'm very focused on assembling my Musical/Rock Opera "Life is Extraterrestrial". It's a hard rock concept album, very philosophical. Tells the story of an ancient extraterrestrial race, the Elohim, which 25.000 years ago came on Earth and thanks to their advanced science, created all forms of life on this Planet. After sending several prophets to help humans to awake and evolve... and after the explosion of the atomic bombs in Japan, they decide to send one last messenger to spread the truth about the origin of life and guide the human beings towards a golden era. Is inspired by the book "Intelligent Design" written by Rael.
What are the funniest things that have happened to you so far on and off stage and what makes them so memorable?
Uhm let's see... Once while playing, a girl yelled my name and showed off her boobies. Another funny moment was when I put my foot on a monitor and this thing has moved and was about to fall off the stage. I barely managed to stand with great embarrassment.
Who have been the coolest artists you have met so far and why?
I had the privilege to meet Kai Hansen of Gamma Ray. He's one of my great heroes. I almost cried when I met him. We had a nice chat and took some pictures together. He's a very cool guy! I met also another of my heroes, Kee Marcello, ex-Europe. I told him: "I play guitar also because of you...the solo of "Superstitious" made me dream so it's a great joy for me to meet you"...he was very moved and hugged me! Yes, great memories!
Would you always want to stop as an artist in your own right or want to be part of a bigger band or just a band in general - reasons why, either way?
Music is something magical. You can play by yourself and be happy, you can play with a band and be happy or you can simply listen to it, be a spectator and be happy. I believe Music is a communion, a ceremony!!! So it's fantastic to play with a band. Actually my biggest musical dream is to play one day, at least one of my songs with a Symphonic Orchestra!
What are your hopes and dreams for the future?
The song "Imagine" by John Lennon describes pretty much what I hope for the future on a general level. Personally I'm already happy to share my music, give some happiness and joy through my songs and my lyrics...and Yes as I mentioned previously...I dream to play a concert supported by a Symphonic Orchestra!
What are you most proud of so far and why?
I'm a creative, a dreamer and an optimist. I try to stay positive and look at the bright side of life.
What would you like to say to fans and future fans that may be reading the interview?
Everything is sweeter by taking a chance, so let's enjoy the ride together! Support arts, music, poetry and give peace a chance :)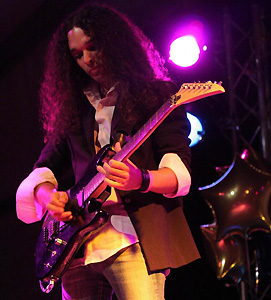 http://www.reverbnation.com/charlyurso
For BOOKING - discussion for session work, mgmt, label, touring, festivals, events, etc. Talent Manager/Publicist, Gigi Bishop of GGB Promotions at 310-409-6229 ggbpromotions@gmail.com ~~ Charly Urso at 619-204-7734 charly.urso@gmail.com