An Interview with Todd Chaisson (Chase),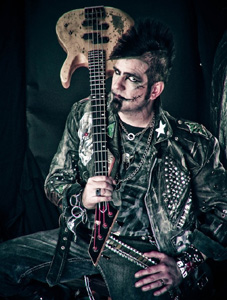 Bassist and Founder member of 'Tuff' that took place on 6th March, 2012.
Interview By Glenn Milligan
First off, thank you and your readers for supporting TUFF. We truly appreciate it!
Where abouts did you grow up as a kid and what influence did it have on you?
I grew up in Phoenix, Arizona. I love Phoenix and it was a great place to develop as a hard rock / heavy metal musician. Phoenix was a place like any other to grow up. I went to school (sometimes), had friends and girlfriends, just like any other kid. My musical influences came 100% from my brothers Greg (Badlands bassist) and Kenny (Keel bassist). Not to say other bass players didn't influence me later on, but in the beginning I idolized my brothers and their bands.
What made you 1st decide to pick up the bass and make it your instrument of choice?
Again, my brothers were the main influence in me choosing to be a bassist. I started out in grade school playing percussion and wanted to be a drummer, but my folks were not about to let me have a drum set in the house. So my brothers said "everybody is either a singer or guitar player. This leaves a high demand for bass players." So I made my choice and set out to be the best bass player I could be, but I had some big shoes to fill.
What was your 1st bass and how did you acquire it?
Wow! Good question. I believe it was an early '80s model Ibanez Roadster. I think my brother Greg gave it to me. I loved that bass! I wish I still had it!
Who were your musical influences and how did you incorporate them into your playing?
Besides my two brothers, it was definitely Steve Harris from Iron Maiden and Michael Anthony from Van Halen. In my family it was considered lame if you played with a pick and these are two of the best finger players. However, my brothers only used two fingers off the right hand, so that's what I did. Later when I formed a hard core metal band (substAnce D) I had to develop some pick techniques and converted to playing 100% with a pick. Only within the past two years have I returned to playing without a pick. Now I am proficient at both styles.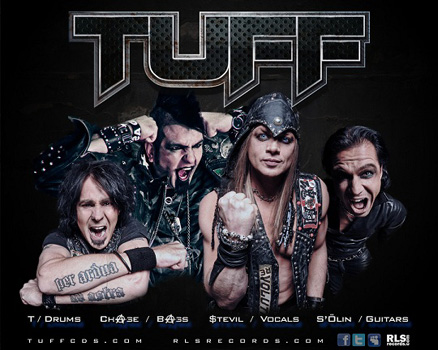 What made you want to originally become a member of a band as opposed to having a normal kinda job?
What's normal? I come from a family of professional bass players, so music was normal. But who really wants to work at f*ck*ng McDonalds?! Hot chicks don't dig guys flipping burgers and I like hot chicks!
What originally led you to wanting to form Tuff?
The reasons are the same as above…… Chicks! And I love music! (You should see the gorgeous lady I am married too!)
What were the highlights for you personally of the heyday of Tuff with regards to writing/recording, touring and hanging out?
To be honest, most of it was a highlight! But some of the best moments were when we signed to Atlantic Records and playing a huge outdoor festival in AZ in front of my whole family. We recorded The All New Generation video that weekend. Tuff also had some epic after parties back in the day. Lots of sex, drugs and rock and roll!
What led to you leaving Tuff and how did you fill that time after - ie jobs or other bands etc?
Two things were the main reasons for me leaving Tuff. The main reason was that the band was fighting each other a lot! The other was that I didn't like being controlled by the record label. When I left, I formed substAnce D with the now Tuff drummer T. This was a hard core metal band like Pantera meets Helmet. I absolutely loved this band and still do!
What are you most pleased with and proud of from the original days of Tuff?
That's easy, the fans! I love our fans and all of the support they have given us over the years. I am proud to have such amazing people loving our music.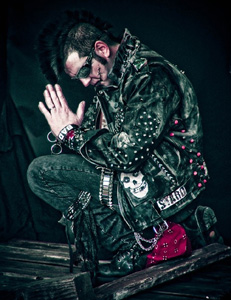 How have you changed personally from those days as a person and as a musician and why?
Ha ha ha! I think I used be kind of a dick. As a young artist, ego can sometimes get in the way. Also I used to do my share of drugs. Those days are behind me now. These days I always have time for fans, pictures, whatever. And drugs bore me anymore. I do still like my beer however. ; )
What are your personal thoughts to re-recording 'What Goes Around Comes Around'?
What a blast! I really enjoyed modernizing some of the old songs. Moreover I am super excited and grateful for all of the guest appearances. To have guys like George Lynch, Jeff Loomis and Stephen Pearcy appear on our songs is a dream come true!
What are you favorite songs from the original album and why?
I love them all! I might say that I especially like "Spit Like This". It shows a lot of diversity. I also really like "Good Guys Wear Black" and "Ain't Worth A Dime."
What songs were the most challenging to re-record again and why?
None of the songs were challenging. If anything, coordinating all of the guest rock stars that appear on the songs was the most challenging part.
What highlights were there during the re-recordings that stand out to you and for what reasons?
Without a doubt, working with Stevie again after all these years. He's my buddy and a great worker. I also really like the producer Michael Raphael. He's something special! I also really loved updating the two songs that didn't make the original release. "What Comes Around Goes Around" and "Put Out or Get Out". I prefer heavier music, so adding that element to those songs was very rewarding and I love the way they came out. I especially love the solos from Jeff Loomis and Howie Simon! I also want to give my boy T a shout out! He's the best drummer I have ever played with! Love ya, brother!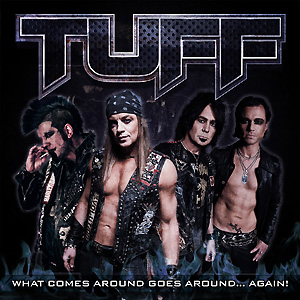 What will you be busy doing while Alexx Skunk Michael takes up the bass/duties for the up and coming Tuff/Shameless Tour?
Crying! Ha ha ha! I love Michael and respect him as a bass player. I couldn't ask for a better dude to fill my shoes. But don't get too comfortable brother! I am hoping to come to Europe with Tuff this year. I also have another band in Ohio called Dirty Little Rock Stars! This is a very special project. We cover other bands like STP, Kid Rock, Pink and No Doubt. The twist is that I have two singers that impersonate the respective singers. It's a ton of fun and very different.
Will the new album line-up of Tuff be recording a brand new Tuff album once the up and coming touring is over and if so, what songs are already in the can for it?
That really depends on the fans. If they want new music, then we are more than happy to deliver the goods. Stevie and I have several new song ideas, but nothing completely finished as of yet. But '$tevil' and I can write songs all day long, so that would not be a problem.
How would you describe the bass style of Todd Chaisson?
Angry as f*ck! I play like I am in a fist fight. I am not the cute one in the band. I leave that for $tevil and our new guitar player Staffan. My role is to be a rock monster and I'm real good at that! \m/ I'm often referred to as 'lead bass'.
How many basses do you have and which one is your favorite and why?
I have owned dozens of bass guitars in my life. My very favorite is my custom ESP long scale P-Bass. It has split P EMG pick-ups and is as TUFF as I am. It has been my primary bass for almost 20 years. Sounds bad as f*ck and is my baby!
If you could play bass with any particular band as a one off on stage as a guest who would that be and why and what songs would you like to play with them and why?
Volbeat! Any song they would let me. I love this band! Heaven nor Hell, Sad Man's Tongue or I Only Want To Be With You are a few of my favs!
What would you like to talk about that I haven't touched upon in the Interview?
I truly hope the fans (new and old) love the new realese! Please friend me on Facebook at Todd Chaisson. I would love to hear from you all!
A big thankyou for taking the time to answer these Questions.
Thank you brother, it's been really fun! \m/ Rock on…see you at the show!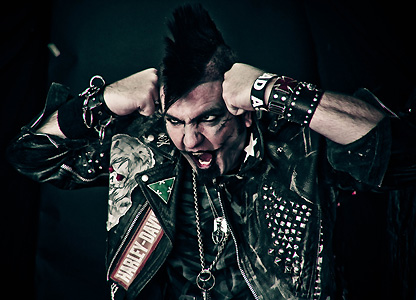 Big Thanks also go to Stevie Rachelle ($tevil), Lead Vocalist/Frontman of Tuff for placing me in touch with Todd Chaisson