An Interview with
'Chuck Wright'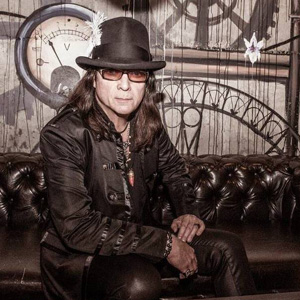 (Photograph by Tamea Agle)
Bassist of Quiet Riot & Creator of The Ultimate Jam Night
that took place on 27th July, 2016.
Interviewed by Glenn Milligan.
Chuck: Hello.
Glenn: Hi, it's Glenn from Metalliville Zine, how are you doing?
Chuck: I'm recovered. (We laugh)
Glenn: It was a wild one at 'Ultimate Jam Night' then?
Chuck: Oh indeed it was!! What we'll do is create theme nights that make it fun and different. People will come out because they know the music is going to be good but having a theme helps. We recently did an 80's New Wave theme night, we've done an all Jimi Hendrix and we brought in Guitar Shorty who was Jimi's mentor and inspiration when he started out. We did a full night of Beatles and a long Van Halen set, which was really popular. So last night, because it's full on summer now, we went for a beach theme. We even had a custom t-shirt made for my MC (Paulie Z) that was a lifeguard and he had a white shirt with a red cross - a lifeguard at Ultimate Jam Night! It was fun. He was wearing red shorts and Ray Bans.
For our opening song we had two Go-Go dancers, two great young girl drummers, each playing a floor tom in the front of the stage and we opened up with the 60's surf tunes, 'Wipe Out' going right into 'Pipeline' – the whole surf scene!
Glenn: Cool!
Chuck: I put together the intro music so you actually heard the 'Itsy Bitsy Teeny Yellow Polka Dot Bikini' and that went into the opening number 'Wipe Out' where the guy screams 'Wipe Out!' I try and do that kind of thing to tie it all together. It's really a challenge every week to keep it fresh. That was week 72 of doing this. It's like herding cats every week organizing between 45 to 60 musicians and singers. It can get intense and stressful but the end result is an amazing night of music.
We started Ultimate Jam Night at another location and built it up to where we were averaging 550 people weekly, so the place was packed every week. Then 53 weeks into it, they (Lucky Strike Live), decided to just do it on their own without us. Though this was something we created, they had their own vision for it. They gave us two weeks' notice to move. It certainly wasn't our choice to leave.
We had a night a couple weeks before this all went down that David Lee Roth was to play with his 'Eat 'Em and Smile' band with Steve Vai, Billy Sheehan, Gregg Bissonette and Bret Tuggle but word got out beforehand and 3,000 fans swarmed the venue's entrance and a lot snuck in the back door. The show was shut down by the fire marshal 3 minutes before they were to start playing. I'm standing on stage with them and Vai offered to pay the fire marshal fines so they could still play, but the club nixed the idea.
Anyway, Lucky Strike Live continues basically what we were doing Wednesdays. We were very fortunate the legendary Whisky A Go-Go was into bringing our show there so we moved it three weeks after being tossed out. Turns out this was a big step up. My God, when I was a kid, I saw Black Sabbath's first show in L.A. at the Whisky and I played the Whisky A Go-Go with Dubrow (just before the Quiet Riot Metal Health line up) with Motley Crue around 82, neither one of us had a record deal yet. I have a lot of the history with the Whisky so it's cool to be there again, full circle. I'm also on the road almost every weekend with Quiet Riot. We're going to Switzerland and Stockholm next weekend to do a couple big festivals.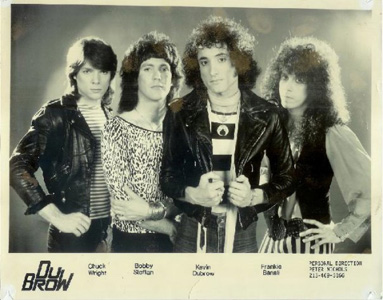 Glenn: Awesome. I've been to the Ultimate Jam a couple of times. I came last year when in was at Lucky Strike and then I saw the premier night at the Whisky where you had Billy Sheehan and Keith St. John and guys like that on stage. It was phenomenal.
Chuck: So you've seen it at both the places?
Glenn: The difference yeah.
Chuck: The Whisky is a major set-up thing for us with having to put up the backline. We put up these curtains that cover the stairway so you don't see musicians crossing. We try to make it look as smooth as possible. It does take a while to set it up and tear it all down. I'm usually there around 10 or 11 hours day of show.
It's a really long day. Soundcheck, the rehearsals and then the show itself.
Glenn: I remember that night that Paulie Z at the end sang 'We Are The Champions'.
Chuck: It was our opening night there and we did it because it was an appropriate song because we were kicked to the curb and we rose above it.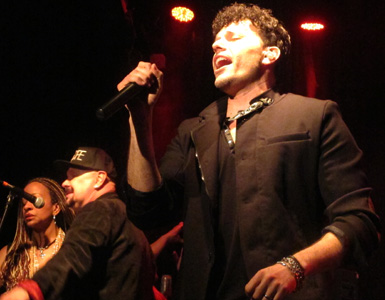 Glenn: It's a bittersweet for me because I think having it at the Whisky is miles better.
Chuck: Yes, it's a better venue by far for what we do, it's legendary and Mike the owner – he is awesome and the people there are really great to work with. The staff are like family now. The security guys actually come and help us tear down they are so cool. We're giving away a show with world class musicians that people pay a lot of money to go and see and we're giving it to them for free. It's still a challenge to get the word out and get the place packed in that location.
Glenn: I guess there are so many things happening in that area, even though they are getting in for free.
Chuck: It's true. Unfortunately, society's changed quite a bit to where everybody wants a lot of choices and they want it for free. The music business is in a really sad state right now. I was talking to a friend of mine last week who had his own record company and owns a top studio. He was saying that from the mid 80's at the height of when the music business when everything was kicking ass to now. "We are down as an industry 90%. It was a 15.7 billion dollar business and it's barely over a billion now. That's everything. I'm talking every possible way you can make money off of music. Another good example of what happened which ties to Quiet Riot a little bit. A few months back, Rihanna's album was number 1 and it sold 17,000 records.
Glenn: That's nothing!
Chuck: With Quiet Riots 'Metal Health' in 1983, it jumped over 'Thriller' and The Police's 'Synchronicity' album. Our album went to number 1 in one week and 850,000 people went out that week and bought it!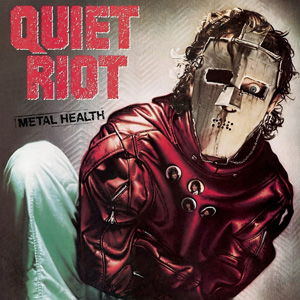 Glenn: Holy Hell! Big difference!
Chuck: Yeah. Huge difference. But now people say, "Yeah, but you can just get it online". You can get it online but people get it for free now. As soon as you release it… you've spent the money, you want to make it sound good but as soon as you release this it's on 16 Russian download sites and anybody can go and get the record for free. You can't go after them, you can't stop them because it's a different country. Now the world is smaller because of technology so it allows a lot more thievery from all over the world.
Glenn: I think the dark net is terrible.
Chuck: Yes it's sad because the financial incentive for musicians really isn't there. When a young person asks me, "Hey, I love all the stuff you've done over a hundred albums… I really want to do what you do…", I say, "Look, don't do this because you intend to make money from doing music or you want this as a career for your livelihood. Do it because you love it. Just be creative, don't try to chase whatever you think is popular. Do what you believe in and just make yourself happy playing because the odds of actually making it a living out of it are astronomical and maybe doing what you believe in, you will actually be successful because it's not contrived". That's what I tell young people. "Don't do it if you think you are going to be a Rock Star – forget that!".
Glenn: Those days are gone!
Chuck: Yep and there's no formula. When young guys come up to me back in the day, I use to say "Look, here's what you've got to do – Get a Manager, put together a plan and see what's happening. Mould yourself like that, get your following going and even if you get a deal if spend the right amount of money at the right places you create a hit." We did that with the band, 'Giuffria'. We happened to have Managers that had a lot of control mid-west radio. They were one of the biggest radio promoters in the country. We had a leg-up on everybody because of that. That's why we got the 'Deep Purple Perfect Strangers' sold out Tour and the Foreigner tour when they had, 'I Want To Know What Love Is'. That was also a sold out tour. We got those tours because our song was successful and because what our management could do to help those bands.
Here's an interesting story. Ritchie Blackmore f*ck*d us over after our first show with Deep Purple, saying "Look guys you are off of this show unless you make these concessions, one being that you've got to get rid of that ending song – it's too good, two – all of your staging has to go, like your risers etc, that all had to go. We had to cut our set from 45 minutes to 27 minutes and we had to go on 5 minutes before the announced show time. They took away 50% of our lighting and sound so we weren't even loud. They taped off where we could walk and they even took away our crew meals. They took out (Craig) Goldy's guitar solo. He did this killer guitar solo where David Eisley was holding the guitar upside down and he's playing it like a keyboard with hammer on style! Blackmore said, "No, no, no – you can't do that! It has to go! You can't have that solo. They took that away from us so I'm circling back to our Managers and them being so powerful on the radio, Deep purple lost 60 radio stations that week on their single once word got out about this.
Glenn: Hahaha! Ouch!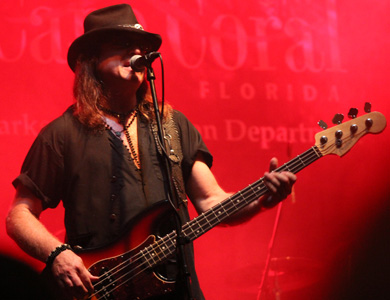 Chuck: They lost god knows much money in record sales because they screwed with us. That's just Ritchie's ego. I felt bad for Goldy because that was his hero. For me too. 'In Rock' changed my direction of music when that came out when I was a kid. Goldy just admired Ritchie Blackmore so much and he was crushed that Ritchie Blackmore would do that to him. Anyway, it's a different world now. It's like nothing you do matters right now. I could go on and on and on. You could do a whole magazine on what happened to the record industry.
I go back to when digital was first coming out. I remember sitting with Spencer Proffer, the Producer and the record company had a Quiet Riot album sitting in his office. He said, "Look, listen to this. Here's a digital mix and a analog mix". I of course liked the analog mix – it sounded warmer and better. I said, if they didn't come up with a way where you can't copy this digital format, there's going to be no generation loss and it's going to kill the music business. Well as you know, they didn't come up with an encryption!
Glenn: What made you want to create 'The Ultimate Jam Night' in the first place. It's such a great thing to do! Where did it come from?
Chuck: It started through this little club called 'Lucy's 51' here where I live. James Lomenzo, Bret Woods and Kenny Aronoff had a little jam night. It was great but there was nobody there. There were 20 people and these great guys playing. I said, "Hey can I help you guys out and promote a little bit and maybe sit in for a song or whatever?". So I helped them and started building it with them a little bit. Their problem was that you could set your watch with what song they were going to play. They didn't do anything about changing up their list or making it interesting or fun, so the turn out wasn't really growing.
Then Lomenzo and Kenny had to go on tour with John Fogerty. James approached me about taking it over and I said, "Yeah! Let me do my thing!". So I started doing this process that I reach out to players and say, "Hey do you want to do this song, this is what time you'll be on and you need to be 30 or 40 minutes before time". That way I am not saying, "Hey look who's here – come on up!". That just takes a lot of time and there's a lot of dead air. So it's all planned ahead of time. "You bring your guitar, you know what key it's in, you know how you are going to end the song." We talk about it. I say, "You're going to be doing the live version from 1972 of this Zeppelin song. I'm that detailed about what's going down with the show. You have to be.
It's more of a show as opposed to just a jam. People are amazed by that. People meet for the first time backstage and they discuss it and say, "We're going to work out the endings", or whatever. Anyway, so we're at Lucy's and it's beginning to be packed and it's going great. Then Lomenzo came back, a short time after, the owner then sold the place so there's no more jam.
People were coming up to me for months and months saying, "Hey when are you going to do your jam thing again?". It was a social gathering and aplace for people to go to get together and network. I said, "I don't know, there's not that many places that I think we could do it". Then I heard about a bowling alley in Hollywood that had a stage in it. I shrugged it off at first. I went there and yeah, it did have a real sound, it had a nice stage, it was easy to load in. They really thought it out before they put it in as a live venue. At this point in time, they had nothing going on. I went down there two Wednesdays in a row and counted maybe 18 people in the place. I picked Wednesday because it was the middle of the week – musicians like me are on the road on the weekends so it's the best day to do it.
I asked when a band was playing and went down, again there were like 20 people there. So it wasn't catching on as a live venue. I told him I wanted to create a 'Rock 'N' Roll Circus' and said, "My plan is, I want to make it more like the film 'The Rolling Stone's 'Rock And Roll Circus', I want to make it more than just a jam, I want to have Burlesque and I added a puppet named 'Trippy The Clown' - he's really rude! They went for it.
Glenn: Yeah 'Trippy' is awesome!
Chuck: I wanted to make make it an event instead of just, a bunch of guys getting together and playing. That's cool too but this was more of an organized show and it grew and grew and grew. It actually started off really well. In the beginning, Gilby Clarke was part of our house ban. We wanted a lot of different musicians and he wanted it to be about him and just have a few guest players. It wasn't his thing so he bailed and I got Mitch Perry who's a good friend of mine and I think one of the best, if not the best guitar player in L.A. When we started we had Paulie Z as an MC and Matt Starr who can sing lead too. He's now a partner in this with me and helps organize it.
It was a really good formula we had going and we were averaging between 50 and 60 musicians a week. We got up to 75 – that was the most I have had. Full horn sections – it's insane. It's totally insane. At the Whisky we are probably averaging about 40 or so just because it's a lot more of a challenging venue to get people in and out, up and down the stairs. I try to do more multiple songs with the same group of people and stay on stage for two songs, maybe three as opposed to one and done.
We have some exciting things going on right now. We are about to announce going doing a deal with a company so we can do live streaming – a real broadcast. Also, we are signing an exclusive deal with a company that is called 'Bravo' – it's a tip app. It'll be exclusive to us where our players once you sign up to 'Ultimate Jam Night', you can tip a particular artist who was on stage.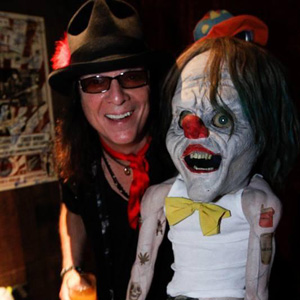 (Photograph by Tamea Agle)
Glenn: Awesome!
Chuck: Musicians can now get tipped and they are going to get a lot of social media and video coverage. People come to me with ideas they want to try and if it's a cool idea, I'll go for it and put a band together for them. I can get the right singer, get horns, a string section whatever the song needs.
Glenn: I think a nice thing about Ultimate Jam Night is that it opens up peoples eyes to artists they might not have heard before or seen. I mean, you've got Dilana, you've got Debby Holliday and people like that.
Chuck: Yeah Debby Holliday's amazing.
Glenn: Yeah and people don't realise who she is.
Chuck: Then there's a guy like Rafael Moreira playing guitar player – he's unbelievable. Though you might have heard them on a record or seen them on TV backing someone, a lot of these guys, nobody really knows them yet.
Glenn: Yes it can start people's careers again and it's also a springboard for people who want to go on tour or something. They can play a certain song and tell them it's just a teaser of what they can see when I am doing my own shows. It's creating a new audience for those artists who wouldn't actually think about going to see those artists in their own right. It's like a loss-leader. It's a free promotion and it can open up for them big style as a result of doing those one or two shows at Ultimate Jam Night.
Chuck: Oh yeah, we've had quite a few people get gigs because of it. Speaking of Debby Holliday, she's gotten ten different gigs doing rock stuff because people think of her as a dance artist. This is because of people seeing her sing Rock tunes at the 'Jam.
Glenn: I mean, her voice is incredible. When she does the old Faces songs it's incredible stuff.
Chuck: Oh yeah! Her version of "Dazed And Confused" and "Whole Lotta Love" – it's f*ck*n' killer.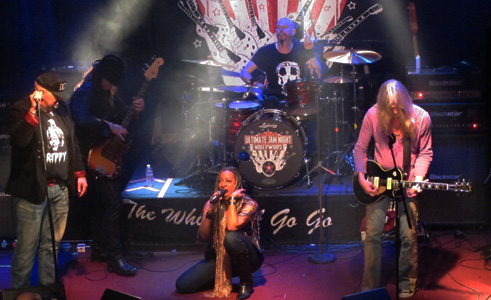 Glenn: Yeah I can imagine.
Chuck: I try to keep the bar raised high, which is different from the other jams. I really scrutinise the talent. I don't care who you are, I want to see some live video footage. I do get guys with all these credits but I need to see something live and then I know their style and what will work well with different players. I'm not going to put some Heavy Metal player with a Rockabilly Dude!
Glenn: It won't work! (We laugh)
Chuck: You've got to be aware of people's strengths and know what they're about.
Glenn: Yeah because if you put guys up there that don't gel well with other artists, it gives them a bad name and you a bad name, it gives the Whisky a bad name so it's going to be a thoroughly bad deal all around isn't it? You'd be slitting your own throats and there would be no point doing that.
Chuck: Yeah, I have to be careful, the end responsibility is mine, though I have people working with me at Ultimate Jam Night, it's viewed as my show.
Glenn: How do you get certain big names down? Is it a case that you have been in the business so long, you simply give them a call and say, "We've got this happening, are you going to be in the area? Do you fancy coming down for a couple of songs? Is that how it really all works and schedule it weeks in advance?
Chuck: It's that or people contact us or we reach out to people. It happens… somebody's in town, "Hey so you're in town, do you want to come down and sit in?", "Yeah". Cheap Trick were in town and Matt, he's good friends with Rick Neilson's Son, Daxx. Daxx brought Robin with him and I know Robin because I worked with Cheap Trick. We were on the road and I was hanging with them all the time and I've seem them since. I've gone to their shows. He was with him and I said, "Hey man, we're doing 'Dream Police', do you want to sing it?", and he said, "Yeah, I'd love sing it with you!".
And even better than that, he's backstage, there's a couple of songs to go before we do 'Dream Police', he gets a phone call from his Manager and he said to me, " You won't believe this, we just got inducted into the Rock 'N' Roll Hall Of Fame'. I said, "Oh that's awesome!". He said, "Yeah but I'm at a bowling alley, we got signed at a bowling alley in Milwaukee". He said, "This is weird – talk about full circle! I'm at a bowling alley and that's where we got signed and now I'm getting inducted." Riki Rachtman was there from MTV and he said, "Let me introduce him, let me introduce him". I said, "Okay". So he goes out and tells the story. That's on our website (ultimatejamnight.com) you can see the whole introduction, you can see Robin, who was just awesome, on 'Dream Police' and he's hamming it up to the camera. Check it out!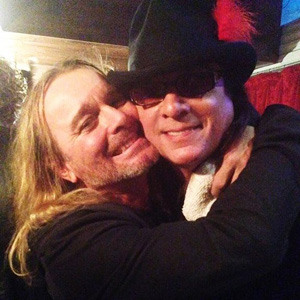 (W/Robin Zander - Photograph by Tamea Agle)
Glenn: That's awesome!
Chuck: Yeah and Dee Snider showing up out of the blue.
Glenn: I always think some of the best nights have been where people have just shown up.
Chuck: That's basically what does happen, You don't know. We try to change it up and people just show up and we try and make it work to get them on the stage and that's cool. It's a monster for us to run at times but because we've created this the jam scene is popping up everywhere. There's the Viper Room, the Bowling Alley Jam and I heard there's going to be one on Thursdays now. I just go, "Oh my God". It's hard enough. We were the only pro-jam in town when we started this thing. My hope for for Ultimate Jam Night is to grow to a worldwide audience where you can see us on a television show, maybe like a reality show and you can see how it all comes together and you can experience the performances and feel like you are the. We are diving into that soon. People can see and feel what it's like to actually be there. The end goal would be to have it be something like that and also the franchise to have this thing happening in different cities. There are musicians all over in places like Austin or Nashville or New York. It would work there.
Glenn: Yeah it makes some sense.
Chuck: Have a version of it in a different city and just get all the local cool players but have it organised.
Glenn: Yeah. That's a brilliant idea that. I must say that 'Ultimate Jam Night' is one of the best things that has happened in Hollywood for years and I've been coming over since 2009. You can see some of your favourite artists in one night if you happen to be there at that particular moment. You can meet and chat with many of them too.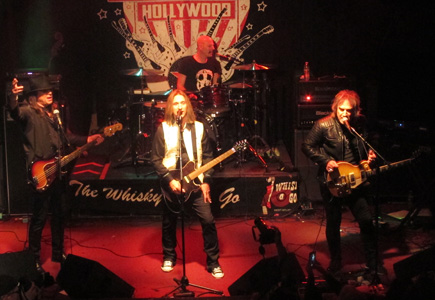 Chuck: That's one of the things that's cool too. A lot of times the artist themselves are just walking around with a drink and coming out to hang and most are apporoachable.
Glenn: Yeah there's no ego and everyone's just enjoying themselves.
Chuck: In general most of the musicians are just hanging out. Everybody's socialising and meeting. It's a real scene.
Glenn: Yeah. It's so involved. I know it would be pretty involved what you have to get done but it's coming across how much more is involved. There's so much more that people don't realise.
Chuck: I have a set list and a script to work from.
Glenn: You must have a certain bunch of songs that you have as a skeleton and you fit the other bits in.
Chuck: We do have a master list of around 260 songs that we know. The list just keeps growing. I actually should put a link on the website so people can see.
Glenn: What keeps you going as a Bass player?
Chuck: One things is, I love playing with my acoustic group, Acoustic Saints. That is one of my joys. I love playing my Godin fretless bass and musically what we do is great. But I also I always say I am only as good as the drummer that I'm with and I think that's true for all bass players. You are only really as good as the drums if they are laying out the pocket right and the fills and what they throw at you. I've been very blessed in my career to work with some of the finest drummers there are like Gregg Bissonette, Pat Torpey and I get to play with Frankie Banali in Quiet Riot almost every week who is one of the best Rock drummers out there. Matt Starr's is also awesome and the list goes on. Guys like Eric Singer when I was with Alice Cooper and Montrose. I'm blessed to have played with so many great drummers and as a Bass player it makes you a better. I told that to one of my friends that's a younger girl Bass player. I said, "Look, you've got to use somebody else other than that drummer you're playing with because it's really hurting your playing." It is, it's really important because the bass and drums are basically one thing.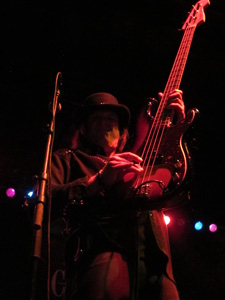 Glenn: Yeah! A locked in rhythm section.
Chuck: Yeah. Listen to the way John Paul Jones and Bonzo play together – unbelievable. That's what I'm like with my acoustic band. I love doing songs like 'Ramble On' and 'What Should And What Should Never Be'. The Bass parts are so amazing and they sound great on the set list. I have a percussionist drummer who is excellent in that band that used to be with Joe Cocker. It's a really good thing and I love doing that and look forward to it. It's fun to get my Rock ya-ya's out with Quiet Riot even though I've been playing some of the songs for 30 years or whatever it is now (We laugh).
Glenn: It's a long time.
Chuck: Yeah. There are certain songs like 'Love's A Bitch' I've been playing since they were demos. When you get out in front of an enthusiastic crowd… we just played in Erie, Pennsylvania. We were the headliner and the opening act was a local kid band. There were 31,000 people there and it felt amazing seeing these people singing along with us.
Glenn: Jesus!
Chuck: It completely blew me away. It was like a Sturgis bikefest but they'd never had that many people there and they were blown away. It was another great show. Playing songs that you've been playing forever so to speak works when there's people that are experiencing it for the first time and there are people that love the songs and it's part of their history so it brings them back to a place in time that made them happy. The 80's to me, was one big happy party – it was an escape. It just seemed like a happier time overall.
Glenn: I know and you can't argue with a song like 'Bang Your Head'. It's like something special when that song comes up and I'm sitting here talking to the guy who plays Bass on that song – pretty cool.
Chuck: The funny thing about that particular song is that I thought I was done for the night in the studio. I had a couple of beers and I actually was asleep on the couch in the lounge at Pasha studios. They said, "Hey Chuck we want you to cut the bass now!", "What! You're kidding me? Okay!". I go in there and say, "Turn it up as loud as can and I did it on the first take except for the very last note. This is because the last note is one of those things where the bands holding out a chord and you end it boom! But I didn't have Frankie there playing to look at so we had to punch in the last note.
Other than that, that's a one-take, go-for-it thing. It's all feel and they kept it even though Rudy (Sarzo) rejoined the band. It's just had the magic so they kept it. It's the same thing with the song 'I Don't Wanna Let You Go'. It's a funky, soulful vibe bass part feeling. That song had a certain feel to it and that's where it stayed. I also sang on every track too. Funny, I got a migraine every time we did it. We would do the harmonies all in unison. There's four parts – four part harmony and also the music so I had to hit these super high notes with Kevin and Carlos. At the end of the night I was like, "Oh my God! I'm gonna die!" 'Bang Your Head' (sang in high octave).
Glenn: No voice left!
Chuck: No (We laugh). I can hear my voice. It's funny because I can actually pick my voice out on the song and they kept me throughout for singing. Even on 'Condition Critical' and I sang on every track and ended up re-doing some bass parts. Then I actually joined the band for QR III. When they did 'Terrified' when they had Kenny Hillary (R.I.P) they actually asked me to come in and sing because they wanted to have that same sound.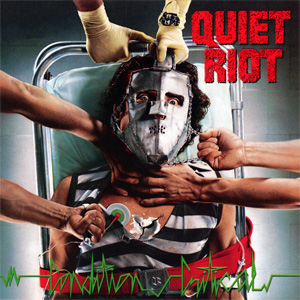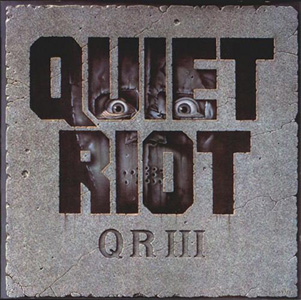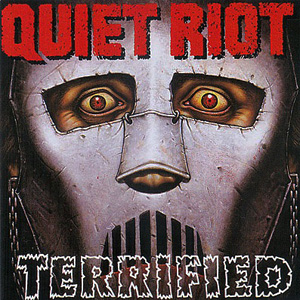 Glenn: Wow!
Chuck: I'm just a background singer. I did lead sing once. I had my own band called 'Satyr' that was really popular in LA and I took over some shows where I was the singer and man, I don't like that responsibility at all. It's way too much for me to sing lead and play Bass. I don't want that responsibility – forget it! I'm just happy to throw in some vocal harmony parts. I don't know how Paul McCartney and Geddy Lee do it.
Glenn: You've never been fully temped on 'Ultimate Jam Night' to do a few songs yourself at the front?
Chuck: No you'll never see being a lead singer at the 'Ultimate Jam Night'.
Glenn: You've got too much on anyway haven't you. Taking all that on as well. I mean, you are full-on anyway with all the stuff you are busy with.
Chuck: You know what is hard – the organising, making the calls, the e-mails, the texts, figuring out what we're going to do for a show theme – it's super tight but add on top of it that I'm learning the songs as well that I've never played before. Just going up there and doing a Judas Priest song I've never done before or whatever. I mean, I've never played surf music before and we just did it!
Glenn: Do you think it's made you an even better player than what you were previously even though you're a good player anyway?
Chuck: It does but I've always tried to be versatile. I've produced two reggae records, ambient trance, I've done funk, I did rap with guys like Sen Dog from Cypress hill and Everlast. They were calling me Nat because I sound like flea. So I love diving into different styles of music. I was in a flamenco band for two years. I like to do a lot of different things even though I'm known as a rock player. We do that at UJN too. We do all kinds of music not just Rock.
Glenn: That's a good thing because you are not typecasted at all. People aren't afraid to say, "Chuck, any chance of doing this for us?"
Chuck: Yeah! I can play pretty much any kind of style. I can play county too. I did Gretchen Wilson and a Garth Brooks thing. Music is music. I like most of it.
Glenn: That's a good thing.
Chuck: I actually did a polka too. I was on TV with John Stamos on 'Full House'. We had to do a polka version of 'I Wanna Rock 'N' Roll'.
Glenn: Cool!
Chuck: It's actually on YouTube. It's f*ckin' hilarious! I am wearing a lederhosen!
Glenn: So how did you go about getting Jizzy?
Chuck: He had left Ratt and was around so we met him and played with him, it was a really good fit. Have you seen the movie?
Glenn: Not yet.
Chuck: Oh you've got to check it out. I didn't know what to expect. It went to Cannes film festival. It's been on Showtime for over a year. People love it. I know it falls under the category of a documentary but it's a human-interest story and a lot of it is about Frankie, going from the beginning of the band, the building of the band and all the different players to Kevin dying and then deciding to redo it again and finding a new singer. I haven't had anybody say they didn't like it. People can get it at quietriotmovie.com
Glenn: Awesome!
Chuck: I've been doing this for a very long time. People say, "Why are you still doing Quiet Riot?" and I say, "To keep the music alive. People love the music and for God's sake we helped create it." We get flack all the time for continuing without Kevin. But it's about the music. We're keeping his legacy alive as well.
Glenn: I know. I mean AC/DC had the same thing with people saying, "You can't continue with Bon". A lot of bands have had that issue and some have managed to succeed and it's worked for you. Is it like a double-edged sword when you are playing weekend gigs? Do you miss doing gigs midweek and touring all the time as opposed to doing weekend touring or do you prefer that you can work on other things like 'Ultimate Jam Night' which wouldn't have happened if you were doing Quiet Riot 7 days a week?
Chuck: No. The thing is, once you're on a tour bus, you can't do anything else. Everything else stops. I can't do sessions or my other band or 'Ultimate Jam Night' so the best case scenario really if you want to do other things is to fly. Even though I hate airports. I say I get paid to travel, I don't get paid to play – it's a privilege at this point really. On a bus you can be gone for five or six months which I've done many times. You're out of sorts when you come back and you can't do anything else while you're out there – you really can't.
Though when I did a long tour with Alice Cooper, we did 75 cities and 17 countries. We started in Moscow and ended Lisbon. We stayed in 4 and 5 star hotels and we'd be in each city a day or two. I got to see so many places and in that respect, it was a lot of growth for me just in experiences. It was one of the best times in my life. I would go out to lunch with Alice almost daily.We'd go shopping or just hang out. He had so many unbelievable stories about Jim Morrison and Groucho Marks.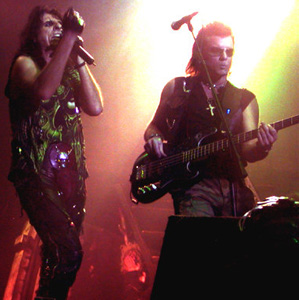 (Courtesy of Chuck Wright)
Glenn: Yeah I can imagine – crazy stuff. When it comes to countries, what countries have really grabbed your attention and caught your eye and you've thought, 'Wow I really like this place!' What was it about certain places even as a tourist or travelled with another band that you've really liked?
Chuck: If you are talking about place and not audiences, I really loved Barcelona a lot. I really liked Copenhagen, Stockholm and I always have a killer fun time in London. There's no doubt about it – London is just awesome! Spain in general is just amazing. I loved it there. There's a small town in Germany called Regensburg that I spend almost two weeks in pre-production at when I was touring with Scorpions. I really loved a lot. It was untouched by the war. Everything was the way it had always been. The people are great. I'm not a big fan of the German food but Spanish food is killer. You have to take the cuisine into consideration. That's where England falls short I'm afraid. You have to go to an Indian restaurant to get really good food there.
Glenn: It's just later after when you are going. "Oh sh*t I shouldn't have eaten those!"
Chuck: Yeah, yeah definitely. Payback is a bitch!
Glenn: You're not kiddin' and the older you get the worse it seems to get after. I'm paying for it now sometimes! I like that you mentioned Barcelona. I remember going there in 1996 and thinking, 'God this place is amazing' and you go down the Ramblas and you get those little voles that seem to run out where the trees are in the squares. I thought, 'This is awesome, I love this'. I've not been for years but it's a special place!
Chuck: Oh yes!
Glenn: Then there's the walking statues and the street artists.
Chuck: Yeah and the galleries, artwork and the buildings. I'd like to go back and spend more time there. That'd be great. My Mom lived in Maui, which I really loved a lot too. That's a beautiful place to be. As far as foreign cities, I always pick Barcelona.
Glenn: Awesome! I must go back there some time. You've worked with so many different people over the years. I thought I'd ask about one or two. Ted Nugent – how was that?
Chuck: Hahhahahaha! All I can do is laugh. I did the album 'If You Cant Lick 'Em, Lick 'Em'. Best title ever. I never toured with him and I'm sure it's probably a blast with him because he's a madman. Everything you have heard is true. He had a stack of Polaroid pictures of animals he had killed. He had his little boy at the time holding up a giant rams head and I go, "Oh my God". He said, "I eat what I kill! – I'll stay in a tree for three days with a bow and arrow and wait and wait for that one deer to come by".
We would go on breaks and shoot basketball or whatever to relax. He had a full size fake dear hiding in the bushes across in this yard area and he would take his bow and arrow and fire away. He was very particular when we recorded. He wouldn't let me play the way I like to play. Whenever I would do complimentary riffs to compliment the vocal note or lead on the guitar, he had pro-handled 45 automatic on him and he would drop it on the floor. "I guess that means you don't want me to play that?"
Glenn: Hahahahahaha – crazy son of a bitch!
Chuck: I talked him into letting me play fretless all the time which is pretty cool. He's great but what I got the demos from him it was basically just guitar and a drum machine. I couldn't tell one song from the next but it developed. He's great. I'm an Amboy Dukes fan!
Glenn: Got ya. What about Stephen Pearcy?
Chuck: He's an interesting and unique character. We're friends. He's done the jam before. He's got a real good band now – solid – they've done some shows with Quiet Riot.
Glenn: Awesome. That's good. You worked with David Glen Eisley while he was in solo mode too. I got sent 'The Lost Tapes' many years ago. How did that come about working on that?
Chuck: He's a really close friend of mine and that whole situation really surprised me. I said, "Hey look, we've got all these songs that we recorded. I hope we can put 'em through a compressor and place them onto album and get it released." Even though I went to him with this whole concept of what to do, he did it himself and I was cut out of it altogether. He explained that he was in a serious tight spot financially and since we were close friends I just let it go. But with James Christian, he took the 'House Of Lords' name and we didn't have the money to sue him. . He just went, "Yeah, I got all these new guys – bye!" Not cool!
Glenn: Ugh! It's not funny when it's like that. It turns the music into the business as opposed to being about the music all the time. Oh well there you go.
Chuck: It's less about the music and more about the cheques.
Glenn: Yeah it sucks. I think it's nice that you did some work with 'Saints Of The Underground'. That is such a nice album that. It's a pity that Jani Lane is not still with us now because that band if it had continued it would have had some mileage to it. I really liked it.
Chuck: Jani was actually pretty together… except for a couple of days when he was a little bit out of it. He was a brilliant songwriter and generally a nice guy. He just had his demons… I was on the road with him and he lasted eight shows… he just got in a car with someone and disappeared for three months.
Glenn: Wow! Sad!
Chuck: I know. I've have lost of people in my life and it guess it happens the older you get. I've worked with a lot musicians, singers that are gone now- it's sad. Yet the music lives on! That Saints Of The Underground record is pretty good well except the drumming. Jani was actually showing Blotzer how to play parts.
Glenn: I know. I've not played it for a long time but when I heard it I thought, 'Wow this is such a standout album'. It's such a shame what happened there because it was coming back up. He'd had all that sh*t go down and then it all went away again. It was like 'Oh f*ck*n' hell!' Sad!
What's happening regarding a new album from Quiet Riot since you do shows at the weekend? Are there plans for a brand new one?
Chuck: I believe that will probably happen at some point.
Glenn: What would you say your proudest moments have been over the years?
I'd have to stick with Quiet Riots 'Metal Health' on that one because that was the first Metal album to go number one and opened the doors for all the other Hard Rock and Metal bands. Being a part of music history and giving my Mom a platinum disc for that was an outstanding moment in my life. She stood behind me and supported my dream. Also, theres a few tracks on Quiet Riots 'QR3' and 'Down To The Bone' that are fantastic musical moments. From a purely musical standpoint and joy, I would have to say an album I did called 'Chaos Is The Poetry' with Lanny Cordola, Gregg Bissonette and Philip Bardowell.
We also did a thing called Magdalen with Ken Mary (House Of Lords) but those records, musically and lyrically to me are just brilliant. I could put it on any time and just go, "Oh my God!" It really stands the test of time. We wrote a song called 'Why Buildings Fall Down' right before even 9/11 happened. It's just real deep and musical. We also have sax on the album and do some funk. We're doing progressive rock and we're doing straight ahead stuff. It's pretty cool. It's a 'no holds barred' record – just being creative to be creative and not having to think about a single or commerciality.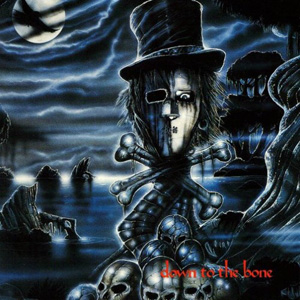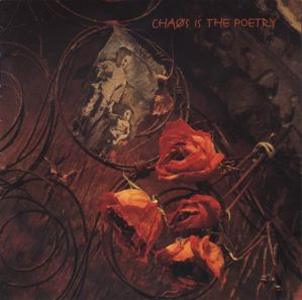 Glenn: I'll check it out!
Chuck: Yes. It's a unique record. I mean, I did some records that I think are really cool too with Pat Torpey and Lanny Cordola (House Of Lords) called 'Odd Man Out'. We have Steve Lukather and a bunch of different guests on it. But a lot of my favourite recordings that I've done have had zero commercial success (laughs) because we were not on a big label. In the 90's Grunge killed us 80's Rockers all off for a long while before it came back. I got into Christian music world – Lanny got me involved because he was doing records for them.
Basically if we kept it positive and was spiritual in nature it worked for the labels. We never got preachy, we could do what we wanted to do musically and we didn't have anyone hanging over our head going, "Oh what are you doing with that?" We could just be and just create and not have to think and we'd do it for the sake of the song. We'd use interesting instrumentation like a Balalaika, Duduk, Turkish Banjo, Mandolin, Cello, Ebo guitars always adding textures with something unique and cool that fits what the song is about lyrically or it's mood.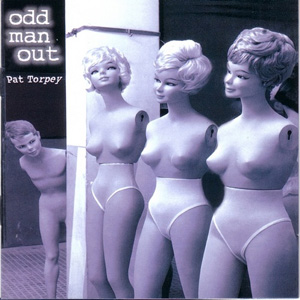 Glenn: Nice.
Chuck: So yeah! 'Chaos In The Poetry' is one of them, Magdallan and Odd Man Out – those are all very cool projects/records that I've done.
Glenn: Brilliant. I'll check them out. They sound interesting. If you could have certain people playing the 'Ultimate Jam Night' who would you have for that night and why if you could get those certain people?
Chuck: Holy crap are you kidding me! (Laughs)
Glenn: And that are still alive (I laugh)
Chuck: Yeah you've got to say if they're still alive because I'd have Bowie down there immediately. He's my favourite artist of all time. Well one of the things I was able to do was put together people that have never played together before like Billy Sheehan and Nuno Bettencourt and that was cool. Things like that, I put together Gregg Wright and Sugarfoot Moffett who were the guitar player and drummer from Michael Jackson's 'Thriller' Tour. They hadn't seen each other or played together since then. I got them out and we did 'Beat It'. That's part of the magic of what we've down.
I would have to really give it some serious thought about. If I could pick anybody living, I'd like to have Chris Cornell. There's a whole list of people that I would just flip over having down there. I mean, Sting – you know? Come on! Hey Sting and Peter Gabriel playing the Hollywood Bowl! "Hey do you guys wanna come down and play 'Ultimate Jam Night', that'd be awesome!" There are so many artists that I personally would love to play with.
One of the things I did at the Whisky for the Ultimate Jam Night was, I found these posters from back in the day of The Doors, Alice Cooper, Pink Floyd and Van Halen - the last show before they left on their first tour was playing the Whisky A Go Go. I have them framed and we bring them in for each show and put up in the balcony area. We put candles on the tables and strung up string lighting, which warms the place up a bit.
Glenn: Wow! It's such a good night. I can't emphasise enough how much I like that night. It's amazing. Have you ever written an autobiography before because the stories you have must be amazing? You could talk for hours and hours!
Chuck: I could. Even before I got into the business, just stuff that was around me. I was in military school for about nine years. I was to go to Airforce academy and music changed my whole direction in life. My Stepfather, who was a news person, was standing there when Jack Ruby shot Lee Harvey Oswald. He was the first news man allowed into the Charles Manson murders. When I'm growing up, I'm hearing all these fantastic stories. I got into the music scene when I was almost 15. Then you have the whole Sunset Strip days. I've got a really great Greg Allman story. It could be. There are so many stories but I would want to be creative with each chapter even if it was a really short one and having a really clever title tied into the story. I have a ton of experiences that I think people might find interesting.
Glenn: I'm sure!
Chuck: People tell me that all the time.
Glenn: Are there certain things you like about the Fender Precision Bass that you like because I always see you with that one?
Chuck: You see me live with my Fender because in the studio I use my Spectre, an amazing bass and I use a Goden fretless endorsed by them for my acoustic bands material. But for live Rock 'N' Roll, throughout the history of Rock 'N' Roll, there's nothing better than a Fender P Bass and an Ampeg SVT for Rock 'N' Roll. People try to improve on it and you can't improve on it. It is the 'Sh*t'. For this particular bass I went shopping for three months and I didn't care how much the bass costs, of course if it's really expensive like over $10,000, I'm not buying it because that's out of my price range. But I didn't care, I never look at price tags. I just played Basses. I went everywhere and I kept going back to this one bass in the Guitar Centre near my house. I played it and said, "Oh man, this is great!" and then said, "Okay" and put I it away. I put it up on the rack. Then I would go shopping. I went back again and again and on my fourth time, I decided I wanted to buy it. I said, " Hey, can you get down the bass way up there for me" because it was really high up on the rack. Usually when the Basses are way up high they don't get them down to play them.
He got it down for me and I played. I said, "Wait a minute, this isn't the same bass". It looked exactly the same. "This isn't the same bass!". They said, "Yeah yeah, it's this one here", I said, "No it's not". I got out my phone, I had taken a picture of the serial number of the bass that I love and sure enough it was not the same bass. I was p*ss*d and the guy said, "Wait, I think you'll find that the guy who worked here put it in the back because he had a feeling you'd come back for it". So he did. He'd put it in the back, he brought it out and I said, "Yep – this is the one! It's the right piece of wood!". I use to be endorsed by Schecter and I had two of their Basses and they were identical but sounded completely different. Totally! One was had super low end. Totally different yet the looked same thing! It's all about the wood. Sound wise I'm a big fan of John Entwistle.
Glenn: He's one of my favourite bassists.
Chuck: My favourite bass players all start with the letter 'J' - Jack Bruce, Jeff Berlin, John Paul Jones, John Entwistle, Jaco Pastorious. It's all the letter J and then Paul McCartney, his real name is what?
Glenn: James…
Chuck: …James Paul McCartney right?
Glenn: Yeah it is yeah!
Chuck: So there's another 'J'. Anyway, I got the bass. I wanted more excite! I put in these Seymour Duncan Quarter Pounder pick-ups in it which give you more grit. That's the sound I like and it works really good. I drive the gain on the head a little bit to get more out of it. The true test is playing with Quiet Riot as we are a trio musically, I have to fill up a lot of space. I do a lot of playing with Quiet Riot live. Frankie have been playing together so long we're all over the place. So yeah, those are my Basses. I'm not one of those guys that collects a lot of instruments. I've found one that I love. I've got a Fender Jazz Bass, an eight string bass that I use in the studio if I want to do something unique with texturing. Basically, the Fender P Bass is my live Bass and my Spector is my studio bass.
Glenn: It's funny you mentioned Schecter as well because I recently interviewed Skum Love, the A&R Guy for Schecter, so it's pretty cool you brought them up.
Chuck: With regard to the Spector though, I've had that since around 85/86 but I've used it on maybe 70 albums. I'm not signing stuff all the time and someone will come up with a record and I'll say, "I've never even seen this one!" and they say, "Yeah, you're on it on this track!" and I say, "Oh yeah I forgot about that!". It happens at times. It's funny. Then they re-package things and it's the same album with a different look to it. That happens a lot here.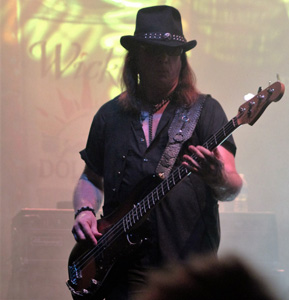 Glenn: That's the real thing about it. You go on Amazon, especially if you get a guy like Steve Marriott or whatever. When they started to officially release bootlegs via Amazon, you are thinking, 'I've already got all this'. It's like a different title, different cover and it's the same stuff you've had on bootleg for the last 20 years.
Chuck: Yeah that happens with a lot of record companies.
Glenn: They are just leasing the material out.
Chuck: Yep.
Glenn: Like when artists do it themselves it gets a bit band. For example, Roxy Music. It's 'Roxy Music's 'Greatest Hits'! It's the same songs, different order…
Chuck: Just rearranged!
Glenn: Yeah – a different cover.
Chuck: That's another band. I love Roxy Music.
Glenn: Is there anything else you'd like to discuss we haven't covered?
Chuck: There will be. The main thing about Ultimate Jam Night it was my vision but it's a team effort. I have a lot of great people around me. I always see it and I organise a lot of it and try to make it work but I have a lot of people that work with me. Adam Mandel's one of my partners with Ultimate Jam Night and then there's Matt Starr who is also in the house band drumming and sings lead. It's the three of us but we have a team of helpers. There's a lot of volunteers. People believe in what we're trying to do so they throw in their hat and come and help out which is awesome. We'll see. It's tough with all these other jams now popping up. It's the back-lash overkill that I'm concerned about.
Glenn: I hope people will think, 'You are just copying off Chuck and the guys'.
Chuck: They may think that but they will still go to and play the other jams.
Glenn: It must be hard at times because you have a theme and you must think, 'How are we going to top this one? That must go through your mind a lot!
Chuck: I wake up after some shows that we've done – a lot of 'em. I'd wake up on Thursday morning because it used to be Wednesday nights or Wednesday morning now and think, 'How the f*ck am I going to top that night?" I have a blank canvas in front of me – I have nothing! Last week we had nothing. We didn't have any A list players on it- nothing. "What are we going to do?" and someone said, "Hey, why don't we do like a beach party? Let's do a contest – a bikini thing! Let's make it about that". "Okay". We started working on that idea and came up with Summer songs like 'The Boys Of Summer', 'Summertime Blues' and whatever songs we came up with that fit the theme of night. That's how it usually goes. Like right now I have no idea what we're doing next week art all. I don't know. Sometimes we know ahead of time that so and so's gonna be coming down so we can build a show around that.
Glenn: Yeah! I mean some things must be so last minute. Like, "So and so has just phoned me, we can get them in right now!. Can we fit them in?", "Yeah!" You must have had moments like that?
Chuck: Well it's like last night, the singer from Tantric, Hugo contacts me through his Manager who says, "Is it okay if he comes in and does a couple of songs?". This is the day before the show. I said, "Yeah, I'd love to fit him in, here's the set list". He said, "He wants to do 'Purple Rain". I said, "Well you know what, I have the World's best Prince tribute and we're doing a real up-tempo night and I won't even let him do 'Purple Rain' and it would be weird him doing 'Purple Rain' and I have a Prince band. It would look lame. Keep it up-tempo, whatever he comes up with." His Manager comes back to me and says, "What about 'Knocking On Heaven's Door?". I said, "Hello, I said 'keep it up-tempo'. (We laugh)
So we go back and forth and he finally decides on 'Rebel Yell'. I said, "Okay, that's up-tempo, it's fine – we'll put a band together." I happen to have a couple of guys who play Billy Idol coming down and I said to them, "Can you guys do 'Rebel Yell'" and they said, "Sure!" So I get a drummer – Matt knows it but I need to find a keyboard player. I don't have a keyboard player – he's out of town! So we're all set to do 'Rebel Yell'. It's 8:30 and I find put Kenny Kanowski (Steel Heart) has cancelled his two songs because he's sick. Then Hugo from Tantric texts me and says, "Oh man, 'Rebel Yell's just too high for me!", I said, "Are you kidding me? I thought you knew the song?". He said, "The only song I know to cover is 'Purple Rain'" I said, "Dude, I told you already!"
Glenn: (I laugh) Unreal!
Chuck: So what do I do??? I go to Julian, the Prince tribute singer who's awesome. I explained the situation. I said, "Look, can you guys do 'Purple Rain' as a duet with this guy? You guys trade verses?" He said, " We'll help you out!" and said, "Yeah! That would be cool!". He said, "Okay". So I went back to Hugo and said, "We can do this but you've got to do it as duet", he said, "Is he okay" and I said, "Yes, he's okay". So that's what we decided to do. We did 'Purple Rain' with them as a duet. I introduced them backstage and they were trying to figure out who was going to sing what. Anyway, it went over, it worked great but that's exactly the kind of situations we have to deal with weekly.
Glenn: God! It's like egotistical kiddies in the playground isn't it?
Chuck: Because it's all perceived my show, people come to me with all sorts of things. For example, a guy will show up, this happened a couple of weeks ago. A bass player, he's running late, he parked in front of the club, "What's up?", "Hey can you go down and watch my car, I'm gonna get towed! I've just got here and I've got to get on stage!" So I've got to find someone to go outside and watch this guy's car while he does a song. See what I mean? It's like every week!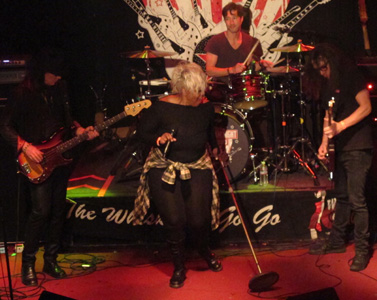 Glenn: That's why I left you alone on that premier night because I knew you'd have a million things going around your head. Your head must be in like a thousand places at the same time on that night. I can't imagine…
Chuck: Yeah, I run around and some people think I'm being rude because I don't talk to them but I can't. I'm running to the soundboard saying, "Hey, there's going to be a saxophone on this song…" or whatever it is, I've got to make sure it's right. There's things going on and I'm running around making certain things are taken care of. Some people just think people show up and then they're playing. They have no idea what goes into this work smoothly.
Glenn: Yeah, it's so professional. It all runs like clockwork and I thought, 'There's no way you can just put that together in 10 minute or on that spur of the moment. That's got to be fully planned'.
Chuck: You've got to work out all the details. The keys of the songs, what guitars they are playing, what amp they are gonna be using, where they are going to be onstage, what time they go on and still make sure they are there 30 minutes ahead of time. Still people show up right before they are due to go onstage. I'm panicking saying, "Okay, how do we fill that song?". It can be really stressful.
Glenn: I mean, you mentioned Trippy earlier. He's become a major status all on his own.
Chuck: Yeah he's part of our brand. I used to have burlesque at every show too. We don't have the budget that we had so I can't have that everyweek. We had a really successful week when everything was sex orientated because it was week 69 and that went over huge. We had strippers on poles and all the songs were sex themed. I was able to bring in a magic burlesque act and that's one of the things I wanted to keep. It's like, 'Wow! What's going to happen here?'. I had a guy that swallowed three swords…like I said, it's a Rock-n-Roll circus.
Glenn: Jesus! Holy Hell!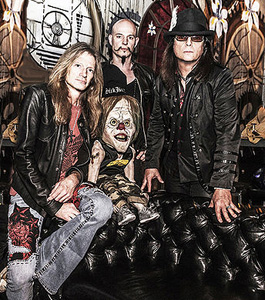 (Photograph by Tamea Agle)
Chuck: Yeah! At the same time. To keep it interesting and fun that's what I've been trying to do and you've got to kind of have a budget to do it right.
Glenn: I love it. I was saying to your PR Lady, Lisa Woodard Morton that I wish I could fly in Tuesday night and come to every Ultimate Jam Night!
Chuck: Oh wow! All the way from England!
Glenn: Yeah, it would be great to do that! If only! You'll just have to shove England and America a bit closer. At least I get to come every few months.
Chuck: Every few months is good. We will streaming it live. We did stream the Orlando charity charity live which was a good one but pretty soon it will all be streamed live!
Glenn: That's awesome!
Chuck: If we start the show at 10pm our time, you'd have to get up pretty early in the morning.
Glenn: What would be good as well as streaming would be if you could actually watch the show later if you are hours in front like me over in the UK.
Chuck: The problem that I'm aware of about being able to tape and show it later, then you get into licensing issues with the songs because when it's a live thing it's a totally different structure than when it's a pre-taped thing. That's what we are going through right now trying to suss out all that.
Glenn: That makes a lot of sense. That's awesome.
Chuck: Yeah.
Glenn: Any last words you'd like to say before we close the interview. It's been absolutely great to find out all the different sides of what you have to go through for the 'Ultimate Jam Night' and the weekend stuff with Quiet Riot.Do you actually get any time off? Do you have any free time whatsoever because it doesn't sound like it from here?
Chuck: When I'm with Quiet Riot, my only time I really get to sleep good is sleeping on the plane pretty much!
Glenn: Holy Hell!
Chuck: We'll get done with the show, get back to the hotel at 1 O'clock in the morning and the lobby calls at 4am and then we have to go to the airport. It can be pretty brutal but that's the only way it really can work. That's to be able get there in time for sound check and make it all work.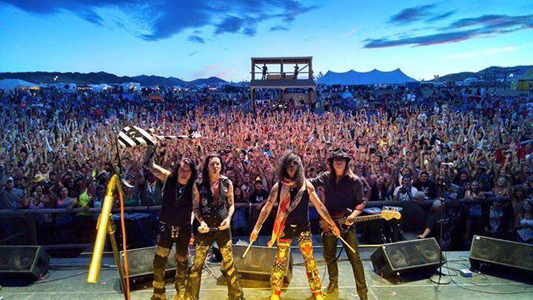 (Photograph Courtesy of Frankie Banali)
Glenn: I mean it kills me enough to go from Manchester, UK to get to Fort Myers down in Florida and then come across to see you guys in Hollywood. That's enough and you're doing it every single week!
Chuck: Yeah! My next flight is going to be a flight to London then to Zurich – that's a long trip! Anyway, it was nice chatting with you…
Glenn: Yeah it's been absolutely great.
Chuck: …And as they say in Star Trek, 'Live Long and Prosper'.
Glenn: You too man. Awesome! It's been an absolute pleasure talking to you Sir!
Chuck: It was good talking to you Glenn.
Glenn: Thanks Brother. I'll see you in January.
Chuck: Yeah Great! Bye-Bye!
Glenn: Thanks Bye.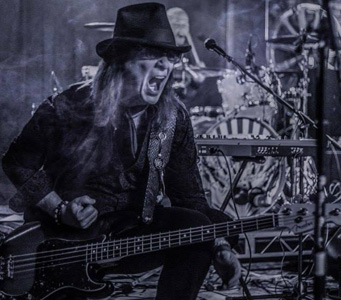 (Photograph by Tamea Agle)
A big thank you to Lisa Morton Woodard for setting up the Interview and of course Chuck Wright himself for taking the time out of his incredible busy schedule to do this for us. All Photographic images credited are used with the kind permission of Chuck Wright.
Various Ultimate Jam Night Photos and Legend of Rock, Cape Coral 2012 by Glenn Milligan. Photos from Bike Night, Cape Coral, 2016 by Juliana Kenyon-Anderson.