An Interview with
'Claudio Pesavento'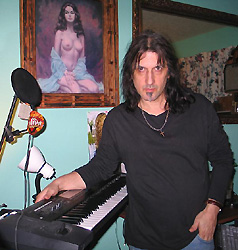 Original Pianist/Keyboardist of Frank Marino's 'Mahoghany Rush'
that took place February 2010.
Interviewd by Glenn Milligan.
Glenn: What aspects of your major influences that you heard made you the musician you are today and how did they influence you and why?
Claudio: From my early days...to today...Life will always be the main influence in my music. I took a lot of chances..Leaving my country and experimenting w/global music. New people new languages. And I have been always ready for taking risks.. For me the feeling of playing music cannot be compared to any other experience in life, but it comes w/ sacrifices and commitments..Hours of perfecting the craft.. Since I never studied music …I was lucky to meet lots of great musicians. Only because it was part of my destiny and because I took those chances .also I have been at the right place at the right time which helps a lot. In this business it's luck and timing and who you know. The only sad part was being away from my family and being able to find the right woman. I had to interview lots of women and that's how I got my nickname El Gallo (The Rooster) When I came to America after Mahogany Rush, I had to interview so many women all the time, the other bands I was in nicknamed me "Legs". I said that the word was legs and I made sure to spread the word.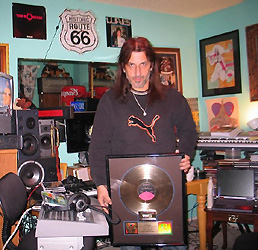 …From John Lennon & the Beatles. Hendrix, Woodstock…Easy Rider, the movie ..Yes Genesis Pink Floyd, Led Zeppelin, Deep Purple….jazz fusion ..Jeff Beck Jan Hammer ..Chik Corea, ..Herbie Hancock. Jaco Pastorius..Mahavishnu Orchestra…ACDC, ..Frank Marino….. He was actually a big influence on my guitar solos …only that I play the guitar with my keys …shhhh

Glenn: What made you decide to play the piano and keyboards?
Claudio: There was a piano in the living room that my father purchased from an Italian family who moved back to Italy..Very cheap, and it was a great sounding German piano The brand name was. NEWMAN
It was not planned..My dream was to be a soccer (futbol') player …but I broke my Achilles heel bone ..And It took me long time to come back …
So around the time when "Imagine", the John Lennon single...was playing on the radio in a heavy rotation..my brother got the 45 .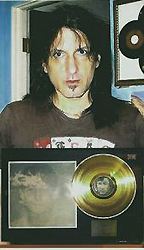 I was very much depressed about my life and I started fooling around with that piano ..and I learned 'Imagine' in the black keys …that was the beginning ..of many nights banging the sh*t out of the poor piano …I was playing all night ..and the neighbors next door .used to throw rocks at my window …ha-ha. You hear them screaming..cause they couldn't sleep.
I went back to play soccer 4 Boca Juniors….But…. I wasn't the same player anymore..Plus parting with my brother Juan José (smoking pot) didn't help my recovery. I was more exited going to see concerts and hanging with the hippie girls..lol

Glenn: What was the music scene like in Argentina with relation to bands in the area and getting to hear and participate in general?
Claudio: Buenos Aires is a very cosmopolitan and European artistic influences are all over ..So the music scene there were local bands that sounded alike; the Beatles, The Rolling Stones, Jimi Hendrix and the peace and love movement was happening in San Francisco---There were Hippies hanging out in the public parks selling their arts, people with acoustic guitars singing Hare Krishna, Hare Krishna and patchouli oil wafting through the air mixed with the pungent marijuana smell. There were lots of bands playing the songs of the day with long hair just like in America. I got into the scene when I was ten years when my brother introduced me to what was going on. His name was Juanjo.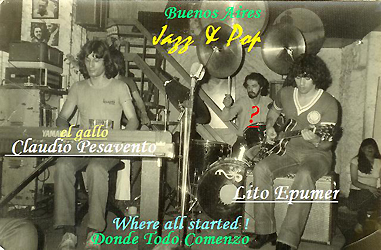 There was one problem, just like in the USA, the hippy movement in Argentina was a threat to the upper aristocracy (the normal people?), so the police gave us a hard time and every time they saw someone with long hair they would stop you and ask for your papers and take you in for no reason other than you looked different. IN those days there were no computers so it took 48 hours to confirm who you were, but that didn't stop us from getting out and continuing with our movement; being able to exercise our free will. So the movement got stronger through the years in spite of the police and military harassment.
Glenn: Tell us about the 1st gigs you did, how you became a member of that band and any cool stories relating to them!
Claudio: My first gig I played in a blues band. The band I played with, the guitar player was one of the best guitar players in Buenos Aries and he had played with Peter Green when he was in England and before he became a hospital orderly in the 70's. His name was Pappo and at the time he was dating the daughter of the chief of police so we always had a police car with Motorola that her father supplied for her. Anyway Pappo ended up being a good friend with B.B. King and he ended up touring with BB all over South and North America. I was only thirteen years old and since there was no age for drinking in Argentina, I was able to play in places where they served alcohol. It was very Italian. We had wine with supper. So that was my first band.
Glenn: So when did you first get the groupies and what was the wildest things you used to get up to at the time?
Claudio: They were there all the time from 10 on and the things we did with them---well you can use your imagination as to the wild things that happened.
Anyway it was wild with drugs, naked women and the parties never ended.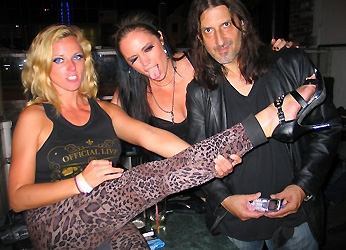 The police stopped us in a neighborhood and my friend had a bottle of liquid acid in his pocket and he said that that the liquid was medicine for his dog. They found the pot in his other pocket and asked him what that was and he said "bird food". So they took us in for 24 hours and he hid his stuff behind a blackboard. But he still had a couple of joints and we smoked them in the cell. The police thought we were crooks because somebody was burglarizing houses in the neighborhood and someone called the police because we had long hair. A month later we had an ex-cop friend that went into the police station and recovered the drugs for us.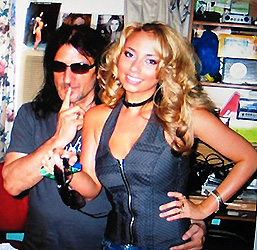 Glenn: How did the audition with Mahogany go for you personally - what ran through your head when you had to perform for such a big name at the time? In your opinion, what would you say stood out to Frank Marino that the other guys didn't have?
Claudio: I did know most of the the bands from ENGLAND (from Yes to Led Zeppelin....and some from U S A .
I didn't know who he was, and at the time I was playing a lot of jazz fusion and progressive rock. I happened to have recorded some sessions with Frank's drummer and he hooked me up with the audition. There were eleven other French keyboard players trying to get the gig too. Thanks to my girlfriend, who translated for me I was able to deal with the language barrier. I had the radio on many times at night and I heard Frank's music being played, but I did not know it was him when I went to the audition.
Since I was the best of the 12 players that auditioned I was able to play any style of music and that enabled me to jam any style of music without knowing any of their songs in advance. I have good ears, and I was told that I have a very big p*n*s, huge b*lls and lightening shoots out of my *ss when I play. In other words, they consider me a great and very creative keyboard player and I take risks.
Glenn: How was it when you were in Mahogany Rush as a newbie - how did the guys treat you ? There must have been some OTT initiation tests that had little or nothing to do with music?
Claudio: Apart from the moment when I got the gig ..FRANK PULLED ME ASIDE AND TOLD MY GIRLFRIEND ..THAT HE WAS THE STAR ..AND THAT HE WANTED 4 ME TO NOT .TRY TO SHINE OVER HIS STARDOM OR OVERPLAY …OTHERWISE HE WAS VERY RESPECTFULL TOWARDS ME AND MY PLAYING ..AND HE GAVE ME A SPOTLIGHT SOLO EVERY NIGHT AND SAID MY NAME AND ACKNOWLEDGED MY PLAYING ..AND HE CLAPPED ..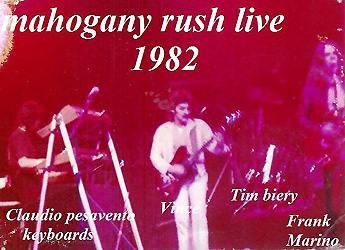 THE REST OF THE GUYS …were great and always complemented me on my playing .and on my ways with woman heh heh..they always ask the girls …what do you see in this guy ..and the girls would reply ..My sexy accent..And my Italian manhood haha(size does matter). I was always the center of the jokes …mainly because of my accent ..(In the beginning ...I didn't speak one world of English. That didn't stop me from bringing 20 girls backstage every night ….(the famous backstage passes …I remember one of my first shows I was getting head ,,during the drum and guitar solo at a show in Texas …in no timethis blond model was singing on my microphone ..And I didn't even know her name..Lovely!!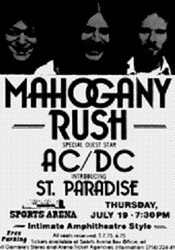 So at the end of the tour everyone was imitating my accent ...lol..and they tried on some girls ...
Another thing that really impressed me that we never rehearsed..Only on sound check …we went over some stuff..!!Very impressive..And he always played great every night. Great performer..and the band was smoking tight..FRANKgive it me very much free dom to put my own touch .on the songs.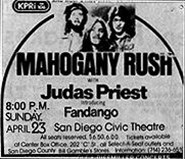 Glenn: How did you get on with the band members - many fall outs or was it hunky dory all the time - care to enlighten us?
Claudio: We always had a great time ..especially..when I started taking control of the pussy business backstage. because before that, ..You only see rock stars ..and guitar groupie fans there…..but I changed all that …what can I say …I love women.
Glenn: What were the tours like with Mahogany Rush and what were your favourite or least favorite moments of them?
Claudio: I really loved the fact of playing in all this different cities and countries .,, always meeting new people ..and the excitement of being on stage ..The electricity was really intense…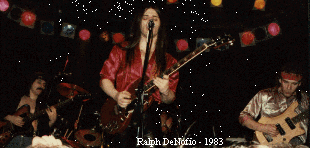 The part I didn't enjoy sometimes was leaving right after we finished playing to the next gig ..I was left behind a couple of times ha ha. Everything was very fast...no time for fun..so I had to find places to get some action ..Without getting caught either by security or by some roadie or band member with their cameras..
Glenn: Which bands did you like touring with and why?
Claudio: From the bands that I played with, I liked almost all of them. its hard to say which one was the best PLUS I ALWAYS PLAYED WITH GREAT MUSICIANS …AND ALSO…I liked to be able to perform my best on keyboards .. Because in some of the bands keyboards weren't the most predominant instrument, especially, because guitar players seem to be louder then everybody else. That is until I got myself couple of Marshall cabinets and I ratcheted it up a couple of notches #11 on the Richter scale—John Lord was the first one to do that haha.
I liked most of them..but specially the great bands from the 70s and early 80s..Ozzy ..Sabbath Iron Maiden. Kansas ..Stevie Ray Vaughn. Jeff Beck Group.. Bon Jovi "Slippery When Wet" tour with Aldo Nova.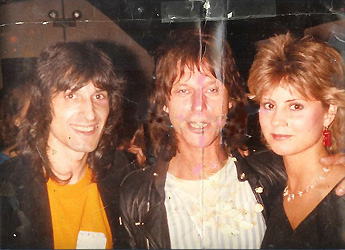 ..Dokken ..Motorhead.Lemmy..Deep Purple..Whitesnake Scorpions..Johnny Winter And Edgar Winter. ON the jazz side, Herbie Hancock, Chick Corea Jan Hammer, Yes, Rick Wakeman etc. All the great keyboard players of the time. I was there and they all respected my playing, even today they all still respect me.

Glenn: Who were the coolest people you met outside Mahogany Rush and what cool stories do you have involving them?
Claudio: We did some tours opening for QUEEN..
Freddy Mercury was really interested in knowing me ?? I wonder why ?? jaja…he will ask to Frank or my girlfriend referred to me as the "nice Argentinean boy"…ha ha ha'' Also in the early 80's it was funny to see Slash and all the great guitar players of today sitting in the front row checking out my band, because they were big fans of Frank.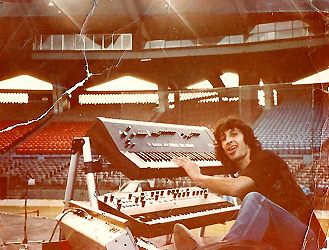 Zak Wylde was and is a big fan of Frank Marino ..I got to meet him in 1982 before he got the gig with Ozzy ..He was backstage just like any other fan..I signed the Juggernaut album for him…
I became good friends with Stevie ray Vaughn (very nice man .and amazing guitarist and blues player …I miss him .he was a .very humble soul.
Chris Squire from Yes Group .
.I have been friends w him since 1982 ..I saw YES live at almost every tour they did ..Thanks to CHRIS I got complementary VIP PASSES for me and my entourage..WE DID A LOT OF PARTYS ME AND HIM, WHILE I LIVED IN NEW YORK .MONTREAL CANADA AND LOS ANGELES. plus more stories ..but you might have to wait until the book comes out….
Glenn: Got any good road stories from the day you'd like to tell us about?
Claudio: There are to many but this was one of the first ones:
My first tour with Mahogany Rush ..we shared the stage with Aerosmith ..and ACDC.
I was taking the elevator with Frank after the show in Cleveland and more people got on it..there was this guy that Frank Introduced to me , He looked a mix of Mick Jagger and a Monkey.
So Frank says to Him :hey Steven .. This is Claudio Pesavento my keyboard player ….I said hi ..and I asked Frank ..who is that monkey face guy ..?
He replied laughing, "You don't know who he is? ..That's Steven Tyler from Aerosmith ..and I said ..Who is Aerosmith ? What does he do ? Is he a stripper from the Chippendales troop? ha ha
Anyway, that same night I was at the Hotel bar in Cleveland Ohio,. and this knockout blonde bombshell sits at the bar next to me and after couple drinks she asks me if I've got something to smoke (pot) I hardly spoke any English at the time but I totally understood that one ..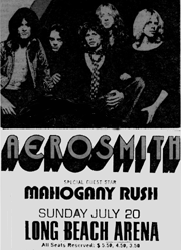 So, I told her to come to my room .cause my bassist smoked that sh*t every single day ..so my bassist Paul asked me "how do you get this hot girl to come to the room" "with my English" ..so I said to him ..Pot ..She smoked with us and I went back to the lobby And there he was waiting at the bar STEVEN THE MONKEY TYLER..and he asked me "Where is my wife ?" and I told him "she was in my room smoking a joint"…"very funny"
..The next day ..He went on the the show and said jokingly .."dont leave your wives alone,..and then he said "my name, Claudio",the Latin lover will steal them from you with his sexy accent ….And he told the story .that he left his wife alone at the bar and the next thing he knew she was in my bedroom …lol.. that was great ..I got teased a lot cause of that all the rest of the tour !!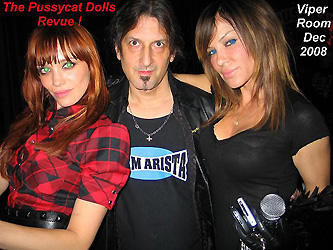 Glenn: What albums and songs are you most proud of in Mahogany Rush and for what reasons?
Claudio: Juggernaut ..Strange Dreams and the Full Circle album (very Progressive ) .also the Jimi Hendrix's covers..especially Purple Haze..Johnny B Good and ..Poppy, where I got to do some soloing and got to show off my prowess. Only one thing, the b*st*rd cut off my solo on the live album.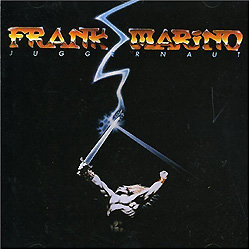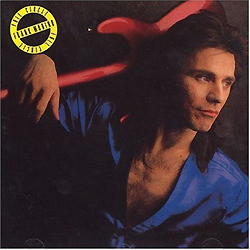 Why?.....The music and the recordings were great sounding and were recorded right on the spot. In other words we cut everything live in the studio .We always recorded.at the most expensive studios ..with the best engineer from Montreal…. Billy Sawlonsky..and, on tour we were on fire…..kicking some ass on those tunes. Live, it's the best experience ever …
Glenn: What places and venues did you like playing most when in Mahogany Rush and why?
Claudio: The Hammersmith Odeon in London..great Venue ..Great sounding…Great audience ..
Also the Odeon in Birmingham….it was the opposite to the Hammersmith but it was great playing there ..
I loved to tour in Europe..Japan and South America the most ..but…I had my fun in the USA … especially in TEXAS AND CALIFORNIA, but Brazil was wild beyond anything I ever experienced. A million nearly naked bodies writhing and sweating and rocking to the music. It was right at the time of the Carnival.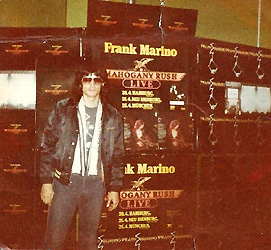 Glenn: What made you decide to leave Mahogany Rush - or was that out of your control?
Claudio: I was invited to go join the Michael Bolton band when he was a rocker.. I got to go to Japan with Bon Jovi..Because Frank, at that time ..was working on building his recording studio in Montreal Canada..plus the band wasn't gigging as much anymore. So I decided to move to NEW YORK.were my girlfriend and my manager lived ..because in Montreal there wasn't much going on at the time except lots of strip clubs.
Glenn: After leaving the band you've worked with so many people - who would you say have been the best experiences on both a music and social level and why? Got any great stories you can recall?
Claudio: They were all special to me but working with ONE OF MY EARLY HEROS, Chris Squire on a couple of movie sound tracks..PLAYING THE MOST EXPENSIVE KEYBOARD EVER MADE "THE SINCLAVIER" $1,000,000 US Dollars The sampler that they use on most of the movie soundtracks. You can sound like the Boston Philharmonic Orchestra if you want to. It's all there in that one keyboard.
.Don Dokken,John Norum from Europe,.and the Jeff Beck Group…musicians Tony Smith ..Fernando Saunders and with Heaven and Earth ..there were lots of rock stars from ..Glenn Hughes Deep Purple..Joe L Turner .Kelly Hansen (now the lead singer on Foreigner) Howard Leese .(Heart) Richie Sambora .Keith Emerson. Carmine Appice..Michael Shenker ..Kelly Keeling .Steve Priest (SWEET) Joe Cocker and of course Mahogany Rush ..That's the one that opened my rock career all over the world.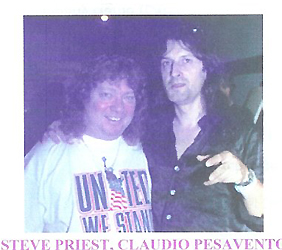 I WAS ALSO INVOLVED ON SOME SECRET SUPERGROUP PROJECTS THAT DIDN'T evolve beyond THE STUDIO JAMS ..WHY? ..The singers are the most difficult people to deal in a band ..(total pussys) Look at Axhole Rose, he f&cked up a great band like G&R ..for example ..most of the bands that break up are because of the singers …
The recording gigs were usually word of mouth or I was referred from other artists.. my phone was ringing at all kinds off hours … they used to call me at 4 am ..sometimes they called me to go and jam on some songs after I had been out all night at the clubs..
What they really liked about me was that I was able to make my keyboard parts really fast without them telling me what to play ..in one word I was very creative.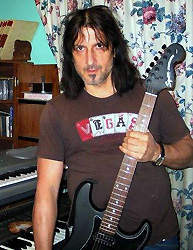 Glenn: What made you decide to relocate to Hollywood? Was it simply a case of everyone was there or is there more to it than that?
Claudio: In 1990 after my last tour with Mahogany Rush. My friend Chris Squire invited me to come to LA to work on more soundtracks for movies..plus everyone in the music business are there .. but when I went back to N Y..I end up GETTING MARRIED.
BIG MISTAKE//SO RIGHT AFTER MY DIVORCE IN 1999 FINALLY I RELOCATED IN LOS ANGELES .. packed all my keyboards and I drove all the way from N. Y.

Glenn: How did you get to work with Dokken and what were the highlights of it?
Claudio: I was Playing with Kelly Keeling on Heaven and Earth at the time and he was Co-writings some song with Don for the Long Way Home album.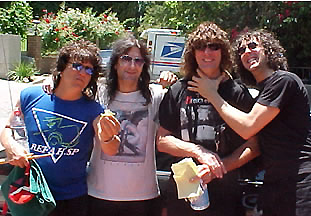 And I was in the area .He call Kelly..and I answered the phone ..and He invited me to go to the studio to play some pianos. the funny part he left me alone in the studio playing with a click track and the bass guiatr ..no vocals melodies ..to follow.. A couple of hours later he came back and and his singing matched exactly what I played …incredible experience . I didn't know the vocal melody …he only passed me the chord changes. .wow..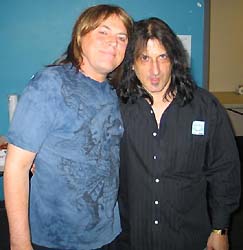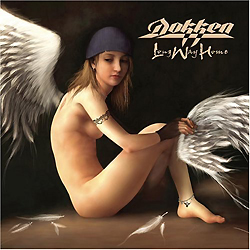 Don has great ears.. any little detail that's wrong ..he sees it. ..I was doing the parts for the song "Into the Fire" ..(He redid all the greatest hits songs from scratch .to release a new greatest hits album with the current lineup without George Lynch Jeff Pilson… I played my part and he was telling me .."That note is wrong" ….we wasted one hour until ..he checked the bass line ..and that was clashing with my keyboard part ..it wasn't me ..but he made me play the part over and over and over ..until he found the problem ..Barry Sparks was playing one too many notes in some sections of the verses …lol..until that time…. I was taking the blame…lol

Glenn: Tell us about your time working with Yes Man Chris Squire, Christine Aquilera, Aldo Nova, Jon Bon Jovi,Celine Dion, Jeff Beck, Stevie Ray Vaughan and many others - how were they and what were the highlights in and out of the music?
Claudio: It was great hanging and working with all those talented musicians.. …it makes you push yourself more and deliver a great performance …and sometimes was a nerve wracking experience ..Because of the long hours .plus, .especially in the 80s was no Pro Tools..So many times you played perfectly but they make you play it over and over again ..or sometimes the engineer forgot to press the record button ..and,….. I totally forgot what I did…not funny.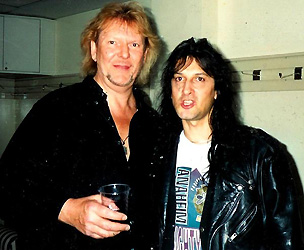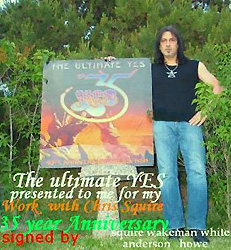 I have become good friends w DON DOKKEN he ..did help me a lot ..sore a did help him to ..
But at the end of the day it was fun hanging..and I was totally satisfied for a job well done. Plus, there were tons of talented chicks hanging around 24 /7..just in case you got stressed up ..and you needed to decompress and empty your balls..
Glenn: How did you get to become a live member of Foreigner and what were the highlights of it and for what reasons?
Claudio: It was a short tour in USA ..I was Subbing for my friend : Alan St John from the Billy Squire band on the American tour leg

Glenn: How did you get involved in performing on the New York World Trade Benefit Show and how did it make you feel doing such a show? What were the highlights of it for you and why?
Claudio: In Los Angeles Ca ..happens to live musicians from all over the world and there were many all star jam sessions that I was lucky to be part of ..plus My band at the time Heaven and Earth and all this musicians got together and made it happen just couple weeks after the 9 11 attack. Members from Heart ..GNR Sweet..DIO Steven Tyler ..Slash ..Foreigner .TOTO .. to name some .Also I got to meet a lot of stars because OF me been on Mahogany Rush.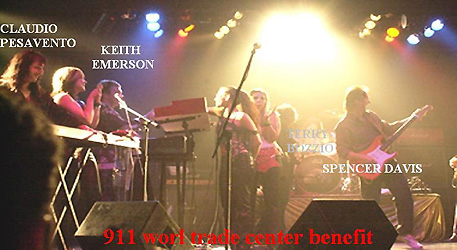 I did it just to help on the victims and the fireman that give their lives in New York .It was a great feeling doing it ..and proud to be part of it. You don't see all those musicians at once in one stage playing together to often ..

Glenn: What other things would you like to talk about (that aren't in your biog) that are memorable and highlights in your life?
Claudio: There are many stories ..but 'THIS ONE WILL MAKE YOU LOL'
I remember when we went to play in Europe in 1983 ..we got a private Jet that picked us up in Amsterdam and took us to Helsinki Finland.
When we come out of the plane it was at least 50 photographers that ignored Frank Marino and they went on and took hundreds of shots of me only ..hahaha
They thought I was Frank ..He got really p*ssed at it..and called me .HEY .BIG FACE .and say :.stay aside from the Cameras..
But it wasn't my fault that I looked more the ROCKSTAR PART then him that day .Wow ..The next day I was a instant celebrity in FINLAND My photo was all over the news and the papers w his name on it …lol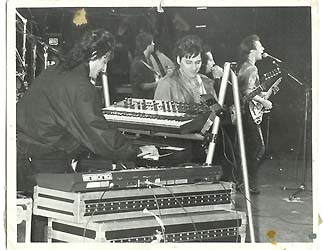 Glenn: What are you currently up to and what are your plans for 2010 and beyond?
Claudio: Last September I did The DOKKEN Greatest Hits Album..and now I'm in New York.
I been writing for the past 20 years .but the last 8 months I been doing everything .engineer .writing arranging .playing producing …..so Is time to put it out. its time for my music to shine ..I'm in the process of getting some guest stars on the tracks ..cause so far is me alone playing all the instruments. also I'm working with a great band from England .called Purple Melon and they are great guys and we hang a lot in Los Angeles ..Where they are based now? Mainly I will be their key man for the tours.
Next will I will be in Washington State with my friend George Crowe, formerly with the 80's Sonics group in his studio writing and recording and sampling the sweet poon of the girls of WSU.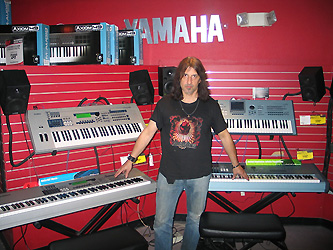 Glenn: What are you most proud of so far and why?
Claudio: I did it my way and I give love a good name ..plus life its been good to me no matter what ..I'm sure lots of musicians will hate me because of that (you know who you are)
It's hard for alot of musicians to survive today playing music only .
I'm lucky that I played music all my life …cause I made that commitment ..
Nobody handed to my anything on a silver platter..
Finally My mother Ofelia Albano .was and is .my biggest fan and supporter. without her help and unconditional love I wouldn't make it this far..It is Jungle out there...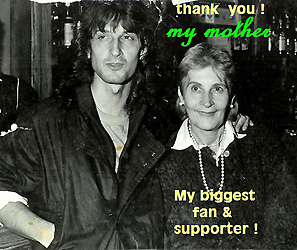 Thank you Glenn