An Interview with
'Conrado Pesinato'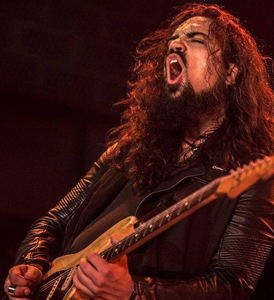 Guitarist of The Graham Bonnet Band that took place early April, 2015.
Interviewed by Glenn Milligan.
Glenn: Why did you decide to play guitar in and particular Rock music?
Conrado: Because in my humble opinion the electric guitar is the best invention of mankind . My first instrument was the Berimbau (a single-string percussion instrument - a musical bow, from Brazil) which Sepultura used in a couple of tracks of their record 'Roots'.
I started teaching myself and trying to learn the berimbau parts of the record and eventually I started to jam and tried to emulate the guitar parts on the berimbau. I was already a big Iron Maiden fan so after that I decided the get an electric guitar.
Glenn: What was your first guitar and how did you obtain it?
Conrado: My first guitar is my main guitar right now and probably forever. It is my 1989 American Vintage Fender Stratocaster '62 reissue. I got it for nothing back then. More or less 400 dollars.
Glenn: Tell us about the first songs you learnt how to play and the first gigs you performed?
Conrado: The first song I learnt was 'Paranoid' by Black Sabbath. The first gig I played was in a shopping mall in Sao Paulo, Brazil. They told us to stop after a couple of songs because we were too loud. They gave us free food though.
Glenn: What led you to becoming a member of the previously all-female band, Hardly Dangerous?
Conrado: Too much soy protein...only kidding. Their previous guitar player (also a guy) quit just before a big show at The Whisky A Go-Go which was part of the Sunset Strip Music Festival 2012. They needed a guitar player to learn everything in a week and play in a festival alongside Marilyn Manson, Black Label Society and a bunch of other cool bands.
Me and Beth-Ami had some common friends so she gave me a call. We jammed and then I learnt all the songs and played a great gig at the legendary venue. They liked my performance and they invited me to stay. That's how my musical partnership started with Beth-Ami.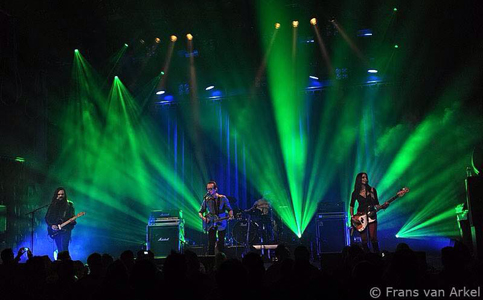 Glenn: What stands out from that band in particular and why?
Conrado: Great songs, a great front-woman - Tomirae Brown, who is the Godmother of soul (James Brown's widow and ex-backing vocalist). A very solid rhythm section and also the friendship between all the girls. I had a great time and they were all super cool. We would always have great guests jamming with us like Athena Lee (Tommy Lee's sister), Paul Inder (Lemmy's Son) and the King of Skegness himself, Mr. Bonnet.
Glenn: What did it mean to you personally to be asked to join The Graham Bonnet Band, as you are called now?
Conrado: It meant a lot to me. I've always been a big fan of his voice and work and Graham also worked with some of the best guitar players in the planet. Ritchie Blackmore and Steve Vai are 2 of my biggest heroes and influences, so I feel extremely honoured to perform songs that Graham wrote with all these incredible guitar players.
Glenn: What were the deciding factors for you that made you want to join the band?
Conrado: The music.
Glenn: What were highlights of the UK/European Tour in November/December, 2015 for you and for what reasons?
Conrado: The show in Barcelona because it was the first one. Also, the shows in Sheffield and Glasgow because the band was more comfortable. Both audiences and stage sound were great.
Glenn: In particular, how was the Sheffield show for you and what were the highlights of it and why?
Conrado: It was probably my favorite night. The band was very comfortable and the combination sound + venue + audience really helped. The magic just happened that night. Plus all the help and support that we got from the guys from the guest band, Morpheus Rising. Great guys, great band.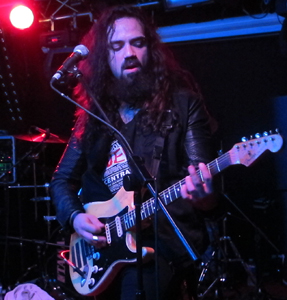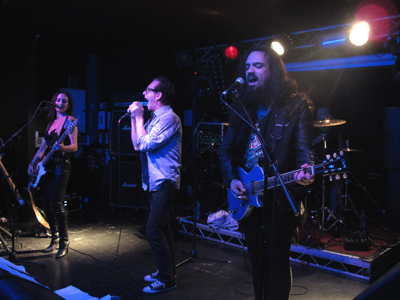 Glenn: Which songs were the hardest to play and why?
Conrado: On this last tour I'd say some of the new ones with an acoustic approach because they were fresh and we didn't really know how they should sound. It was refreshing and brave. Me, as a fan enjoyed seeing Graham playing guitar on the stage. He hasn't done since The Marbles and he is a great guitar player.
Glenn: Which ones did you get the most enjoyment from and for what reasons?
Conrado: 'Lost In Hollywood' because it's just total mayhem and has an interesting solo section. Also, one of the new ones called 'The Mirror Lies'.
Glenn: How is it all going with writing the new material for the forthcoming Graham Bonnet album and what can you tell us about so far?
Conrado: It's going good. We are tracking new songs at the moment. The idea is to capture the vibe of different times of his prolific career. Heavy Rock but also Pop (70's Pop) and Acoustic.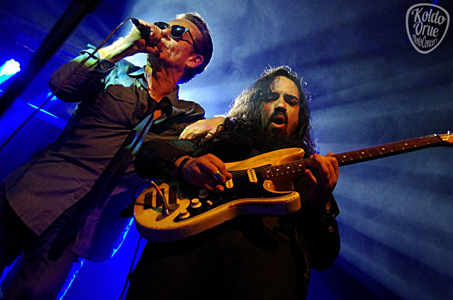 Glenn: What is like for you coming up with material with such a legend as Graham?
Conrado: It's great, as I mentioned before I feel extremely honoured to work with such an icon. But at the same time, the pressure is on. I remember the first time that he asked me to write a guitar solo, I must say that my hands were shaking a little bit. But he was always very cool and made clear that he wanted me to do my own thing.
Glenn: What are your personal hopes for the future as a member of The Graham Bonnet Band and overall as a guitarist in general?
Conrado: With the Graham Bonnet Band, I wanna write great records and play great tours. In general, write and perform great music. Eventually, I'd like to work in some solo material & also make a lot of money.
Glenn: You are soon to be touring alongside the Michael Schenker Band this year. What are you most looking to regarding this particular tour and for what reasons?
Conrado: We will play in Japan which is a country I always wanted to visit. And of course, Michael is an iconic guitar player so just to share the stage with such a legend is very exciting. As a fan, to see Graham and Michael performing together for the first time will be epic.
Glenn: While touring with Michael Schenker, what would you say you are personally looking forward to learning from him and why?
Conrado: How to keep relevant as a guitar player after all these years. The guy doesn't stop. He is a machine!!!
Glenn: What is your preferred guitar to play and what exactly do you like playing on it most?
Conrado: My Fender Strat. I like playing mostly songs I wrote or co-wrote.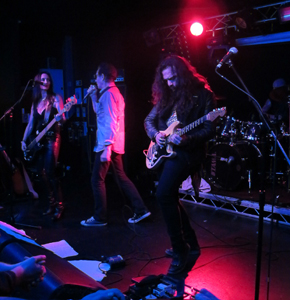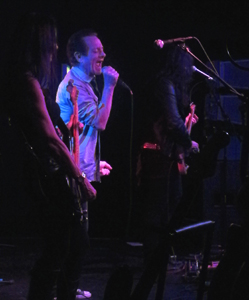 Glenn: What led you to be becoming endorsed as a guitarist?
Conrado: Going to NAMM and talking to people. Also, using social media to promote my work. Social media is a great tool in the industry so use it wisely.
Glenn: Tell us about your experience at NAMM this year and what your thoughts to it are and why?
Conrado: NAMM is always fun but a lot work in the same time. For me, the best is to connect with other musicians and celebrate music itself. It's like a big family.
Glenn: How would you personally describe the guitar style of Conrado Pesinato?
Conrado: I try to be fresh and true to my sense of aesthetics and going wherever they take me. I am always trying to put my signature on everything. It's better to play one note and sound like yourself than to play a thousand notes sounding like someone else.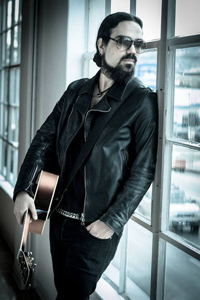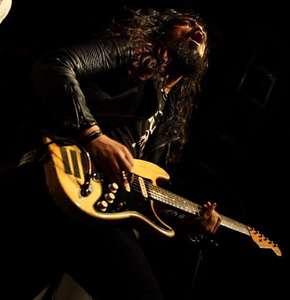 Glenn: What guitarists do you admire these days and what is it about them?
Conrado: Steve Vai , Ritchie Blackmore, David Gilmour, Jeff Beck, Eddie Van Halen, Tosin Abasi, The Edge, Tom Morello & Matthew Bellamy. Again, it is all about finding something new and having a sound that is yours.
Glenn: I understand you also have a band called, The Drama, can you tell us about the band and also how you fit it into your busy schedule with The Graham Bonnet Band too?
Conrado: Great band, great guys, great songs but right now we are having a hiatus.
Glenn: What is your general view of the LA are with regards to the live music scene and why?
Conrado: It's a great place with great musicians. There's some good venues but it is hard to get people to come to shows. Maybe because there is too much going on all the time.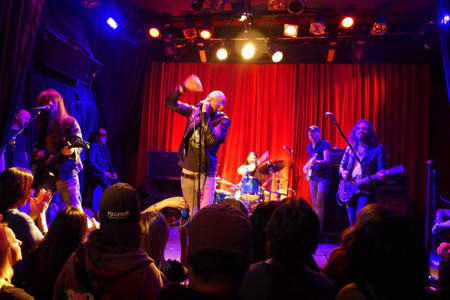 Glenn: What are your favourite venues in the LA area and for what reasons?
Conrado: The Whisky A Go-Go because of its history. Loaded because of the vibe and sound and The Viper Room.
Glenn: What do you enjoy doing outside music?
Conrado: Good question... F*ck I need a hobby. I'll work on it.
Glenn: Is there anything else you would like to talk about that I haven't covered in the interview, if so feel free to tell us?
Conrado: In 2013 I won a guitar contest – 'The Best In Shred'. The prize was that I got to support Steve Vai. It was certainly one of the highlights of my life.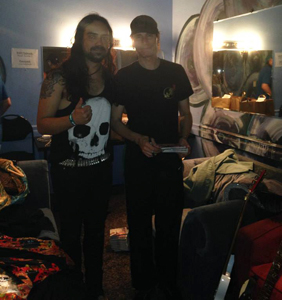 Glenn: What would you say you are most proud of so far?
Conrado: I'm the most proud of the fact that I followed my dream and became a professional Rock musician.
Big thanks to Conrado for this great interview.
We look forward to the up and coming album from the Graham Bonnet Band and in the meantime be sure to check out:
Conrado Pesinato's Facebook Page
Conrado Pesinato's Fandalism Page
The Graham Bonnet Band Facebook Page
Photographs have been supplied and used by the kind permission of Conrado Pesinato or taken by Glenn Milligan @ O2 Academy 2, Sheffield on December 2nd, 2014 of The Graham Bonnet Band In Concert.