An E-mail Interview with Danny Vaughn
(ex-Lead Vocalist of 'Tyketto' now fronting his own outfit 'Vaughn')
Questions sent: Saturday, June 28th, 2003
Answers Recieved: July 1st, 2003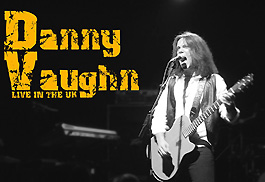 Photo by Al Barrow
Can you ever see a full reformation of Tyketto (since all the hair bands seems to keep getting back together)?
Despite our appearance, I never classified Tyketto as a "hair band". I always thought that we had much more to say. No, I don't think that we will get back together. The only reason to do it would be for some extra money. Lots of bands do that and I think it's lousy reason. If Brooke ever called me up and said that he had written some great songs that he would like me to try singing, then it might be a more natural thing. But it's not likely.
What are your fave times in Tyketto?
Before we got deeply involved in the business end of things. When we were still a "gang" that shared everything and were still looking at the world with wide-eyed wonder.
Do you stay in touch with ex-members of Tyketto? What are they up to now?
Michael is still on of my closest friends and a very successful businessman when he's not hitting the drums for me in Vaughn. Jimi Kennedy still plays in New Jersey. Brooke is somewhere in Milwaukee, I hear, but I don't know what he's doing. Jamie is very happy in Texas as both a college student, and a father, and a husband.
What originally made you decide to go acoustic?
Most of my writing is done on acoustic guitar before it gets morphed into something else on the records. Over the years my confidence as a player and singer has grown so I wanted to challenge myself. And if anybody tells you that standing up in front of an intimate group of people and playing and singing without any backup is easy, they are lying to you!
What songs were the hardest to reproduce acoustically without losing that spark and emotion?
"Lay Your Body Down" was one that I never thought I could do justice to but finally found a way that makes it both interesting and fun.
What do you enjoy most - acoustic or electric and why?
I love 'em both. I am missing the full band lately, though. When Pride backed me up for two songs at this year's Gods I was reminded of how much I love kicking it with a full band.
What songs do you most enjoy performing live and why?
I most enjoy the ones that move from place to place emotionally and are a challenge as a singer. "Standing Alone" will always be a favorite as well as "Fly Away", and "Fearless", to name just a few.
What are the plans for the next album?
I'm planning on writing it any day now!
Why did you leave Z?
Without getting into any mud slinging, I wasn't happy with the way
business was being done at Z.
What record company are interested in signing to and why? What would
they have to offer for you to have that interest? What about Frontiers?
You'll have to wait and see for the answer to that one. Once I've written what I think to be a killer record, then I will be talking to anyone that wants to listen.
What is the key to keeping that incredible voice in excellent shape?
I used to be one of those guys that did lots of warm ups, never drank, never stayed up late, etc. I've come to realize that having fun every now and then doesn't do any harm and that sometimes I really like my voice when it's a little rougher from having some fun the night before.
I still don't drink much, though. Some singers can do it sound great, but if I'm not careful then I sound like crap.
Does your family have a history of exceptional vocal and musical talent - if so, what?
Quite the opposite, in fact. My Mom sings so badly that she was forbidden to even hum around the house!
Who are your favourite vocalists and in what way would you say they have influenced you?
I have so many. Glenn Hughes, Anne Wilson, Stevie Wonder, Bono. I look for something different and interesting in a voice. Not just a generic replica of someone else. I love someone like Tom Waits even though many people wouldn't classify what he does as singing. I do. I love power, emotion and the ability to captivate you while telling a story.
What have been the highs and lows of being a solo artist?
There's no passing the buck. Everything sinks or swims on your own back. Is that a high or a low? Take your pick.
Who would you most like to duet with and why?
Glenn Hughes. I've always wondered if anybody would even notice me if I sang with him. Also Elton John. I'm a huge fan.
What have been the most enjoyable tours and why?
You can't knock touring the world with Iron Maiden. Playing on massive stages are a real turn on. But I've been really lucky in that all of my tours have been really fantastic experiences.
How did the duet with Nexx come about at Bradford at The Gods 2003?
I met NEXX when I played in Madrid earlier this year and Patricia and Bernardo joined me on stage there. When I found out they would be playing the Gods as well, I couldn't ask them quickly enough to join me!
What countries have you enjoyed playing and visiting the most and why?
Ireland because it's the home of my family and has the greatest people in the world. England because it has become my second home and I have so many friends there. Scotland because they rock like no one else! Spain because it is such a fabulous place and they have great people and great food! Switzerland for the gorgeous scenery. The list goes on.
How did you get it together for the tour with Bob Catley and what were the best shows and why in your opinion?
Bob and his manager, Annie, contacted me and asked if I would like to do it. I was thrilled. Getting up on stage with them each night was so much fun and they treated me like one of the band. I must admit that some of the shows on that tour were marred, in my eyes, by my own equipment troubles. I played best in Glasgow, I thought.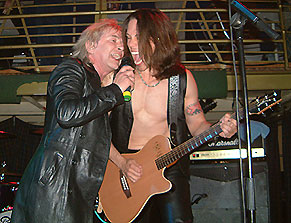 Photo by Al Barrow
What is it about Sheffield that you like so much?
Who said I did? :-) Just kidding. It's the birthplace of Joe Cocker, another one of my very favorite singers.
What would you say are your favourite own songs?
Sorry, I have to take the patented answer and say that you don't pick a favorite amongst your children.
What influenced songs like 'The Voice' and Gandy Dancer'?
"The Voice" was written at a time when I was searching to figure out what in the world I was doing on this earth and what made me any different from anybody else. The answer I came to was that I'm not any different but we, each of us have our own natural gifts given us by the creator. Not all of us get lucky enough to find them. Life has a way of pressing in on you. I was lucky enough to find mine at a young age.
"Gandy Dancer" is too long as tale to tell here. Besides, if you were on the last tour, you know the story by heart by now.
Are you a big fan of the song 'Sweet Home Alabama', since the choral ending vocal harmonies are so similar?
Similar to what?
Would you say that song-writing comes easy to you?
No. It's a painful process at times because I fight with it so often. Also because I work during the day. In a perfect world all us musicians would be locked away in our studios doing nothing but experimenting and playing to our hearts content. This does not, however, pay the rent and a lot of good song ideas have died a'borning because I didn't have time to write them down before leaving for work.
What's it like trying to make a living out of the music biz? Do you recommend it? Is music full time for you or do you have another job as well - if so, what?
I've almost always had other jobs. Most of them were awful. Factory stuff. It's nearly impossible to make a real living in the music business as a performer. But, if your heart tells you to try, how can you refuse?
What's the Rock vibe like in your part of the USA? Gigs etc?
A barren wasteland.
What goes through your mind when you hear songs like 'Forever Young' played in clubs and pubs?
I've only recently become aware of just how much that song has been played, and is still played in England. Quietly, I'm very proud. Just don't ask me to get up and dance to it. That would be too weird.
What are your hopes and dreams for the immediate future?
Getting to the end of all these questions!
Is there anything you would like to say to the fans who will read this interview?
There's no way to say what I feel without sounding like something you've heard a million times before. I never take for granted that there are people that come out to hear me sing. I try to sing each gig with all I have in me. I always think that, hey, you never know, this could be the last time I ever sing. I could die tomorrow. Let's make sure it's a memorable one. At least that's what I try for.
To all my fans and friends: I am truly grateful.

A big thank you Danny - looking forward to hearing new material and
yourself back in the UK again.
Thanks Glenn. I'll see you all in 2004!
All the best,
Danny Vaughn