An Interview with
'David T. Chastain'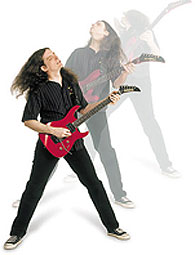 (Lead Guitarist and founder of Chastain, The Southern Gentlemen, CJSS and many other bands).
He also runs a record company called 'Leviathan Records'
Interviewed by Glenn Milligan.
Glenn: What got you started in the music biz?
David T. Chastain: Lead guitar solos always jumped out at me on records when I was growing up and it was something I just had to learn how to do. Once I officially started playing guitar I never put it down.
Glenn: Who would you say your main influences are with regard to both business and music and why?
David T. Chastain: I guess for business, my initial influence was Mike Varney. However I am an artist and businessman so it takes a whole different train of thought. Musically I have a very diverse group of influences. Plus if you ask me tomorrow I will tell you different people. I guess the music of Sabbath, the vocals of Dio, the guitar playing of Rhoads/Roth would be it for metal. In my instrumental/fusion stuff it would be Holdsworth, Dimeola and the like. Blues rock would be Allmans, old ZZ Top, Trower and the like.
Glenn: Why did you name the band after yourself (Chastain)?
David T. Chastain: I am not a fan of band names. Most of them are really stupid when you think about it. In any case, when the band was being put together originally we searched for a normal name and someone suggested the Chastain moniker and all parties agreed. Unfortunately, it is usually misspelled for some reason.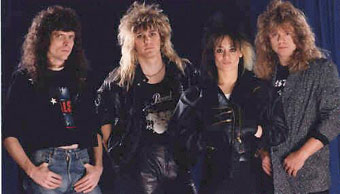 Glenn: What are your favourite times with Chastain with regard to gigs, tours, songs and albums?
David T. Chastain: My fave Chastain Cd's would be "In Dementia" and "Ruler of the Wasteland." In regards to songs, usually the last track on the Cd's are my favourites but sometimes it is different. However I like every song on all 7 Chastain Cd's. While I have played Coliseums and arenas I enjoy clubs with less than 1000 people. It is much more personal.
Glenn: What was the initial reaction to having a female lead singer?
David T. Chastain: Not good. For some reason people don't think that females belong in metal. However after awhile some fans come around. I think in today's world it would be easier to break out with a female in the band.
Glenn: Why did Chastain break up?
David T. Chastain: The Chastain band never broke up. I just consider the band has 2 phases. The Leather and Kate phases. After the For Those Who Dare tour in 1990 Leather and I just stopped doing music together. It was never a fight or anything. We both were just tired of the situation. We had put out 5 albums and toured forever and neither of us was that interested in going forward on the same level. I still think she was a great singer/performer who did some great work in Chastain.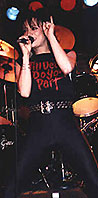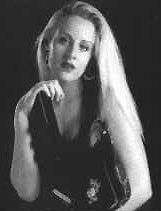 In the early 90s I put out quite a few instrumental Cd's and I was on the lookout for a new male singer. Quite by fortunate happenstance did I stumble upon Kate. It was at a convention in 1994. We did 2 Cd's in the later 90s and we are currently putting the final touches on a new Cd.
Glenn: How did 'Leviathan Records' come into fruition and where did the name come from?
David T. Chastain: Originally it was put together to put out the first CJSS Cd. It just grew from there. The name Leviathan had always been cool sounding to me and it means something large and formidable.
Glenn: Would you say it is easier and more profitable releasing things on your own label as opposed to someone else's?

David T. Chastain: It is more profitable but not a lot of fun and definitely not easier. When the label started out my time was split 10% Leviathan Records and 90% music. Now it is 90% Leviathan Records and 10% music. I wish I just could sit in the studio all day every day recording music but unfortunately my time is spent selling music and then trying to collect the money for those sales. It is pretty distasteful.
Glenn: What do you look for when signing an artist to your label? - What special qualities does an artist need to have?
David T. Chastain: I have to like the music and respect the musicians. If it is a vocal band I have to agree with their lyrical messages.
Glenn: What is CJSS i.e. type of rock/metal, members, albums released?
David T. Chastain: CJSS stands for Chastain, Jinkens, Skimmerhorn and Sharp. The band released 2 Cds in the later 80s and one in 2000. US metal.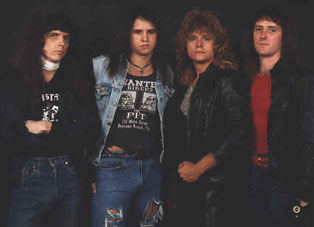 Glenn: What gave you the idea to form 'The Southern Gentlemen'?
David T. Chastain: I had been recording heavy blues rock on the side for 15 years but never had the guts to put out a Cd. I had so many people tell me I had to get that out to the public. I am glad I did because it is so much fun to do that type of music. Also SOUTHERN GENTLEMEN "Exotic Dancer Blues" is my most critically acclaimed Cd of my career. Pretty strange but gratifying.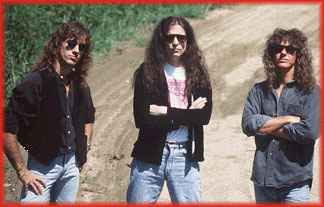 Glenn: What are your favourite songs on the album and why? (mine is 'Too hot for love)
David T. Chastain: I like them all. I listen to the Cd occasionally and it puts a smile on my face. Ease The Pain is a favourite for some reason. Probably because it was the first track that I put down the vocals. I was pleasantly surprised that it wasn't horrendous! I really like the ending jam on Backdoor Woman. I have the whole new SOUTHERN GENTLEMEN Cd written and I can't wait to get that out. I think the songs are a little more accessible to the typical fan of that genre.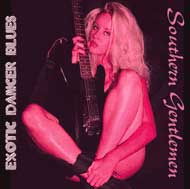 I have another band called Georgia Blues Dawgs that is more blues than rock whereas the Gents are more rock than blues. The guitars are less heavy in the Dawgs. The band has one Cd out called "Hard Times" that is available in Europe. I am putting the finishing touches to another Georgia Blues Dawgs Cd as we speak.
Glenn: What strip clubs are some of the songs based on ? Got any cool stories; to tell regarding the influences behind many of the songs?
David T. Chastain: As strange as it may seem I have only been in a few clubs here in Atlanta. Atlanta is considered one of the best places for strip clubs and the clubs here are 100% nude. In any case I had always assumed that those clubs were for lonely truck drivers and the strippers were not people I would want to hang out with on a permanent basis. I was definitely wrong. The clubs I went to in Atlanta the women were like Playmates. The Cheetah Club was amazing. I have become friends with quite a few dancers around the world since the release of SOUTHERN GENTLEMEN "Exotic Dancer Blues" and they are all very attractive and pretty damn smart to boot. I think strippers and rockers are kindred souls. I am glad I did not discover strip clubs earlier in life or I probably would not have accomplished all that I have. I would be in the clubs all night!
Glenn: Is 'Too hot for love' based on anyone in particular?
David T. Chastain: Not really. There are so many hot women out there that from appearances, they must have been put her on earth just to torment us normal guys!
Glenn: Have you ever checked out 'Pure Platinum' strip club in Fort Lauderdale? That's a real cool place and your songs remind me of it - it's awesome !!!
David T. Chastain: No, but I have heard about it.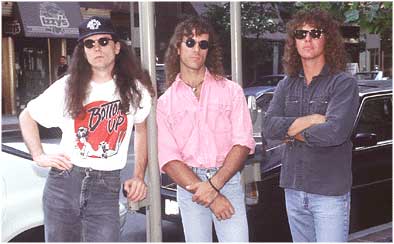 Glenn: What would you say are your favourite Southern Rock bands and why?
David T. Chastain: I have always loved the Allman Brothers Band, especially the Duane era Cds. Live at the Fillmore East is the greatest live album of all time. Skynyrd had some great songs. Very early ZZ Top was always cool if you want to throw them in the southern rock category.
Glenn: What is the Rock/Blues scene like in Georgia overall?
David T. Chastain: It seems to come and go in popularity but there are always a lot of bands doing it and places to play.
Glenn: Where do you like to play most ? Especially in the USA? Have you ever played much in Europe - like a Blues/Rock Festival? Any plans to come?
David T. Chastain: Never really toured much in Europe. Mainly US. Cincinnati was always the band's home base and had great shows. At this point in time I am so busy with all of my projects and businesses that I seldom have the opportunity to get out there on the road. With that said I have had some very pleasurable concerts in Tokyo and Mexico City outside of the US.
Glenn: What is your favourite type of music to play or does it vary depending where you are and what mood you are in?
David T. Chastain: I enjoy playing the blues rock stuff just because it is easier to do and is not as dark sounding as metal. However I love to listen to my instrumental Cd's.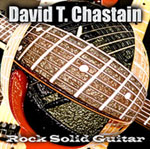 I also enjoy playing a metal show but for different reasons. It is more intense.
Glenn: What are your current and future plans?
David T. Chastain: I am currently working on new Cd's for Chastain, Southern Gentlemen, Georgia Blues Dawgs and Massamusia. Which will come out and when is always in flux.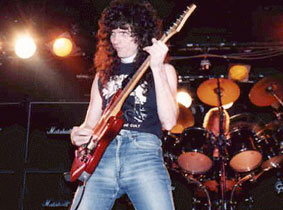 Thanks for taking the time to complete the e-mail interview.
David T. Chastain: Thanks and spread the word!
Best regards,
David T. Chastain
Leviathan Records
Visit Leviathan Records on-line at:
http://www.leviathanrecords.com