An Interview with
Dean Foxx,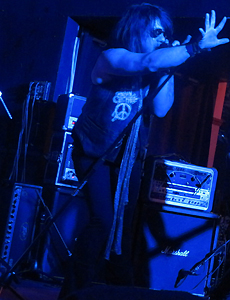 Frontman of Knock Out Kaine -
a Kick Ass Hard Rock band from the UK that took place in September 2012.
Glenn: What are the influences that got you all playing in the 1st place?
Dean: I am from a musical family, My Mum and Dad were both professionals in the industry... As a result I was brought up by my Grandparents because Mum and Dad were always away touring, The house was full of Guitars, Drum sets we had a piano in the Living Room... My Elder Brother Daren who sadly died in a motorcycle accident when I was 12 was the first person to get me writing songs, We'd set up guitars, Keyboards and mics in the front room and write and record songs for days on end, I still have some of the tapes.... In many ways to this day Daren is my inspitation, He gave me the fire....he also bought me my first ever Vinyl Records, KISS ALIVE II and VAN HALEN 1.....Awesome, Cheers Bro, I know yer still listenin'!!!
Glenn: What is your area of the UK like for Rock & Heavy Metal Music?
Dean: I don't really look at the UK in areas, It's too damn small for that... I think that the UK Rock/Metal scene is pretty good though, some great bands are breaking through.... Bands like Falling Red, Million Dollar Reload...And of-course KNOCK OUT KAINE!
Glenn: What made you decide to call the band 'Knock Out Kaine' and who came up with it?
Dean: Ha Ha!!... The Idea for the name came from the fact that I originally wanted to call the band "Cocaine" as a metaphor for getting "High" on Music or Rock N' Roll. Ultimately we found that there had beed Sh*t loads of bands with that name over the years... So a very good friend of ours came up with K.O.KAINE.... which we elongated to KNOCK OUT KAINE.... Some people "get it" others miss the meaning entirely!
Glenn: When did you originally get together and what were the 1st songs you wrote?
Dean: KNOCK OUT KAINE has been in existence since 2005, However even though the bands conception was way back then, there have been a couple of line-up changes so we really only take the band from 2008 when Myself, Jim, Lee and Danny became the unit that we are today... The first song we wrote was 'Skinstar', I love that tune... Mind you, I love em all!!!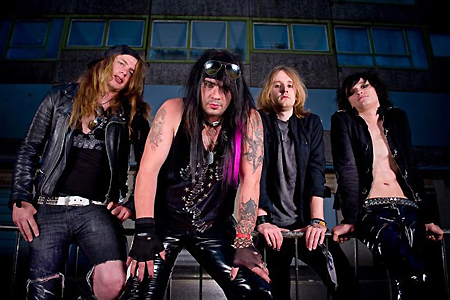 Glenn: Tell us about the 1st gigs you did as a band and what stands out and why?
Dean: Y'know I can't really remember much of the first part of the KNOCK OUT KAINE story.... there was alot of drinking 'n' stuff... I do remember Going on tour with Swedish Hard rockers BAI BANG and having a total blast with them on the road, It was the first proper Tour we had been invited on... We taught the guys in BAI BANG how to snort neat Vodka in a bar in Leeds.... It was a messy night!... I think we played to an audience of about four people, We didn't really care though.... The Vodka saw to that!
Glenn: What influenced some of your fave original songs so far and how?
Dean: That's a tough one, All of our songs are written from personal experience.... things that have happened to me/us... "Going Down" was written about when I first met my wife... She was a Dancer at the time... Listen to the song and draw your own conclusions.... Ha Ha!!
Glenn: How would you describe the style of your voice and of Knock Out Kaine as a whole?
Dean: My voice?.... I don't f*ck*ng know... I am just glad it still works after all the abuse I've given it over the years... KNOCK OUT KAINE... I don't F*ck*ng know.... I'm just glad we're still here after all the abuse we've put ourselves through over the years!..... NEXT!
Glenn: What led you to becoming signed and why did you sign to that particular record label as opposed to any others closer to home?
Dean: MIG/DOTT records, Our Label got involved in the first part of this year, we like the way that they genuinely love our music.... they are passionate about what the do, Nuff Said!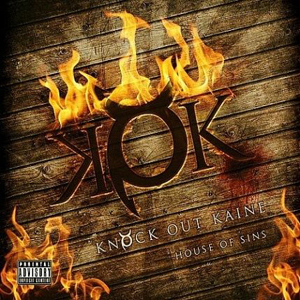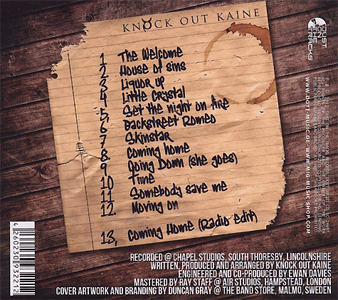 Glenn: What songs are you most proud of and why?
Dean: All of em, I love em all... although if pushed I'd probably say 'Little Crystal', because it's about a very dark period of my life where I was on the very verge of spiralling out of control, and also 'Coming Home'.... Just listen to that song, it's kinda self explanitary.
Glenn: What tours have stood out for you so far and why?
Dean: Adlers Appetite European Tour last year was a blast... Just hanging out with one of my heroes Mr Chip Z'Nuff was a pleasure for me... Also The tour we did with Where Angels Suffer, I have been a lifelong W.A.S.P. fan so just to meet Chris Holmes was great, but hanging out with him and the rest of the band was amazing.
Glenn: Who would you say you have enjoyed working alongside with so far and why?
Dean: Again I have to say Chris Holmes, the guy is just so funny.... the whole tour was wall to wall laughter.... we took him to our home town of Lincoln cos he wanted to see the Cathederal and the Castle..... I don't think the folks at the Cathederal knew what had hit 'em, personal favorite?.... Mr Holmes standing beneath a lecturn with a candle burning on it singing (Loudly) "Underneath the candle lamp........MY BALLS ARE WARM AND DAMP!!!!!......."
Glenn: What have been the highlights of writing and recording the new album and why?
Dean: The whole proces was awesome, working at the Mighty Chapel studios with our good friend Ewan Davies who engineered and co produced the record with us was great... the guy is a genius... Also getting drunk and recording our own special KNOCK OUT KAINE episode of Most Haunted at 4am in the studio complex... night vision cameras, gallons of Booze and alot of p*ss*ng about....PRICELESS!!!!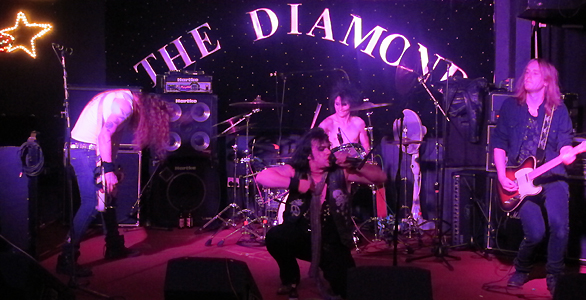 Glenn: What are you most looking forward to for your forthcoming tour of Europe and the UK?
Dean: Just getting back on the road... It's been months since our last proper tour, and we are champing at the bit!
How would you describe a Knock Out Kaine Show?
Dean: Audio visual F*CK UP therapy!!!!
Glenn: Any good road stories you can tell - if so, what?
Dean: Amsterdam...Steven Adler...Our Bass player Lee Byrne.... A litre of Rum....Backstage party...Lots of Weed... to cut a long story short Lee got disorientated was sick everywhere, and ended up punching the original drummer of GUNS N ROSES 3 times in the Balls.... YES, 3 TIMES.... Oh, How we laughed!
Glenn: If you had the chance who would you like to duet with and why - in both a studio and live situation - and on what song(s)?
Dean: I don't even have to think about that one dude.... Steven Tyler on Sweet Emotion.... That would be heaven for me!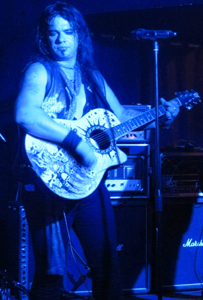 Glenn: What's the wackiest most embarassing moment so far that have happened to the band so far and why?
Dean: There are far too many to mention... but I refer you back to the Adler in Amsterdam incident... Next morning.... AWKWARD!!!
Glenn: What are your hobbies and interests outside of music?
Dean: I love spending time with my son Templar, he is the single most precious thing in my life... I love to socialise (I drink a little too much!) and I like working out... F*ck me that sounded like Singles ad in the classifieds.... I Is also partial to ..... Mutual m*st*rb*tion...... Ha Ha Ha!!!
Glenn: What else would you like to talk about that I haven't covered?
Dean: In the immortal words of our wonderful Bass guitarist, Mr Lee F Byrne... Please buy our f*ck*ng album... I'm getting sick of eating dog food!!!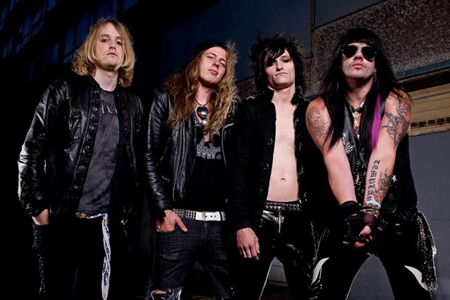 (Mr. Lee F. Burn - 2nd left)
Glenn: What would you like to say to your Fans and Metalliville Readership Worldwide who have just read the Interview?
Thanx for reading folks.... Stay on the KAINE TRAIN.... and come see us play at on of our forthcoming OCTOBER shows... details at www.knockoutkaine.com
...Now, where's that Vodka?
Big thanks to Mr. Foxx for this - Love it Dean.. Love It!!!