An Interview with
'Deb Levine'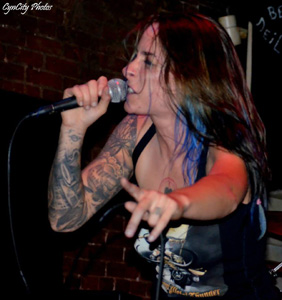 Lady Beast's Lead Vocalist
that took place mid September, 2013.
Interviewed by Glenn Milligan.
Glenn: How did the band come to be and what drove you all to decide on old school styled Heavy Metal?
Deb: Lady Beast started back in 2009. It funny to think about, it seems like so much longer! The original line up was just a four piece with original members Deborah Levine and Greg Colaizzi. Tommy Kinnett, Adam Ramage, and Chris "Twiz" Tritschler made the beast complete. There is a very obvious growth in our sounds from the beginning to now. Our new album that we will record in the winter is the first album that will be completely written by the 5 of us.
Glenn: Who is the biggest beast in the band and why?
Deb: Haha. We are all different kinds of beasts. But it is hard to pick the "biggest"!
Glenn: What made you decide to cover a Judas Priest song and why in particular 'Ram It Down?
Deb: Judas Priest is one band that all 5 of us can say we absolutely love and respect. We have performed "as them" for cover shows and really enjoyed learning their songs. We wanted to pick a rare song that we have never heard another band cover and was also going to be challenging. I think we chose well.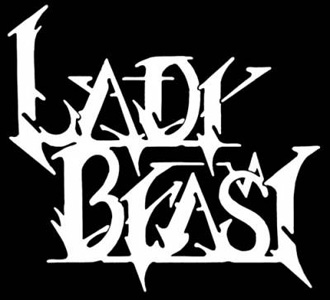 Glenn: How would you say 'Lady Beast' differ from other heavy metal bands around today?
Deb: We stay true to that pure heavy metal sound and vibe. There are no frills…we write songs.
Glenn: How would you describe the sound and style of 'Lady Beast' as opposed to just saying 'Heavy Metal'?
Deb: Fun, bad-ass, interesting. Its music I feel people that don't necessarily like heavy metal may like if they give it a try. We have some rock n roll type songs and some thrashy songs. We try to be a bit eclectic, but stay true to our style. We aren't interested in having an album where all the songs sound the same.
Glenn: What songs for the album did you have the most fun writing and recording and why?
Deb: I honestly had fun recording the whole thing! It was my first time in a recording studio or recording an album for that matter! So it was all new and exciting. I feel like I learned so much and it makes me excited to record again.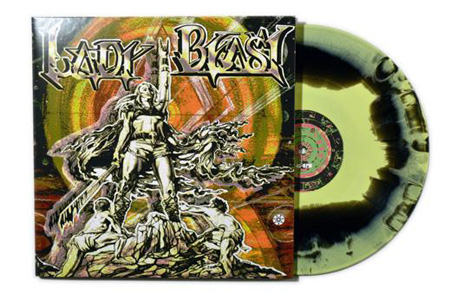 Glenn: If you could place an all-day bill of female fronted bands together with Lady Beast obviously on the bill who else would be on it and why and also in what order? And what would you call the all-dayer?
Deb: DORO!!!!!! If I could just play with her I don't need any other bands. Haha - She is my ultimate. The concert would be called Double D Fest! Deb and Doro!
Glenn: What have been your favourite tours so far and why?
Deb: We have actually only been on one tour believe it or not. We went out for a week in the US and traveled through the mid-west. It kicked ass! We played with so many awesome bands and met a lot of cool people. Since I cannot really compare it to any, I would say this was my favorite tour! Due to member changes and time not being on our side in the beginning of Lady Beast, we got a little held back and haven't really been able to break through until our first album came out last August. We are here now and we are ready!!!!
Glenn: How is the scene in Pittsburgh, PA with relation to bands, clubs and fans?
Deb: The Pittsburgh scene is pretty awesome. We could definitely use some more venues (especially all ages) but what city couldn't? There are more female fronted bands in Pittsburgh now than ever before. It totally rules!! I wouldn't say there is a defined "metal" scene. Pittsburgh is a big-small city" so punk and metal generally play the same shows.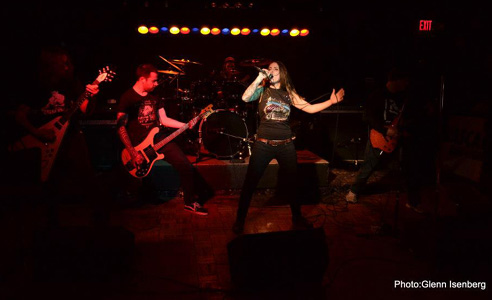 Glenn: How would you say the area differs to other parts of the USA that have made a mark in the 'World of Metal' and why?
Deb: I really have no idea!! I always just assume the same stuff that happens in the Pittsburgh music scene is happening in the same way everywhere else. Obviously being in a band in bigger cities, L.A., Seattle, etc gets you more exposure and sometimes better opportunities. But mainly because there are more people there. I like that we are from a smaller city… it's alright to be the underdog sometimes.
Glenn: If you weren't in the band 'Lady Beast' then what could you see yourselves doing and why?
Deb: I honestly have no idea. Being in the band is second nature to me, that if it weren't around…I would be lost. I have my own eco friendly house cleaning business called the Metal Maids. Honestly its just my way to make a living so I can rock in the band.
Glenn: How would you describe a show from 'Lady Beast' and what are your personal favourite segments of the show?
Deb: It's high energy and entertaining! I have been told I don't stop head banging for a minute….which I will not deny. People are not intimidated by us and can just be themselves. One of my favorite things is having the whole row in front of the stage being chicks that pushed through all the dudes to get close. Because they feel comfortable. We are all alike. I am not up on stage to be half naked. I'm there to be a role model and to make people have a great time with heavy metal music!!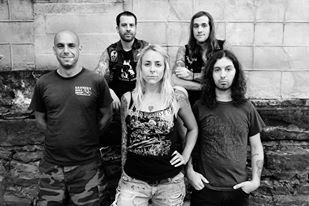 Nice One Deb - Horns Up!