An Interivew with Dennis Leeflang - current Drummer of Lita Ford's live band by Glenn Milligan. Completed between 8th & 9th July 2009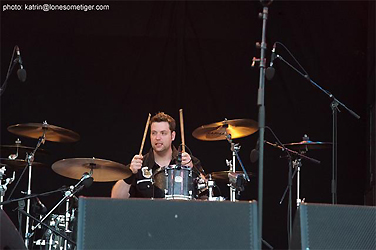 What turned you onto playing drums as opposed to any other instruments?
It was never a concious choice. I was always drawn towards drums and beats. As a small kid I was always completely fascinated with the drummers in marching bands that would parade the streets of our town on holidays. I've never had any interest in any other instruments as a kid. Later on, once I was actually playing the drums, I started messing around on the bass, and I still do. I like to have some sort of a sense of being able to relate to the people I play with, so I like to play a little bass to have a basic understanding of melody. Bass is closest to the drums. I have zero talent for playing guitar.
What was the first kit you ever bought, why that particular kit, how much was it, where did you get it from and who bought it you?
I remember clearly... After driving my parents crazy, begging for a drum kit, they got me a cheap beginner's kit. The brand was "Shock". It must have been about $400. I completely destroyed the hardware and cymbals within a month or two. The store then hooked me up with a Tama Rockstar kit.
What was the first songs you learnt to play ?
The first 3 songs I learned, I think, were Nirvana's "Smells Like Teen Spirit", Metallica's "Sad But True" and Guns N' Roses' "Paradise City".
What made you decide to join a brass band and what were main highlights of it?
See above... My uncle played trumpet in the local brass band and I just wanted to be part of it. They didn't need any snare drum players, so they got me a trumpet and I studied that for a while. I was absolutely not interested. After begging the band leader, I got snare drum lessons from the band's drum teacher.... on a rubber pad. For months. No real drum. Just rudiments on a rubber pad. So I quit. Then I learned that some kids in my street were in a brass band a couple of towns over. I soon joined that one and got a real snare drum to practice on at home. I also started doing performances almost right away. I must have been 9 or 10 years old by that time. I loved doing performances. The way we all walked completely synchronized and the drum breaks we would do. I simply loved the sound of drums.
What took you from playing in Brass Bands to being in rock/metal outfits like Within Temptation & Epica?
Once I turned 13 and got into high school, I got in touch with rock music. Mostly because we had MTV added to our cable package at home that same year. I discovered bands like Metallica, Guns N' Roses, Nirvana, Chili Peppers, Iron Maiden, Bon Jovi.... I immediately knew that I wanted to play the drum kit.
I got my first kit and within a matter of weeks I was able to play beats and fills and play along to music. It just came naturally. I did start taking formal lessons at a local music school right away and I joined a heavy metal cover band practically immediately as well. That band changed members about once a month but I kept playing with them for a good 3 years. Then Within Temptation came along. I was 16. The band was just forming and they were looking for a drummer. I played with them for most of 1996 and we recorded the now legendary "Enter" demo tape at my little home studio. I left the band right before signing a record deal.
Epica was years later. Around 2002. I was never an official member. At the time, I was touring with both Bumblefoot and Sun Caged. I helped the guys in Epica out with some of the debut album's pre-production while they were looking for a new drummer. Just so they could keep going and didn't have to put anything on hold.
How did you originally meet up with Ron 'Bumblefoot' That and how was that initial maeeting for you both?
I met Ron when I visited New York City for the first time in 2000. We had some mutual friends and we hooked up for dinner. We really hit it off and ended up jamming Iron Maiden songs at his studio all night. We clicked musically aas well as on a personal level. We both don't really drink, don't do drugs (and never have), are always early, and allergic to drama. Musicians like that are rare!
What were your first gigs with him and how did they go?
A year after I visited NYC Ron got booked for a clinic tour in The Netherlands (where I was still living at the time) and he asked me if I would be interested in learning some of his songs and jam with him at the clinics, rather than him playing along to a CD. So me and some friends learned some of his songs, and we basically threw some free shows at a bunch of music stores. Good times. Later that year his drummer dropped out at the beginning of a one-month tour he was doing in France and he called me up. I learned an additional 15 songs on a 4-hour flight to the south of France the next day and I've been his touring drummer ever since. Once I moved to NYC in 2004, I also became his recording drummer.
What was it that made you both get on so well both musically and socially?
See above. We both are always very focussed, perpared, early... reliable. No bullsh*t, but just hard work and good times. We both hate wasting time and like to be productive and creative.
How did Holland differ from other parts of the world with regard to the Rock & Metal scene and how has it changed there over the years?
In Holland rock and metal is, and always will be, at a hobby level. There's maybe one band (Within Temptation) who's members actually make a living playing hard rock music. Rock/metal bands in Holland generally play one show every two weeks for a free case of beer. I've done it for years and it's great fun. But going back and forth between some lame day job and playing frustrating bar gigs was just too depressing for me.
I did do some cool big shows with Sun Caged. Some big festivals etc. But we never made a buck. It's not about the money for me, but I just want to only do music. So it will have to pay my bills. And that's simply not possible in Holland. I do have to add that Holland has some of the world's most amazing musicians. Lots of times when I'm working with new bands in NY and we need a guitarist or bassist, I wish some of my Dutch friends lived in NYC.
What did you like and dislike most when you moved to New York as a whole?
What I like is that in NY musicians are completely dedicated. They don't care that they have to live in a tiny apartment that they share with 3 other people, as long as they can make music. People here are not afraid to make sacrifices to live their dream. I admire that greatly. What I don't like about NY sometimes is how so many people here are complete flakes. They're dedicated to their dream, but they're not very dedicated to being reliable. People are always late or just don't show up. Or they show up unprepared. I'm not used to that.
What local bands did you play for in New York and how did it all compare to Holland?
I did the mercenary thing for a while here in NY, just to get by. No significant names. Though, some of these bands were pretty good. Like I said above... I admire people who live for music and refuse to do anything else.
What turned you onto becoming a drum teacher/tutor and then later on doing clinics?
It just kind of happened. My first real successful band was this prog-metal band called Sun Caged. I was 18 and I was all about the flashy stuff. The band got pretty big and drummers started asking me if they could come over to my place so I could show them how I play certain parts of songs. Before I knew it, I was teaching 3 nights a week from my little studio. I then actually started putting a lot of time into developing a bit of a teaching method and over the years I've learned a lot about the teaching bizz. It's 75% psychology and 25% drumming skills. You need to be able to understand how different minds work, and then serve the information accordingly.
The clinic thing happened the same way. I had no endorsements or anything, but I just got asked by festivals and schools to do a workshop or demonstration. Over the years, that has developed into a cool blend of entertainment and educational value. I enjoy spending time with other drummers and exchanging ideas. More recently, I have been collaborating with Sabian, doing clinics in Holland and Russia.
In your opinion, what does it take to become a good drum teacher/tutor and who have you had as famous pupils over the years?
I think the most important thing is patience and being able to understand your students' approach to absorbing information. I don't think I've taught anyone "famous", though many of my students play in successful local bands both in Europe and in the NYC area.
What led you to becoming Endorsed as a drummer and what kinds of things have you been offered as a result?
The more you get your name out there, the more companies start approaching you with collaboration offers. Sabian was really the first company who approached me and offered me a full-blown endorsement deal. This was absolutely God-sent, as I was totally broke at the time and couldn't afford to buy cymbals. Now, it's just great that I don't have to worry about breaking cymbals, and I can try new cymbals whenever I want and it will cost me little or nothing. Apart from the financial relief, it's also just a great feeling to have a huge company like Sabian or Vic Firth backing you up and supporting you. I'm totally happy to promote them and play their product.
What projects and unfamiliar genres did you work on and what made you decide to choose them? What were the highlights of these?
When I moved to NYC in 2004, I had really never done anything other than hard rock and metal. I was always interested in funk, pop and acoustic music, but I had really become known as a hard-hitter in Europe, so I simply wasn't able to get a foot in the door in other genres. In NYC, I had a clean slate and no one knew me. So I profiled myself as an all-round drummer, and grabbed gigs in any and every genre. I would then have to study those genres like crazy to not make a fool out of myself. The funk gigs were easy because that style had always come naturally. The pop gigs aren't hard either. But the acoustic/singer-songwriter stuff was tough, at first. I really had to force myself to get control over my dynamics in the lower volume situations. I was just too used to hitting hard all the time. It was a great experience, learning this. And I now benefit from it even when I do hard rock gigs. Dynamics are such an important dimension to drumming.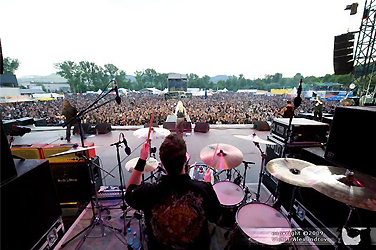 How did you get into event organising and what are the best ones that come to mind worth talking about?
It just happened. I was always booking the gigs for my bands in Holland and made lots of friends in the business. One thing led to another and I ended up putting together entire festivals where I would book my band and my friends' bands. I really only did that for a couple of years. It was too time-consuming, and I really just want to play the drums.
What albums are you most proud to have been part of and do any particular songs stand out as a result?
Definitely the Bumblefoot albums. Although they don't necessarily represent all of what I'm about, and have a very specific sound, I had an awesome time working on those albums with Ron. I recently also recorded an album with a local NYC guitar virtuoso by the name of Mike Orlando. That album definitely has the most insane drumming on it that I have ever done.
Another album I enjoyed making is an album that recently came out on the Magna Carta label called "Guitars That Ate My Brain". I'm on 7 out of the 12 songs, and I'm playing with some of my favorite guitarists from the bands I used to listen to as a kid. That was pretty special.
I've been doing a lot of production work from my own studio as well over the past few years, and I've done dozens of collaborations with people all over the world. There should be a ton of albums coming out this year on which I play. It's very exciting.
Do you have any momentous recording or live sessions that you enjoyed a lot – if so which ones and why?
Like I mentioned earlier, I really enjoy working with Ron (Bumblefoot). The "Normal" and "Abnormal" albums were very enjoyable projects. A very unorthodox approach. I would always walk into Ron's studio not knowing any material. He would play a song to me on an acoustic guitar, just so I would get the general idea, and then I would just sit down behind the kit and record it. No time to over-think drum parts. Everything completely spontaneous. We would do 2 or 3 songs a day like that. No pressure. Just having fun.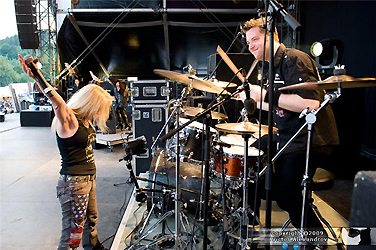 How would you describe the drumming style of Dennis Leeflang?
People ask me that all the time, and it's so hard to answer. I've been compared to drummers like Chad Smith and Josh Freese a lot. I see that as a huge compliment, and those guys are definitely some of my main infuences. But I also draw a lot of inspiration from jazz, 80's/90's pop and hard rock and contemporary blues and pop. Nicko McBrain is one of my biggest heroes, but so are Jeff Porcaro and Steve Jordan.
What were you up to previous before you were offered the gigs with Lita Ford?
When I got the call for the Lita Ford tour, I was in the middle of producing 3 albums. We have 10 days off now and I'm typing this as I'm waiting for a singer to come over and lay down vocals. I built my own studio in 2007 and I've been doing a lot of drum tracks for all kinds of projects, as well as full productions. Then there's the occassional gig with Bumblefoot when he's not on the road with Guns N' Roses, and I still have my band The Saturnine in Holland with which I still record and do an occasional mini tour.
Next to all this, I'm involved on a handful of projects here in NYC, including an Iron Maiden tribute band, which is a ton of fun! But on a daily basis, I'm mostly working at my studio.
What went through your mind when you were offered the gigs?
The Lita Ford tour, you mean? I was very excited. I love being on the road! And playing with a rock legend like Lita is a huge honor.
How is it all going so far and what festival dates have you enjoyed so far and for what reasons?
It's going great. We all get along really well and are like a big family. Band, crew, and Lita's kids as well. Everyone's great. We have so much fun. I particularly liked Greece. I was born and raised in Europe and have been all over the continent, but I had never been to Greece. The people there were so wonderful.
Any cool road stories worth telling over the years?
Too many... I went to Holland to visit my family when we had 3 days off. I felt a little tickle in my throat and asked a doctor to subscribe me something to make sure I would not get a cold or a flu. Consequently, I was ordered to stay in the house and not let anyone other than my family in. Someone came over to test me for Swine Flu and I was not allowed to leave the house for 24 hours, while waiting for the results. Obviously, the results were negative, but I wasted an entire day that I really wanted to spend with friends that I hadn't seen for so long. Other than that, just many hilarious moments at airports and hotels. I could probably write a book after every tour I do.
What you most looking future to in the future schedule and why?
With Lita, I think the Sturgis show will be interesting. To be honest, I kind of lost track of where we're playing and when. Everything is happening so fast and i'm trying to keep things at home on track as well.
What would you say your favourite songs in the set are and why?
They're all so much fun to play, honestly. I really enjoy playing "Back To The Cave". It has such an amazing pocket going between Lita, Ron, P.J., Michael and me. It's a magical one. The songs off the upcoming album are great fun as well. Awesome grooves! And obviously, the audience's response to "Kiss Me Deadly" is amazing every night. I'm always playing that one with goose bumps all over me.
What hobbies and interests do you like to take part in outside music and why?
I really enjoy traveling and used to go fishing a lot. I don't find much time for that anymore, but I still do enjoy it. I'm a total audiophile so I spend a lot of time at studios and experimenting with audio equipment with friends. I know... Total nerd!
What's next after the Lita shows for you personally?
I stopped planning ahead more than a couple of months years ago! I honestly don't know. I'm sure I'll keep recording drum tracks for all kinds of projects, and I know I'll always be teaching. Actually, I'm forming a new band with some "famous" friends of mine. It's going to be sort of an all-star outfit. But I can't say anything about that just yet...! Hopefully 2010 will bring a lot of touring for that band.
What other things would you like to add and talk about that I have not covered?
I think we covered a lot of ground here!
What are you most proud of so far?
In what sense? I'm proud of everything I've done. Even though not everything has always been particularly successful, everything I've done has been a learning experience. On a more personal level, I'm proud to never have used drugs, and never have had any kind of addiction problems. I could probably eat healthier, but hey… Love for good food is my one vice!