An Interview with
'Derek Davis'
Frontman of the San Francisco 80's Rockers
'Babylon AD'
that took place in late August 2014.
Interviewed by Glenn Milligan.
Glenn: What made you want to become a singer?
Derek: Seeing The Monkeys on TV!

Glenn: Who were your greatest influences and why?
Derek: James Brown, Marvin Gaye, Steven Tyler, Rod Stewart and about 25 other artists. Singer/Songwriters with great stage presence is what I am influenced by.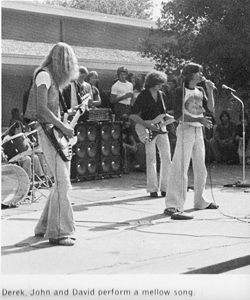 Glenn: How was the music scene in San Francisco at the time when the band got going?
Derek: The Bay Area was like a mini L.A. at the time. They had Guns 'N' Roses, Motley Crue, Ratt and so on. In The Bay Area we had Babylon A.D, Vain, The Sea Hags, Death Angel & Metallica.

Glenn: How would you say the scene there was both different and similar to the one in Hollywood and why do you think that was the case?
Derek: L.A has more stars and better rock hangouts and a lot more wild people.

Glenn: When did you realize that Babylon AD really had something to take you to the bigger league of bands?
Derek: I always felt we would get a shot. But being from the Bay Area took a little longer because the music industry is based in L.A., which means you have to be pretty f*ck*n' good for an A.R person to take notice and fly out to see you.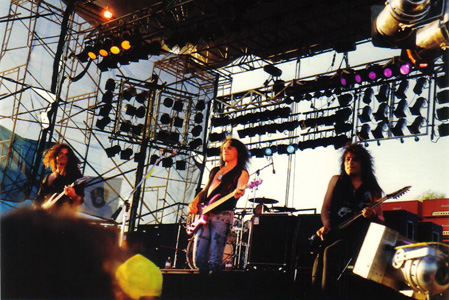 Glenn: What was it that you think Clive Davis saw in the band to sign you guys to Arista Records and what do you remember personally about that show case in Los Angeles?
Derek: We had moved to Hollywood on a Monday, He called us on Thursday and we did a showcase on Saturday, It was that fast. We played 7 songs and as soon as we hit our last note he literally jumped of the couch he was sitting on and said, "Welcome to the family boys."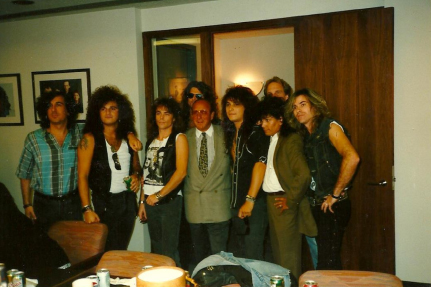 Glenn: What are your favorite recollections of writing & recording that debut self-titled album?
Derek: Writing the record was not that hard. Recording was a f*ck*n' nightmare. We worked with a British Producer, Simon Hanhart, who had us do stuff a hundred times, it was really overkill. He came from the school of 'Def Leppard'. We came from the School of early 'Aerosmith'. But all in all, the first release came out very good.
Glenn: What were your thoughts to making promo videos for singles and do you miss making them at all?
Derek: Videos are fun. But you need to watch out for the treatment story line. We had some real corny ideas put in front of us. We are actually working on a live video now.

Glenn: How was it for you personally getting your song 'The Kid Goes Wild' associated with Robocop2?
Derek: Personally I don't know. It was a cool song in a crappy movie. That's the way I see it.
Glenn: What did you like and dislike about being signed to record company and why would you say this?
Derek: I like that we had money behind us. But as we all know a Record Co. is just a big bank and somebody pays the bank back. THE BAND!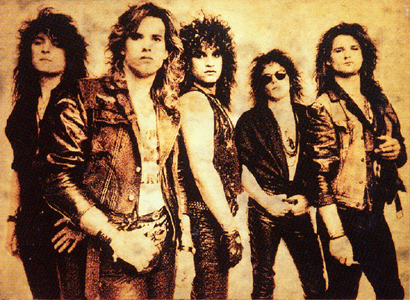 Glenn: In what ways did Apocalypse Records differ to Arista Records and what made you decide to sign to them?
Derek: Apocalypse Records is the bands Company so we do what we want. We just have a lot smaller Bank......
Glenn: Why do think that Babylon AD never made it massive like the Bon Jovi's, Cinderella & Skid Rows etc?
Derek: It all goes to timing, those guys had two to three years on us and by the time we were released. The Metal/Hard Rock scene was starting to fade.

Glenn: Why did the band go on hiatus and what led to the band being back together again?
Derek: We were just so disillusioned with the whole business side. And needed a break.
We got back together because fans kept asking us to and we still had something more we wanted to do. That's why we created our own label.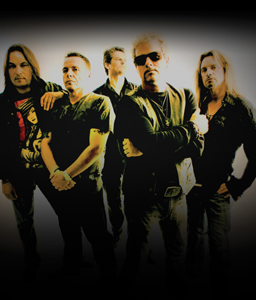 Glenn: How have you changed as people since the heyday and why do you think that was the case?
Derek: We change as people because we get wiser as we get older right? Or most people do I think! You make mistakes and learn from them.

Glenn: What did it mean to you personally having the line-up back together and did it take very long to get back in the groove again?
Derek: The line up is the same. The first practice we had we knew right off the bat we still had it.

Glenn: Why did you decide to re-record 'Bang Go The Bells' as a bonus track for the Lost Sessions E.P and how was the re-make received by the fans? How did you feel about their reception to it?
Derek: The whole 4 song CD has gotten great reviews and is selling very well. We put 'Bang Go The Bells' on there because we had recorded a new version and thought fans would like to hear a bonus track.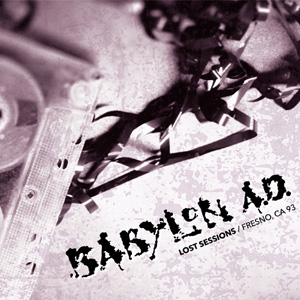 Glenn: When you went solo and released the 'Re-Volt' album, what was it like for your personally when you didn't have the guys of Babylon AD on both a physical, musical and mental basis?
Derek: Actually Dan De La Rosa, my guitar player wrote some songs with me and he and James Pacheco, my drummer played on a on a few tunes. So it was like ¼ Babylon A.D.

Glenn: What were the highlights during the writing and recording album for you personally and why?
Derek: I wrote and recorded 'Re-Volt' over a year at my leisure. So it was very easy and I had a lot of fun doing whatever I wanted to do. Being the Songwriter and Producer was very cool.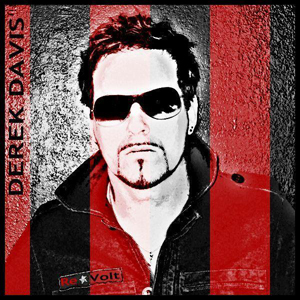 Glenn: What songs personally meant the most to you and for what reasons?
Derek: 'The Promise', and 'Troubadour' are very personal songs with the lyrics. I really like the *ss kickers like 'Tied Down and Hammered', 'Revolt' and 'Judas Kiss'. When I hear these and I just want to get up and kick some *ss.

Glenn: Can you tell us all about the Southern Rock band you also have called 'Moonshine' that are all over your own personal website – as in why you formed the band, songs, what they mean to you and various highlights both in the studio and off-stage?
Derek: 'Moonshine' is a side project with some great players. We recorded most of it at Eddie Van Halen's 5150 studio. Very cool southern rock stuff with some great songs. We're really selling a lot of 'Moonshine' and getting great reviews.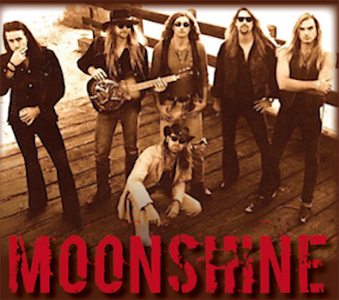 Glenn: When can we expect a brand new Babylon AD album and a full tour to take place?
Derek: We are playing some festivals that are coming up. The Firefest in Nottingham, UK on October 25th, then Nov 15th we play the Rock and Scull festival in Chicago and also the MOR Cruise on April 18th. We also have some dates in some cities in the U.S coming up.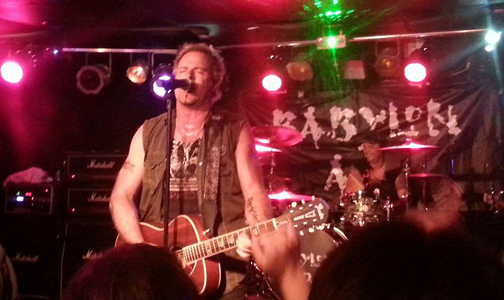 Glenn: Overall, how would you describe the sound and vocal style of Derek Davis?
Derek: Hmm, Well I'm no Crooner or Metal screamer but I can do both if I felt it fit the song. I think my vocal style is somewhere between Steve Tyler, Sammy Hagar, John Waite and James Brown.

Glenn: What is your key to keeping your voice strong and in good working order?
Derek: I drink a lot of Scottish Whiskey.

Glenn: What have you learnt most about the music business?
Derek: The business sucks. It's writing recording and playing live that keeps me going.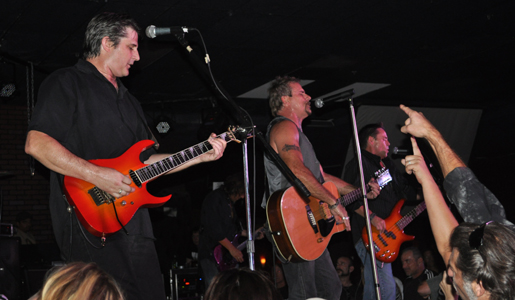 Glenn: What are your hobbies and interests outside of music and how did you discover them?
Derek: I play basketball. Martial arts, read cool books, and watch a lot of cool TV shows.

Glenn: Overall, what are you most proud of in your career so far?
Derek: That's very hard to say. Because in truth I am proud of everything I have released.

Glenn: What would you like to say to the fans who have read this Interview?
Derek: Thank you for still being fans, supporting our music and keeping the music alive.
Please check out the bands web site for updates www.babylonad.com and also become a friend of our facebook page www.facebook.com/Babylonadband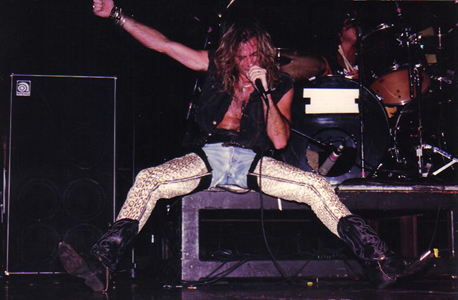 A big thank you to Derek for some excellent tell-it-like-it-is answers!