An Interview with
Dicki Fliszar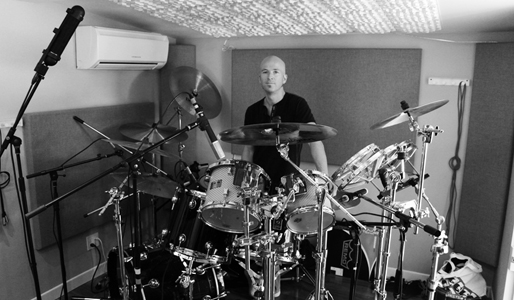 Drummer of Jack Russell's Great White/Perfect Beings and formerly of UK Rock band, Skin that took place April, 2014.
Questions by Glenn Milligan.
Glenn: How was it for you growing up in Germany and how was the scene there in those early days for you personally?
Dicki: Looking back, the scene was pretty amateur back then, and also really diverse. I grew up in a mid-size town, Bonn, and the bands playing on the same bill would be Funk, Hard Rock, Pop/Rock, Blues. In a way, I guess it kept you open to all sorts of music.
Glenn: What originally turned you onto music as a listener and also player?
Dicki: Not to be all philosophical here, but I think everyone has (at least) one of the Arts that he/she connects with - if it is painting or dance or music etc. For me it was music all the way. My dad remembers me sitting in the kitchen bashing on all the pots and pans when I was 2. I was always drumming along to music with anything. Spoons, sticks, hands, whatever. It was in my blood from the start.
Glenn: Who influenced you originally as a drummer and in what way?
Dicki: I had lots of "idols" over the years and I am sure I learned from all of them: Keith Moon, Phil Rudd, Neil Peart, Tommy Aldridge, Ian Paice all were big influences before I turned 18.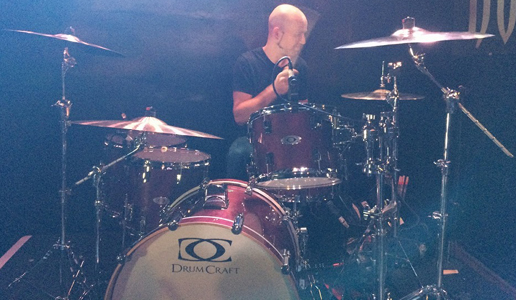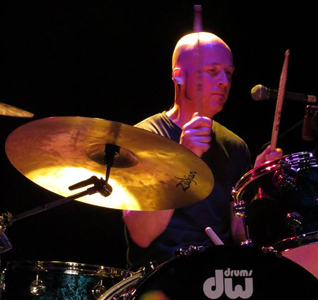 Glenn: What was the first kit you ever had?
Dicki: We had a family friend who played drums. One day he said: "Dicki, I am going to go to India. I will leave my drum set with you. If I come back in 10 years or so I want it back." He never came back. Thanks and I hope India is still good to you!
Glenn: Are there certain songs that you enjoyed playing along to when you first learnt how to play - if so which ones and what was it that turned you onto them?
Dicki: The very first song I played along to is super old-skool: "Needles And Pins" by The Searchers. What turned me onto it is that it was super easy and I thought I could play along. My stepdad was a big 60's music fan and he always played music - that's where I had heard it. Another song I played to when I was 14 was "Spirit Of The Radio" by Rush. A must for all drummers. Of course I couldn't play it back then but I thought I could, so I still had fun.
Glenn: What were the first bands you were in and shows that you can recollect for any particular reasons and what happened to make them memorable?
Dicki: I just posted a picture from my very first show with my first band on Facebook. It shows us four 13-year olds playing our instruments and it looks like we are naked, because we are just wearing underpants and our instruments are hiding our under garments. That was surely a memorable first gig.
Then there was the gig at our guitarists school when we were 14. He got too drunk and puked out of the 4th story window. Then the power went off and I had to do a 5 minute drum solo while someone found the breakers. Good times.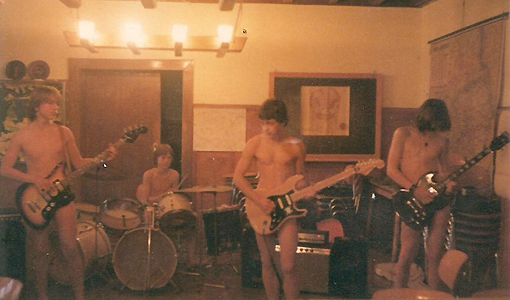 Glenn: What was the bridge between being on an amateur level to being on a Professional level with Skin?
Dicki: I was in a band called Vamp in Germany. We gigged a lot and got a deal with Warner Brothers in Germany. We got on a few tours with White Lion and U.D.O. (Ex-Accept) and from there got a deal with Atlantic in New York. We made an album and while playing shows Bruce Dickinson from Iron Maiden saw us. One year later he asked me to play on his solo world tour. That was my break.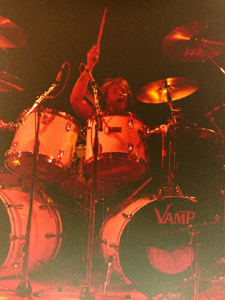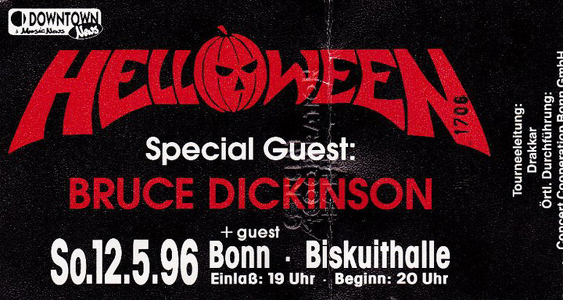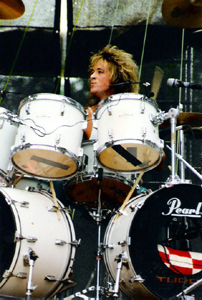 Glenn: What would you say your biggest highlights have been as a member of 'Skin' with regard to being in the studio and releasing albums - especially the debut that had so many great songs on it?
Dicki: Our first album was produced by Keith Olsen, who had worked with anyone from Whitesnake to The Scorpions to Fleetwood Mac and Foreigner. That dude was just a legend and super knowledgeable, but also seemed unhappy although he was so successful and rich. I learned quite a bit there. I also learned that I loved LA, where we recorded the album. I always wanted to come back and live there. 7 years later I made it and now I have been here for 14 years.
Glenn: What were your personal favourite songs in Skin and why?
Dicki: "Look But Don't Touch" is my favourite. It seriously was and is an instant classic rock hit and the response we have had with this song has been so great. "Shine Your Light On Me" also was great live - super epic with the more laid-back beginning and the uptempo ending. Everyone in the band shines on that song - no pun intended.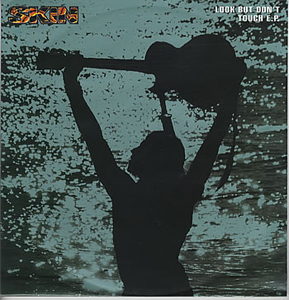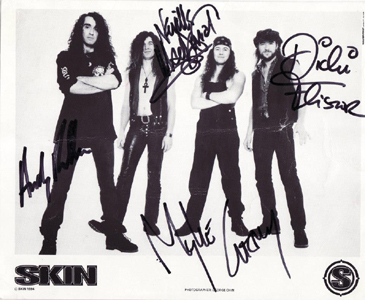 Glenn: You've played a wide range of shows with Skin over the years but which ones have meant the most to you and why?
Dicki: First time we played the Monsters Of Rock Festival in Donington was just epic. We had a song in the Top 40, our album was coming out and the crowd loved us. We had arrived! Playing at the Download Festival after our reunion in between Tesla and Journey was another one. 50.000 people singing along is a good thing. And there was this little rock club in Norwich called the Oval. We must have played there twenty times. We had our best and sweatiest nights there.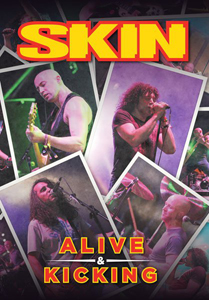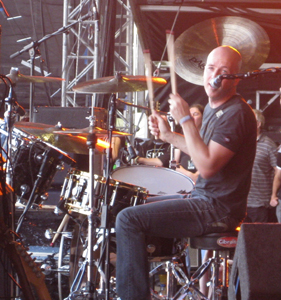 Glenn: Do you have any particular favourite tours you were part of and what made them so favourable for you?
Dicki: We played quite a number of headline and support tours, but one of the most outstanding ones was opening up for Helloween in Japan. We were playing to 2-5000 people per night in a country all of us never had been to. The reaction of the crowd was great, but so different. We had quite a bit of time off and saw a lot of the country and had cool experiences in a culture quite alien from ours.
Glenn: What were your thoughts when the band broke up the first time around and what were you up to in between Skin reforming?
Dicki: I was sad and relieved when we broke up the first time around. I played in a Hendrix cover band in the UK, which was fun and I tried to get something original going, though the scene for rock was pretty much dead in the late 90's in the UK.
Glenn: What were your personal thoughts when Download Promoter, Andy Copping persuaded you guys to get back together again and how had you changed as people since the first time around?
Dicki: Although that is the official story, in hindsight I'm not so sure that our guitarist Myke didn't plan the whole thing. He is a great chess player. We were all in a good place when we got back together and amends were made that needed to be made.

Glenn: What were the best moments when you got Skin back together and why?
Dicki: Just to see the guys, hang, make music and reminisce in the van was already worth it. Playing the shows and reconnecting with old fans and making new fans was a bonus.
Glenn: What went through your head when Skin disbanded, dare I say for good?
Dicki: Just like after the first time: I was sad and relieved. "Old" patterns had started to creep up and those were things no one wanted to deal with again. It's hard to keep a band together, just like any other close personal relationship.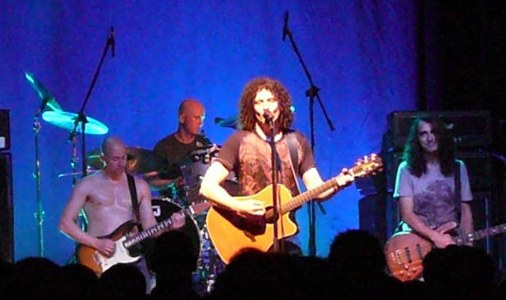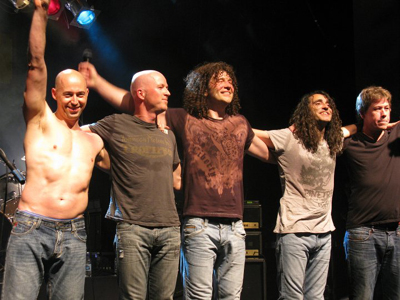 Glenn: What things in LA have you managed to find that you missed when in Germany or in the UK or are there certain things you still crave for that you can't get there if so what?
Dicki: I can't go out with my oldest and best friends and have a beer. I can't go over to my dads place with my daughters on Sunday afternoon. The "things" I miss are people.
Glenn: What would you say are the main differences and similarities between London, UK and Los Angeles, California?
Dicki: Differences: The weather and the mentality of the people. Both are more sunny and friendly in LA. Similarities: in both of these places most of the people come from somewhere else and all claim to speak English. Some actually do ;-)
Glenn: What were your thoughts when you were asked to audition for Jack Russell when Guitarist Robby Lochner mentioned it to you?
Dicki: First I thought "I had no idea you played with Jack Russell's Great White!" And then I thought, "wouldn't that be a fun gig!"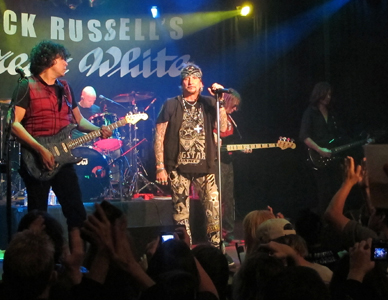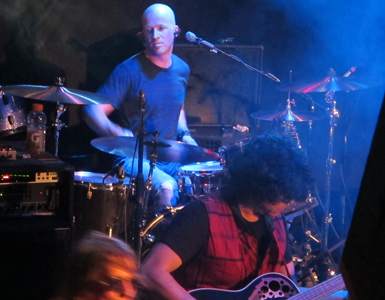 Glenn: How was the audition for you personally and what did you play during the audition?
Dicki: We played a few of the hits, like "Rock Me", but then while we played "Mista Bone", the guys went into the live arrangement, which means suddenly we found ourselves in "Purple Haze" and "Voodoo Chile". I was hanging on for the ride - I had a blast!
Glenn: How was the first show with Jack for you and what were the highlights?
Dicki: The first show was at The Canyon Club in Agoura Hills. A bunch of my friends were there, we sounded good and the manager said the vibe had totally changed to the better. It was a good start.
Glenn: Since you've worked with Jack a few months now, what shows have you enjoyed so far mostly and why?
Dicki: Truly, all of the shows have been great so far, because of the fans. I felt right at home from the start because the fans were super friendly and receptive. They also remind me of the fans we had with Skin in the UK. So, If Winston-Salem or Sacramento or Daytona Beach or Joliet or all the places in Illinois, Michigan and Ohio we have played so far - all awesome! One show stands out, though, which we did in South Dakota with Warrant and Lita Ford. I got to meet her and what a cool lady she is! And I saw Robert Mason again after 20 years - he is the lead singer in Warrant and did the backing vocals for Skin on our first album, so here we are - full circle!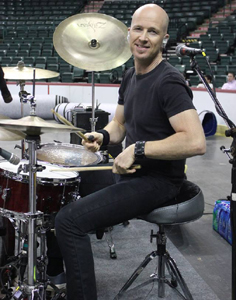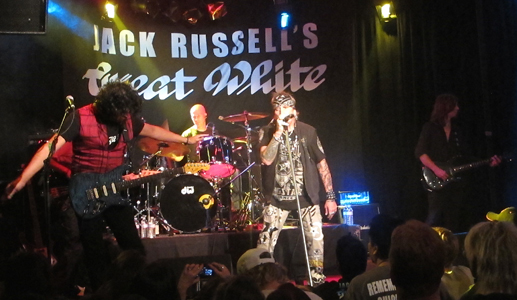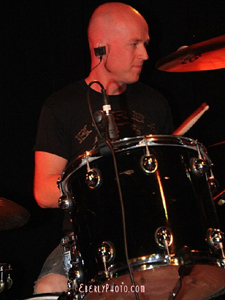 Glenn: What are you most looking forward to with regard to recording the album with Jack and what songs are you most excited about so far and why?
Dicki: I am really enjoying the writing and demo process so far. I was really surprised how open and easy-going Jack is regarding the Songs. We are all writing and collaborating and there are no Egos involved - its just about what makes a song great and what is the best song in everyone's opinion. Personally, I like all the songs we are working on so far, though I'm super stoked about working on a song called "Coming Out Swinging" which I have written, but Tony and Jack are collaborating. The song kicks major ass if I may say so myself!
Glenn: What are you involved with musically outside Jack Russell's Great White and how is that going?
Dicki: I'm in a prog rock band called "Perfect Beings". We have just released our first album and we are getting great reviews all over the world, which is kind of mind-boggling to me. It's really complicated material, but also very musical. Chris Tristram, who plays bass with Jack Russell's Great White is also in the band. Check out www.perfectbeingsband.com to see what you think.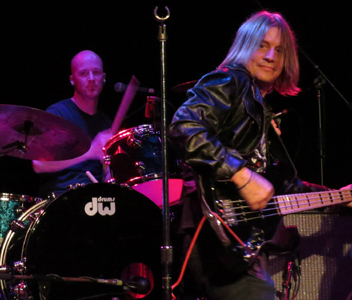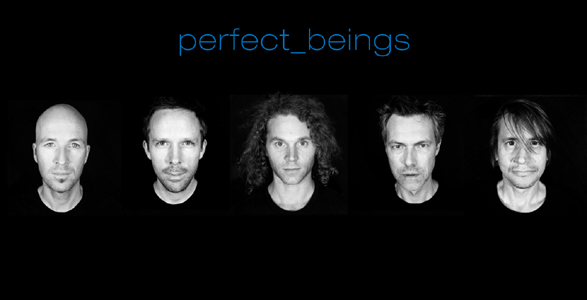 Glenn: How would you describe the drumming style of Dicki Fliszar?
Solid, Groove-oriented, musical and mostly not too loud. I'm driving the train safely to the destination. At least that's what I say.
Glenn: What are you most proud of in your career so far and for what reasons?
Dicki: I think it is pretty mind blowing that I have been able to make a living from playing, making, writing and teaching music for over twenty years. I certainly didn't plan it.
Glenn: What would you like to say to the Metalliville Readership and all your fans all around the world overall?
Dicki: Thanks for reading this interview and being interested in music and musicians. There are always new artists and bands coming out worth listening to. And there are always established bands and artists coming out with new stuff that is just unexpectedly good, like the last AC/DC or the last Black Sabbath. Hopefully the next Jack Russell's Great White can manage to make it up there too.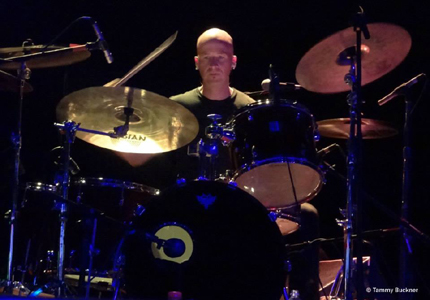 A big thankyou to Dicki for an amazing interview about his colourful career so far!
Be sure to check Dicki's Website out:
www.dickifliszar.com