Doro Pesch - 18th November 2002
Location - Tour Bus outside Bradford Rio Nightclub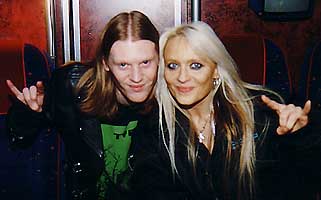 Glenn: First of all, what was the inspiration behind the title track of the album 'Fight'?
Doro: It was an 'Anti-war' Song and written before September 11th. (With) the production deal at SPV I have all the freedom to put all the stuff that I want - which is great. I really love that. There was another song we wrote with the whole band and the work title was 'Fight'.
A friend of mind called me up - a German Boxing lady (Regina Helmich) and she wanted to have another anthem for her to go into the ring and she always went into the ring with 'All we are'. I said, 'We have two songs on the record' - well they are only demo's, and I said, 'maybe they would fit'. They were 'Always live to win' and 'Fight'. Of course, she picked 'Always live to win' and then she called me up and said, "Fight, I wanna have 'Fight'". Then I had two songs called 'Fight'. I thought, 'I either get rid of one or I think about'.
So I though about it and it and thought, 'I guess every song is like a fighting situation, like even 'Fighting to Survive' and 'Chained' - which is about sticking together. Then I thought about the words and the whole meaning of the record is 'Fight'. I really felt good about the song 'Fight' because sometimes with a new song I feel like I'm easy with it and then I can't sleep and then I know it's not ready or not finished or it's wrong. With 'Fight' I always felt at peace so much and I thought, 'This is it' and I mean that in a positive way - Fight for all the good stuff.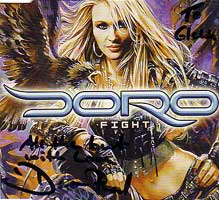 Glenn: Which songs do you like singing most in concert that really stand out?
Doro: It's hard to say. It depends on the vibe sometimes. If there's lots and lots of headbangers in the crowd I like to sing the old stuff like 'Hellraiser' and 'Burning the Witches'.
Dave: It's a good reaction to those kind of things?
Doro: Oh yeah. When we do something together - and I tell you, one of the songs that always goes over well is 'All We Are'. Even to this day people are asking for it. Sometimes on this tour we play it two times, even three times. With requests people want to hear only that song so it makes me happy when I can make people happy - I love it. Then sometimes when I feel like the mood is really nice and sensitive then I love playing stuff like 'Far for me again' which is my favourite ballad. We didn't play that today (at the Rio's gig) because there was a curfew of only one and a half hours and we usually play 2 ½ hours. I thought, 'Let's not play ballads today - we'll rock it more'. May other songs I love. I can't name one song only.
Glenn: it just depends on the vibe (of the gig)?
Doro: Yeah, totally on the vibe. Everything (goes) on the feedback and how the band plays. Sometimes we really click and tonight we really enjoyed playing 'Egypt (the chains are on)' too. That was the song we recorded for the Ronnie James Dio tribute album. We put adverts on the internet asking which songs they'd (the fans) like to hear and that song was always in the top ten. We thought that we should rehearse it (for the tour) and tonight (that was the song) that made me really happy.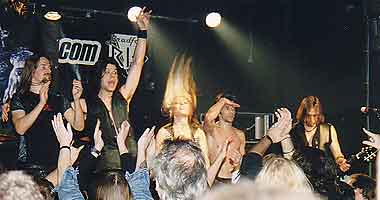 Glenn: I recently got hold of the Led Zeppelin tribute album 'Metal Zeppelin' released on 'Locomotive Records' where you performed 'Babe, I'm gonna leave you'.
Doro: I haven't even heard that yet.
Glenn: Yours has got to be one of the best things on there.
Doro: You like it?
Glenn: Yeah, it sounds gorgeous. Your voice - it works with the soft approach and then you go for it on the high parts.
Doro: Yeah? Oh that's great. I'm glad you like it. I've never heard it on the record. We are off to Spain so maybe I'll get hold of it.
Glenn: How has the 'Fight' record been received by the press?
Doro: Oh man, I tell you, I'm so glad we went a little bit back to basics because this record is more straight into your face. It's not technical stuff. We went into a good studio but I think I'm right in saying that the press like it because it's pure and natural. I think that the songs translate really good live because we recorded it in the studio with everybody at the same time, which I like doing and I got the vocals right when we recorded it.
Dave: Are you used to recording separately?
Doro: Yeah, usually we did like drums 'n' bass 'n' guitar.
Dave : So it works better when you play together as you've got that vibe going?
Doro: Yeah, yeah, yeah - but honestly, we never really did it like (that). Back in the days of the 80's it was the thing to do. First the drum track.
Dave: Was that the Producers way?
Doro: yeah, it was always the Producer and I was always a big believer in demos. On the demos we did it like that - the whole band. Everybody thought, 'Man, this is f*ck*ng magic!!'. We tried to do it better but it never got better - it was not even coming close.
Glenn: So you have to get that vibe?
Doro: Yeah, yeah. Regarding this day and age, we can actually use the demos and fix 'em up if you need to, which I love to do and I'm always the best on 1st takes. Like when I go in (the studio) it's on the 1st take that's always the most natural - the spontaneity and innocence (is there) - you can't do it twice. So I love doing it and I started pre-production in our studio in Germany - that's a studio together with the band, Die Krupps. The studio is really nice but really small and I want to have everyone recording at the same time, so we went in like half and half - like half in Germany and half in Pennsylvania - both nice studios with a good sounding room. We did it altogether and that was good, actually I think the fans will like that energy. It's pure and I think that is needed in this day and age. I must say )that) I liked experimenting in 95/96 with all kinds of stuff - technical stuff.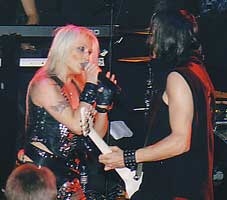 Dave: I suppose some of it worked out and some of it didn't.
Doro: Exactly, exactly and time was different too in '95.
Dave: It was a different recording process?
Doro: Yeah, I like loops but I can't - well, I don't dig it anymore (on my albums).
Dave: You like it live?
Doro: Yeah, when you're doing a record, every record is different. Different times. Definitely timing is a major thing. I remember when WASP and Bruce Dickinson and everyone went a little bit industrial. We did it too, you know. It was in the air. I had to just go for it but I'm happy to say I like it more straight in your face.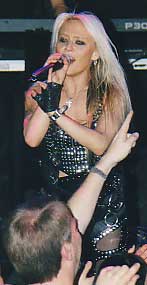 Glenn: How did you get the duet with 'Crown of Thorns' frontman, Jean Beauvoir going - 'Shed No Tears' which was on their latest album 'Karma'?
Doro: Well we became friends a couple of years ago. I met him in Berlin. He lives half in Berlin and half in America - we did a promotional tour. Our Tour Manager, Dirke, Dirke, he tour managed Jean and then Dirke said to Jean, 'Let's have dinner' and jean was a really nice guy, so we had dinner in Berlin and one year later he came to see us in Germany and a show. He'd driven like 5 hours. I thought that was so cool and we played 'All we are' together on stage and we really got along so well. We thought, ok, if we start a new record then maybe we should try and write some songs together as we had nothing to do - that's why we did it. We wrote all kinds of songs together and 'Shed No Tears' was one of them. But we had so many ballads already (on the 'Fight' album) and I couldn't get rid of one of the ballads like 'Undying'. Jean said, "How about we do it for my record and we do a little duet out of it". Then we did it and it was so much fun. The vocal takes were live and we bounced off each other which I had never done with somebody else. We answered each other on it and it was cool - so much fun.
Glenn: Yeah, I met Jean in October when 'Crown of Thorns' played here at Bradford Rio.
Doro: Oh that's so cool. Maybe, I want to suggest it to him that we maybe play it for our DVD. We'll see if that works out. That would be nice.
Glenn: There's a few tracks that really stand out on the 'Fight' album.
Doro: Which ones?
Glenn: 'Hoffnung'
Doro: Oh yeah.
Glenn: And 'Descent' with Pete Steele. Is he a big idol of yours?
Doro: Yeah.
Glenn: How did that duet come about?
Doro: Every song on the record was written in a different way. Like with some we worked with the whole band, some I wrote alone and the song 'Descent' was written by Joe Taylor, our Guitarist and myself. I thought a male voice would be good on it.
We went back to Pennsylvania and Nick, our bass player, he was singing the main part and I thought, 'Oh man, it sounds good', and I said, "Hey Nick, how about Pete Steele?" and he said, "Yeah, that'd be good' too. But I didn't pursue it and the there was this concert in New York. It was a benefits concert and I went there with Nick actually, where (bands) like Twisted Sister were playing. Many, many people came just to see them.
There was one German lady there. She used to do all the merchandising for 'Blue Grape' and it's a connection with Roadrunner (Records). I talked to her because we were friends and she asked me if there was a duet on the record and I said "No, not yet", because on the last record (Calling the Wild) we put Lemmy on doing two duets and that was such a highlight.
I said to her, "If we did another duet it would have to be really perfect". She said, "Who would be good for it?" and I said, "There's one song you know, I think it would be awesome if Pete Steele would sing on it but I don't know how to get hold of him or nothing". She said, "I know him very well, he's one of my best friends", so I said, "No way". She said, "I could call him?" and I said, "No, don't, don't!!" but she did it anyway.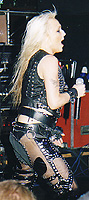 Then he called my cell phone and he said, "Hey Doro, this is Pete", and I thought I would f*ck*ng explode because his voice was like so big and deep. It was overwhelming and I thought, "Oh this is great" and then I called him back and said, "There's this song and maybe you wanna listen to it". Then I went over to his house in Brooklyn and he played me his demos and I played him my demos - there was the song 'Descent' and he said, "Yeah, I think it sounds really cool" and then he did it and that was nice. He was so sweet. A great guy and definitely the tallest person I have ever seen.
Glenn: How tall is he?
Doro: Oh man, hes…
Glenn: Around 7 foot.
Doro: Our bass player Nick, I think he's pretty tall but Pete was definitely taller. We just did a photo session in New York and the first thing he said was, "You'd better sit down - so we are like exactly the same size.
Glenn: So you have to put really high heels on?
Doro: Oh man, you know, I did but it didn't matter. (Laughing) In that case there was not a lot you could do except like, be sat.
Glenn: The voices fit so well - you sing high and Pete is way down in the bass section. It sounds amazing.
Doro: Yeah, it was harmonious. I didn't think it would come out so good and it's one of my favourite songs on the record. I think it's so different and the atmosphere… Pete definitely has a great voice. It was a big honour to do that.
Glenn: Which would you say are your personal favourites on the 'Fight' album itself?
Doro: Well every song I like for a different reason and I guess the two songs which I like maybe the most are 'Undying' because it's a personal thing. I lost my guitar player two years ago and my father one year before that (Undying), it's so super-pleasant and super-sensitive. I thought, 'I wanna write it for people who can relate or feel the same things or worst experiences', so I think lyrically it was the most important to me. The most fun to sing was 'Fight' and the most honour to sing was 'Legends never die' because Gene Simmons wrote it and I've always loved that song. I think maybe those three - but I like all the songs for different reasons. The song 'Wild Heart' was written by Russ Ballard, Chris Wink and myself. It was a big honour to write with a person like that. He's written so many songs that I've always loved.
Glenn: yeah, he's been going a long time and written songs for guys like Roger Daltrey.
Doro: Yeah.
Glenn: Like 'One Man Band'.
Doro: And he wrote 'God gave rock 'n' roll to you' which I've always loved. The song 'Hoffnung' on the album means hope in English and then I thought, 'It's maybe good to start with 'Fight' and end it with 'Hoffnung'.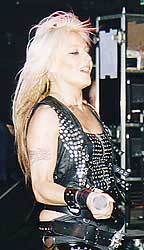 Glenn: Have you got plans to release some singles like 'Descent' or 'Hoffnung'?
Doro: At first we wanted to release a French version of 'Always live to win' but it came up so quick that SPV said, "that it's very hard to sell a single and that it wouldn't work". The single is all done and ready - all the artwork and stuff but they said, "Let's concentrate on the album". You know, it's hard to even get airplay in Germany or in (the rest of) Europe it isn't very easy.
Glenn: Apart from on the Internet Stations.
Doro: yeah, but it's impossible to make it sell something. You see, the last record, we had like three singles but they (SPV) said (that) they wanna go and see and stuff, but nothing is planned yet. Same with videos.
Glenn: 'Descent' would be good. I was thinking that you and Pete Steele would look incredible together.
Doro: Yeah, Yeah, it could be. (In a really excited voice). There's like photos on his computer and they pop up (on the pc screen). We did maybe 4 sessions and he was so nice. I could imagine a video being great, but for so many reasons MTV'd never play it - There fore the record companies holding back. We did 2 videos for 'Fight' in all available on the limited edition version of the album - 'Fight' and 'Always live to win' which shot ourselves. The last video (White Wedding) was done by Vanessa Warwicke who did 'Headbangers Ball'. It came out so nice but I have never personally seen it.
Glenn: How did you get Lemmy to do the ballad 'Alone Again' on the 'Calling the wild' album?
Doro: He wrote that and I asked him if he wanted us to do something together and he said, 'You wanna compare ideas - you wanna hear something? I said, 'Yeah' and then he played on his acoustic guitar 'Alone Again' and after 20 seconds I said, 'That's the song - I wanna do it, I love this song right away'. We spent all day sitting in the hotel room and then we said, 'Shall we do another one?' or 'What shall we do?' and he said, 'If you like it so much, maybe we can sing it'. I said, 'and how about we record 'Love Me Forever'. I love that so much'. He said, 'Good Idea' and then we did it. We didn't plan anything. We just got together and I flew to LA and he played 'Alone Again'. After ten seconds it was like 'That's the one'. It was very different and cool singing with Lemmy - a ballad - anybody would have totally expected a die-hard aggressive song and I liked it a lot. Lemmy was so nice to work with. I always loved him and I met him for the first time in England some time even before we played 'Castle Donnington'.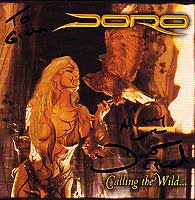 Glenn: How was 'The Rock and Blues Festival' in Derbyshire last June?
Doro: It was fantastic. We got a call I think two or three weeks before and it was pretty much pretty much like, 'Wow, yeah'. It was great playing England again and al the biker, they came from all over the world like Australia, America and Germany. It was great. I met so many people. It was good. I love playing biker festivals. The Outlaws were really nice. It was such a nice vibe. I was so happy and I would love to do that again.
Glenn: What's it like to be a lady in the Rock Music Industry nowadays in comparison to how it used to be?
Doro: I tell you, I always like the love and the respect from the fans. From day 1, sometimes it was hard, especially from the press who interviewed me. Sometimes they wrote some nasty stuff and I though, 'Oh man, it's hard to take', but I always knew that the fans always disregarded it so it didn't matter. I don't know how it is when you're a man but I feel really happy. I always think it's an honour to play in front of people. When I can make the fans happy then that's great. I guess being a musician to survive as a musician us always super hard really. It doesn't matter if you're a man or a woman.
Glenn: Your only as popular as your last single or album.
Doro: Yeah, exactly. And you just remember in the 90's when Heavy Metal didn't do so well and you couldn't even get a release of the record. Therefore you couldn't tour and it was hard. I had so many friends who said, 'Guess what? We got dropped - we had to cancel our tour' and it was like a disaster. Now it's getting back again really good. Two or three years ago it (started) picking up.
Glenn: It seems to be getting a lot healthier, Thank God.
Doro: Yeah, Thank God man. It's great and I'm really happy to play here (in the UK). It's our first time in so many years outside of London.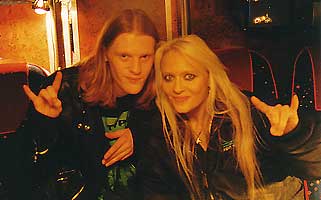 A big thank you to Doro Pesch, Johnny Dee, Nik Moore @ Work Hard PR, Dirk (Tour Manager) and the Staff and Security @ Bradford Rio and my mate Dave Hunt for his input and transportation.