An Interview with
L.G.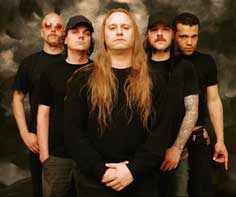 (Photo by John Brink)
the frontman of 'Entombed'
that took place on Wednesday August 22nd, 2001 @ 7.30pm.
A band who are currently promoting their up-and-coming album, 'Morning Star' and looking forward to a short U.K. Tour Leg.
Interviewed By Tony Watson.
Tony: How has your day been?
L.G. : Busy, I have been on the phone since 10 am this morning. We arrived in London Monday night and have been promoting and chatting to fans and the media.
Tony: Have you had any other jobs before you were a member 'Entombed'?
L.G. : Yes I was a Demolition Man, which was great fun.
What else have you been doing?
L.G. : Playing Tombraider 3 - I saw the film - it's not that good. I don't really play on video games. I love football. I have dealings with Ure Gorden. I wrote his football team their theme tune & I love Bolton Wanderers - I have followed them for around 8 years. When they beat Leicester 5-1, I was happy!!
Tony: What is it like touring?
L.G. : That is life. When I'm on tour I don't like having the home comforts of a hotel and bed - I sleep on the bus. When we did a gig in our town, I didn't go home, I spent time with the bus driver and drank beer.
Tony: Do you ever fall out on tour?
L.G. : No, because we know each other. This is the strongest line-up we have ever had and if anyone is having a bad day, we let them have their own space.
Tony: How long did it take you to do the new CD?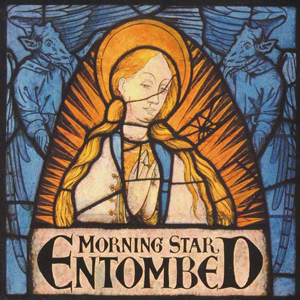 (The new Entombed album - Morning Star)
L.G. : We had already written the tracks before going into the studio. We spent five days in the studio, then 2 in another studio to do the vocals, then moved to another studio for 2 days to finish off the vocals.
If the first take goes well we may do another 2 to see if it sounds better.
Tony: Which is your favourite track on the new album, 'Morning Star'?
L.G. : I haven't got one. We went into the studio with around 20 great tracks and put 12 great tracks down - but if I have to choose one, well er, I can't. I like 'I for an Eye', 'Mental Twin', 'Bringer of Light' - but they are all great. I played the CD for the first in three weeks and I thought - this is good.
Tony: Has the CD got a theme to it?
L.G. : A lot of people think it's a concept album. To us it's different - it's what we observe around us. God and Satan are too obvious - it's what's in-between - the things that aren't obvious, like man being a poor human being.
Tony: Are you religious?
L.G. : No, I am me. I have never been influenced by writings of other people or their beliefs.
Tony: I read that you are doing a project with Swedish Royal Ballet Ensemble called 'Unreal Estate'. How did you get involved with this?
L.G. : It was two members of the Royal Ballet who wanted to do something different. They came to us and we weren't that interested - but then the idea grew on us and we thought it would be a great idea.
We have to play for 40 minutes or so between the 1st and 2nd Act. We will be playing old and new tracks and whatever in between while the ballet try and dance to it.
Tony: Will there be a recording of this?
L.G. : I don't think so. We are not trying to be like Metallica; the ballet came to us and they like to keep things to themselves - we'll see what happens!!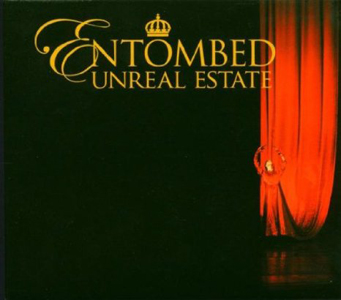 (Jump forward to February 22nd, 2005 and this happened)
Tony: Would you like to do a project with anyone else?
L.G. : If someone approaches us then we may consider it.
Tony: Who did you first listen to before joining Entombed?
L.G. : I listened to Motorhead, Iron Maiden, Suicidal Tendencies. My first record was a record by Kim Wilde.
Tony: Was it a dream come true when you toured with Iron Maiden?
L.G. : Yes, I thought wow, the Tour was brilliant, we were playing to thousands of people throughout Europe and Canada. The first show at Earls Court, London didn't go to plan because everyone was nervous - not wanting to do anything wrong - then we relaxed a bit and started drinking and things were great.
It is hard to get info. About gigs, bands etc. in Sweden. People at the moment are mad on Slipknot and Limp Bizkit - but even Slipknot had a poor turnout in Stockholm - only 6000 people.
Tony: Do you think that Entombed have reached their peak?
L.G. : I do think it's our highest point at the moment but we said that about our last CD. We, at the moment are having a great time.
Tony: Can you tell us anything that would shock your fans?
L.G. : Well, we are just 5 normal guys who get on. We don't go around trashing things because we're in a band. That may shock because we are normal guys.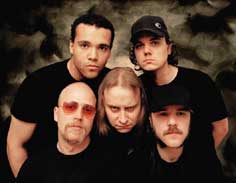 (Photo By John Brink)
We would like to thank L.G for giving us such a great interview - after such a long day he was incredibly, friendly and polite and such a great guy to talk to.
Thanks also go to Doug Wright @ Music for Nations for setting up this telephone interview.