An Interview via e-mail with Anders of Norwegian Metal Band, El Caco.
(Recieved 17th September 2001)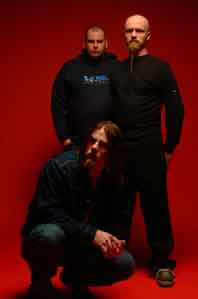 Left to Right: Thomas Fredriksen - Drums Øyvind Osa - Vocals /Bass Anders Gjesti - Guitar

1. What is it about the Grunge style that you really like?
I guess all of us were really into grunge when the scene was big, and the thing about the bands who were great (there was a lot of shit too!) must be the ability they had to write great songs alongside making groovy riffs. Not all bands seem to be able to do both.

2. Why did you call the album 'Viva'?
It was really us wanting to go all the way with the Mexican/Spanish theme that the artwork-direction seemed to take. And of course, it's a good title!
3a. How did you come up with the amazing cover artwork?
It's actually a little statue made by an 8 year old boy sometime during the 80's. It's displayed at the International Museum of Children's Art here in Oslo. A friend of ours who is a photographer, Espen Hofsmo Steen, found it and took pictures of it. All graphic work was done on my computer.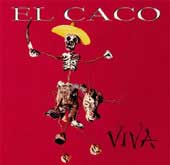 b. What does it signify and is there a deep reason why the mans and bulls
limps are made out of springs?
There's really no deep reasons or "hidden" messages at all, it's just the work of a talented kid! I mean, to create something like that out of garbage really is fantastic!
4. Who are your main influences and why?
The influences are many, but the most important bands must be Black Sabbath, Kiss, Led Zeppelin, Soundgarden, Kyuss, QOTSA, The Cure, Tool and problably 50 more!!!!! Why? I guess it's because we're all music-fans, and these are the bands that have meant the most to us in our development as a band and individuals. It's hard to explain why a certain band is your influence, it's often like you don't know yourself what it is that you like so much about a band, it's just something that feels right.
5. Was the riff of Soundgarden's 'Rusty Cage' a major influence on the
track 'Oh yeah' as they are so similar in style?
I can't say that I've thought about that comparison........ but now that you mention it......... it might have been! Rusty Cage is one of my all-time favourites!
6. Give a brief history and leading up to the formation of El Caco?
Osa and myself started playing together 10-12 years ago. We have played with different people along the way, but the music has been hard rock from the beginning. In -98 we met Thomas after our last drummer had quit (the Spinal Tap-syndrome), and we instantly knew that this was the guy we had been looking for. We spent the next two years rehearsing and playing live.
7. What's the El Caco live show like?
An El Caco gig is a intense rock n' roll experience with the amplifiers set to 11!!! In other words: loud, aggressive and groovy!
8. Why did you record the vocals in English as opposed to Norwegian?
It's really because you limit yourself by singing in Norwegian, we wouldn't be able to reach out to the audiences we do now with this record.
9. Does the debut album set the musical style for what will follow or could it change depending on numerous influences?
I don't think we will change so much on the next record, we have always played hard music, and that's what we are good at! We might come up with a song or two that sounds different, but a change of style isn't going to happen! Many bands tend to get softer on the second record, I guess we are going to be harder! We already have a lot of new songs, and the people that go to se us live will get one or two at each show. So far the feedback has been great, the new stuff really rocks!

10. Have you been approached by many bands to do a support slot? Who?
Where?
Actually a support-slot for Earthtone 9 has recently been added to our tour-list. We're going to the UK, Holland, Belgium, Germany, Italy and possibly Spain, Portugal and France. We're also setting up a tour with the Swedish band Mustach. We'll play 4 gigs with them in Sweden in November. Also our booking-agency have two or three more tours with other bands coming up soon! (Can't say with whom yet!)
11. What goes into producing an El Caco song?
(ideas/construction/recording etc)
We usually start out with riffs and ideas, and just start jamming on them. When we have the raw idea of how the song is coming along, Osa starts to sing on top of it. Usually things fall into place in a couple of hours. If it doesn't, most of the time we end up thrashing the whole thing! In the end we prefer to do a demo or just a recording with microphones in our rehearsal-room of the song. It's so easy to forget about what you were doing, we always have 3-5 songs in the making all the time.

12.Which songs are you most proud of and why?
I think we are equally proud of all the songs on the album, it was a long process making the record, and we all made a lot of effort to make things the way it turned out. The record is produced by us, and it's really hard to pick one or more songs that stand out. I think the whole album sounds great!
13. What are your hobbies outside the band?
We don't have much time to have hobbies! The music takes all our time, when you also consider that we have day-jobs to go to! Some of us have families too, and you won't have problems filling your day with kids! Osa and myself drive old classic Japanese motorcycles, and Thomas works as a live-sound engineer when he has the time.
14. What's the rock scene like in Norway at the moment?
We have some interesting bands that are coming up: Cadillac, Cato Salsa Experience, Pawnshop, Honcho, Thulsa Doom and of course Gluecifer. Gluecifer has been around for a while, and they must be the most experienced band around here in Norway. I think they have managed to make other bands believe that it is possible to make things happen outside of Norway. The general situation in Norway is that as long as you're not super-commercial, you might as well give it up! It's really difficult to be played on the radio, and the music-business is small so the bands who know the right people get all the attention. It's really a case of not giving up if you believe in what you do, and in the end it pays off for those who don't!
(Sometimes........ :- )
15. Do you have any interesting stories to tell re: the road or even
studio?
Ehhh ....... not really!! Talk to me in a couple of months, I'll have some juicy stuff for you then!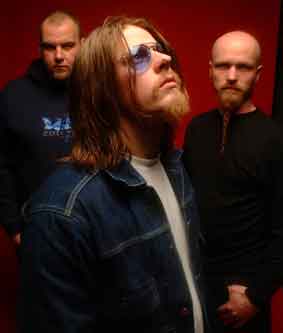 Left to Right: Thomas Fredriksen - Drums Øyvind Osa - Vocals /Bass Anders Gjesti - Guitar

Kind Regards,
Anders
EL CACO