An Interview with the San Francisco Psychedelic Warlords,
'Electric Shepherd'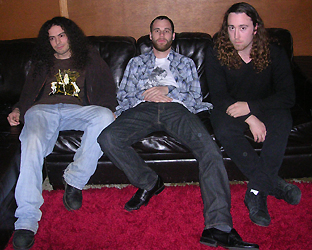 that transatlantically took place between April and May 2011.
Questions by Glenn Milligan
How did Electric Shepherd come to be formed?
The three of us (Mark, Tommy, Sonny) grew up in San Francisco together. We played in different bands together throughout our teens, and eventually decided during the summer of '09 to join forces to create a psychedelic monster. We were ready to begin creating very visually intense music with an affinity for the jam
What is your area of the world like for Rock and Music in General and what effect did it have on you?
In the 60's we (San Francisco) had rock n' roll powerhouses intent on being the most diverse in sound and sight. We take pride in being a part of that local legacy. The jam-based style of these 60s groups i.e. The Grateful Dead, Jefferson Airplane, Big brother... all just loved to lose themselves in jamming, and acting as almost one singular unit. We all love those bands - they influence us greatly - and the tradition lives on here. There are many local groups now who illustrate that freakish tendency.
Where did the band name come from and what made you decide to call the band 'Electric Shepherd'?
The name comes from Philip K. Dick's novel "Do Androids Dream of Electric Sheep", which inspired the film Blade Runner. We are all lovers of science fiction, and see ourselves as local sonic Shepherds for this imminent dystopian era that Dick spoke of frequently. Dick was also one of the great San Franciscan writers of the psychedelic 60s.
Who would you say your fave psychedelic artists or Rock artists overall are and why?
The Doors, Pink Floyd, Blue Cheer (the original SF psych power trio!), Dungen, Radiohead, Grateful Dead, Big Brother and the Holding Company, CREAM, The Lemondrops, Black Rebel Motorcycle Club, Black Mountain, Melvins, Beatles, Jack White (and all his projects)... so many!
What major influences did they have on you as a band and why?
The Doors breathed theatre, poetry, spirituality, and vulnerability on stage, all at the same time. It was an entirely new show each time. The ultimate performance, the ultimate jam-band... The Grateful Dead too for that matter. Pink Floyd's ever-evolving sound and concept-albums are timeless. Jack White's on-stage eccentric and intense antics are refreshing for contemporary rock n' roll. And Blue Cheer and Cream (even The White Stripes) show us that all you need for a mind-blowing rock show are fuzz pedals, good riffs, raw energy, and only two or three people to do it with, and we like thinking we can carry the same torch.
What songs are you most happy with so far and why and what influenced them?
We like em all. We really enjoy the dynamics in 'ChemTrails' and 'Imitation Gardens', one of our newest tracks. Love, Death, Travel, and the San Francisco fog influence our music.
How would describe the typical gig from Electric Shepherd?
Losing our minds. Strange noises.
What have your best gigs been so far and for what reasons?
A few psychedelic shows at SF' s Knockout Club with SMiLE Presents, and SF's Bottom of the Hill this last Winter have probably been our favorites so far. We also played a rad house party in East Los Angeles in March. When girls dance like hippies and bang their heads, and guys do strange renditions of the moon walk in front of you, you feel like you're doin your job right
Where else would you like to play if you had the chance?
Pompeii, The Great American Music Hall in San Francisco, the Fillmore, this November's 3rd annual Frisco Freakout psych fest... anywhere one wants us, we'll be there.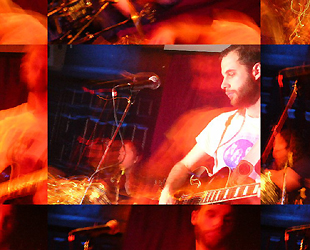 If you could be transported to a particular year in time, which year would that be and for what reasons?
1965 San Francisco for starters; London 1967; 1930s New York (then emerging Swing Jazz Big Band era); or before the invention of recording, so we could just jam and perform wherever without worrying about record deals. It's all about playing live anyway.
What kind of state do you need to be in, in order to come up with such out-there numbers?
Sleep-deprivation for 36 hours on heavy doses of fried calamari and coka cola, and marathon-long gleaking sessions. Amoeba Records and good shows also do the trick.
What was the hardest material to write for you guys and why?
We wouldn't play or write it if it was difficult.
Who would you most like to be on a bill with and for what reasons?
Dead Meadow, Black Mountain, Dungen, The Gris Gris (from SF), Brian Jonestown Massacre (from SF), Black Lips, Black Keys, Pentagram, Boris, Radiohead (that would be the day). We would just like the chance to properly tour nationally one day, and then internationally. We would like to constantly meet/play with any kind of cool band along the way.
What's next for Electric Shepherd?
Currently making a new record (with currently no money to do it), playing the Haight Street Fair in San Francisco this June, and once again, touring nationally within a year if all goes well.
What hobbies do you have outside the band? Notice I didn't assume brown acid taking - lol.
Multi-media art (film, stage visuals), writing, guffawing, and surviving.
What else would you like to talk about that I haven't asked you about so far?
We enjoy films, poetry, and performance. Although all of this is relevant to music and art, it's a separate discussion altogether cuz we can go on forever about it.
What are you most proud of so far?
So far, we're proud that we put out one solid-sounding record independently, and we're proud that we've improved (and continue to improve and expand) as musicians and songwriters since the time we began learning our instruments. We all learned music together, and its a rare, beautiful thing to be in a band that way. Ultimately though, we don't want to be too proud of anything cuz otherwise we will truly never grow or improve.
Hope you enjoy answering the Q's.
Yes we did. Thanks Glenn!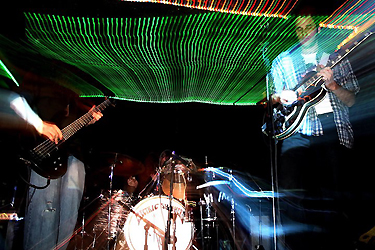 A Big Thank You to Doug Deutsch for setting up the Interview