An Interview with
'Eric Martin'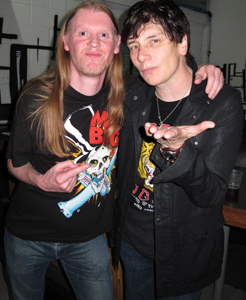 The Frontman of Mr. Big
that took place early September 2015.
Interviewed By Glenn Milligan.
Glenn: What gave you the idea to go out on a full-blown acoustic tour?
Eric: After the little Mr. Big tour was over in February I went out with Ian Gillan, Rick Parfitt & John Wetton on the rock meets classic tour. I hadn't got my fill so I decided to just go out for a little while on my own. Promoters& Club owners started calling and the next thing I know I haven't stopped.
Glenn: What exactly goes through your mind before you strap on that acoustic and hit the stage?
Eric: It doesn't matter what kind of gig it is, I always get nervous before the show… it's the good kind of nervous; it keeps me on my toes.
Glenn: What would you say are the most daunting aspects of this since the rest of Mr. Big are not present?
Eric: I enjoy singing and strumming with another artist on stage, it just makes for an entertaining show… I'm a singer /songwriter guitarist, your not going to get the flashy solo styling's of EM like you would Paul Gilbert. But in lieu of those things your'e going to hear me sing my ass off every show, hear some crazy stories about the road and these songs and maybe laugh your ass off with me as well. ' With me not at me..ha!
Glenn: When did you originally learn guitar and which songs did you learn to play first?
Eric: I taught myself to play in the 70's …I had some help from the neighbourhood Rockstar Mike Keveny (haven't seen or heard from him since). First lick I learned was 'The Ocean' by Led Zepellin, first song 'Jumping Jack Flash' – The Rolling Stones, Good Morning Little Schoolgirl - Ten Years After, Purple Haze, Foxy Lady & Hey Joe - Jimi Hendrix, House Of The Rising Sun - The Animals, Love The One You're With - C,S,N & Y…and so on.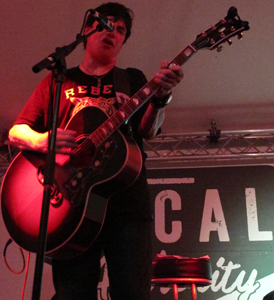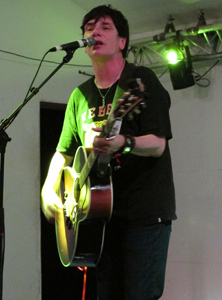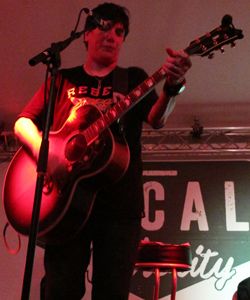 Glenn: Who influences you as a guitarist and why?
Eric: Keith Richards… because of his secret tunings and use of the capo… He's my mojo, my mentor and my hero.
Glenn: Which songs have you found needed more work to transfer to the solo acoustic format and why?
Eric: Well if were talking Mr. BIG … I wrote a lot of tunes on the acoustic, gave it too Paul Gilbert and he sparked it up… on my shows I play it like I wrote it ..so all those bells, whistles and the kitchen sink you're not hear it… just a naked version of the tunes.
Glenn: How long did it take to whittle down the set to one that worked for you?
Eric: I hate the same FN set everynight… granted I'll play those Faves that people want to hear (I like those faves too) but for the mostpart it changes nightly. There are so many backsides of hotel bills, the back of an 8x10 and cocktail napkins floating around with my set that I wrote 15 minutes before the lights go out and I hit the stage.
Glenn: What songs have you been most happy with acoustically and for what reasons?
Eric: I love playing the song 'Where do I fit in' from Mr. Big's album 'Hey Man'. It's got the country funk soulful gospel thang that's in my blood. I love singing and strumming 'Fragile' from the last MB record (The Stories We Could Tell); a song about vices, redemption and forgiveness within. I have a song of mine called 'KANSAS' that is a punk pop tune that I'm digging now…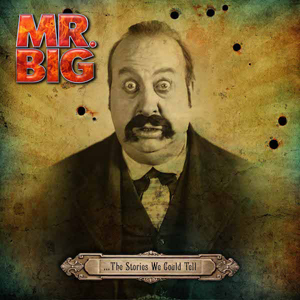 Glenn: Out of all the nights you have performed the show so far on this tour, which ones have stood out so far and for what reasons?
Eric: That's a hard question to answer.. uhm the other day I played in London and had the best time ever in that city..more than the MR. BIG show's in the 2000's… but a couple days after it I played this small rock pub called 'The Iron Road' in Evesham, England and I wasfeeling the fire from the audience. Ha… I could tell ya some of the stinkers but then I wouldn't have another chance to get it right the next time!!
Glenn: What have been the most surprising moments during these acoustic shows so far and why?
Eric: That the rockers all dig it and that I'm excepted for who I am and what I'm trying to do.
Glenn: How was the Sheffield show for you and what are your thoughts to The Local Authority?
Eric: It would have been nice to have a bigger crowd but those who were there seemed to like it. It was a cool place to play actually. It sounded good from where I was standing. I didn't have to whip the audience into having a goodtime… they gradually let their hair down and gave in to the dark side.. ha.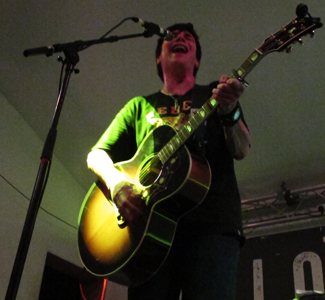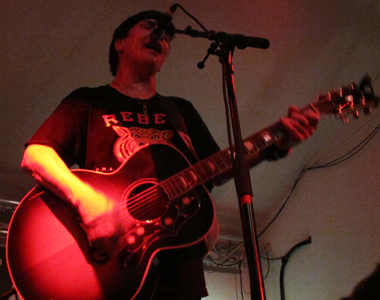 Glenn: How do you keep your voice so strong night after night? What's the key?
Eric: Sleeping a sound 8 hours, gallons of water and no talking during the day.. hmm two out of 3 ain't bad. A little prayer doesn't hurt.
Glenn: What led you to take up the UK Tour with Simon Kaviani and what were the favorite moments and why?
Eric: Simon was just placed on the bill, it was like going out on a blind date that worked for 3 weeks. That kid is a super talented writer and vocalist not to mention a great kid! I don't remember moments …I had some great gigs in England. I loved the bar owners - everyone of them. London was off the hook - a couple stinkers here and there.. I blame it on my guitar shorting out and the gigs with no air-conditioning (Holy sh*t, it was hot in Chester) . Scotland was awesome, Belfast was a riot of laughter.. the good kind and Dublin was shaky but a happy ending to it all… huh? I guess I did remember the moments.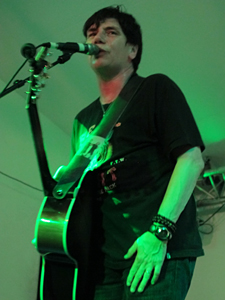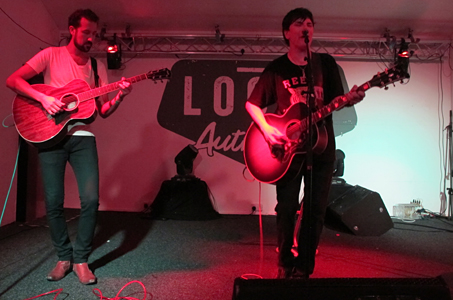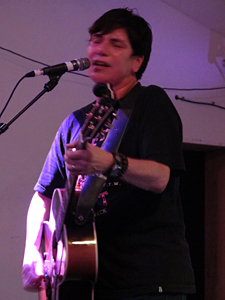 Glenn: What's the chances of a live album made up of recordings from your acoustic tour since the songs sound so damn good?
Eric: Well thank you kind sir…I'm actually mixing a live album/DVD/TV show from the Akasaka Blitz in Tokyo and a couple of other cities. Yeah, I played there last month with my Mr. Big brother; Pat Torpey and my friend Jon McNamara from Australia.
Glenn: I previously saw you at Download with Mr. Big a few years ago, how was that for you and what are your memories of it?
Eric: Good Lord I sh*t the bed on that gig… the band was so FN loud I couldn't hear a damn thing and I remember singing 'To Be With You' a half step flat. Ugh! I saw Dan Reed in the audience and I knew from his expression I was singing squirrely. I've been better, that's for sure.
Glenn: What shows have become major highlights for you over the years and why?
Eric: Mr. Big live at Santos beach Sao Paulo Brazil 100,000 people…we were on fire. Avantasia killing it at Wacken last year..90,000 dudes & 10 women.. ha! I didn't think I'd be accepted by the Metal Crowd but somehow I got over. A sold out show at the Warfield Theatre in my hometown of San Francisco in front of my Mother and all my friends…oh man good times. Obviously having a #1 hit single in 12 countries was a bit of shock and awe.
Glenn: What would you say has been your most Spinal Tap moment and why?
Eric: OMG I'm an accident waiting to happen….The worst 2 were; Forgetting the words to 'Addicted To That Rush', a song that I had sung thousands of times at the LA Forum... the audience had a good laugh on that one. Falling off the back of the stage in Vancouver on the RUSH tour.. I fell backwards in the dark (during Paul's solo) through the back curtain and landed on my back on a stack of flight cases, I could have killed myself… I made it on stage for the next song though…. It's only Rock & Roll Mate!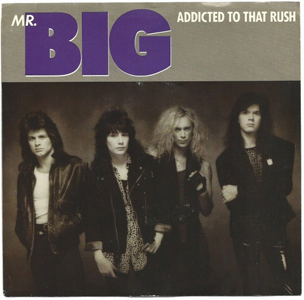 Glenn: What were the most memorable moments of the recording and writing of '…The Stories We Could Tell?
Eric: Pat & I worked on the pre-production together, demoed and cut basic tracks before Paul & Billy who were on the road came into the picture. It was really hard to work because of Pat just being diagnosed with Parkinson's disease. But believe it or not he pushed the boulder up hill and helped me big time to get this record going ..I love that dude, he's the strongest person I know.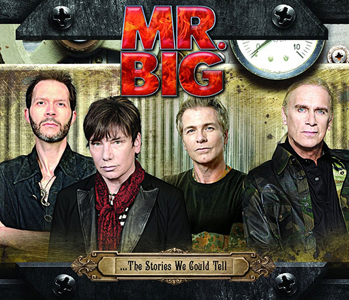 Glenn: Okay, so which stories would you like to tell and able to since you called the last Mr. Big album, '…The Stories We Could Tell'?
Eric: Mum's the word kid… You'll have to join the band to know the secrets.
Glenn: If you could duet with any particular artist, who would it be and why? Which songs would you like to perform?
Eric: Jay Buchannan from the band, 'Rival Sons'… that dude is unique and soulful 'Hold On I'm Coming', Sam & Dave, Cyndi Lauper (My Queen Of Soul) or Bonnie Raitt (Soul Belter Extraordinaire ) .. Bell Bottom Blues - Eric Clapton, Paul Rogers- ? Anything and everything.
Glenn: What goes through your mind when you see those original Mr. Big Promo videos from the late 80's/early 90's?
Eric: What in the hell was I wearing...
Glenn: What was it like for you making them?
Eric: 'To Be With You' was fun. It was filmed in an old train car at the Griffith Park Observatory in L.A. California. We were on tour and we flew to LA for a break and to do that video.. great vibes on that set. 'Addicted To That Rush' was filmed live at the Palace in Hollywood… the first take was a blast, the 28th take.. uhm not so much. 'Just Take My Heart' was filmed in an old abandoned brick building with no roof in the middle of winter in Chicago Illinois… I couldn't feel my face.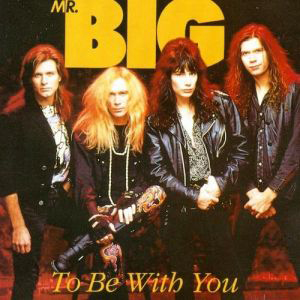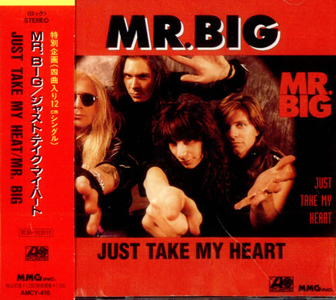 Glenn: Apologies for asking this as you may have been asked this a million times but where did the idea come from in 'To Be With You' where it goes from black and white to color from the plucking of that single note?

Eric: You mean how it fades into color from Black & White into Paul's solo…drum roll please… 'The Wizard Of Oz', we ripped it clean from the movie, when Dorothy's house lands on the wicked witch of the east and lands in OZ.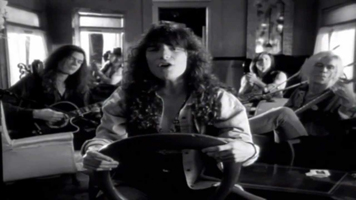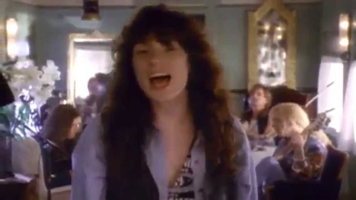 Glenn: When not on stage or having anything to so with music, what do you enjoy doing and why?
Eric: Playing Basketball with my son's, watching old classic movies like 'Casablanca' (seen that one 50 times at least), having a beer with my 2 friends Mike & Jeff …I call them the UN-usual suspects.
Glenn: What have you learned most from the music business?
Eric: It's an emotional roller coaster…. And it's FN hard to stay on but you've gotta love the ride.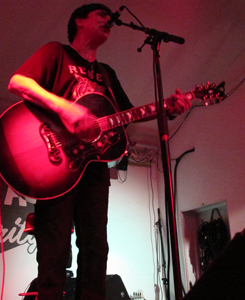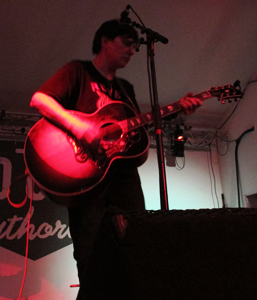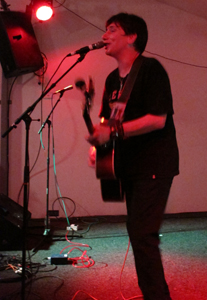 Glenn: What would the Eric Martin of now tell the Eric Martin in the early days to watch out for and why?
Eric: Watch out for a mirror - it never lies, You tube – the great soul stealer, Jack Daniels is not your friend, cover your ears it's going to get louder.
Glenn: What things would surprise the fans about you that they'd never even consider?
Eric: I wear my heart on my sleeve. Everybody who knows me knows everything about me… hmm except that I have super powers.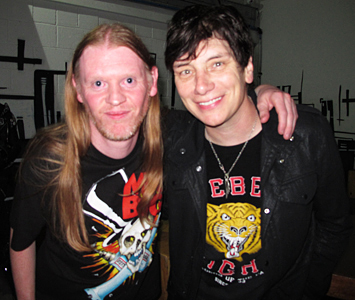 Big thanks for the Interview Eric - Excellent Answers!
Be sure to check out The Official Eric Martin Page on Facebook