An Interview with Erik Kluiber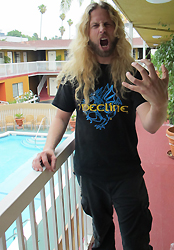 Guitarist of Gypsyhawk and formerly of White Wizzard & Overloaded that took place in West Hollywood, California, USA on 1st May, 2012. Interviewed by Glenn Milligan.
Glenn: So Erik, What is your background in music and what got you started playing music and overall got you interested in it all?
Erik: I play guitar and I got started when I was 13 years old. I was inspird by bands like Metallica. I liked the band Cinderella. A lot of bands that catered around heavy metal riffs and that's what got me interested in the guitar.
Glenn: Got ya.
Erik: I was living in California at the time. It was only for a year. Beyond that, my parents helped me get some lessons and I kept persuing it and started my 1st band when I was like 15 and then I went through a lot of those and I did go to the Atlanta Institute of Music in the mid 90's and just kept going with projects as long as I could. Some of them lasted longer than others. Ones that are more mentionable, in Detroit I was in a band called 'Overloaded' that had a little bit of success and then I came to LA and I was in White Wizzard for a year. After that I played with a couple of projects but most notably recently I've been in a band called 'Gypsyhawk' and we got signed to Metal Blade Records and our album comes out August some time. That's what we heard.
Glenn: What was the 1st guitar you ever played?
Erik: 1st guitar was my Dads Gibson. He had an acoustic guitar and I started off with the Mel Bay Guitar Method that a lot of people have started with. So just sight-reading E,F and G notes to start off, taking it string by string. Then I kept practicing it and my parents bought me an Ibanez Roadstar - a used Ibanez Roadstar off a friends brother for a good deal because I stuck with it and I think that was a christmas present. That's what I started off on.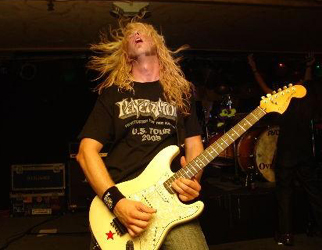 Glenn: What were the 1st songs you started playing and got into?
Erik: My guitar instructor was cool. I remember playing Kiss very shortly. I played some Eagles songs learning open chords and he'd have me bring cassette tapes and he'd learn them by ear that always impressed me. I picked up on that- that skill and I use that for when I teach guitar now. Just like learning songs that I haven't heard before that a student would like to learn. So yeah, for Kiss I learned 'Strutter' and 'Deuce' - I remember those were two of the 1st ones and that guy even brought in some Testament and obviously I was just on acoustic guitar. I remember figuring out 'Alone In The Dark' - that was one of the tunes - stuff like that. Open chords first - Beatles, Eagles and some classic rock power chord stuff. Then I picked up like tab books at the time and guitar magazines and started getting into Metallica and figured out the whole tab method. I could out at least the rhythms on my own to begin with.
Glenn: Can you remember some of the 1st gigs that you played and what led up to that 1st band being formed to getting a gig?
Erik: Yeah. First it's always orignal bands. You wanna write your own songs and then you wanna get in a band that actually plays a gig. So like my 2nd or 3rd project of jamming with some friends in high school in freshman year/sofomore year I finally got a project serious enough together to last and out together like 14 tunes - enough songs for a show. I played a 'Battle of the Bands' at the high school at the gym - that was my 1st gig - no that was my second gig. Our 1st show actually we put together at the Birmingham Unitarium Church - it was called 'Thrash Bash' and it was like 5 high school bands and there's a flyer on my facebook page somewhere and we actually just rented that out for like $200 and someone had a brother with a little sh*tty PA system who was a sound guy. So we had like a DIY like punk rock/rock 'n' roll/thrash metal festival...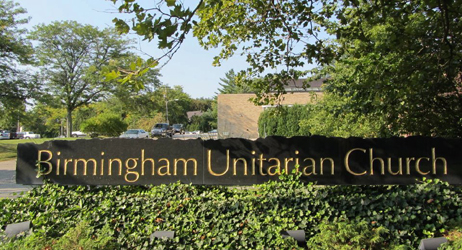 Glenn: In a church?
Erik: In a church auditorium.
Glenn: Right.
Erik: It was like their gym. But if you can imagine a small gym where you could play basketball in?
Glenn: Yeah.
EriK: But yeah it had a gym.
Glenn: The sound must have been a bit...
Erik: It probably wasn't great - it was probably terrible.. bouncing off walls and what not but it was the middle of winter, I remember that. It was really attended. I think it was on during finals week. That was like Sofomore junior year - I think that was the 1st gig. It was pretty cool to put something on. Your own little thing.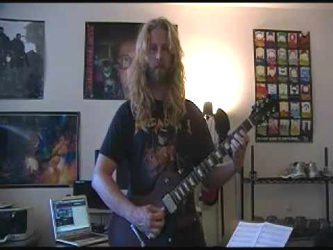 Glenn: What was your band called then?
Erik: The End.
Glenn: There's a famous band called 'The End'.
Erik: There's a band that finally got signed and it might have been like 6 or 7 years ago, maybe ten years ago called 'The End'. Yeah there's a million bands called 'The End'.
Glenn: It may be the same band that sent us a CD.
Erik: it could have been. I wanna say I saw them in the metal magazines. It was probably like a 'Metal Core' band or something like that.
Glenn: So what lead you to becoming going from that sort of status? Were you playing cover songs or playing your own songs?
Erik: We did both. We definately played a lot of covers. I remember we played some Fugazi songs, we did some Metallica tunes, we did like even Blue Oyster Cult's 'Don't Fear The Reaper' - I don't think we played that live but we tried hard to write our own stuff and we did release some of it on a really small DIY level - you know cassette tapes? We did circulate them in the fanzine scene. Very primitive. We recorded at a studio and we had some recordings that could have been real good but we never properly released them or had any clue what we were doing. It's too bad.
Towards the end, like that band was actually really legitimate and had played some very good shows. I mean it went through members and it stayed together for almost three years and by the end of it it was pretty well oiled like a real band and very much like Testament and Slayer, Metallica, Pantera. We were starting to get into bands like Crowbar and Acid Bath and that was like '94 and they were coming out. It was starting to get its own - one song was kinda Sebultura but we never got chance to capture most of that and it fell apart. So I went to Atlanta and went to the Atlanta Institute of Music and I tried to put together another band called 'The End' there but that lasted only like 6 months. Real short.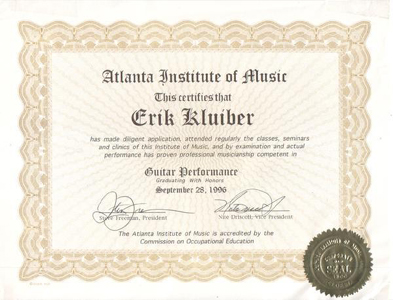 Glenn: So when did 'Overload' starting coming?
Erik: That wasn't until 2004 and I'd been in a lot of projects before that. So that band was together for once again, about 3 years and it was a good group of guys. I played with most of the dudes for like 3 years and the previous band, 3 or 4 years even. That band seemed to gel and put songs together very quickly and we got picked up by Jaegermiester, which is not a record label but it's a liquor and they just help... you know they got us some good shows. We opened for Alter Bridge, we opened for Hell Yeah, we opened for Mushroomhead - that was all like Jaegermiester tours.
That band seemed to get a little bit of notoriety and we sold like a good amount of CD's for an independant band all through 'CD Baby' and there was a small like German company that bought some and there was a small record label or distribution company off the east coast. So we moved some units. We played a lot of great shows. We opened for all almost like every 80's band that came through town. We opened for Skid Row, we opened for Warrant, we opened for Quiet Riot, Krokus, White Lion. There's a whole ton of them. It was recieved really well with that crowd and stuff but it kind of fizzled out because that band wouldn't tour and wouldn't expand beyond Detroit.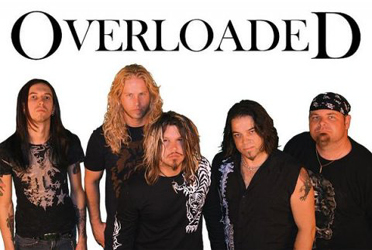 Within a couple of months we got to be at the top of the food chain in Detroit which is cute but then we just stayed there and that was it. There's Chicago, there's New York, there's Columbus, Ohio - there's a million cities all within a very short distance. For some reason that band refused. They didn't have a foresight that they'd think it was worth the time. They thought it was a waste of time to play those cities because of course the first time you play there, nobody knows you and you might play.. you will play in front of very, very small crowds.
Glenn: You have to build it up.
Erik: Well yeah - you have to build it up and you have to do some research and try hard to network. That's very important for an up and coming band to tour and just get outside of their (area). If they wanna go anywhere in the music industry or if they want to become more than just a local band then it's just common kind sense you have to start touring. Incredibly important. So that's what happened. The band got frustrated because we peaked and then we were just doing the same things for a long time. And like I said, we got to the top of the Detroit foodchain almost instantly and we just stayed there for 3 years and yes we released some more music and we kept playing and doing these opening gigs which were fun but that was it.
Glenn: When I went from the 1st album, I could tell it was a different vibe. It wasn't the same. It didn't seem the same.
Erik: What from the 1st to the 2nd?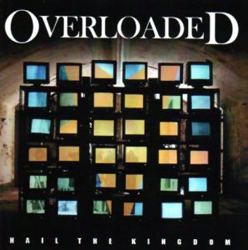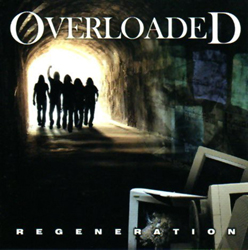 Glenn: Yeah.
Erik: Yeah. I still like the 2nd but a lot of people prefer the 1st - is that the one that you prefer?
Glenn: Yeah. I guess at the time I did. Maybe if I listened back, I may think I like the other one as much. I guess it was such a vast change in style to the debut.
Erik: I guess it was. I mean we were always trying to... I mean I wrote a lot of the riffs in that band - as far as guitar-wise - the majority of that. So that was the same on both records but maybe it was the attitude and a little bit. It was just some real excitement with that 1st album that maybe came through. Maybe we got lucky with the recordings, you know, because it was all DIY and we didn't ever have any producers. We just recorded in Detroit locally.
Glenn: What were your favourite songs and times recording that album?
Erik: That Overloaded one?
Glenn: Yeah the 1st one.
Erik: Well I think that songs came out best on the Hellfire E.P. - that was 4 songs. That was 'Heavy Metal Highway';' Zygote' I didn't really care for as much - that was just too slow - the 3rd one. I think 'Cyclone' came out really well. The 1st one I thought 'Beaver Fever' was actually way too slow on th recording as was 'War Of The Worlds' - it was still a bit slow. We just did that album, that 'Hail The Kingdom' album from start to finish in Detroit here very recently. It was on April 14th. So we just had a chance to play it and we played 'Beaver Fever'. Lorenzo the drummer had all the tempos in his metronome and we were playing them and we said, "We gotta speed that one up - that's way too slow man". We might have played 'War Of The Worlds' the same. Most of them the same. So from 'Hail The Kingdom' I like 'Cyclone' a lot. There's a lot of versions. I think if anyone wants that album they should probably get the 10 song version which you can find floating around in really cheap places. I think 'Hellfire' turned out great. 'Heavy Metal Highway' turned out great. 'Shotgun City' was a very simple but fun song. I think those would be the highlights for me on that record.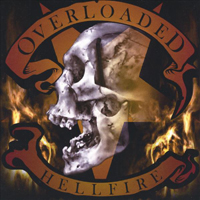 Glenn: You played in a rather famous band a few years ago called 'White Wizzard'. What led you to go from 'Overloaded' to 'White Wizzard'? Was it just like from one to another or were you waiting in between?
Erik: Yeah, there was nothing in between. I knew that 'Overloaded' was going downhill. We had lost the original lineup and that was just due to tension that we wrongfully pointed fingers at one another and Chris and I, Chris is the singer, we decided to split from the other guys and they did their own projects and we tried to continue 'Overlaoded' with another group of guys that were good people but the chemistry was lost - that was a very bad decision. Sure enough the interest in the band dropped dramatically from both our fans and both within the band and Chris was doing 'Tokyo Blade'. He was part of one of the lineups in that. I think the year was 2008. In 2008 he went to Europe and did a European Tour with that formation of Tokyo Blade with Andy Bolton - that was his name I think and I could just tell that the interest wasn't there in Overlaoded and I was wasting my time.
So I started scanning Craigs List around the country and I went to Los Angeles and one of the 1st things that I saw was an ad for White Wizzard looking for a guitar player. I looked at their music because I liked a lot of the influences that they listed like Judas Priest for instance - that'd just be one, you know? I really liked the music and I contacted them. So I learned like 4 of their songs and I scheduled an audition and I flew out and I got the gig and then I made the decision to join that band. Jon Leon (Band Leader) informed me that they had just been picked up by Earache Records. So it seemed like a very legitimate opportunity. So I sold almost everything I owned except what I could fit in the back of my truck and moved out here. So that was early 2009 - that's when I found out about them. They had a video out - it wasn't just the music. They had a myspace page with some songs but they also had a really entertaining video directed by David Voorhughes for the song 'Highspeed GTO'. When I saw the video that also got me excited about the band because it was really well done.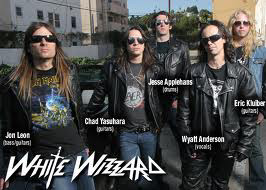 Glenn: Cool because Earache is based in Nottingham which is like 40 miles away from me.
Erik: Ok. It's close then?
Glenn: Yeah.
Erik: Yeah I had a chance to go there. We stayed in Nottingham for like at least 2, maybe 3 days. We got a chance to visit their office and we played a gig with EdGuy when I was in that band. So that didn't last too long. I was really only in that band for about a year and the last really big thing I did with them was that UK Tour with EdGuy and it all fell apart as far as me being involved with that band.
Glenn: Even though though it was a bit of a funny tour for you personally, what sort of things stand for you from that tour and certain things that you did in various places?
Erik: Okay, the best show of that particular tour was in London at the O2 Academy. That was the largest show of that particular tour. The one in Nottingham was actually really good too. It must have been over capacity. It was in a small... not a tiny venue but it was a small venue. The place it was definately a bit of a complex where it had a bar and maybe a patio and then it had a separate room where I think there was even a balcony in this room too. It still wasn't huge and it was stuffed and we had to like get our gear through the crowd and it was really difficult.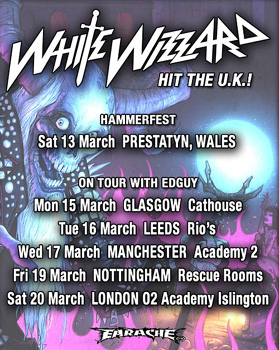 Glenn: It sounds like 'The Rescue Rooms' around the corner from Rock City.
Erik: it sounds like it man. I'd really have to go. Just the fact that that is where Earache was based so it was our 1st time as a full band performing for them. The Cathouse in Glasgow, Scotland - that was really good. I remember the volume of the crowd at that show. It was incredibly enthusiastic - lie deafening even and like they were chanting our name before we played and it was my 1st time to hear a legitimate Scottish accent which was very interesting to do. We drank Absinthe. Wyatt, the singer threw up on the floor after he had a shot of that because of course you're not supposed to do that straight likewe did, you are supoposed to cut it or burn a sugar cube or something in it. There's a ritual where you kinda of drink it straight out the bottle. He actually blew out his voice for a couple of days after that show which was kind of unfortunate because we played two shows. But we still did the show and his voice was very high and he was singing at literally like 2 octaves lower, like speaking the words which was really tough for him but he soldiered through it and by the time time we played the London show it had come back fortunately.
Glenn: Lucky.
Erik: I think we may have had like a day off so it wasn't a total lossness. Those are the three shows that really stick out for me. The Cathouse, Nottingham, London. It was probably about a week long so it was like.. there was probably 5, 4 other places but that was cool on that particular tour and the tour we did with that band before that was with Korpiklaani and TYR and Swahbuckle in America. That was a blast.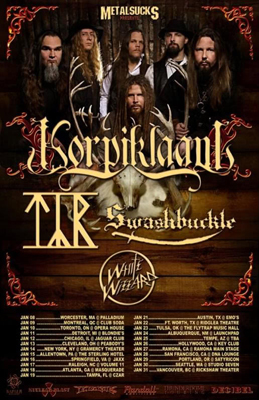 Glenn: Yeah. What did you get up to with EdGuy then? Any crazy tour stories?
Erik: Oh not really because with EdGuy we didn't really hang out with them or the band at all. We didn;'t really interact. I said "Hello" to the singer a little bit and the guitar player that's kinda balding on top - Dirk I think. But mostly they didn't interact.
Glenn: They kept themselves to themselves?
Erik: Yeah and it wasn't anything... they weren't pr*cks or anything - that just was the reality. They just kept to themselves and didn't really interact with us so really no crazy tour stories for that tour because we had a driver because of course we couldn't drive around England and so after the gigs... and England's so much smaller than the United States, we would have a hotel that we'd stay at multiple nights but we might hit one city then come back. The hotel was centralised so we really didn't get into too much trouble while we were doing that tour because as soon as the show was done it was kind of like we had a chapperone like take us back to our hotel and it was like, "Huh - what do we do now?" That kinda sucked about that tour. I don't have any cool stories about chicks. We didn't even drink that much on that tour. No craziness at all.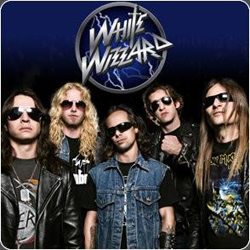 Glenn: Wow.
Erik: Other than the shows. That was a very PG13 Tour - very much. So the shows were good. After the tour and we came back and we had a little bit of time to do press - we like stayed in London for a week and we just had a hotel somewhere. That's where like everyone had their own little adventures as like go to a bar. There was really nothing to do apart from during the day you might have an interview to do or some sort of internet chat or something. Then at night we just went - well I went crazy and stuff and tried to get in trouble. Went to the Hobgoblin in Camden. It was cool. That was more rock n roll as far as 'Motley Crue - The Dirt' style.
Glenn: Did you meet up with any famous people that are notable?
Erik: In England?
Glenn: Yeah.
Erik: No nobody. I mean I got in an argument with the band leader of White Wizard so I wasn't allowed to go to the Bruce Dickinson Interview. But I met like Malcolm Dome (of Total Rock) and I met a lot of other people from the radio station that's very close to the Crobar. Besides the people that worked for Earache - no. I didn't like meet the singer from Cathedral or anything like that. Yeah we were very much on our own like a bunch of tourists when we got to hang out in London. Like on tour like I said, besides from just playing the shows and then packing up and leaving, there wasn't too much, maybe a little bit of fan interaction like "Hey, come buy our t-shirt", "Buy a CD" but then we were just kinda whisked away which was unfortunate. Very different from like the tours I do with Gypsyhawk where we are sleeping on peoples floors and we have no idea where we are gonna stay that night. It might be a truck stop. We always.. there's just a lot more of adventures andwildness and things like that.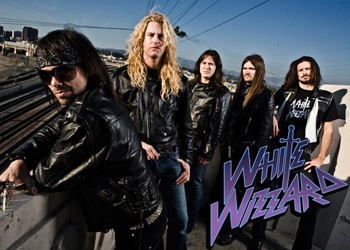 Glenn: So your time with White Wizzard ended and then it was onto Gypsyhawk?
Erik: Pretty much. I had a year where I was looking for projects. I did a band called 'Scattered Hamlet' that I'm gonna be playing bass for again here just to help them out for a tour very shortly from the middle of May to the middle of June. It's gonna be like a month long tour. I did a Megadeath tribute band here locally - one of my neighbours bands. So I was doing some projects but when I found that Gypsyhawk was looking for a guitar player. I had to work really hard for that audition. I had to learn 5 songs note for note in a week and I made that happen and did the audition and I got that gig.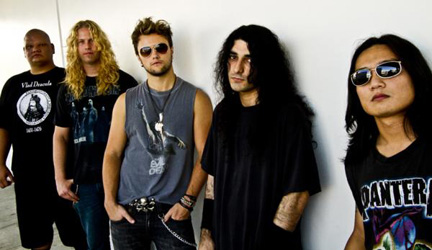 Megadeth Tribute Band
Shortly thereafter we were playing shows. We played with Holy Grail and Cauldron at The Viper Room and we went on our 1st tour and we got back from that tour and we played a party. Holy Grail was on that show as well and a couple of bands from Kreator Destructor which was Gypsyhawk's 1st label - a very small indie label and Metal Blade Records was there. Then the next day they offered us a record deal. So there was about a month of negotiation over that and we signed Metal Blade and we had already booked our next indie tour so we did another - it was a bit longer - it was about 40 days. These are all DIY tours so they're very different from playing clubs like 'The House Of Blues' or 'The Whiskey' or 'The Viper Room'. These were playing like punk rock venues and some pretty obscure places. Pretty much any place you can get a gig. It was very by the seat of your pants and you do your best to try and at least get gas money or something like that but nothing is guaranteed. So it was an interesting time.
Though immediately when we got back we started writing the record and we didn't have much time. It was very stressful and I've mentioned this and sure enough it happened where you get back and all of a sudden it's the holidays. We're here in America and we have Thanksgiving. You got Halloween, Thanksgiving and then Christmas and then New Years. These are very close together and pretty much that whole time should not be.. Really if you have the choice about it, it's not very conductive for bands because there's so many obligations, so many Christmas parties to go to but regardless that was out time to write the album. So we worked hard and wrote the record and then recorded it in February. So pretty quick and it turned out much better than any of us thought it was going to actually. It turned out really good. We recorded it in 6 days in Oakland and it's 11 tracks and unfortunately it doesn't come out til August so that's the only..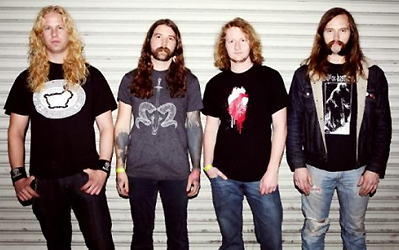 Gypsyhawk
Glenn: Downside of it?
Erik: Yeah kinda kick in the pants. Right after that we were a very, very well oiled machine, ready to conquer the world or to go to battle at least and we did do South By South West. We did a Metal Blade showcase which was really cool to do and I think that went very well. You know, we played early but I think we performed great and made an impact. So since then though we are just waiting for the record to come out and that's why I'm doing things like 'Scattered Hamlet' because they need a bass player and are really good guys and they are very new. Quite a few of the songs - although they've written quite a few - twice as many, they've doubled their itenerary - their catalogue of songs since I've been in the band. So I'm gonna go on tour with them just playing bass which I've never done before and wait til August.
Glenn: Yeah because you're a guitarist.
Erik: Right.
Glenn: I was thinking 'Have I got this wrong here?', I thought, 'No'.
Erik: Yeah yeah I know. I know it. I ised to play guitar for that band but I am just going in for the bass player which I'm just interested to see how that goes and how I'll feel about that. Maybe I'll have fun. Maybe I'll be bored out of my mind. So far I'm having fun but it's very new. They're still touring which is always.. they're not signed. They're definately on a very DIY level as well, playing more of a bike metal type of sound. So it's a very different crowd. Gypsyhawk plays for more of a different part. Well both crowds are party crowds but they're different - different genres of people. I guess Gypsyhawk melts more into the stoner side of things - maybe the fantasy like 'Game Of Thrones'. Are you familiar with that?
Glenn: They were talking about that in The Rainbow the other night.
Erik: Yeah it's pretty popular because it got picked up by HBO but it's been around for a while but you know, kinda like the Dungeons & Dragons. A little bit more obscure like underground nerdy stuff like a lot of people. Gypsyhawk definately taps into that and like I said Scatters more like the biker Americana stuff. I guess white trash if you will - doing that stuff. We're gonna play some Rocklahoma dates and play a lot of biker clubs. It should be interesting.
Glenn: Awesome. Do you think you'll ever get back to the UK to do any shows with any other bands?
Erik: I really hope so and Metal Blade has hinted that they A) Are very happy with the record - the new Gypsyhawk record. They were waiting on it and we knew that, you know. There's a million bands - we had a lot to prove and once they heard the record they were actually like, "This is good", and I wanna say had a chance to study it and evaluate it. What I heard is that we should be a priority in their European Offices which to me should say we get over there right?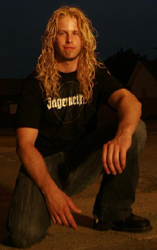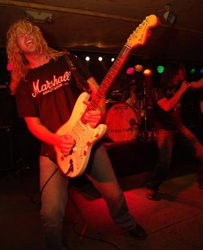 Glenn: You should get a few shows in the UK and a few in Germany and France and you know, round about.
Erik: That's what I'm saying, so really hope so. We all have our passports and I would love to do that so I'm hoping that that's gonna happen.
Glenn: Cool. I wish you the best of luck on the up and coming album, gigs and wherever you go.
Erik: Thanks Man. We did get announce to perform the Mayhem Cruise so it's very much like 70,000 Tons Of Metal. Have you heard about it?
Glenn: Yeah. I keep getting mailshots about that now and again about these cruises they keep putting on and stuff so yeah.
Erik: Yeah. So we're playing the Mayhem one which is pretty cool. It's not till December though.
Glenn: Yeah.
Erik: That's about it. The album comes out in August and thanks for the Interview Man.
Glenn: Pleasure Bro.
Erik: Alright!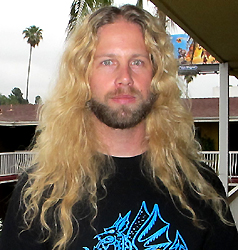 A big thank you to Erik for an In Depth Killer Interview - See Ya Soon in LA or the road!