An Interview with Peter Lust Snr (Drummer) & Peter Alexander Lust III (Frontman Guitarist) of the Southern California Rockers,
'The Feisty Piranhas'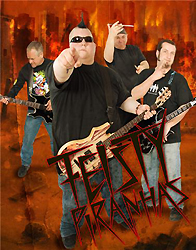 that took place in June 2010. Q's by Glenn Milligan
Glenn: What are your musical backgrounds and what were your first ever gigs like?
PLsr: My mother was an opera singer and from a very young age I would play piano. From there when I was 10 years old my father bought me a drum kit and set it up for me in the dungeons of our house. It was an 300+ year Hudson bay trading post on the St. Lawrence seaway. The first gigs were quite lonely, working hard the Hollywood seen
Peter Alexander Lust III: I was taught guitar at a young age and have played ever since. I grew up listening to punk, reggae, hip-hop, and classic rock, I always was singing along or air strumming to something! My first gig was a shitty show we did in our driveway for a neighborhood fair. Needless to say, wish I could take that one back!!
Glenn: How did you come up with the band name and what others were rejected for this one?
PLsr: Peter Alex and I were talking some time about the band name. Then one day driving in Camarillo Peter Alex blurbed out "THE FEISTY PIRANHAS" since then it has just stuck
PAL3: Feisty Piranhas was just something that came from deep in my subconscious, I don't even remember the moment I thought of it. All of a sudden, I threw out the idea and we made it happen! We had a bunch of weird names at first, nothing really special sticks out in my mind.
Glenn: What have been your best shows so far and why?
PLsr: Some of the best shows for me has been opening for the MISFITS at Ventura Theater 3 years in a row, Opening for Blue Oyster Cult 3 years in a row, Playing with Dragon Force and the many southern California and Hollywood shows we have done. So many are fun an exciting that it is hard to just pick one.
PAL3: Any show i get to do near my hometown is always special for me. To have childhood friends and family backstage with us always makes those shows a little more memorable. I love playing at the Canyon Club and Ventura Theater especially. Lately we've done more shows with Ned's other band, Tantalus Muse, and those are always really fun as well.
Glenn: What is your favourite song to play live and why & fave parts of the set?
PLsr: For me playing NUMB and DO YOU are my favorites from the older music. Some of the new music about to come out on the new record is a lot of fun as well, and I can't wait to start playing them live.
PAL3: I always love playing new songs for people, we may not be 100% on them live, but the thrill of playing new material makes up for it in my book. I always enjoy the classic Feisty Piranhas songs, Numb, Do You, and Blind. We always try to work in a cover song which is always fun to do. Ending our sets with The War is the ultimate for me though. We get to go crazy on stage and rock the set out the best way we know how to.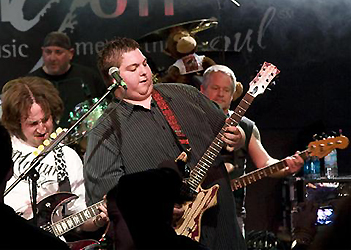 Glenn: What's your view of the Hollywood area and beyond for a band that wants to get noticed and get a decent break?
PLsr. It is very hard for a band to get noticed in Hollywood or any other city. It takes hard work, perseverance, many live shows, new records and a little luck.
PAL3: Hollywood and the whole Southern California scene is really far from what it used to be when you're talking about punk bands and followings. I find the trends are changing constantly and something that is huge one month could be gone the next. It's got struggles that any area has for a band, but it has some unique challenges as well. There ARE resources to use, and it's all about selling yourself to the people. If you want someone to go out and buy your cd, they want to know you are worth it for them.
Glenn: What have your favourite road stories been so far?
PLsr: One thing we have learned is that no show goes smoothly.
PAL3: I've played some interesting shows, I'd say our best stories are never gonna be told to the world, but a special one was being backstage with the Misfits guys watching a few of the opening bands together. Nothing like watching Jerry Only rocking out to a band in full facepaint and jeans and a T-shirt.
Glenn: What are your favourite parts of the USA and for what reasons?
PLsr: Southern California and New York
PAL3: I love California! I'm a So-Cal kid and proud of it! There is no place quite like California and we have everything you need! We have musical culture, great venues, great followings and great people!
Glenn: What made you decided to record a DVD at that particular venue - what was so special about that venue?
PLsr: Both Ventura Theater and The Canyon Club allow and appreciate video of the bands playing. Both venues make it easy and create a great environment for the video process
PAL3: Ventura Theater and Canyon Club are both hometown venues for us. They've been there for us from the start, and we always feel like we put on our greatest shows there! Where else to record a live dvd?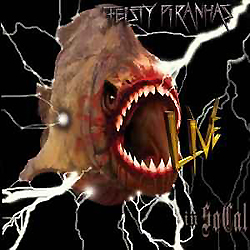 Glenn: Who have you been compared to as a band and what's your reaction to that?
PLsr. We have been compared to NOFX, RUSH and PINK FLOYD, sort of a combination of such. It is frankly an honor to be compared to such great bands.
PAL3: Comparisons are tough for me, because I feel like 2 people's interpretation of the same thing can be completely different. Say one person associates the Beatles with "Love Me Do" and another associates them to "Helter Skelter" Both Beatles, but completely different. It's always cool to be compared to such great other bands, I definitely owe many bands thank you for how they've affected how we create music. I just don't take them to heart.
Glenn: What has been the hardest thing to conquer for the band and why?
PLsr: Playing with my son is very hard, as I need to be father and musician.
PAL3: Playing in a band with family members is hard on everyone including members that aren't part of the family. They have to deal with me and my pops arguing or butting heads and most of the time they just let it happen and move on. Studio time can be especially difficult because everyone is putting their hearts out into the music at the same time.
Glenn: What songs are you most proud of and why?
PAL3: All my songs come from within me and I feel very pleased with all of them. Some songs end up being better than others and the songs that are more popular are not always our favorite songs. Our new record that we are recording now has some of my best and favorite songs yet. I really didn't hold back this time.
Glenn: What venues in the world would you like to play and why and with which bands and for what reasons?
PAL3: I would love to play with NOFX, Bad Religion, Slightly Stoopid, and many other bands! I've always wanted to play the Soma in San Diego, House of Blues, and The Catalyst in Santa Cruz.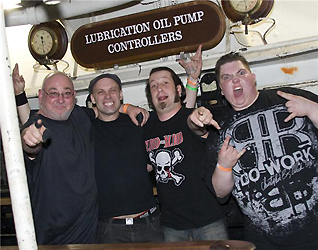 (With 'Death By Stereo' on The Queen Mary, March 2010)
Glenn: What's it like for you personally having a father/son relationship in the band and what are the best and worst aspects of that for you guys personally?
PLsr: I enjoy very much the father son music thing. We get along great and much more than average for a father and son normally have.

They best times are playing on stage giving the crowd a great show. As fathers and son normally have we go through our arguments, but in the end always walk away friends.
PAL3: It's a huge part of our situation, but I feel like we are at a point where we can achieve what we set out to do without all kinds of issues like we did when I was younger and more immature. Playing on stage and together in the studio is when it is all worth it, it's a blast!!
Glenn: How did getting gig(s) with Blue Oyster Cult come about?
Plsr: The venues like to have Feisty Piranhas playing and they make recommendations to BOC for us. Then in turn BOC has chosen feisty Piranhas and for 3 years have brought a good amount of concert goers to the show.
Glenn: How would you describe the style of the band and what makes the band (in your opinion) stand out from others out there?
PAL3: It's always hard for me to do this, but I always tell people pop punk with some reggae in there. I've always been a reggae and punk guy, my dad brings a progressive rock feel, Chris brings a more metal or hardcore feel and Ned comes in with his pop-punk-reggae style. The new record is gonna be completely different from anything else we've done. It's a new page in the world of Feisty Piranhas!
Glenn: If you could cover a particular song for the next album - what would it be and why?
PLsr: We are planning to make a cover song on the next studio record however at this time is keeping it a urprise.
PAL3: I have planned for the future an EP with a bunch of cover songs. We all have songs we wanna cover, one or two might make the full length release. I'm not gonna say any of them except the ones we've done live, "Stickin' In My Eye" and "Linoleum" by NOFX, and "Rockin' In The Free World". We had "American Jesus" by ad Religion and Bob Marley's "Three Little Birds" on our "Live in SoCal" record as well.
Glenn: What's next for The Feisty Piranhas and what are you most looking forward to and for what reasons?
PAL3: I'm stoked on the future, we have a great new record we are tracking, we are playing lots of great gigs, and our fan base has never been bigger! We're ready to take over the world and make some heads roll!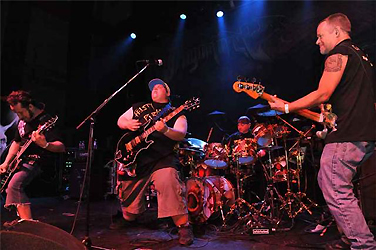 A big thank you to Doug Deutsch for setting up the Interview