An Interview with
'Greg Smith'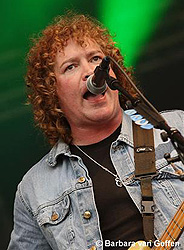 The Bassist of 'Over The Rainbow' that features 3 other members from various line-ups of Rainbow (Tony Carey, Joe Lynn Turner & Bobby Rondinelli alongside Guitarist, Jurgen Blackmore, Son of Ritchie Blackmore)
Interviewed by Glenn Milligan in late January 2009
What turned you onto Bass Guitar and who would you say are your past and present influences and why?
GREG: Ha! Kinda strange how I got started on bass.. My sister got a guitar for her birthday and said "let's start a band.. you can play bass" I said "ok" .. That's the short version but pretty much how it happened! Lucky thing it came easy to me and within 3 months I did my 1st gig! Past and present influences are the same.. James Jamerson, John Paul Jones, Duck Dunne, Glenn Hughes, Geezer Butler, John Entwhistle
What was your 1st bass and what was the 1st thing you learnt to play on it?
GREG: 1st bass was a Nashville. Kind of looked like a "Tele" copy. It was a real piece of crap but who's first instrument isn't? 1st song I learned was "Smoke on the Water"
Strange how years later I'd end up playing with the guy who wrote it!
What was you first ever bands and how did the early gigs go before you turned Pro - you got any cool stories about any?
GREG: Wow! 1st ever band was the "Diamonds".. That was after playing for about 2 months.. We didn't have a singer, but we had a sax player who played the melodies on sax.. 1st rock band was "Focus". Of course we didn't know about the other "Focus" of "Hocus Pocus" fame.. I was in high school and we played some local feasts and all of a sudden I started to get noticed by the girls! A cool time.. As far as cool stories about early gigs before turning pro? I could write a book and probably should! I graduated high school early so I could play in clubs with cover bands on Long Island where there was an incredible music scene in the late 70's when I started playing out.. Plenty of stories that include my Dad's station wagon, tacos, and girls that are better left to your imagination!
How did you get your 1st break to the big league so to speak?
GREG: It was 1983 and I was playing with a band called "Squadran".. We had a gig at a well known venue in Long Island named "My Father's Place".. Gene Simmons was looking for a guitarist to replace Ace and checked out our guitarist.. He liked the way we played together and put us both in Wendy 'O Williams band.. That was my 1st tour and my 1st album..
What was it like for you working with such a major star as Alice Cooper and what were the highlights for you on stage, in the studio or socialising? Any cool stories to tell?
GREG: Alice is great. I worked with him the better part of 11 years.. He and his whole family are among my favorite people on the planet.. The highlights were many! Just being on stage with him and watching him own the audience.. Amazing! The countless great times and laughs playing cards on the bus, and taking the "new guys" to the cleaners! Doing the movie "Wayne's World" was a blast.. Funny story I never told before is during the dressing room scene I'm at the bar and not on the couch with the rest of the band.. Know why? Movie shoot.. Typical "hurry up and wait".. I'd finally waited for hours and had to take a crap.. Well while in the bathroom, they called everyone in for the shoot! When I came in they said.. "uhm.. ok.. You stand at the bar and talk to this blonde".. Oh well!
How was it for you when you worked in Rainbow - do you have any favourite members from both a musical and social point of view and for what reasons?
GREG: Man I loved everyone in that band.. Couldn't say that anyone was my favorite.. I probably hung out more with Doogie, and Chuck Burgi though.. Ritchie was mostly with Candy on tour.. While recording we'd hang out quite a bit and while home my wife and I would get together with Ritchie and Candy quite often but on tour they would pretty much stay by themselves. Chuck and I had toured before in Blue Oyster Cult and had our "on tour" vibe together.. Doogie was just always such a positive and funny guy that he fit right in with us.. The 3 of us spent a lot of time together..
What highlights mean a lot to you of the Rainbow time and why? What do you miss most about those days?
GREG: It was the first big tour I'd done for an album I'd played on.. It was a very big production and well received internationally.. I miss the guys in the band and the camaraderie.. I miss the music, and I'm very happy to be re-visiting the music again with Over the Rainbow".. And I miss being 14 years younger!
From all of the Rainbow line-ups which would you say is your favourite and why?
GREG: Wow.. Loaded question! Gonna plead the 5th on this one!
How did you get involved in becoming part of 'Over The Rainbow' and what are your personal thoughts about the band forming?
GREG: I got involved after hearing some rumors and contacting Joe and Bobby.. Not long after Joe called and asked me if I'd be into it.. I of course was excited to be part of it!

Apart from yourself of course, who would you say is your favourite Rainbow bassist and why?
GREG: I'm quite a bit different from all the other Rainbow bassists because I don't play with a pick.. They are all obviously great players but I would say Roger Glover and Bob Daisley stand out to me.. They both play the bass like a bassist and are very creative with their licks!
What songs by Rainbow mean the most to you and why?
GREG: Anything from the 70's era reminds me of being a Rock-n-Roll kid sitting in my basement learning everything on those records wanting to be a star! The tunes from the 80's era remind me of starting to become the musician I am and my first experiences tasting what the life is about. The 90's era obviously I was a part of and it was bittersweet because being a fan of Rainbow I knew it wouldn't last and I wanted it to. Historically speaking I knew I'd get about 3 years.. That ended up being exactly what it was and I was happy to have them..
Since you have worked a lot both live and in the studio situation with Joe Lynn Turner, does it kinda seem strange being in 'Over The Rainbow' together as you have both been used to performing Joe's material with a few Rainbow numbers thrown into the set? Is it kinda strange sub-consciously and have to think, 'Yeah, its Rainbow songs and not JLT songs'?
GREG: It could never feel strange playing with Joe.. We've been friends for 17 years and we always have ridiculous amounts of fun playing together, hanging together and touring!
Whether it's Rainbow material or JLT material, or cover tunes.. Whenever I see Joe after the initial greetings it's always "When can we play together again?" It's always been like that..
What are your favourite albums and tours with Joe Lynn Turner and why?
GREG: I'd say the 1st album I played on "Nothing's Changed" .. We really had a great time recording and I loved the material.. The "Under Cover" Albums and anything we did on 47th St in NYC was just the best of times! As far as touring, probably I think in 1994 when Karl almost got us arrested TWICE!! It's funny NOW. Wasn't then.. And of course 2007 in Spain and Germany! More fun than words can say! Hanging out in Barcelona on the beach after the show.. Drinking in an old town square in Madrid..
What's Joe like to work with as a performer and hang out with on a social basis?
GREG: I think my previous answers addressed that at least socially.. As a performer he's of course the consummate professional entertaining the audience like a rock god and delivering amazing vocals even when he has no talking voice.. I don't know how he does it!
Since there have been so many line-ups of Rainbow who would be in the ultimate lineup of Rainbow and why?
GREG: Too many great lineups to choose from so I am pleading the 5th on this one too!
What would you say are you most fondest or standout memories (both good and bad - if you like) of being a member of Blue Oyster Cult, Dokken, Tommy James and The Shondells and with the artists Vinnie Moore & Wendy O Williams? What led you become a member of the outfits and why did you decide to leave and persue other musical paths and obtions?
GREG: Ok, Blue Oyster Cult.. I loved playing with them and it gave me another chance to play with Chuck Burgi who I had played with along side David Rosenthal in "Red Dawn".. I was with them only one summer in between recording "Stranger in us All" and the tour... I got along great with everyone and it was a positive experience. The negative... They neglected to pay me for the last 2 gigs I played with them.. A lesson kiddies! Dokken I still play with from time to time.. I was brought into the band by guitarist Jon Levin who I had played with on Long Island.. "Wild" Mick Brown then brought me into Ted Nugent's band.. I still play with Tommy James and the Shondells.. I was recommended the guitarist who also subbed on Movin Out on Broadway.. Every band I've been in I've been recommended for by an existing band member. It's sort of the way the music business works..
How was it for you starring in Waynes World alongside Alice Cooper and the band and what are your most pleasured moments of this occasion?
GREG: That whole thing was kinda surreal.. Up till that point every SNL spin off movie had tanked.. We thought the same would happen but figured it would be fun to be part of it..
Hey, it was a week's work in LA! My brother was living in LA at the time and I was looking forward to seeing him. One of the flight attendants was gettin kinda friendly with me and gave me a bottle of Champagne.. We were put up at the Sheraton Universal.. My room had a nice balcony and I invited my brother over for champagne! It was cool being there when Mike Myers came up with the "We're not worthy" quote.. They literally tried half a dozen different ones and that's the one that was used and became a quote everyone used.. They were not 5 feet from me when that quote happened..
Where in the world have you enjoyed playing most and for what reason(s)?
GREG: I enjoy different parts of the world and for all the reasons that they differ! The food, the people, the landscape, the architecture, the language, the beer.. My favorites are usually where I am at the time!
What's your part of the USA like for live music?
GREG: My part of the USA The Allentown, Bethlehem, Easton part of N.E. Pennsylvania is great for live music in the way that the artists locally are very much supported and there is a large local scene. When not touring I'll play locally from time to time with the "Greg Smith Band" playing old rock tunes handling most of the lead singing duties!
What would you say is your favourite bass that you own and why?
GREG: Right now my favorite is a 1972 Fender Precision bass.. I have many Fender basses and my favorite changes from time to time. On tour with Over the Rainbow my main basses will be my 1972, and a 1982 - 1957 American made re-issue Precision Bass.. This is the 1st year they came out.. This is the same bass I played with Rainbow on the 1996-1997 tours.. It will be up to our soundman which one becomes the #1..
What are you looking forward to when you go out touring as 'Over The Rainbow'?
GREG: I am looking forward to playing with these friends and incredibly talented band members.. I am looking forward to playing the music I love... And I am looking forward to the beginning of something I hope will be well received and long lived!
If you could choose certain parts of the world that you would like 'Over The Rainbow' to tour in, where would they be and why?
GREG: I would obviously like us to tour and be popular everywhere but I would like to see countries I've never been to.. Iceland, Singapore, Hong Kong, Greece, Korea.. New Zealand.... Think I've been pretty much everywhere else!
What are your thoughts to the set list that you have come up with as a band?
GREG: I think the set is great and it touches on the best of all aspects of Rainbow.. Of course I'm sure it will evolve as we see what works best but we've got enough on the back burner to make sure it's gonna be amazing..
In your opinion, how long can you see 'Over The Rainbow' lasting and why? Can you see it changing in line-ups from time to time since there are a number of different people who have played in Rainbow in the band's existence, just like the band itself did?
GREG: Who can really predict the music business? Especially in this day and age.. I certainly hope it will last and I know everyone in the band has that same hope otherwise we wouldn't waste our time.. As far as it changing line-ups there is no plan nor any thought of that as this is the band and we all want it to stay that way..
What are your thoughts on 'Over The Rainbow' going into the studio in time to come although I know it's rather early in the day to start considering things of that nature?
GREG: Well obviously this is something we all aspire to have happen. If the fans want it and the interest is there, it will happen..
How would you describe the bass playing of Greg Smith and what are the greatest compliments you have ever been given?
GREG: Just laying in the pocket and singin' the best backgrounds I can! Best compliments are people who know who you are and know what you've done.. The ones that show up with out of print albums you've played on to be signed.. those are the best compliments!
What do enjoy to do outside music and what would be found in your hobbies and interests section of your Resume/CV?
GREG: Working on my house, camping, canoeing, hanging with friends..
What would you say you are most proud of in your career and on a personal level so far and why?
GREG: Most proud of in my career is probably continuing to work with great artists. On a personal level I'm most proud of being a Dad to my wonderful daughter, and being a husband to my amazing wife of 17 years..
If you could say anything to the fans out there reading what would it be?
GREG: Come out to see Over the Rainbow.. It's gonna be a great band and a great show!
A big thank you for taking the time out to do this.
GREG: No problem!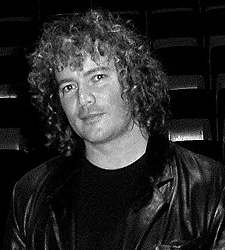 Thanks Again Greg and a Big Thankyou to Lisa @ To The Max1 for setting up the Interview