An Interview with Tomcat, Bassist of Gun Barrel -
a kickin' Rock & Metal band from Cologne, Germany by Glenn Milligan in July 2008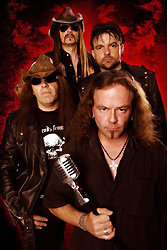 What are the band members personal influences as musicians and how did Gun Barrel come to be?
We all have different influences and different tastes of music. But there are some thoughts in common. We love the music of the NWOBHM as well as bands like G 'n' R, Mötley Crüe, Motörhead and Thunderhead. You may call that the intersection. You see we love the classics.
Why did you call the band 'Gun Barrel'?
Rolf came up with the idea because he wanted a name that is as straight and clear as the kind of music the guys had in mind.

How would you say you differ from other Rock & Metal bands around?
We don't take us and the things we do too serious. There is always a laugh when the Gun Barrels are in town. We want to have fun with music and that is what keeps the band running.
What is Cologne like for Rock and Metal with regard to venues, radio and tv?
No Radio, no TV. There is no media coverage for Rock and Metal in Cologne. But there are some good venues to play. So you have to enter the stage if you want your music to be heard. And that is never a bad thing to do.

What are your fave songs on the 'Outlaw Invasion' album and why? What influenced those particular songs as well?
My faves are:
BROTHER TO BROTHER: I love the groove. We wrote and recorded this song in the first time for a motorcycle club to their 30th anniversary. It had different lyrics of course. We played the song very often live and loved it from the start. So there was no other way than to record it again for this album.
OUTLAW INVASION: This song has got all the things you need. Ups, downs, fine lyrics, cool riffing. I love it. When I was younger and had some desperate moments, I wished I could listen to a song like that. A song that kicks you in the ass and gives you the spirit you need to get up and fight for what you love and maybe start new to have your own OUTLAW INVASION.
FRONT KILLERS: The typical GUN BARREL song. This is a live smasher. It song tells you all about us on stage: The front killers at the metal party front.

What made you decide to signed to Limb Music Products/SPV Records?
This decision was long ago. Limb made us an offer we couldn't refuse. Over the years business with limb became some kind family business. So you can say it's not only a business relation anymore.

What have been your most memorable gigs and tours and why?
Wacken the biggest Metal festival in Europe was a blast. Being backstage with your heroes is simply overwhelming. In Ankara the whole venue shouted the bands name when we came on stage. That was incredible. 2500 people; and we had never been there before.

What are your fave groupie or road stories so far?
Groupie stories? What do you mean by this? ;-) Once we lost our singer on a tour bus stop. He didn't make back in time to the bus and so he only saw the taillights. Nobody noticed that for over half an hour. As the bus returned to the gas station where he was waiting he was not amused. "I'm only the fucking singer. So you can leave me behind here."
How did the cover for 'Outlaw Invasion' come to be and what made you decide to call the album that?
Again Rolf came up with the title. It was like: "What do you think of this?" We said: "That sounds cool. Let's take it as an album title."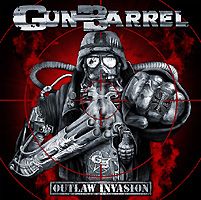 We wanted Dirk Illing to do the artwork for the album. He did the last one and we wanted him to put our SEARG into the context of OUTLAW INVASION. We think he did a really good job with that.
Are there plans to play any gigs in the UK at all - even in a support slot?
There is no offer for that at the moment.
What bands have you supported so far and what are your major recollections - both good and bad and for what reasons?
We supported MOLLY HATCHET, RAGE, ROSE TATTOO, MYSTIC PROPHECY, JOHN OLIVA'S PAIN, HOUSE OF LORDS. There was noone of these bands who let us down. We had real fun and I like to think back to those evenings. It is always exiting sharing the stage with your idols.

Who would you like to support if the chance arose and for what reasons?
Motörhead. That was always a dream. I saw them again and again live. And I always had a good time.
If you could have special guests either onstage or on your next album(s) who you want them to be and why?
I would like to have Lemmy as a special guest. He is one of my favorite Rockstars.
Rolf would like to have Brian Robertson play one song with him because he is one of the coolest old school guitar players. Gretchen Wilson should do a duet with Xaver. I love her great voice and that is not all about her that I love.

What was it like working with Yenz Leonhardt and Tommy Hansen?
Working with Yenz is always great. He is the one who knows what we want to say and he gets it out of our heads and on the machine. Working with him is hard work without stress. His way of treating us brings out good results. I love to work with him. I don't know what it's like to work with Tommy Hansen because we didn't meet him. He did the mastering with Yenz.
Whats your preference - being in the studio or playing live - reasons why?
I prefer playing live. I need the people, the spontaneous reaction, the noise and most of all the adrenaline.

What are your thoughts on Myspace and how would you says its helped the band?
As I'm the one who is the myspace master of the band, I like that kind of media. We never had that much contact to the world before. This is a door you can open if you're busy as a bee.

What are your immediate and future plans as a band?
This time our plans are: playing live, writing new songs, playing live, recording new songs, playing live… you see: no new plans… we do it as we did it before.

What do you all like to do when not on stage or in the studio?
Myspace, mowing the lawn, vacation, I heard that someone read a book, practicing on my bass, Toni likes to take a walk with his dog or a long ride on his mountain bike and Rolf loves to go to the Theater, I drink wine instead of beer then.

What do you want to be remembered for when you eventually hot the great gig in the sky?
It's the fun. I want the people to remember me with a smile on their face.

Hope you enjoyed doing the interview.
Thank you for the interview, Glenn and to all the readers of metalliville: It seems were not coming to the UK this year; but I tell you: We see you in the crosslines and if there is a chance for us, we will spread the OUTLAW INVASION in your hometown. Better you are ready, because we are.
A big thankyou to Tomcat & Rolf of Gun Barrel for making this happen & of course Limb Music/SPV