An Interview with
'Guy Bailey'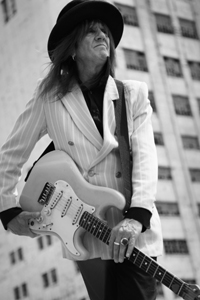 Frontman/Guitarist of
'Thirsty'
and formerly of The Quireboys & The Peckham Cowboys
that took place Saturday, November 14th, 2014.
Interviewed by Glenn Milligan.
Glenn: Hey Guy, how are you doing Mate?
Guy: Good mate, how about you?
Glenn: Good man, I've just been playing your album again and it's excellent, I really like it.
Guy: Ahh thanks man.
Glenn: Why did you decide to call the band, 'Thirsty'?
Guy: Well the band is actually a project really and 'Thirsty' is the first song on the album so I decided to call it that and it was also the first song we played together.
Glenn: How did the line-up come to be?
Guy: Well it's a work in progress. Chris (Johnstone – Bass/Keyboards) I've known since I was at school and Simon Hanson (Drums) lives around the corner from me and we often go out for beers.
Glenn: How come you managed to get Chris Kimsey to produce the album, was it through working with him in The Peckham Cowboys or was it through doing the show with The Rolling Stones in St. James Park, Newcastle in The Quireboys era?
Guy: Well I've known Chris for over 20 years since he produced the Quireboys album. I keep in touch with him and he puts me in touch with people to write stuff for. I've just written for the French bluesman, Johnny Hallyday and worked with many others through Chris as well.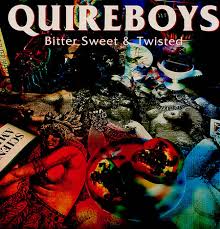 Glenn: What were your favourite times recording the album?
Guy: Well there are so many and it was recorded at different times at my place in Peckham after nights out and then it was produced and mixed over at the Engine Room in Burmondsey, London by Chris.
Glenn: There are some great songs on the album but which songs mean the most to you?
Guy: Hmmm… you know what, it keeps changing all the time. They are all my babies. Many musicians have told me to leave it along for six months. Russian Poet, Irena D brought me the lyrics and I wanted to make each song different and put my own identity on them.
Glenn: You certainly did that and they work so well with her lyrics.
Guy: Thanks. It was a project and I wanted to give it that Chess Studios kinda vibe and every song is different.
Glenn: Yeah, I love the song that's really Stonesy called 'Flawless'. You definitely caught that vibe there as the album overall is so organic, earthy and authentically sounding. What is the reason that it's a self-release as opposed to being on a major label or with a record company?
Guy: Well the album is actually being bankrolled by somebody and the thing is there are no real record companies these days so to speak. We could have gone for a distribution deal but the problem with that is that they take a hefty percentage of what the album makes. The major labels won't touch you either unless you get around 2.5 million hits on YouTube.
Glenn: Okay, you've probably been asked this many times but what do you miss from the days of being in the Quireboys?
Guy: Not much really. I still go and see them but I've moved on from it. I enjoy seeing them and I get up with them at times at shows and we have a good night.
Glenn: Which guitarists do you look at that make you think, 'Wow, that guys really got something'?
Guy: Oh Wilko Johnson. I really like his style and it's so good that he recovered from cancer.
Glenn: Yeah we were all worried about him it was incredible that he made it through and many of us were so happy about the fact he is still here.
Guy: Yeah. Also Albert King. I really like his stuff and he said, 'It's not what you do play it's what you don't play'.
Glenn: Yeah I remember Eric Clapton talking about that phrase of Albert's. How's the music scene down there in your part of London?
Guy: Well I only go out now and again when there is something on that I want to see. It's a long way to Hammersmith from where I live and it takes ages to get there too. You can go out and see bands like Nine Below Zero or Squeeze playing a lot though.
Glenn: Yeah I am the same when it comes to shows. It gets expensive no doubt to get to and from too especially if you fancy a few beers.
Guy: Yeah it does mate yeah.
Glenn: I saw The Peckham Cowboys in Sheffield about a year and a half ago at The Dove & Rainbow and we were looking forward to seeing you but you had just recently left the band at that point. What happened there?
Guy: It was a great band but me and Simon Hanson had to move on and we are doing this now.
Glenn: Right got ya. You've no doubt played some standout shows over the years but which ones come to mind that really mean the most to you?
Guy: Oh the Hammy Odeon around '89/'90 and also some of the shows we did in the USA. Of course Donnington was a major highlight and the Marquee shows we did as well. When they shut the old Marquee club on Warden Street it was never the same. We played the Whisky A Go-Go years ago too although I know the Quireboys have recently just played there. We also played The Roxy as well after releasing the first album.
Glenn: What have you learnt most from the music business?
Guy: Don't expect too much. Okay maybe that's the wrong thing to say but there is no apprenticeships for this and you are basically dropped in at the deep end and it's a case of sink or swim.
Glenn: Yeah and some bands no matter how much talent they have seem to drown in the process of it. It's a sad reality of it all really – mentioning no names of course. Who have you been compared to in sound and style?
Guy: I've been compared to Leonard Cohen and even Lou Reed with his kinda talking style.
Glenn: Yeah I never thought of those guys. I hear some Bob Dylan in there.
Guy: Yeah I read that people are comparing me to Bob. I think it was on the 'Street Legal' website or something.
Glenn: I am also hearing a cross of Keith Richards and Ronnie Wood's voices too.
Guy: Hahaha – well they are the same person (he jokes). Really though, it's just me, Guy Bailey and the album really gives off that Chess studio sound. It wasn't done in a studio as such and the drums have only been recorded with two mics. One above and one on the bass drum. Chris is the Governor when it comes to this. He used pro-tools and he took a couple of lines and put it through this gear and made it sound analogue because there's no point using analogue these days from the start. He sprinkled the 'Kimseydust' on it!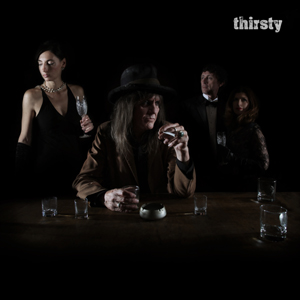 Glenn: Are you planning to do any shows with 'Thirsty'?
Guy: Well we are talking about that right now but I want to see how well the album does first before we commit to any shows.
Glenn: Yeah that makes sense. I think you will have a good draw of people though if you do because of the style of it and also who the members are because you have fans from a variety of angles here such as Quireboys fans, Squeeze fans, fans of Saint Jude and fans of great music in general.
Guy: Yeah I agree there. We just gotta see what happens.
Glenn: What would you like to say to the people who have read the Interview and interested in checking out the 'Thirsty' album?
Guy: Well I would tell them to enjoy it for what it is. Don't expect of it or to be like a Quireboys album because it isn't – it's a Guy Bailey album.
Glenn: Exactly. That makes a lot of sense there. So what are you up to right now? Do you have any new songs up your sleeve?
Guy: We've been working on songs for the second album and currently on with the sixth song already. Mr. Hanson has been putting down some driving drums for it. I come up with them first and then he replaces the beats with the real kit.
Glenn: Are they any songs that come particular to mind that you are excited about?
Guy: Well there's one called 'Albatross' which is really good but that's a working title at the moment because there's the famous Fleetwood Mac song called that.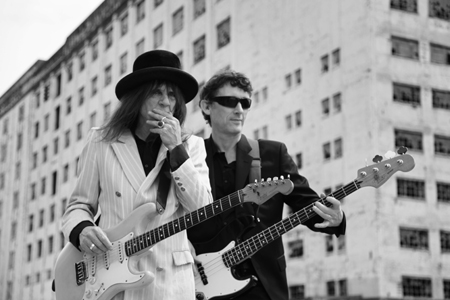 Glenn: Yeah you don't want it to get mixed up with that do you?
Guy: Exactly mate. Hahaha. There's one called 'Chaos' that's really good and another I am really happy with that has the working title of 'Patriotic Little Trash'.
Glenn: Wow that's an awesome title for a song. Personally I would keep that as the title.
Guy: Yeah quite a few have said the same.
Glenn: Yeah it works so well and it grabs you straight away. I can't wait to hear it. What would you say you are most proud of so far?
Guy: Hmmm, my '82 Fender Strat.
Glenn: I take it that that is your favourite guitar?
Guy: Yeah it is yeah. Anyway mate, I must get off. Simon's coming round to lay some drum tracks down anytime. Thank you so, so much for your help mate. I really appreciate it and keep up the great work you are doing.
Glenn: Thanks Guy. Before I let you get off, is there anything you'd like to say to the fans out there who have been reading this interview at all?
Guy: Buy this f*ck*n' album – hahaha!
Glenn: Right on - hahaha. Well this been a pleasure chatting away with you. A big thank for your time.
Guy: Thanks Mate. You too.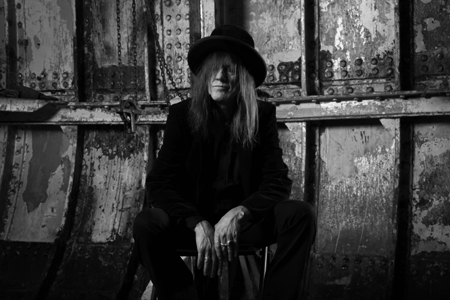 Find out more about Guy Bailey and Thirsty by checking out: