An Interview with
'Hannah Fira'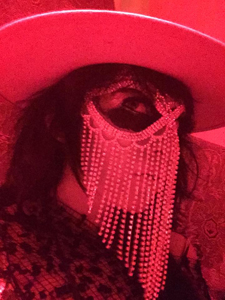 The Lead Vocalist of the Hollywood Rock Band,
'Carrera'
that took place on 31st August, 2015.
Interviewed By Glenn Milligan.
Glenn: What is your history as a singer prior to joining Carrera?
Hannah: I grew up watching my mom perform as a vocalist/keyboardist in small clubs around silver lake. I loved watching her and I've wanted to sing for as long as I can remember. I was in musical theater all the way up through high school and started performing in bands after college.
Glenn: How did you get hooked up in Carrera?
Hannah: Ruby and I had been introduced through a mutual friend a while ago. He asked me to do a guest appearance with them, which I was very excited about. I sang 'Foxy Lady' with them at Skinny's and the reaction was incredibly positive!

Glenn: Why did you want to join the band in particular as opposed to others around the area?
Hannah: First of all, I love working with Ruby! He is very competent and efficient and I really appreciate that. He is encouraging me to write songs with him and is very supportive of my artistic nature. Also, I am a production designer so I really value working with artists who understand the importance of showmanship!

Glenn: What does it take in your opinion to be a good front-woman and why?
Hannah: Big metaphorical balls. You have to be able to stare the things that scare you straight in the face and never let anything stop you. Beyond that it's just talent and a lot of hard work.
Glenn: How is Ruby to work with?
Hannah: Awesome. He is a musician's musician! He is very professional and fun. He treats me with respect and I genuinely consider him a good friend of mine.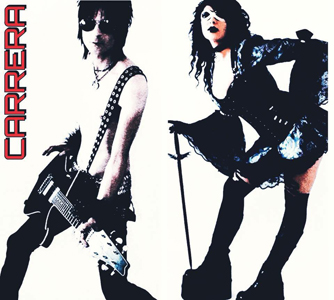 (Orig. Photos By OZZFestAmy)
Glenn: How much rehearsal have you had to do in order to be confidently ready for the role in the band and what have been the toughest parts to master and why?
Hannah: I was born ready for this. The hardest part has been breaking in my new 7" platform boots!
Glenn: How was that first show with Carrera and what went through your mind before during and after?
Hannah: I was immediately addicted and I knew I wanted to front this band!
Before: STOKED! During: Completely in the moment. After: Ready to do it again!

Glenn: What are your thoughts to Carrera's public image and being sexually exploited on stage?
Hannah: People are going to think what they are going to think so I might as well do what makes me happy. I don't feel sexually exploited at all. I have a huge amount of respect myself and I am very comfortable with my sexuality! I work hard to look the way I do so why not show it off? I'm a Sagittarius!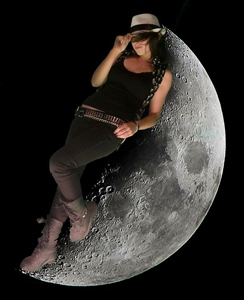 Glenn: What are your favourite parts in the show so far and why?
Hannah: Sparks, sparks, sparks!!! Both literally and metaphorically The musical chemistry is so much fun and I love singing a song that I wrote lyrics to! And Bella is pretty f*ck*ng sexy!
Glenn: Are there certain songs in the band that you most identify with, even though you have just joined and if so, why?
Hannah: Well I co-wrote one of the songs with Ruby so that's very easy to identify with. I put my heart and my mind in my lyrics and that's how I sing them.

As far as the other songs go, I view it as my job to find the way I relate to each and every one of them and present my interpretation.
Glenn: Do you have any particular costumes you really dig and why those?
Hannah: I designed a costume specifically for Carrera. I decided to name the costume Narcissa Nails!
I'm very proud of it! I started with a very specific vision and a sketch. It took the better part of a month to find all the pieces and cost almost $400. Honestly these pictures don't do it justice because they aren't lit properly but I'm very excited to debut it on Sept. 11. Someone said I looked like Marilyn Manson photoshopped with tits! That made me very very happy!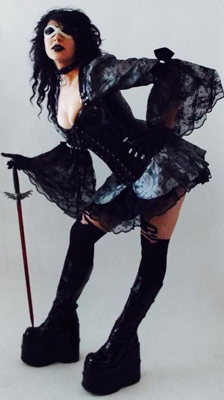 (Photo By OZZFestAmy)
Glenn: Who would you say you model yourself on when on stage?
Hannah: For Carrera, I am imagining myself as the product of a wild sexual experiment between Marilyn Manson and Joan Jett!

Glenn: What are your thoughts to disco as Ruby has been saying recently on social networking sites like Facebook?
Hannah: Like many great rock bands in history, we're thinking about giving it a try for a brief period.
Glenn: Tell us about your future writing plans in the band?
Hannah: We're already working on another song and I definitely foresee more in the future. I love to write.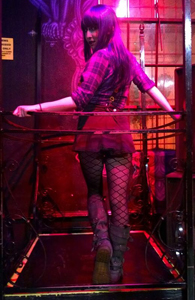 Glenn: How would describe your own vocal style and sound and why?
Hannah: My style is extremely adaptable. Rock is my home genre but I can pretty much sing anything with enough practice. I try to draw on a wide variety of influences such as Marilyn Manson, Kurt Cobain, Freddie Mercury, Joan Jett, Marilyn Monroe, Amy Winehouse, Ronnie Radke, Juliette Lewis and Rob Zombie just to name a few. To a large degree I am still defining what my sound is exactly but I know for sure that it is very unique and awesome! If I had to describe my style it would be Gothic Glam with a post-hardcore edge. I want to make music people can dance to and put on shows that make them feel very turned on and a little terrified.
Glenn: When can we expect to see an album out featuring yourself on vocals with Carrera?
Hannah: As soon as it's finished.
Glenn: What do like and dislike about Hollywood and for what reasons?
Hannah: Hollywood is my home. I grew up here and it will always hold a very special place in my heart. I definitely miss having a close connection to the natural world and the silence one can find in the wilderness. The only things I truly dislike about Hollywood are the traffic and the lack of trash cans... and the rampant homelessness makes me very sad.
Glenn: What venues and/or countries would you like to tour and perform with in Carrera and why?
Hannah: I'd LOVE to play the Roxy with Carrera! I haven't played there yet at all so that's next on my list. Realistically, I live to be on stage so it doesn't matter to much to me as long as I always have an upcoming show booked.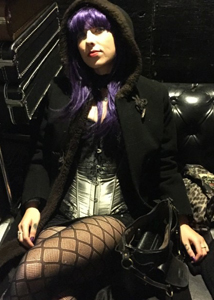 Glenn: Outside of music, what made you want to become a lighting designer?
Hannah: There is nothing outside of music for me. Everything I do is a part of my master plan!
Glenn: You also work at the Whisky A Go-Go. How did this come to be?
Hannah: Well, first of all I went to high school just down the street from the Whisky (5 minutes walking), so I was always around the strip and the Whisky was a familiar haunt.
Around the time I was getting into lighting, my Mom showed me a ticket she had got at the Whisky in the 80's and something inside me said "ok, I'm gonna work there!"
I got into the production side of the strip by interning at the Roxy. Several months later I was offered a job at the Whisky and that was that.
Glenn: What would you most like to achieve both as a lighting director and also as a performer on stage with Carrera?
Hannah: AWESOME shows that blow people's faces off!!!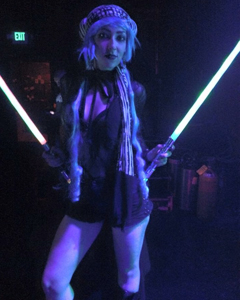 Glenn: What we find in the hobbies and interests section of your Resume/CV, what got you into these things and why do you like them so much?
Hannah: Haha well I've only ever really made technical resumes and I doubt that would be very interesting to most people as far as my personal interests: I love being active in pretty much any way possible! Hiking, camping, kayaking, ballroom dance, art projects, and music, music, music!
Those are just a few random examples I can't think of. What attracts me to a particular activity is personal growth. If it's pushing me to learn a new skill, create something, express myself, interact with people, and have fun chances are I want to at least try it.
And food, I LOVE food!
Glenn: Is there anything else you would like to discuss that I have not covered so far?
Hannah: Love. There could be a lot more love in the world.
Glenn: What would you like to say to your current and future fans?
Hannah: Thank you so much for all your support and positive energy! Please reach out and let me know who you are, what you think, and what's up! I want to know you are there and I promise I'll only bite when you ask for it Also... ROCK & ROLL WILL NEVER DIE!!!!!!!!!!!!!!!!!
Glenn: What are you most proud of so far and why?
Hannah: I am extremely proud of the person I have worked to become. Through a lot of darkness and confusion I have grown into a strong, confident woman who knows what she wants and how to get it! Overall, I'm a happy person and what more could I possibly ask for? I have had an enormous amount of help along the way and I am grateful for every single moment of life I am gifted with. I am proud of who I am.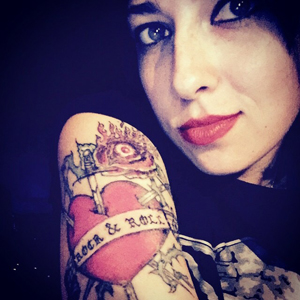 Be sure to check out:
Hannah Fira's Facebook Page & Ruby Carrera's Facebook Page
All Photos have been supplied and used with the full permission of Hannah Fira & Ruby Carrera