An Interview with
'Haydee Pomar'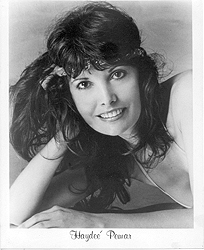 Bassist of New York band, 'The Skirts' and also South West Florida's 'Headcount'
that took place in late August, 2007.
Interviewed By Glenn Milligan.
Glenn: What was growing up in your part of Buenos Aires, Argentina like and it do much for you as a future musician?
Haydee: Buenos Aires is called the second Paris, it looks just like it without the Effiel tower. Growing up there was great for me since my whole family are professional musicians, (my dad played bandoneon, my uncle violin my grandma and one of my aunts piano and the other acoustic guitar .The rest are dancers, painters and sculptors. I would take turn taking classes from them.
Glenn: Are any of your family musical - if so who and what did they play etc?
Haydee: My dream was to become a prima ballerina, I study ballet and danced professionally, but in my late teens I met Rick Martin the guitar player who formed the legendary group " The vanilla fudge" in NYC and dated for a long time .I was messing around with an acoustic guitar and he said I had lots of playing ability and asked me if I wanted to play bass so we could make money together.
Glenn: Why did you choose to play the bass and who are your major bass guitar influences and why?
Haydee: My influences in bass were Paul McCartney, Michael Dempsey (studio player that toured with Vince Gill, Russ Taff, The Fifth Dimension etc.) Stanley Clark and my hero Jaco Pastorious.
Glenn: How old were you when you first picked one up and how long did it take you to master the instrument?
Haydee: I was 18; practiced day and night for 4 months and started playing ......to master the instrument takes a whole life time. You never stop learning.
Glenn: How did you end up in New York and what effect did it have on you since living previously in Argentina?
Haydee: My father was living in NY and heard thru a neighbor that I ran away from home, so he sent him for me so he could keep an eye on me. I loved NY I was thrilled but my father lived at that time in Brooklyn and I hated it, I cried myself to sleep every night.
Glenn: What bands were you playing in 1st? Was it hard to get decent gigs - what were the 1st ones like?
Haydee: My first gig was with Rick Martin's band.
Glenn: How did 'The Skirts' come to be?
Haydee: A friend of mine and I decided to form a cool all girl band. Since both of us had lots of original songs.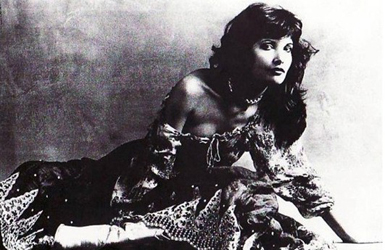 Glenn: What were your favourite gigs and why?
Haydee: There is a lot of great gigs, the one I remember the most is Touring with "Jesus's Music" opening for "Petra". Very exiting and creative.
Glenn: I understand you regularly supported The Bangles, how did you land these support slots and where and when did you used to play gigs with them?
Haydee: We had a couple of songs playing in the underground radio station in LA (K-rock) and lots of interviews and photos in magazines. Our manager booked us to open for a whole bunch of happening bands.
Glenn: How did you get on with 'The Bangles' and did you expect them to get as popular as they did?
Haydee: The Bangles were at their peak of their career when we open for them.
Glenn: What cool stories do you have of times hanging out with 'The Bangles'?
Haydee: None, we hardly saw each other.
Glenn: What were your favourite songs that 'The Skirts' performed and why?
Haydee: A remake of "These boots were made for walking" by Nancy Sinatra, "Santa Monica Boy" and "Sushi by the sea". Mainly the lyrics and the arrangements and out of those three "..Boots" and "Santa Monica Boy" were released on a Compilation album called "The sounds of the Hollywood Girls."
Glenn: How did you become involved in starring with Cheech and Chong in their 1981 Classic 'Nice Dreams'?
Haydee: A record producer hand picked us from different bands and that was were I met my friend Linnea Quigley with whom I formed the Skirts.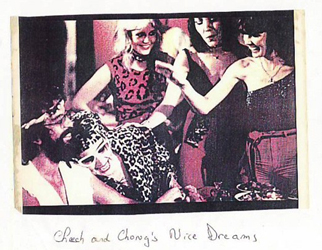 Glenn: What were they like to get on with - are they the same off screen as on screen?
Haydee: Yes they were the same. Really humble and funny guys.
Glenn: You got any cool stories with regard to hanging out with these legends worth talking about?
Haydee: Yes one night Linnea the guitar player from the Skirts and I were broke and no food in the refrigerator. We called Cheech and asked him to come jam with us, to bring his guitar and a couple of pizzas and he did.
Glenn: How did you get involved with starring in music videos and how was it on the shot with guys like Michael Schenker and Travis Tritt?
Haydee: With Michael Schenker, we filmed the video till the break of dawn in a junk yard in the outskirts of LA, fool of crushed cars. Travis Tritt's was filmed in The spaghetti Co. restaurant in Nashville and I was not familiar with whom he was. I just happen to audition for an Argentinian film director and got the part.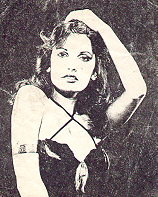 Glenn: Is being involved in music videos a lot of hanging around waiting for a minute or 2 that you are filmed for? Is it long and laborious as many artists say?
Haydee: Yes just like that.
Glenn: What made you decide to join a Christian Rock band and what are your main stand-out memories of this with regard to being in the studio and gigs. Believe it or not I actually own a Petra album!!
Haydee: I love Christian Rock music. Hard rock with a good message. I was helping a songwriter in Nashville with his songs in a dark, hot and humid basemen; when his roommate hear me playing; told the record producer working with Jesus Music. Next day I got a called and an offer to join the group for a Nation wide tour opening for Petra. The best thing I didn't have to audition. They took their guitar player ( Mike Acevedo's) word, who heard me.
Glenn: How would you describe your personal style of bass playing?
Haydee: Solid and melodic.
Glenn: What is your favourite bass guitar to play and why?
Haydee: I played so many great bass guitars, I could not begin to have a favorite. I do remember a fret-less Ivanez, my first Precision Fender, headless kramer, a beautiful black with silver hardware Music-man, a five string Yamaha, an flaming red Padulla....etc.
Glenn: What would you say your favourite parts of the USA are and why, as you have lived in quite a few nice areas?
Haydee: California, that is my favorite place in USA and of course Hawaii.
Glenn: What made you decide to move down to the West Coast of Florida and what do you like about it the most?
Haydee: I have friends here and of course Linnea of the Skirts is here. My favorite place in Fl is Punta Gorda and Gazparilla Island.
Glenn: You currently play in a rock covers band called 'Headcount' - how did this come to be and have you played in many cover bands over the years?
Haydee: While I am working in an original project and waiting for certain deals to go thru I got a call from one of the band's guitar player. So I am having fun playing rock .
Glenn: What have been your favourite venues in the West Coast of Florida and why?
Haydee: I haven't played in Florida that long, I moved from Nashville March of this year.
Glenn: Are there plans to ever reform 'The Skirts' - if so, when and where?
Haydee: Yes we are in the middle of regrouping, in Fort Lauderdale but we are already getting offers on the west coast.
Glenn: Do you get recognised much and how does it make you feel? Wheres the maddest place you have been recognised?
Haydee: Yeah in the clubs where I play, it's fun.
Glenn: Who would you say are your favourite bass players these days and who has took your eye as a player of recent times?
Haydee: Nobody can take my eye from Jaco Pastorious.
Glenn: What else do you enjoy doing apart from playing bass and acting?
Haydee: Travel to distant lands , I like taking dance classes, mountain bicycling and of course water rafting.
Glenn: What so far in your career are you most proud of?
Haydee: I have to say touring opening for Petra.
Glenn: What's next for Haydee Pomar?
Haydee: The sky is the limit.
What would you like to be remembered for?
Haydee: Helping abused and neglected animals.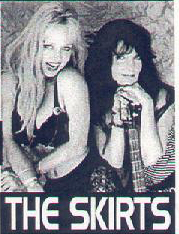 Be Sure to check out Haydee's Website - http://www.haydeepomar.com/ & see her around South West Florida with Headcount - http://myspace.com/Headcountrocks