An Interview with L.A. Rockers
'Hear Kitty Kitty'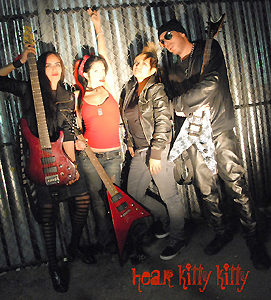 that took place in April 2012.
Interviewed By Glenn Milligan
What has it been like for you growing up in Los Angeles and which parts are you all from?
Tiffy TomTom: I was born and raised in Los Angeles all my life. San Fernando Valley to be exact. Growing up in L.A. was alright, it's a busy city. A lot of people and a lot of things to do. I don't mind it for the most part, I want to adventure and experience what is also out there.
Jonny Kat is from Salinas, CA.
Kitty is from the East Coast But the true beginnings of what is presently HKK began when she lived in Inglewood, CA. Kitty is not the Beverly Hills type. She's all About being part of a proud people struggling. Struggling every day to make ends meet, feed their families, live honestly and get by.
Hear Kitty Kitty is about coming up on the streets with no silver spoon in your mouth. Finding your own way. On your own terms. Honestly. While helping all and hurting no one in the process.
Angelica was born in Orlando but was raised in Los Angeles. Pasadena, Hollywood and Venice were her stomping ground as a kid. The music and art community had a huge impact on her life growing up.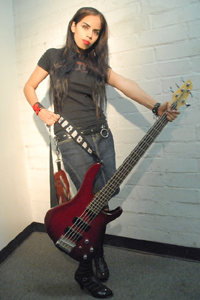 Angelica
Were you in bands previously and if so, what were they, where did they play and what was their level of success?
Tiffy TomTom: When I was younger I would just jam with my friends to bands we would listen to and just cover songs. We would perform at school events and school festivals. Other than that we never thought about taking it seriously. So Hear Kitty Kitty is the first "serious" band I've ever been in and we're trying to go places and rock!
Jonny Kat: The first band I was ever in was called Chamelion, cause all 5 of us were different races. And Chamelions change colors like music does. I was 12 years old sitting on stages at bars. In between sets so I wouldn't mingle with the Cougars. Now, ironically, Cougars try to mingle with me. I experienced success later with a bunch of Ugly Kids named Joe and we toured extensively Reaching #4 on the Billboard charts. I think they should all change their name to Jonny:)
Angelica played in a band called Ritual Habits. They played Rocklahoma and South West Texas Rockfest.
Kitty: Any band I ever was in previously was a version of Hear Kitty Kitty that just hadn't reached its potential yet. Everything I ever did, was this.
What is the musical background of all the members of the band?
Jonny Kat : 10 -16 years old trombone in jazz stage band -elementary school. 12- present- guitar & bass- all styles. Attended MI & recording school
Tiffy Tom Tom- I started with piano and eventually took drum lessons and while learning drums picked up bass and guitar.
Angelica was classically trained and picked up rock and metal in high school during her teenage rebellion stage:)
Kitty: I started singing in elementary school when the 5th grade class did a production of "Annie" and I was in third grade and I was the lead, Annie. Everyone said I had a gift. I just knew it was a fun way to express myself. I also took up the drums and the French horn but I sucked at the French horn and really enjoyed making it sound like an elephant. At some point, I realized it was more fun to play my own music than to be in musical theater and I moved to LA cus Philly/NY were cold. I liked the word "California" I liked palm trees. I wanted to be like Courtney love- when I grew up. Music. Movies. Model. Hot rockstar boyfriend. Jonny & I argue who found who when I moved to LA. He taught me how to play guitar. Now I'm endorsed by Jackson Guitars and have my own signature "kitty" pick. Jonny is my best friend and musical ally and I think we have created something very special in HKK.
What are you influences and how are they incorporated into the band unit?
Jonny Kat: Earth Wind & Fire to ACDC to UKJ to Prince to Rhianna to Eminen to the next big thing. I'm inspired by my bandmates everyday and our next Show is always our best, in my opinion.
Kitty- I am inspired by Hole, The Distillers, Joan Jett, Pat Benatar & everything ever put out by Hellcat Records. Hellcat samplers inspired me to pick up a guitar and the first song I ever taught myself to play was Bruk Out by Buccaneer.
Tiffy- My Grandpa has been one of my musical influences throughout my life. When I was a kid, I watched how he played piano and he inspired me to play. I have a very deep passion for all that is musical and I try to inspire others how my grandpa inspired me.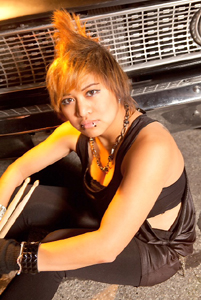 Tiffy Tom Tom
Explain the personalities of each band member and what makes it work as a unit?
Jonny Kat: We are like the Charlie's Angels of Rock N Roll. 3 girls and 1 guy getting the job done, 1 show at a time- minus the guns and the bad guys.
Angelica: Tiffy is the tom boy, Jonny is the fun man whore, Kitty is the shock rock/ rockstar diva and Angelica is the angry girl.
What made you all decide to form 'Hear Kitty Kitty' and where did the name come from?
Kitty: I formed HKK because music seemed to be my calling. It was something I was good at and gave me a reason to get up every day. I decided to make my life count for something following the deaths of my mother to cancer and my boyfriend to rockstar hard living. I decided I wanted to teach and educate about life, going green, saving the environment. I created "one band army" as my answer to that. The name "hear kitty kitty" is about the plight of the alley cat. It's not that I like cats, I am the cat.
I see it like. "hear kitty kitty". You call to the cat whose a bit far away In the distance But if & when that cat feels like coming U will c- That's no ordinary cat, Been left out in the alley, Maybe too long, is it stray or is it ferrel? Got sharp claws, sharp fangs, sharper wit, Lookin thru the window while you eat, Your fancy feast, Ain't no lap cat or fluffy Persian, Tho it once kinda sorta wished it was - A cat of hard Knox, A cat of perseverence, A cat who learned to use what it's got, Hear Kitty Kitty Is about the plight, Of the alley cat, It's tough on the streets, My mom doesn't put food on my table anymore If I'm eatin. I got it myself.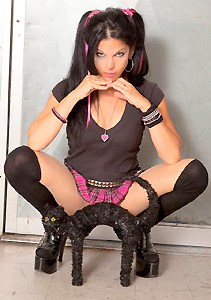 Kitty
What songs are you most pleased with so far and what influenced them that became 'Tails From The Alley'?
Angelica: my 2 favorites are 'Find my own' and 'Vampires'. I like the musical progression of Vanpires. It is influenced by some of the best 90's alternative/industrial music. 'Find My Own' I relate to lyrically and just genuinely like playing it.
Tiffy: I like 'Vampires' a lot because I like the chord progressions and I love playing it.
Kitty: every song on "tails.." I like. Each one is a true Tale, about my life.
What were the highlights of you US Touring last year and for what reasons?
Jonny Kat- Meeting new friends that now this year we are on our way to go see.
Who have Hear Kitty Kitty shared stages with over their conception as a band unit and how was it for you?
Kitty: We have played with a lot of super cool bands including TXT, Teenage Bottle Rocket, Buckcherry, Quiet Riot and so many others. It's hard to remember. But I'm very excited about this upcoming tour. We are enroute to our first show in Wisconsin and can't wait for this one month long adventure!
How would you descibe a show by 'Hear Kitty Kitty' and what makes you stand out from other bands out there trying to get noticed as forerunners of rock and metal right now?
Angelica: Besides the obvious that there are 3 chicks and one guy? LOL We have a lot of fun playing. We get the crowd going. We show people chicks rock just as hard as guys.
Kitty: I used to get really nervous playing shows but I found that a shot of tequila before I go on stage works wonders. I say "1 shot is good, 2 shots are better" so. We got a tequila company endorsement with Tres Sietes Tequila. Fear not. Drink More. Most shows I just go with it and tho loosely scripted no show is ever exactly the same. The one thing you can almost always count on is: I will be me. I will drink tequila. I will have fun with my band and the crowd~ while drinking tequila.
Jonny Kat: You don't be what's cool. We are not trying to be anything. We are not just legends of rock, we are legends of rock in our own litter box. LOL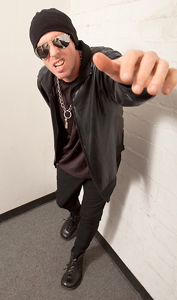 Jonny Kat
What have been your favourite road stories so far and how did you wrangle a slot on the Legends Of Rock gig in Cape Coral on 21st April and what aspects of it are you looking forward to?
Jonny Kat : When they couldn't get Hello Kitty they picked the next best thing and that's how legends are born. It's now our turn. We are Hear Kitty Kitty. Is this thing on??? Meow!
Kitty: So far - Jonny got pulled over for speeding while still in Cali, like 15 min in to the tour. That was pretty funny. And this morning I woke up in Emory, Utah and we were out of gas on the side of the road. The girls hitch hiked and got a ride quickly and in less than an hour we were on the road again. We are currently in Colorado. Not too many adventures yet but we are looking to have memories from this trip that last a life time.
What are you looking forward too that has been confirmed so far in 2012?
Angelica: The Tour. It's happening right now!
Tiffy: The Tour:)
Jonny Kat: The world did not explode in January 2012. Playing Sunset Cove Ampitheater on my first time playing Boca Raton on 20th April and playing Cape Coral on the 21st April. So glad the world didn't end.
What are you most proud of so far and why?
Angelica: I'm proud I responded to an ad on Craig's list and said I wanted a challenge and learned a 24 song set very quickly. We combine forces and together. We make things work out .
Tiffy- I'm very proud to be a part of Hear Kitty Kitty and the adventures we are presently embarking on.
Kitty: I'm proud of the great songs Jonny & I have written and our persistence and dedication to our craft. I'm also proud we have come so far. It's now. Right now. Snow capped mountains of Colorado all around me enroute to Wisconsin. Spring Fling. It's right now. We are on an adventure and I have a great team.
Jonny Kat: Proud of making a living playing music even if that means eating a can of tuna out of the trash in the alley to do it. At least i'm living life on my terms.
When can we expect you guys hitting the UK and the rest of the world?
Jonny Kat: Soon as the rest of the world also realizes we are "Legends Of Rock" I'm sure those doors should open wide- don't you think? Or maybe, we could bring the UK to America- which would be much more cost effective from where I kick it. Jonny Kat- Rocks the Box!!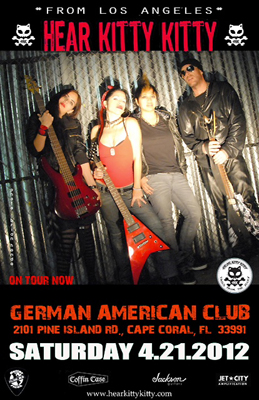 Big thanks to each member of 'Hear Kitty Kitty' for this great Interview - Catch 'em on tour in the USA!!
Be sure to go to www.hearkittykitty.com for the latest news on all that is HKK!!!